From Survival to Empowerment
by Oke, SheKos contributor
When you grow up powerless over what is done to your body, and you have to let it happen so you can survive, you become an adult who continues to allow anything to be done to your body to maintain survival. You learned to survive the beatings before you learned the alphabet. The words--they aren't so easy to ignore. They stay longer than the bruises and the welts.
The damage doesn't just include the physical. It is the mental, the emotional, the inner essence that is taken. This happens so often that with time you just let anything happen to you, be said to you, be taken from you. Because that is all you know.
You are a victim. There are no choices; there is no recognition that choices exist. This becomes your life, and you don't even know it's not normal. For so many years, you are so disconnected from your body that you use it in any way to survive. It distributes the drug of choice to numb the all the pain--at least that's what you want to believe. You just turn and look at the wall: It isn't really rape, or prostitution, or promiscuity.
You've been so disconnected from your body for so many years, whatever you do is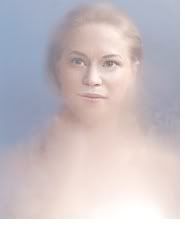 just another mechanism for survival, whether it's money, shelter, food, drugs, or just to not get your face busted in that day. Sometimes laying there and letting your body be used is the only thing you remember how to enjoy. Because it is the only thing you feel you're worth. That's what you were taught.
Choices. That was a word, not an action you were aware you could take. Sometimes you get lucky and learn there are choices...
She was sitting in the room when the woman walked in and set a chart on the easel.
As she examined the chart in front of her, she realized for the first time in her life that she had been blind to what had been done to her physically, mentally, emotionally, and to her spirit. All people didn't live the way she always had. Insanity and abuse: This was not a way of life for the rest of the world.
At that moment she had it: the awakening. She began a process that took years. It was a butterfly coming out of a cocoon. Ugly at first, awkward, and hard work. But, oh, so worth the end result.
The ones who had walked the road before taught her how to reach in to feel the pain. To recognize the strength that had always been there. To recognize the person hidden behind the pain.
The ones who had walked the road before didn't focus any longer on being a victim. They told her she now had a choice to stay a victim, or become empowered.
Empowered?
EMPOWERED
EM- (Greek): in, into, inward; within; near, at; to put, go into, or to cover
with [entomb, encamp, enfold]; to provide with, [enlighten]; to cause to be
[enlarge]; thoroughly [enmesh]; in, within, into
To go inward, to enmesh with power--her own power--she could take control of her life. That meant taking responsibility for it, too. It was scary. But the pain was a great motivator for the courage.
Empowerment is a way of life, not just a phrase.
She became aware of her internal dialogue and replaced the negative with positive self-talk.
Avoid blaming external forces for feeling bad and negative thoughts.
Avoid blaming yourself for not being in control or not doing it all right.
Be conscious of playing the victim and martyr roles.
Determine what you want and act on it.
Notice the gifts and lessons in life, especially in bad situations.
Act as if: And you will become.
If you keep acting like a victim, you will remain a victim.
No matter where your life is right now, it can be different.
Lately, I have been reading so much about the problems here in different diaries. Thousands of people read these pages daily. It is important that we acknowledge the reality and its solution: That allowing our bodies to be used and abused, and that using them and abusing them ourselves, doesn't have to be a way of life.
I can attest that it worked for her, because I know her personally. In fact, we meet every morning. In the mirror.
◆◇◆◇◆◇◆◇◆◇◆◇◆◇
THIS WEEK IN WOMEN'S HISTORY: Women on the Leading Edge
by joedemocrat, SheKos contributor
This week in 1927, Coretta Scott King was born. She was the wife of legendary civil rights leader Dr. Martin Luther King Jr. She participated in the 1955 Montgomery Bus Boycott and campaigned to pass the Civil Rights Act of 1964. After her husband's assasination, Coretta herself became a leader in the civil rights movement. She worked to expand the movement to include issues such as women's rights, GLBT rights, poverty and world peace. Her embrace of GLBT rights was criticized by some. She effectively responded to that criticism with one of her husband's most famous quotes: "Injustice anywhere is a threat to justice everywhere." She wrote the book "My Life With Dr. Martin Luther King, Jr.," and founded the Martin Luther King, Jr. Center for Nonviolent Social Change in Atlanta.



This week in 1928, Shirley Temple Black was born. She was a child actress who began acting at the very young age of 3. In 1934, her first major film, called Stand Up and Cheer, was a rousing success. Her charm touched people's hearts and gave them optimism during the Depression. She made more than 50 movies, but took on a second career starting in 1969: diplomat. She became the US representative to the United Nations, and later served as ambassador to Ghana and then Czechoslovakia.


This week in 1942, famous singer and songwriter Barbra Streisand was born. She has sold more than 140 million albums worldwide, making her the most successful female recording artist in history. She has recorded 31 Top Ten albums since 1963, and has won many music and film awards. She is also a strong supporter of the Democratic Party. In 1998 she said, "The Democrats have always been the party of working people and minorities. I've always identified with the minorities." She supported Hillary Clinton in the 2008 Democratic primary, but was quick to support Barack Obama after he won the nomination.


This week in 1992, Betty Boothroyd became the first woman speaker elected in the British House of Commons. She served as Speaker from 1992 to 2000.
◆◇◆◇◆◇◆◇◆◇◆◇◆◇
WOMEN WITHOUT BORDERS: Palestinian Girl Einsteins
by LeanneB, SheKos editor
"We are not known for peaceful science here." It's a hard thing to say about one's hometown, but for Aseel Abu Leil, home is Nablus, West Bank. Its historyof violence includes having once served as the production center for rockets and suicide bomb vests.
Aseel Abu Leil, however, has dreams that don't include violence. The 14-year-old attends a girls' school funded by the United Nations Relief and Works Agency (UNRWA) and wants to become a gynecologist someday.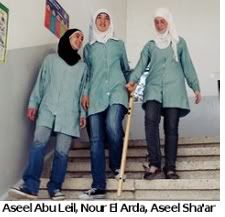 But along the way, she has invented a ground-breaking walking stick for the blind and hopes to win an international science competition in San Jose, CA.
Nablus is a hilly city, full of steep grades and lacking in good sidewalks. The navigational challenges of Asell Abu Leil's blind aunt and uncle were the inspiration to create a walking aid that could detect drop-offs and obstacles in one's path.
She and her classmates, Aseel Sha'ar and Nour El Arda, originally designed and built the walking stick for a class project, contending with conditions much more difficultthan those faced by most science fair entrants.
Fashioning the cane was no simple task after the science and theory - locating the spare parts in the West Bank was difficult, and gathering them from Israel was not much of an option given the travel restrictions. Still, they were able to build two prototype canes after several trips to Ramallah, which meant braving two Israeli checkpoints, to hunt for the circuits and sensors in electronics stores.

Obstacle-detecting canes are nothing new - so-called "laser canes" have been around since the 1970s. But the girls' cane resolves a flaw found in previous canes, according to the American Federation of the Blind's technology division director Mark Uslan: Their cane detects holes and drop-offs.
The girls entered the walking stick in the Intel International Science and Engineering Fair, along with 6 million other contestants throughout the world. And remarkably, next month their invention will compete with 1,500 other projects in San Jose.
But this endeavor wasn't really about winning prizes or glory. It was about filling a need for others - providing help to those who need it.
"Of course, I want to go to America, but this project is important for the blind and we want it to help them," As[ee]l said.
It was also a way to prove something to her country and the world.
"We, as women, have brains too. As good as anyone else," Aseel Abu Leil said. "We have shown what we can do."
Originally, the girls were forced to toss a coin to see which girl would not be going to San Jose. Intel had only provided enough travel funding to allow two of them to attend. Aseel Abu Leil had lost the coin toss. But UNRWA kicked in the extra money, and now all three inventors will be showing off their creation in California. Finding out about that provoked an emotional outburst.
Teenage shrieks broke the sober and professional demeanor the girls had displayed. Hugging, crying and giggling, Aseel Abu Leil said that it was "the most important thing, the biggest thing" that had ever happened to her.

"It is so big. I cannot say," she said. "To travel, to represent my people. ... I will remember this the rest of my life."
UNRWA believes it's "big" for the world, too.
"These girls are the Albert Einsteins of tomorrow," said Chris Gunness, a spokesman for the agency. "We need to teach the next generation rational thought, to think through problems and talk about problems. It's a microcosm of the peace process, if you like, and we need to spend time and invest in education because that is the peace dividend of tomorrow."
◆◇◆◇◆◇◆◇◆◇◆◇◆◇
WOMEN IN THE WORKPLACE: The Challenges of Work-Life Balance
by pat of butter in a sea of grits, SheKos contributor
I recently listened to this interview about the difficulty of balancing work and family life with blogger Katrina Alcorn. A year ago she had sort of a nervous breakdown and quit her job. Trying to do a good job as an employee while also bearing child care responsibilities was too much.
She talks a little bit in this interview about the inflexibility many American workers deal with. As we've discussed in this space before, the U.S. has unusually poor regulations with respect to family leave and personal leave. These challenges apply to non-parents as well. As the president pointed out at a White House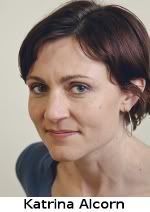 forum on workplace flexibility, "Workplace flexibility isn't just a women's issue." Many of us have extended family members who might need our help from time to time, particularly aging parents; in addition, all kinds of workers might like greater flexibility in their jobs to take the time they need to deal with personal issues or -- gasp -- even enjoy their personal lives. Too often employers treat their employees' hours as their own. And in this poor economy, American workers know that if they don't feel like dealing with what the employer is shelling out, someone else will be eager to do so, so they feel forced to put up with it.
One new study concludes that the solutions lie in four areas: workplace flexibility, child care/elder care, short-term and episodic time off, and addressing discrimination around family responsibilities. In some ways, the middle class are the most stressed in this area; the well-off can afford care for their children or elderly, and the poor receive subsidies, but those with median incomes, the report concludes, are exhausted. We need better solutions to make work life better for all American workers, no matter their income level. If we don't address these issues, the Republicans surely won't.
◆◇◆◇◆◇◆◇◆◇◆◇◆◇
IN CASE YOU MISSED IT
by Oke, SheKos contributor
In Iron Butterflies: How Women Can Rule the World Without Compromising Their Best Qualities Hotlist, Russ Wellen provides an answer to the question: "Do women who succeed in business have to shed 'traits and values traditionally associated with women?'" The answer provided is interesting and thought-provoking.

In The Seductive, Escapist Appeal of the Past, cabaretic diaries about the endless fascination we seem to have with life in the 19th century ("the Austen time") and how such escapism serves our emotional and, in some cases, political needs -- Tea Party members included.

In Iowa marriage equality anniversary thread, desmoinesdem asks us to remember how same-sex marriage equality came about in Iowa one year ago, what's happening with those who would turn back this important civil rights gain, and how they are ultimately destined to fail. A good news read about an important topic.
And from outside the Orange: