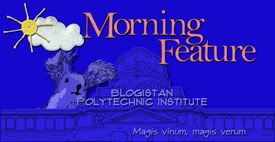 The resident faculty of Blogistan Polytechnic Institute grumbled on their way to the wine cellar library to spend the weekend drinking thinking on our motto of Magis vinum, magis verum ("More wine, more truth"). Your lowly mail room clerk asked what was wrong, and Professor Plum said it was wrong to refer to them as the "resident faculty" as they are not part of a residency program. When we explained that they're here at the BPI main campus in South Blogistan, he said "But resident can also mean something else, and we don't like the something else."
Which was just his way of saying he'd read our mail again.
More below the fold....
Words can indeed have multiple meanings, some of which contradict others. If you're "feeling flush," that may mean you're doing well financially, or that you're feverish. And as the Professor of Astrology Janitor learned yet again in the staff poker game, "making a flush" can mean completing a winning hand with five cards of the same suit, or pushing the handle on a metaphorical toilet when Chef turned over her full house. Needless to say, that cued the Professor of Astrology Janitor's plaintive mewling, which sent Chef to the kitchen to check the progress of her slow-cooked Crockpot Egg Casserole. The break gave your lowly mail room clerk a chance to review the week's correspondence....
+++++
Dear Ms. Crissie,

You liberals and outsiders need to stop criticizing us here in Arizona. You obviously don't understand how horrible illegal immigration is for us. In fact it's terrorism, if you will. We have crime and the Feds haven't done anything to stop the decimation of our countryside. That's why I signed a law forcing our police to stop anyone who looks like they don't belong here and demand proof of citizenship. Why is that so hard to understand?

Jan in AZ
Dear Jan,
We regret to inform you that words like "terrorism" and "decimation" have meanings, and they don't mean simply "I really don't like that." You have presented no evidence linking illegal immigration to terrorist activity. And unless Arizona has lost 10% of your land area, your countryside has not been decimated. However, we suggest your stubborn insistence on this obviously racist bill may decimate your tourist trade, as an estimated 10% of your state's tourists came from Mexico and many other tourists may reasonably decide to avoid your state as well.
+++++
Dear Ms. Crissie,

Well just you wait. You Democrats will be shocked when voters realize that everything good about the health care bill came from my party, and show their gratitude by electing Republicans to Congress this fall. We were right on health care, and Americans will reward us for it.

John in OH
Dear John,
Again, we must note that words do have meanings. During the health care debate you repeatedly complained that Democrats refused to consider any Republican ideas. The phrase "Hell no you can't!" comes rather vividly to mind. Every member of your party voted against the final bill in the House and Senate. Now you claim credit for anything good in it, and say voters will reward your party for passing what your party opposed. We suggest you look up "doublespeak" in a dictionary.
+++++
Dear Ms. Crissie,

Now that's petty and parochial, just like Nancy Pelosi was when she said my husband was an incompetent leader who lacked judgment, knowledge, and experience. Legitimate criticism is fine, but you Democrats need to stop calling people names.

Laura in TX
Dear Laura,
We admit some confusion as to what "legitimate criticism" might mean to you. Saying your husband looked like Alfred E. Neumann was petty and parochial, as well as funny and true. But questioning his competence, judgment, knowledge, and experience, or lack thereof, seems to us the very essence of legitimate criticism. If critics cannot question those, we wonder what exactly you would consider "legitimate criticism." We suggest you will not find "legitimate" defined as "I agree with that" in any legitimate dictionary.
+++++
Dear Ms. Crissie,

Okay, I followed the meanings thing, but where does a slow-cooked breakfast fit in? The word "breakfast" is derived from breaking an overnight fast, but in that context "fast" doesn't mean the opposite of.... Oh, Chef was playing word games, wasn't she? So okay, what's in that Crockpot Egg Casserole? Or is that just a crock?

Hungry for Meaning in Blogistan
Dear Hungry for Meaning,
The Crockpot Egg Casserole isn't a crock. It's an actual recipe for a breakfast dish that you can begin the night before and have ready to feed 8-12 people, first thing in the morning.
To make it, cube 1 pound of cooked ham and coarsely chop 1 onion and 1 green bell pepper. Saute the onion and pepper in olive oil until slightly softened and let cool for 10 minutes. Then spread about 10 ounces of frozen hash browns in the bottom of a crockpot and cover with ⅓ of the ham, onion, and pepper. Repeat for a total of three layers, then top with 1½ cups of shredded Cheddar cheese. In a bowl, beat 12 eggs and 1 cup of whole milk until mixed, then stir in ½ teaspoon each of salt and black pepper. Pour over the ingredients in the crockpot, then cover and turn on low heat. Cook for 8-10 hours, until the casserole sets up and the eggs are thoroughly cooked. Bon appétit!
+++++
Sources:
Jan in AZ; AZ tourism from Mexico (pdf).
+++++
Happy Sunday!