Governor Howard Dean appearing on MSNBC's today, asked of DADT repeal, said "There's no reason not to do this" and attaching it to the Defense Authorization Act—this month—is the way to go. The video is below, the segment begins at the 4:15 mark.
"There's no reason not to do this. And we have a vehicle. Carl Levin thinks he's got the votes for this on the Defense Authorization Act, and the Defense Authorization Act has to pass. The Republicans are not going to filibuster the Defense Authorization Act, so I think now is the time. We may not have the votes for this in six months, so we have to do this now."
After the fold, today's letter to the President, courtesy of Servicemember's Legal Defense Network, the ACLU's letter of support calling for Congress to act now, and list of action items you can perform to help this movement.
Dean is right, we may not have the votes in six months to legislatively end the military's don't ask, don't tell discrimination policy. And we definitely won't have a filibuster-proof vehicle. The LGBT community has been told by the Democratic party for decades they "just don't have the votes," to pass, ENDA, repeal DADT, pass Uniting American Families Act. It was a reality we couldn't argue with. But now that they do have the votes, and the song has changed to "it's not a good time." This might help explain a great deal of why the anger is directed at Democrats, not Republicans. The GOP is incapable of stopping this DADT repeal if Democrats had the will in them to pass it. Their apathy and inaction may cost them in November.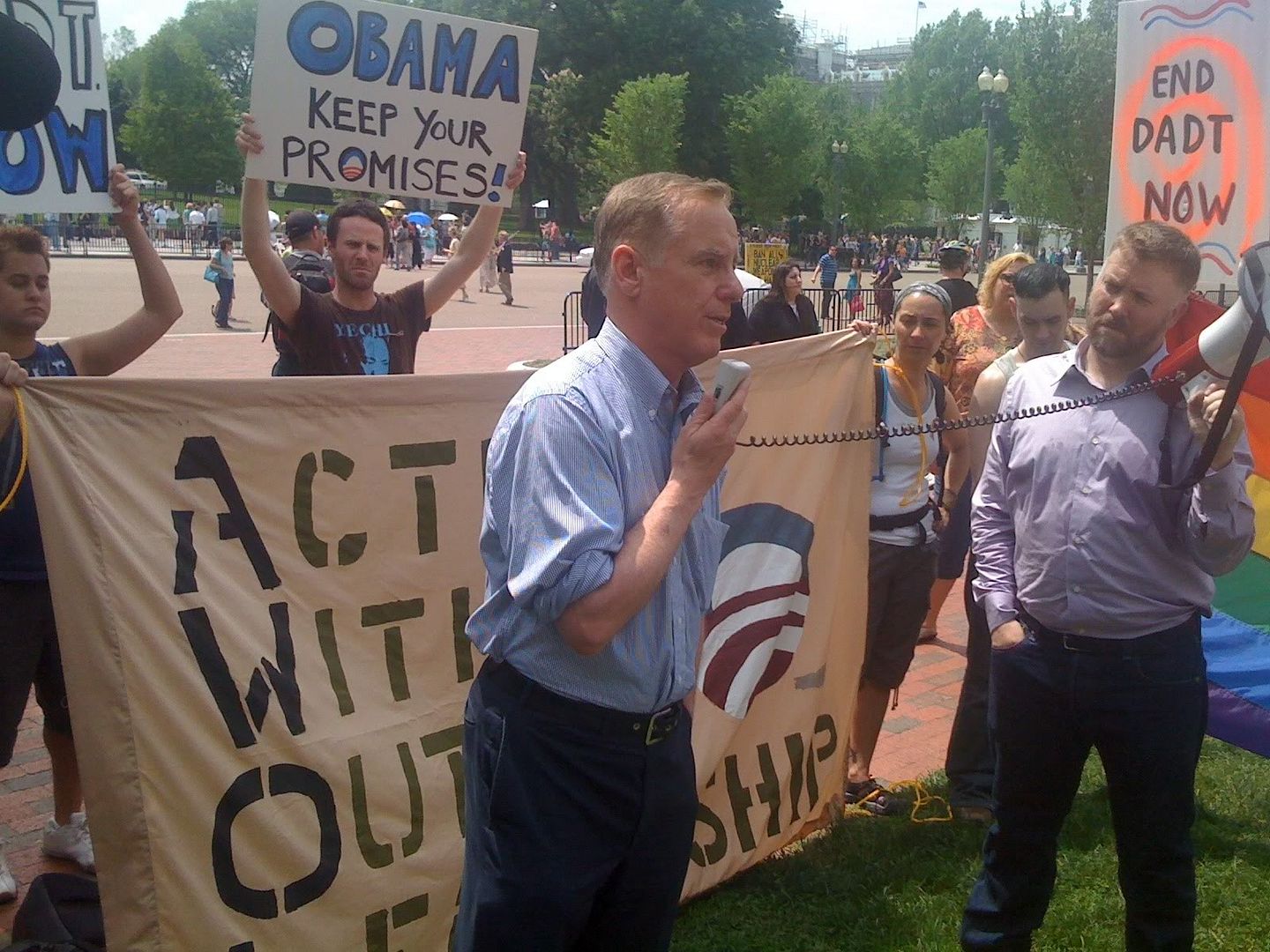 I thank Dean for speaking the truth and for showing up Sunday at GetEQUAL's Don't Ask, Don't Tell White House Protest and lending his voice to this neglected and overlooked movement.
The American Civil Liberties Union also lent its voice yesterday to the rising chorus of people demanding Congress act now to allow our LGBT troops to serve honestly, and sooner, rather than later. In a blog post titled DADT Repeal – If Not Now, When???, the ACLU responds to Friday's attempt by the administration's Secretary of Defense to get Congress to kick repeal down the road further:
There is simply no reason that Congress should not act this year to repeal DADT with the understanding that open service would not be implemented until the completion later this year of the Pentagon study on the best ways to do that. In the interim, there should be no discharges of gay and lesbian service members under the DADT policy.
The ACLU invites everyone to sign their petition to Congress, which can be found here.
Good for them on calling "bull-pucky" on the threadbare excuses the administration is making about "waiting for the study." We pass legislation all the time that doesn't go into effect until later. Health insurance reform has provisions that don't kick in until 2014, for gosh sakes.
And the mainstream position for repeal advocacy community is onboard with "waiting for the study." They are calling for: "Vote now. Implement later." Contrary to the frequently seen frame that activists are just impatient WATBs, the major LGBT lobbying groups including Human Rights Campaign, Servicemembers United and the Servicemembers Legal Defense Network have indicated they are absolutely amendable to a delayed implementation strategy. The grassroots, like GetEQUAL are very clearly calling for military budget inclusion, not immediate end of the policy. From their website:
Although a stand-alone bill has been introduced in the Senate to repeal DADT, there is no political will or incentive to pass the bill. President Obama knows that there is only one sure strategy to repeal DADT this year: include the repeal in this year's Defense Authorization Budget.
This is the point of contention:
Legislative strategy that is likely to succeed?
Legislative strategy that is likely to fail?
Advocates want the former, administration wants the latter. Dean recognizes the administration is endorsing a path to failure, and I thank him for saying so.
**********************************************************************************
Big Daily Kos News! From Adam B:
Congressman Patrick Murphy (D-PA), lead sponsor of the House's Repeal bill has expressed his intention to come here to Kos tomorrow (Wednesday, May 5) to answer questions about where we are on repeal. Murphy, the first Iraq War Veteran to serve in Congress, has fought fiercely and tireless for repeal. His interview with White House correspondent Kerry Eleveld about the weekend's developments on DADT was the subject of my diary yesterday. Let's be sure to give him a warm welcome, tentatively noonish.
**********************************************************************************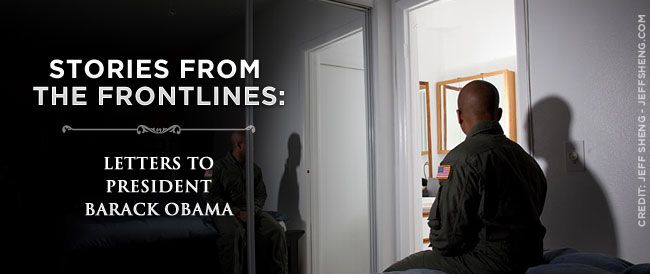 The silence from the White House has been deafening and ambiguity damaging. Repeal advocates have called for leadership, Barney Frank has described the White House "as ducking" the issue, Harry Reid publicly called for leadership last year. Adam Bink over at Openleft posted an excellent piecethat clearly delineates (in a neat list) ways the White House could be of assistance, but is not.
To raise awareness to the need for Presidential leadership, DADT repeal activists have launched "Stories from the Frontlines: Letters to President Barack Obama."The new media campaign launched in partnership with Servicemember's Legal Defense Network,is intended to underscore the urgent need for congressional action and presidential leadership at this critical point in the fight to repeal "Don't Ask, Don't Tell" (DADT).
Every weekday morning as we approach the markup of the Defense Authorization bill in the Senate and House Armed Services Committees, SLDN and a coalition of voices supporting repeal, will share an open letter to the President from a person impacted by this discriminatory law. We are urging the President to include repeal in the Administration's defense budget recommendations, but also to voice his support as we work to muster the 15 critical votes needed on the Senate Armed Services Committee to include repeal. The Defense Authorization bill represents the best legislative vehicle to bring repeal to the president's desk. It also was the same vehicle used to pass DADT in 1993. By working together, we can help build momentum to get the votes! We ask that you forward and post these personal stories.
Participating blogs: 365 Gay, The Advocate, AfterElton, AmericaBlog , Ameriqueer, AKAWilliam, The Bilerico Project, BoxTurtleBulletin, BrandFabulousness, The Daily Kos, David In Manhattan, David Mixner, Fired Up Missouri, GoodAsYou, HRCBackStory, Kenneth In The 212, Lez Get Real, LGBTPOV, Michael in Norfolk, Mike Gets Real, Mile High Gay Guy, Open Left, Page One Q, Pam's House Blend, RepealNow, SayenCroWolf, Seattle PI Stepforward, Signorile's The Gist, The New Civil Rights Movement, The Queer Times, Towleroad, We Give A Damn.
Today's Letter: "I couldn't talk to my chaplain."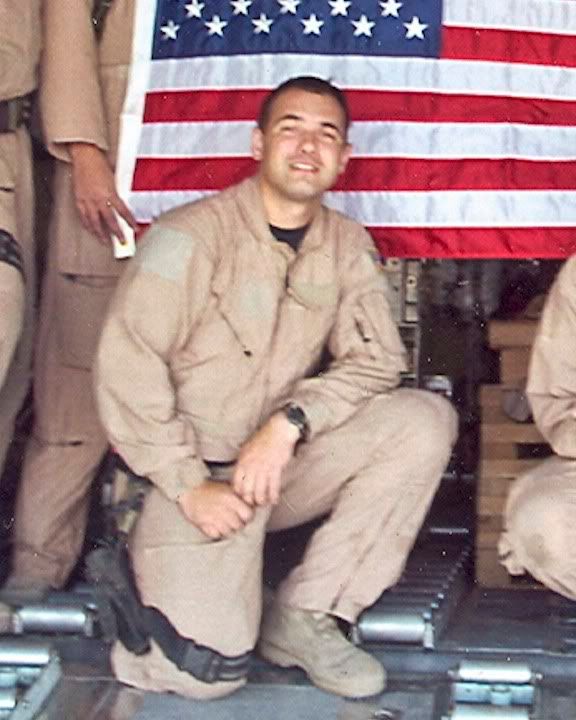 May 4, 2010

President Barack H. Obama
The White House
1600 Pennsylvania Avenue Northwest
Washington, DC 20500

Dear Mr. President,

They called me "vapor" --

As a little boy, I always had an interest in serving in the U.S. military. Both my grandfathers served in the Korean conflict, an uncle in Vietnam and I soon became the first of my generation to serve, followed by my brother and a few of my cousins.

After entering the Air Force in February of 2001, I eventually was promoted to Staff Sergeant. Although successful in my job as a Precision Measurement Equipment Laboratory (PMEL) technician, I was still coming to terms of being a gay man.

I struggled with my faith that told me it was a sin. I couldn't talk to the Chaplain Corps because I had read about gays being discharged after coming out to a chaplain. And so, I continued to internalize my struggle with accepting myself, my faith and how I must live under "don't ask, don't tell."

As my separation date approached, many of my supervisors offered career-counseling. They all said the same thing: "Tony, you need to consider re-enlisting. You are the kind of Airman that the USAF needs to retain. You have a bright future in the Air Force and it would be a great loss to see you leave."

They often times would ask why I wanted to leave, and I always replied: "I don't like wearing hats."

Eventually, I changed my mind and was able to better manage living under DADT. I applied for cross training into C-130 Loadmaster and was accepted. I figured the high ops-tempo; frequent deployments and lack of down time would make for a great environment to keep me so busy that I just wouldn't have time to be gay.

I thought it was a brilliant plan.

As a distinguished graduate from Loadmaster training, I quickly established myself as a top-notch troop with the 37th Airlift Squadron at Ramstein Air Force Base in Germany. Within four months of my arrival, I had completed my upgrade training and was mission ready. I deployed to Ali Al Salem, Kuwait, in support of Operation Iraqi Freedom.

But deployment can take its toll. I couldn't lie to my fellow troops -- my friends -- anymore. I delayed coming out as to not compromise our mission and waited until we returned to Germany. At first, I ended up avoiding them as much as possible.

They nicknamed me "vapor" -- as soon as we hit the ground, I would disappear.

I didn't avoid them because I didn't like them, I avoided them because I respected them enough to not have to lie and burden them with my secret.

When I arrived in Germany, I sent an email to my First Sergeant to tell him I wanted to speak with my commander about being gay and not wanting to abide by DADT any longer. My commander said I served honorably and they would be there to support me in my transition back to civilian life.

Each one of my past supervisors from the ranks of E7 to E9 wrote character reference letters that requested my retention. My commander and First Sergeant said my character, performance and honorable service was not at question…it was merely a legal matter.

Upon my discharge, I was hired by global contractor KBR to fill a technical position in Iraq and later in Bagram, Afghanistan. I was once again working with the same Airmen I had worked for on active duty, but this time openly gay. No one had a problem.

I continue to work side by side with members of our military – each of them knowing me as a gay man -- and it has caused no impact on the mission. My contracting job for the Department of Defense now is the same job I performed when I was in uniform.

Mr. President, we need you to help repeal this law – this year -- so that my comrades continue to work in a force that retains the best and brightest based on performance rather than sexual orientation. Our men and women in the military deserve better. Listen to them, and, please, sir, do not turn your back on us.

Very Respectfully,

Former SSgt. Anthony Loverde
United States Air Force
**********************************************************************************
CALL TO ACTION!
Fate of repeal will be decided in the next 30 days. As time grows short, repeal advocates have multiple strategies are in place. One thing they all share is a need to hear from the public the time is now. Now is the time for LGBT allies to get off the fence and call for equality for their fellow Americans.
To our supporters: Thank you. Keep fighting you are doing the right thing, and I will remember that in the future. This is why are are proud Democrats.
To our opponents: A Rep Murphy says, it wastes taxpayer money, is bad for national security, harasses brave, patriotic troops for no good reason and is an immoral policy that offends our American ideals.
To the fence sitters: You were elected to lead. History will show whether you had the courage to fight for what's right, or cowered in the corner, and let bigotry win. Voters too, who overwhelmingly support repeal will remember in November.
• Contact your House Representatives: Tell them to support Representative Patrick Murphy's plan to offer DADT repeal legislation as a floor amendment to the military bill. SLDN tool here.
• Contact your Senators: Tell them to support adding repeal to the Senate Defense Spending Budget: these Senators are most key: Bill Nelson, Ben Nelson, Evan Bayh, Jim Webb, Robert Byrd and Scott Brown. But call them all. Show them there's a grassroots movement to vote now. SLDN tool here.
• Contact the White House: Tell our Commander in Chief to ask Congress to insert repeal language into the 2010 Defense Authorization Act. Repeal can't wait until 2011. The moment is now.
• Contact Senate Armed Services Committee Chairmain Carl Levin (D-MI) and tell him Military Budget Attachment is the way to go. His office in Washington can be reached at: (202) 224-6221
• Become a citizen co-sponsor of repeal at Senator Udall's site.
Update 1: I much appreciate the rec list! It's so important that this story not drop out of public's sight right now:

WHY THIS IS A CRITICAL TIME:
• The House Armed Services Committee markup of the Defense Authorization bill is expected May 19.
• The Senate Armed Services Committee markup of the Defense Authorization bill is expected the week of May 24.

Repeal advocates are on the 10 yard line.