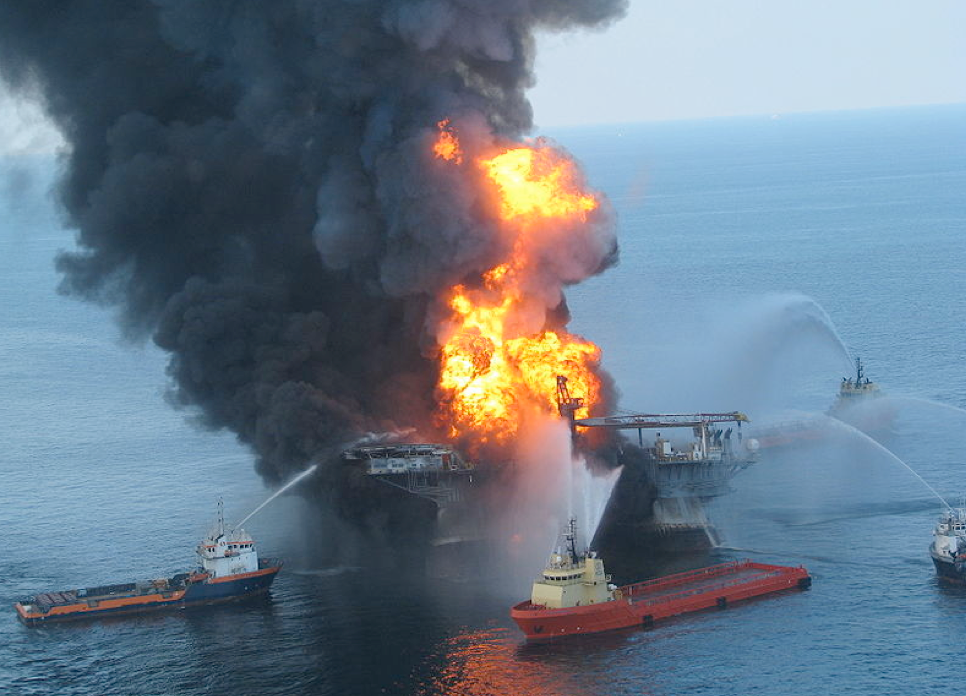 BP says that it accepts responsibility for this underwater oil volcano. In this case, responsibility needs to mean more than slapping monetary fines and/or probation on a company that now has a record of criminal convictions for environmental crimes for which it remains on probation.
Convictions for environmental crimes, monetary fines, and probationary status have not caused BP to stop its pattern and practice of profits trumping human life and environment. A common thread in two prior cases, and the initial reports on this underwater oil volcano, include BP's penchant for denial of risks and the use of antiquated or faulty equipment. In two cases, people died. At what point do we stop charging polite environmental crimes and move up to some form of homicide charges, such as manslaughter, or at least criminal assault? After all, corporations are people.
2005 Texas refinery explosion killed 15, injured 170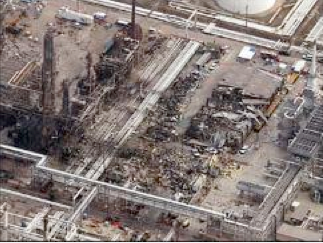 BP was convicted of a felony violation of the Clean Air Act, fined $50 million and sentenced to 3 years probation for the Texas City, Texas refinery explosion that killed 15 and injured 170 in 2005. The conviction resulted from two plea agreements in 2007 that were part of a package of deals for 3 separate occurrences:
[BP] America today announced two plea agreements and a deferred prosecution agreement with the U.S. Department of Justice and a consent order with the Commodity Futures Trading Commission which end governmental investigation of company wrongdoing on matters related to the March 2005 explosion and fire at the Texas City refinery, the March and August 2006 oil transit line spills in Alaska and improper propane trading in April 2003 and February 2004.
The 2005 Texas refinery explosion involved an "especially dangerous procedure" permitted to occur without safe equipment:
On March 23, 2005, BP employees and contract workers began an especially dangerous procedure: re-starting a unit that had been down for repairs. They began to fill a tower with gasoline. The tower overflowed, and the excess gas flowed into a back-up unit, which then also overflowed and sent a geyser of gasoline into the air. Pat Nickerson, a 28-year veteran of the Texas City refinery, was on site that day, driving his truck to an office trailer.

"I looked down the road. It looked like fumes, like on a real hot day, you see these heat waves coming up and then, I saw an ignition and a blast. Then my windshield shattered. The roof of the vehicle I was driving caved in on me," Nickerson recalls.

The plume of gas had formed a massive vapor cloud on the ground, and an idling truck likely had ignited the fumes. The blast pulverized several office trailers full of workers parked nearby.
An investigation by 60 Minutes found that BP failed to "protect the health and safety of its own workers, even though the company made a profit of $19 billion last year." This investigation also "found evidence that BP ignored warning after warning that something terrible could happen at Texas City." BP's response was to blame the explosion on operator error and fire 6 employees. However, the chief government official who investigated the explosion concluded that BP was a company that remained blind to risk:
"The problems that existed at BP Texas City were neither momentary nor superficial. They ran deep through that operation of a risk denial and a risk blindness that was not being addressed anywhere in the organization," says Carolyn Merritt, who was appointed by President Bush to be chairman of the U.S. Chemical Safety Board, the federal agency which investigates all major chemical disasters.
The government investigation found a company that used "antiquated equipment, corroded pipes about to burst, and safety alarms that didn't work." The to-hell-with-worker-safety attitude was so bad that this "especially dangerous procedure" was allowed to proceed even though management knew that 3 key pieces of equipment were not working properly.
In October 2007, it was announced that the penalty for killing 15 people was a felony guilty plea, a $50 million dollar fine and 3 years probation.
The terms of its Texas City probation included:
The agreement also requires, as a condition of probation, compliance with all terms of the September 2005 Settlement Agreement with the U.S. Occupational Safety and Health Administration (OSHA) and the June 2006 Agreed Order issued by the Texas Commission on Environmental Quality.
It does not appear that BP complied. In 2009, the Occupational Safety and Health Administration ("OSHA") levied the largest monetary penalty in its history of $87 million for "failing to correct safety problems identified after a 2005 explosion that killed 15 workers at its Texas City, Tex. refinery." BP simply failed to comply with a 2005 OSHA settlement agreement to fix safety hazards at the refinery: The penalty was imposed after OSHA issued 271 notifications for failing to correct hazards over the 4 years since the explosion and OSHA also identified 439 "willful and egregious" violations of "industry-accepted safety controls" at the refinery. BP maintained that it takes its "responsibilities extremely seriously."
2006 pipeline spill in Alaska's Prudhoe Bay
In 2000, BP was convicted of an environmental felony for failing to report illegal dumping of hazardous materials down oil well shafts as soon as it learned about it and was fined $500,000 and placed on probation. A BP official told the judge:
"We are committed to ensuring this never happens again."
However, probation was no deterrence when more problems happened in Alaska a few years later while BP was still on probation.
In 2006, a federal grand jury investigated BP for possible criminal prosecution in the "largest spill ever on Alaska's North Slope" that caused 267,000 gallons of oil to contaminate Prudhoe Bay. The grand jury investigated the issue of the failure to maintain the safety of the pipeline. BP argued it was a simple matter of management failure and employee mistakes, but eventually pleaded guilty to a federal misdemeanor violation of a federal water law and paid fines and restitution of $20 million.
Pursuant to this plea agreement, BP admitted that its "approach to monitoring and managing corrosion in Prudhoe Bay oil transit lines failed to properly consider the risks posed by changing operating conditions in the field and that, as a result, BPXA failed to take necessary actions to prevent the March 2006 pipeline spill."
In 2006, BP spilled 267,000 gallons of oil in the tundra of Alaska's North Slope that was not discovered for 5 days until a worker smelled the crude oil. The leak was from a quarter-inch-wide hole in a pipeline. Five months after the spill, BP finally admitted that "the tiny hole was part of a widespread corrosion problem that will force it to replace 16 miles of a 22-mile pipeline from Prudhoe Bay." The problem was that BP did not "regularly clean the lines to prevent a sludge of sand and solid residue from building up, and they must monitor the aboveground lines to detect corrosion in the harsh Arctic climate." After BP inspected 40% of the lines, it found 16 "anomalies" in 12 locations and in some places the "corrosion had eaten away more than 70 percent of the 3/8 -inch pipeline wall."
So, BP admitted that it failed to consider risks, yet then took steps to make sure that employees who would know such risks remained silent. In order to prevent employees from reporting safety and environmental problems that could then be fixed to prevent harm, BP apparently retaliated against the employees:
Congressional hearings held to probe the spills immediately focused on claims that BP actively discouraged workers from reporting safety and environmental problems. The British-born chief of BP's corrosion unit, Richard Woollam, who'd left the company in 2005, took the 5th Amendment against self incrimination during the hearings, which uncovered a 2004 report by the Houston law firm Vinson & Elkins warning BP that employees faced retaliation for reporting problems.
Remember when Labor Secretary Hilda Solis stated that "there's a new sheriff in town?" BP has been provided with the leniency of environmental charges, fines and probation when people were killed, but continued to violate laws designed to protect human life and environment. Yet, the Interior Department then exempted this new drilling operation that caused the underwater oil volcano from a detailed environmental impact analysis last year. When do we get serious?