Meet John Solomon: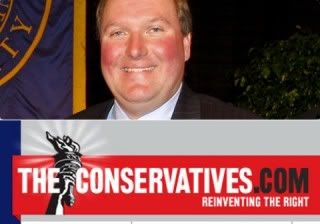 (h/t to otto for the photo!)
John Solomon, a Marquette University graduate and investigative journalist whose illustrious career has taken him from the AP (1999-2006), to the Washington Post (2007-2008) to the Washington Times (2008-2009), where he set up www.TheConservatives.com ("Designed to Grab Story Ideas From Activists, Conservative Groups") and went missing before leaving the paper after the big shake-up in November 2009.
John Solomon is the source of a rumor that the White House repressed the release of video tape of BP's Gulf Gusher. As far as I can tell, that rumor started swirling at FireDogLake from where it came into a DKos comment and then a DKos diary and to other places like Democratic Underground, and, surprise, surprise, at least one rightwing site too.
That rumor was started by John Solomon in an interview on the ABC video report "Brian Ross Investigates: Cleaning Up the Oil Spill." I recommend watching the whole thing, but here is the transcript of the relevant part:
Brian Ross (4:36): "One of the things that also came out of these practice drills was a discussion of who owns the tape, that it's 'proprietary information,' as they call it. It took almost 3 weeks for BP to release just 30 seconds after lots of pressure from the media, the White House, the Coast Guard. What was going on there? What's the dynamic of that relationship?"

John Solomon (4:53): "Well, a lot had to do with ABC News and the pressure it put on to try to get that tape. There's a public relations disaster. When you put that tape out and you can see the spewing of that oil, BP does not want that to be the image that people remember. They'd rather see the booms out there and that the message that we're trying to do something. So, from a public relations standpoint, they exercised their proprietary information rights, and slowed the government down from releasing that tape, and preventing all of us from seeing what the White House Situation Room was seeing, that this oil was spewing out in large, large amounts."

Brian Ross (5:23): "And the White House went along with that?"

John Solomon (5:25): "Well, that's what we're trying to ask. I think at the end of the day, the White House finally acquiesced to the 30-second piece because they understood the political and media pressure. But it's a good question. Why not sooner? You know, it's been going on for three weeks, people have been seeing this video internally within government almost every day – why can't the American people see it?"

Brian Ross (5:41): "John Solomon, thank you very much."
I dunno, but that doesn't seem very conclusive to me. What do you think, does Solomon have evidence to back his claim that the video was running in the WH Situation Room for 3 weeks? Was the WH repressing that video? Or was it actually pressuring BP to release it, as Brian Ross asserts in the interview? Which, by the way, Solomon and other co-authors also assert in their own article published on the same day of the ABC video report, May 12, titled "After Oil Rig Blast, BP Refused to Share Underwater Spill Footage", where they frame it clearly as BP's refusal to release the video for "proprietary" reasons. No mention of the White House whatsoever. So what gives?
Let me tell you.
John Solomon has a long history of Dem-bashing. A colleague believes he is just lazy and takes oppo research and runs with it, without doing proper vetting of information before reporting.
Others, like me, believe he is a right-wing hack. Some of my like-minded friends include, but are not limited to:
TPM in a post titled "WaPo Snags AP's Dem-Chasing Investigator" announcing Solomon's move from the AP to the WaPo;
and FireDogLake in the "Wankery of Solomon":
"It was pretty well established that John Solomon was a right-wing tool before the Washington Post hired him in December 2006..."
and Media Matters, reporting on his move from the WaPo to WaTimes, including a long list of questionable reporting:
"However, as Media Matters for America has documented, like The Washington Times itself, Solomon has been a frequent purveyor of conservative misinformation:..."
and Columbia Journalism Review, reporting on Solomon's series of AP articles trying to tie Reid to Abramoff:
"In the stories, Solomon tried to tie Reid to disgraced lobbyist Jack Abramoff, suggest that a land deal in Nevada was shady, and made a big deal over Reid's accepting passes to a boxing match from the Nevada Gaming Commission. These stories omitted critical details that directly affected how seriously the charges should be taken, and in the end none were serious enough for Reid to be admonished by the Senate ethics committee."
and the CJR again, reporting on Solomon's AP 2004 article about John Kerry, "Kerry's 1994 Effort to Cut Defense Eyed":
"While Solomon does add to the RNC's work with a statement from Sen. Frank Lautenberg, D-N.J., expressing support for Kerry, his report is a clear demonstration of the influence opposition research is already having on coverage of the campaign."
and RawStory, reporting on Solomon's coziness with WH officials in his WaPo reporting on Bush's firing of US Attorneys:
"When a scandal involving the Bush administration's firing of US Attorneys broke in early 2007, initial coverage by the Washington Post supported the idea that the firings had been politically motivated. That approach, however, quickly changed to one that was far more friendly to the White House. In one email to a Department of Justice spokesperson, Solomon even appears to be suggesting what spin to apply in order to minimize damage from the revelations.

"Thanks for any help you can give on this," Solomon wrote to Brian Roehrkasse on the morning of March 2, 2007. "I think some tick tock along these lines will bring some perspective to how the process occurred. Of course, the White House counsel's office had to sign off. Of course an administration in its last two years looks for some fresh blood to inject into jobs. Of course, DOJ's analysis of prosecutors goes beyond performance evaluations to achievements or failures on policy issues like immigration. I think we can get this just right with your help."
and Americablog about his John Edwards' smear attempt:
"You'll recall that we wrote last week about how embattled former Associated Press reporter, who is now working at the Washington Post, just wrote his first front page story at the Post about Democratic presidential candidate John Edwards.

It was a story about how Edwards sold his house to someone John Solomon and his editors at the Post don't like. That's it. The story implied in its first two paragraphs that Edwards' spokeswoman lied to reporters about the sale - but in the 9th paragraph of the story you find out that Edwards' spokeswoman actually told the truth.

As we wrote before, this is a classic Solomon trick - imply something nefarious in the first few paragraphs, then disprove it buried way down in the story where the reader likely won't even see it. And sometimes, he's even less sneaky - he simply reports an outright lie, something the source never even said."
From these links and from his page at SourceWatch, you will learn that John Solomon has spewed misinformation or omitted important information on numerous occasions in his attempts to tarnish the reputations of Barack Obama, John Kerry, John Edwards, Harry Reid, Hillary Clinton and other Democrats, even botched the Rove-Plame story, and God knows what else.
Three things:
Remember John Solomon's name.
Next time you hear the WH kept the BP Gulf Gusher video a secret, please ask the source to reveal their source or put up the evidence for that information.
Don't believe everything you read, and please check your sources, folks!
Just sayin'.