It's time. BP doesn't deserve any more chances. Hell, they didn't deserve a chance to begin with.
I know, they've said that their only goal is to seal the well, permanently. I will give them the benefit of the doubt that they are not seeking to recover their investment. However, it is apparent that corporate interests are interfering with both the capping and clean-up efforts. BP's main interest seems to be with their own viability as a company, rather than the Gulf of Mexico's viability as an ecosystem.
We are talking about our shorelines, our livelihood, our biodiversity. We need the best scientists, engineers, and all that the United States military has to offer to fix this thing. And it needs to come from the top. This is a national emergency, so why aren't we treating it as such?
BP has failed every step of the way:
* The initial explosion, caused by their own greed and negligence * The use of toxic dispersants that will probably do more damage than the oil itself and may already be poisoning fishermen * They wouldn't allow scientists to properly calculate the size of the leak * They try to pass off blame to others * They spin the whole thing like it's a walk in the park * And probably a whole lot more I can't think of right now
And what did we do? We let them.
We let them drill in the first place, because we can't seem to figure out how to get our act together and transition to clean energy.

We relaxed regulations that may have prevented this disaster. (Thanks a lot, Dick)

NOAA has helped downplay concern about the spread of the pollution.

Our federal government is essentially letting BP take charge of this operation. I say, let's take the thing over, and have BP cooperate with us, rather than the other way around. We can bill them for it later.
Did you see this image from BP?
You know what this image says to me? It says that BP thinks we are a bunch of fucking morons. BP claims that their little straw is capturing 5,000 barrels a day, even as they estimate that the total flow is the same amount. And their little picture makes it look like a drip. Of course, we have all seen the reality:
This is exactly what happens when we let a for-profit company try to clean up it's own mess. They are more concerned with image than with reality. Here is your reality, BP: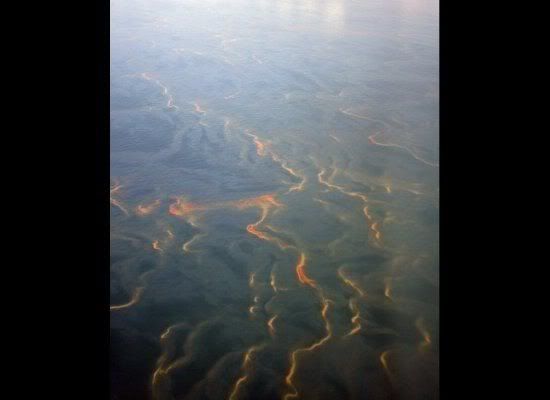 If I weren't so angry, I would cry.
P.S. Obviously I don't know the legal ramifications of nationalization, and I don't even know exactly what is going on. That's part of the problem right there, the capping and clean-up efforts need to be as transparent as possible, and right now BP is making damn sure that they aren't. Also, this has probably already been diaried, but I couldn't track it down, so please let me know in the comments so I can link to it.