Welcome to the eKos Earthship, your one-stop-shop for green diaries and series.
Beneath the fold you will find announcements, today's eco-diary roundup, news, and our environmental video of the day.
You can also follow us on Twitter!
Tonight's editor: ellinorianne
Cetacean's Rights? It's a serious question that's being put forth by the scientific community.
Should Dolphins and Whales Have 'Human Rights'?

Research on everything from whale communication to "trans-species psychology" hints that the glowing portrayals of these fictional animal friends have some basis in reality. If cetaceans—marine mammals including whales, dolphins, and porpoises—can act like humans, even using tools and recognizing themselves in a mirror, shouldn't they have the same basic rights as people?

That's what attendees of a meeting organized by the Whale and Dolphin Conservation Society (WDCS) said yesterday, where a multidisciplinary panel agreed on a "Declaration of Rights for Cetaceans: Whales and Dolphins."
And here is the declaration itself...
Declaration of Rights for Cetaceans: Whales and Dolphins

Based on the principle of the equal treatment of all persons;
Recognizing that scientific research gives us deeper insights into the complexities of cetacean minds, societies and cultures;
Noting that the progressive development of international law manifests a growing sense of entitlement by cetaceans;
We affirm that all cetaceans as persons have the right to life, liberty and wellbeing.

We believe that:

Every individual cetacean has the right to life.
No cetacean should be held in captivity or servitude; be subject to cruel treatment; or be removed from their natural environment.
All cetaceans have the right to freedom of movement and residence within their natural environment.
No cetacean is the property of any State, corporation, human group or individual.
Cetaceans have the right to the protection of their natural environment.
Cetaceans have the right not to be subject to the disruption of their cultures.
The rights, freedoms and norms set forth in this Declaration should be protected under international and domestic law.
Cetaceans are entitled to an international order in which these rights, freedoms and norms can be fully realized.
No State, corporation, human group or individual should engage in any activity that undermines these rights, freedoms and norms.
Nothing in this Declaration shall prevent a State from enacting stricter provisions for the protection of cetacean rights.
Agreed, 22nd May 2010, Helsinki, Finland

Dispatch from the Gulf Oil Spill: Philippe Cousteau Tours the Wetlands, Oil Refineries (Photos and Video)
I arrived this morning into New Orleans from Charleston, South Carolina, where I had been the night before at a gala event for the South Carolina Aquarium. They had honored my sister Alexandra and me with the Legacy Award last year and then invited me back this year to present the award to Al Gore. It was an honor and a perfect pre-cursor to my trip to fight the oil spill in the Gulf of Mexico. This is my second trip down here (you can read about my first trip two weeks ago here.) Now I am down here again to cover the spill from a new angle...stay tuned, as you will learn more in the next day or so. This is the greatest environmental disaster of our lifetimes and it has only just begun.

Introducing the World's Most Powerful Supercomputer for Climate Research
A supercomputer that will likely be able to perform around 1 million billion calculations in a second (a petaflop) will be solely dedicated to climate change research. This week supercomputer maker Cray said it won a $47 million contract with the Department of Energy (DOE) to provide next-generation supercomputing power to the National Oceanic and Atmospheric Administration (NOAA) and the Oak Ridge National Laboratory (ORNL). Cray says the supercomputer it will build — dubbed the Climate Modeling and Research System (CMRS) — will be the world's most powerful high-performance computer dedicated to climate research.

For the close to $50 million, which will be funded through the stimulus package, the labs will receive one of Cray's XT6 supercomputers in the second half of 2010, followed by an even more powerful supercomputer with the code name "Baker" in 2011, and more high-performance computing gear in 2012. Cray, which reported pretty weak first-quarter earnings results earlier this month, says its XT6 was the first to break the petaflop barrier. While Cray didn't say how fast the CMRS would be, the Register predicts that for $47 million, the labs will be able to buy on the order of 1 petaflop.

Sadly, when reading this headline, the first thing I thought was, "TOO BIG TO FAIL?". Chinese engineers propose world's biggest hydro-electric project in Tibet. I can't imagine the obstacles or the environmental issues related to a project of this size. I don't feel qualified to comment though.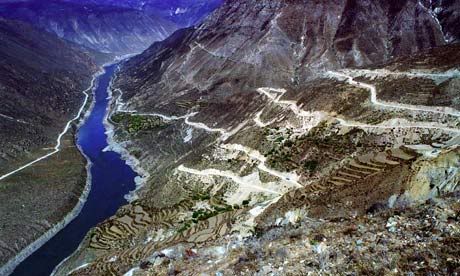 Chinese hydropower lobbyists are calling for construction of the world's biggest hydro-electric project on the upper reaches of the Brahmaputra river as part of a huge expansion of renewable power in the Himalayas.

Zhang Boting, the deputy general secretary of the China Society for Hydropower Engineering, told the Guardian that a massive dam on the great bend of the Yarlung Tsangpo - the Tibetan name for the river - would benefit the world, despite the likely concerns of downstream nations, India and Bangladesh, which access water and power from the river.

Zhang said research had been carried out on the project, but no plan has been drawn up. But documents on the website of a government agency suggest a 38 gigawatt hydropower plant is under consideration that would be more than half as big again as the Three Gorges dam, with a capacity nearly half as large as the UK's national grid.

"This dam could save 200m tonnes of carbon each year. We should not waste the opportunity of the biggest carbon emission reduction project. For the sake of the entire world, all the water resources than can be developed should be developed." That CO2 saving would be over a third of the UK's entire emissions.

Uglier the animal, the worst off their fate? A New study says that's the case. Meerkats, chimps and pandas: the cute and the furry attract scientists' attention and conservation funding.
When it comes to a beauty contest, the African manatee, a bloated sea cow that grazes the coastal waters off west Africa, will never win any prizes. But should an unprepossessing mugshot condemn a species to extinction?

According to a new study, rampant bias exists among researchers towards "cuter and more interesting" animals. The meerkat has clocked up more than 100 published studies since 1994. The manatee has been the subject of just 14, and academic neglect may be a vital factor in its currently parlous position. "Scientists are people too," says Morgan Trimble, a conservation scientist at the University of Pretoria in South Africa, who carried out the study. "And many of them want to work with the big and furry stuff."

For years, conservationists have wrestled with the problem that high-profile species draw the most attention, and therefore the most money. It is no accident that conservation group WWF is known by its distinctive panda logo.
It's led to an important debate on how conservationists focus their please for funding and how they think about endangered species. Do we focus on a habitat? An umbrella species, which in protecting a characteristic species you save a whole bunch of other lesser known species that are in the same area? Or do we have to take a holistic approach, in that without the habitat, without biodiversity, all the cute fuzzy creatures don't matter very much in the end?
It's a paradox that I believe the conservation community has created in order to bring much needed attention to endangered species but now that things have become more dire, that a larger number of species are under threat, there needs to be a newer approach.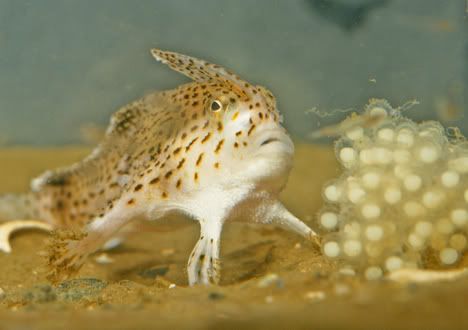 A fish with hands? No seriously?
Nine Fish With Hands Are Newly Discovered, Almost Extinct.
These fish, pardon the pun, need a hand. There are 14 species of fish with hand-like fins. And nine are in danger of extinction. Don't you hate it when you discover something amazing, only to find out that it's almost gone?

Such is the case here. CSIRO, the Commonwealth Scientific and Industrial Research Organisation in Australia, says nine new species of handfish are described in research that says there's an urgent need to better understand and protect the diversity of life in our oceans.

"Handfishes are small, often strikingly patterned or colourful, sedentary fish that tend to 'walk' on the seabed on hand-like fins, rather than swim," according to Daniel Gledhill, a taxonomist with the CSIRO Wealth from Oceans Flagship.

And for some cute, here's an Otter teaching her babies to swim.
And some manatees that were rescued just in April because of injury and illness. Okay, I think they are cute.


Eco-series line-up:
(All times Eastern!)

Today's eKos diaries:
| Author | Diary | Time | Tags |
| --- | --- | --- | --- |
| Green Bean | It isn't news. | 05/24/10 12:19AM Pacific | The News, The Gulf, Catastrophe, Exploitation, Media |
| wbramh | BP - When Chaos Becomes Policy in Place of Solutions | 05/24/10 01:55AM Pacific | BP, oil spill, Gulf, solutions, President Obama |
| EyeOfSouthGwinnett | My message to whitehouse.gov | 05/24/10 02:35AM Pacific | obama, deepwater, deepwater horizon, bp, oil |
| seesdifferent | How the top kill would (hopefully) work (with animation) | 05/24/10 06:01AM Pacific | oil, BP oil leak, gulf oil leak, British Petroleum, Blowout preventer |
| PhotogHog | Updated 2 TIMES - Deepwater Horizon appears to be erupting from seabed | 05/24/10 08:10AM Pacific | deepwater horizon, BP, new leak, top kill, recommended |
| Frenchy Lamour | Did BP Oil Hit the MS Sound Yesterday? (With Video of Sea Turtle) | 05/24/10 08:22AM Pacific | oil, BP, disaster, environment, Gulf Coast |
| Frank Palmer | The 4 consequences of rising atmospheric CO2 | 05/24/10 08:39AM Pacific | Global Warming, oceanic acidification, CO2, eKos |
| mwmwm | Gulf gusher: a sort of requiem | 05/24/10 08:45AM Pacific | dk-greenroots, ekos, environment, green, oil |
| wade norris | (video)The BP Oil Disaster and why this endorsement matters-DK Greenroots | 05/24/10 09:05AM Pacific | dk greenroots, eKos, Andrew Romanoff, Colorado, Senate |
| rperks | Music Saves Mountains: Concert recap, photos and more! | 05/24/10 09:05AM Pacific | appalachia, bigkenny, dave matthews, emmylou harris, mountaintop mining |
| Bev Bell | Environment and Food in Haiti: Two Crises, One Solution | 05/24/10 09:07AM Pacific | Haiti, Haiti Earthquake, Help Haiti, Haiti Aid, Agriculture |
| Sue Sturgis | Special investigation: Coal's dirty secret | 05/24/10 09:18AM Pacific | coal, coal ash, dirty coal, dirty energy, epa |
| Avenging Angel | Sarah Palin's Supposed Energy Expertise Backfires. Again. | 05/24/10 10:26AM Pacific | Sarah Palin, Barack Obama, John McCain. Oil Spill, BP, Deepwater Horizon |
| possum | Science Tidbits | 05/24/10 12:32PM Pacific | Science, Teaching, Learning, eKos |
| gchaucer2 | Oil and Gas Exemptions in NEPA | 05/24/10 01:28PM Pacific | National Environmental Policy Act, NEPA, eKos |
| slinkerwink | The Government Can Federalize The Oil Spill! | 05/24/10 02:31PM Pacific | oil spill, government, BP, 2010, eKos |
| beach babe in fl | Macca's Meatless Monday...Tofu On The Hill | 05/24/10 03:02PM Pacific | recipes, .vegetarian, vegan, Meatless Monday, health |
| Andrew Romanoff | CO-SEN Live Chat With Andrew Romanoff | 05/24/10 03:32PM Pacific | eKos, Andrew Romanoff, Michael Bennet, 2010, Senate |
| Francis Thicke | Iowa Ag Sec.--Who's Afraid of Francis Thicke? | 05/24/10 03:32PM Pacific | Francis Thicke, Iowa Secretary of Agriculture, 2010 election, peak oil, ammonia fuel |
| jamess | What 'Legitimate Claims' look like -- It's time to Raise the 75M Cap | 05/24/10 03:33PM Pacific | BP, Legitimate Claim, Liability, Social Costs, Economic Impact |
Yesterday's eKos diaries:
| Author | Diary | Time | Tags |
| --- | --- | --- | --- |
| BruceMcF | Sunday Train: Getting Ohio's 3C Line Into Cincinnati | 05/23/10 04:11PM Pacific | ekos, learning, Brawny Recovery, Living Energy Independence, passenger rail |
| slinkerwink | BP Won't Change Dispersants In Oil Spill Despite EPA | 05/23/10 04:13PM Pacific | BP, dispersants, EPA, 2010, oil spill |
| gchaucer2 | EPA, British Petroleum and Debarment | 05/23/10 04:17PM Pacific | Recommended, EPA, British Petroleum, Deepwater Horizon, debarment |
| Laurence Lewis | Vampire Blues | 05/23/10 05:00PM Pacific | Ken Saro-Wiwa, Ogoni Nine, Shell Oil, Exxon, Valdez |
| Patriot Daily News Clearinghouse | Cheney's BP Energy Extremes Must End | 05/23/10 07:00PM Pacific | climate change news roundup, BP, Gulf oil disaster, environment, ekos |
| dpwks | Solar linear clothes dryer technology (Updated #4) | 05/23/10 07:04PM Pacific | Recommended, energy conservation, clothes drying, restrictive covenants, energy |
| A Siegel | Do we have a new 9/11 and Katrina in terms of an opportunity for national transformation? | 05/23/10 08:44PM Pacific | five percent solution, deepwater horizon, eKos, Recommended |
| 8ackgr0und N015e | BP numbers suggests 111,000,000 gallons and counting. | 05/23/10 09:03PM Pacific | bp, british petroleum, deceptive business practices, business as usual, mything the point |
| Interceptor7 | Overnight News Digest: Dirty Laundry | 05/23/10 09:10PM Pacific | Overnight News Digest, OND, group diary, eKos |
| Meteor Blades | Green diary rescue & open thread | 05/23/10 09:22PM Pacific | green diary rescue & open thread, eKos |
| James Paton Walsh | New Orleans, canary in a coal mine | 05/23/10 10:04PM Pacific | BP, oil, global warming, New Orleans, Katrina |
| jamess | It's Deja vu all over again, from the Timor Sea | 05/23/10 04:58AM Pacific | Rachel Siewert, Australia, Green Party, Corexit, Dispersants |
| lineatus | Dawn Chorus Birdblog | 05/23/10 06:08AM Pacific | birds, birding, dawn chorus, hiatus, eKos |
| Crashing Vor | The Difference | 05/23/10 06:41AM Pacific | New Orleans, Louisiana, oil spill, eKos, Deepwater Horizon |
| gravlax | Avoiding Deforestation There Helps Farmers Here | 05/23/10 07:20AM Pacific | Deforestation, Agriculture, Ohio Corn Growers Association, Avoided Deforestation Partners, Biofuels |
| Kristina40 | Sorry Sarah, money can't fix this. Updated: Sarah and WH trade jabs | 05/23/10 09:12AM Pacific | BP, Sarah Palin, oilpocalypse, eKos |
| lipowg | Betty Boop and John Prine help explain why Kerry-Lieberman won't and shouldn't pass | 05/23/10 09:21AM Pacific | Kerry-Lieberman, Climate, Global Warming, 1957 Civl Rights Act, Social Security |
| Edger | The End Of The Beginning? | 05/23/10 09:40AM Pacific | eKos, Climate Change, Environment, Global Warming, Pollution |
| Horace Boothroyd III | Wildlife Wind and Oil | 05/23/10 11:53AM Pacific | ekos, Windpower, Birds, Oil |
| wide eyed lib | Free Food: Foraging Sometimes Means Waiting | 05/23/10 01:00PM Pacific | Foraging, Botany, Survival Skills, Teaching, Spring |
| Hayate Yagami | Deepwater Horizon: The first 30 days [minor updates#1] | 05/23/10 01:23PM Pacific | eKos, Deepwater Horizon, Gulf Oil Spill, BP, Oil |
| wade norris | The Next Dem. Primary Senate Candidate You Should Know About (DK Greenroots) | 05/23/10 02:56PM Pacific | eKos, Bill Halter, Primary, 2010, senate |
| Benintn | What Obama is doing about the BP oil spill | 05/23/10 03:00PM Pacific | Recommended, open government, new media, BP oil spill, Deepwater Horizon response |
| DWG | Rumors of debarment for BP | 05/23/10 03:27PM Pacific | Recommended, oil, dirty energy, BP, Deepwater Horizon |
| FishOutofWater | 9 Scariest Words "I'm From BP and I'm Here to Help" | 05/23/10 03:47PM Pacific | Recommended, eKos, environment, oil, BP oil spill |

About eKos
The Idea

This project was inspired by the Earth Day @ DKos Blogathon. In case you missed it, we had 31 participating environmental diaries, all of which were linked to in the Mothership. During the event we had several requests for an eco-mothership diary series in the mould of the Earth Day effort.

The Mission

eKos is all about promoting community eco-diaries. Daily Kos already showcases several series, but sometimes the work of dedicated green diarists pass off the recent diary list hardly noticed. Our goal is to make these diaries more accessible. In the process we hope to build community and bring in a broader audience to the exceptional environmental writing here at DK.

How eKos Works

If you want a diary included in the list, please let us know by leaving a comment. We'll do our best to search out green diaries, but are bound to miss a few. For eKos to live up to it's full potential, eco-diarists will need to post a link to the mothership at the end of their diary. This will provide readers with easy access to other recent environmental diaries.

Requirements

eKos is meant to be inclusive, but we will have standards for quality and content of listed diaries. (As long as you don't violate site rules and have a modicum of relevant, original content, you should be fine.)

'eKos' tag

If your diary gets listed, we'll ask you to add the eKos tag to your diary.

Contact

You can follow us on Twitter

If you are interested in becoming an eco-ranger for eKos, or just want some more info, e-mail ekos350atgmaildotcom

eKos Rangers

In no particular order:

Regina in a Sears Kit House
boatsie
Hopeful Skeptic
RLMiller
patrickz
Earthfire
Ellinorianne
A Siegel
dRefractor
SolarMom

Please give them some mojo if you see them, they deserve it!