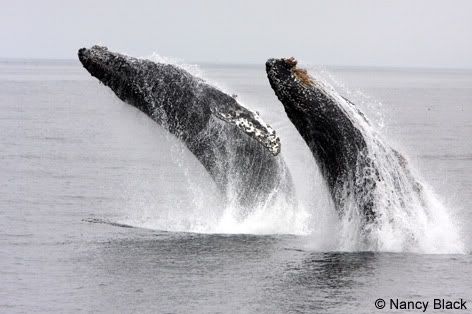 You read that right, according to new research, humpback whales form lasting friendshipsover years between migrating and feeding seasons as they return to the same spots.
This is the first time that they've found this level of social behavior with baleen whales, the larger cousins to the dolphin family, who've been known to form strong bonds with family pods and social behaviors observed much more closely in the wild and in captivity.
And for me, this is just more proof that cetaceans deserve protection from whaling, an issue that is in dire need of attention since the International Whaling Commission is going to be addressing it at their next world wide meeting.
These friendships are found between female humpbacks of the same age and they found that these bounds also benefited their ability to breed the most calves. This speaks then to the ability of the humpback to thrive, having strong bonds among peers and that their ability to reproduce is dependent on these relationships.
Those that studied the relationships believe that commercial whaling exploited the social relationships as a means to hunt them and probably disrupted many social groups.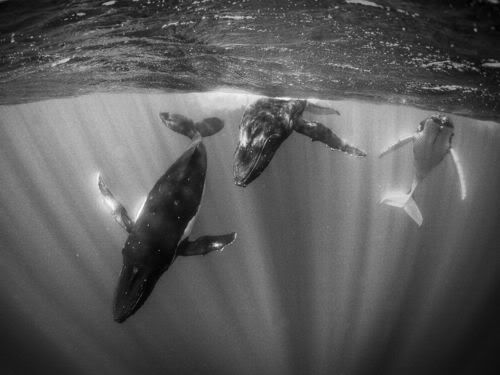 Having spent the rest of the year apart migrating and breeding, individual humpbacks somehow find each other again in the open ocean each summer, spending the season feeding together.

The longest recorded friendships lasted six years, and always occurred between similar-aged females, and never between females and males.

"I was very surprised by the prolonged duration," Dr Ramp told the BBC.

...

"Staying together for a prolonged period of time requires a constant effort. That means that they feed together, but likely also rest together.

So an individual is adapting its behaviour to another one."

How the whales find each other each summer is also an enigma.

"It's an excellent question and I would like to know the answer," says Dr Ramp.

"Where do they meet, and how do they recognise each other?"

He suspects the whales use sound to find and recognise other individuals.
Many arguments regarding whaling have been that baleen whales are not necessarily as smart as dolphins, who are self aware and highly evolved hunters. Killer Whales have highly complex matriarchal family pods that stay intact for life.
It seems that one more argument for whaling has been, once again, disproved by science, legitimate science. And I believe we have a moral obligation to these animals to stop their slaughter. There is no scientific reason to whale and the argument that whale as a rational food source is also laughable. It's not sustainable.
The entire study can be found here
Japan fleet set sail on Pacific whaling trip

TOKYO — Japan launched a summer whaling mission Wednesday, with the target of killing 260 of the giant sea mammals in the Northwest Pacific waters despite legal action by Australia.

Three harpoon and two research ships set sail from three separate ports in Japan with more than 200 crew to hunt whales in the Pacific waters, said the Institute of Cetacean Research, which sends the state-backed whaling fleet.

Japan hunts whales using a loophole in a 1986 international moratorium on commercial whaling that allows "lethal research" on the giant mammals, and it makes no secret of the fact that the meat is then sold as food.

Greenpeace-issued photo shows the Yushin Maru Japanese whaling vessel firing a harpoon at a minke whale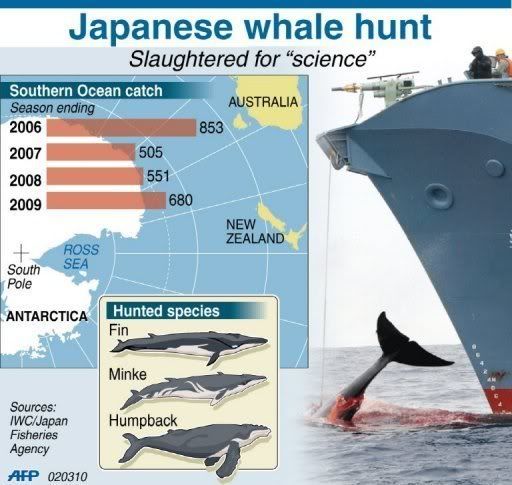 We cannot allow this to stand, we cannot! Please, I beg, let President Obama know that we will not allow whaling to become legal. Pierce Brosnan wrote a letter to Obama to urge him to reject this compromise, as do I.
Dear Mr. President,

Is it possible that the Obama Administration will capitulate to a proposed plan that permits Japan, Norway, and Iceland to resume commercial whaling?

As unlikely as it sounds, the answer is yes. The Obama Administration has indeed supported, behind closed doors, a dangerous new proposal to overturn the global whaling ban.

Since President Ronald Reagan first helped usher in the international ban on commercial whaling, every American President has reasserted our nation's strong leadership in the fight to save the whales.

From the shores of Cape Cod to the California coast and across the political spectrum, Americans love whales. Five national surveys commissioned by the International Fund for Animal Welfare (IFAW) over the past decade show overwhelming majorities of Republicans, Democrats, and Independents want these intelligent, gentle creatures protected for future generations. Voters of all subgroups - from rural, conservative GOP members, to urban, liberal Democrats - want our government to stop Japan, Iceland, and Norway from hunting whales.

All the more stunning then, to learn that U.S. government bureaucrats, together with fisheries representatives from a dozen other countries, have emerged from three years of closed-door meetings with a proposal to lift the ban on whaling. The proposal not only rewards Japan, Iceland, and Norway for flouting international law, but also gives these three nations "a license to kill" whales commercially. The group's final proposal, which was released on April 22nd (Earth Day!), and which will be voted on this June, is as unwise as it is out of the American mainstream.

The International Whaling Commission (IWC) is an eighty-eight nation body charged with conservation of our planet's whales. In 1986, after whale populations were plundered to near extinction, the IWC declared a ban on commercial whaling. It remains one of the 20th century's most iconic conservation victories.

However, since the ban was enacted, more than 30,000 whales have been killed -- most in an international whale sanctuary around Antarctica. Why? The Government of Japan claims it kills whales exclusively for research purposes. It's an outrageous assertion rejected by the scientific community and undermined by the fact that Japan hunts whales on factory ships and sells whale meat commercially. Japan is now rumored to be seeking a new, state-of-the-art $100 million whaling vessel.

Iceland and Norway, emboldened by ongoing negotiations to undo the whaling ban, have recently ramped up their illegal whaling efforts to lock in higher quotas that will be made possible under this new agreement.

Even without this assault, whales face more threats today than ever before. Marine pollution, destruction of critical habitats, entanglements in fishing gear, collisions with high-speed ships, ocean noise pollution, and global warming remain dangerous hazards. Whales are only now beginning to recover from more than two centuries of commercial whaling which destroyed 95% of historical populations.

Like the situation in the water for whales, the situation inside the IWC is precarious. Conservation-minded countries now find themselves consistently outmanned by Norway, Iceland, and a fifty-person strong Japanese delegation flanked by a steady stream of small island states and landlocked developing countries recruited by the foreign aid to vote lockstep with Japan.

As a result, United States influence inside the IWC has waned. The Government of Japan has remained engaged and aggressive, inside and outside the IWC, in pursuit of its declared objective to hunt more whales.

Faced with this challenge, the Obama Administration has apparently decided to sound retreat. Five of the last six meetings to hammer out the final "lift-the-ban" proposal have been held on U.S. soil.

Instead of endorsing this sellout of the world's whales, the American government must work to end the savagery of commercial whaling forever. On April 16, 2008 then-candidate Barack Obama promised, "As President, I will ensure the U.S. provides leadership in enforcing wildlife protection agreements, including strengthening the international ban on commercial whaling. Allowing Japan to continue commercial whaling is unacceptable." But indeed, the proposed deal guarantees whaling for the next ten years.

For more than a decade Japan, Iceland, and Norway have worked harder to keep killing whales than our government has worked has to protect them. However, it is not too late to turn the tide. The Obama Administration must send a clear signal that it intends to end commercial whaling forever. "Change we can believe in" can then extend beyond our shores to benefit our planet's great whales.

Mr. President, please stay in the fight! Stop the sellout, and save the whales!
Take action, do something. Greenpeace has this direction action you can do.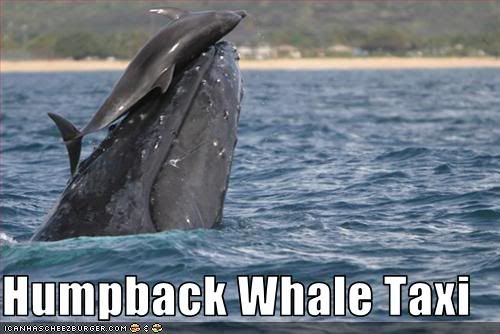 This is a real photo by the way, cooperation between species, this humpback whale playing with a dolphin.
Please share this diary and ask people to speak out.
I am going whale watching with my seven year old and my Mother today, we are going looking for Blue whales migrating along the California coast. Lots of dolphins are often spotted as well and the occasional minke whale, killer whale and humpback. Wish us luck!