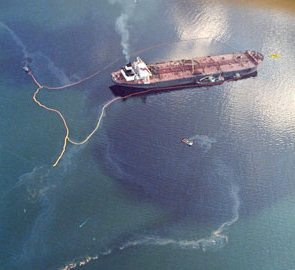 Right-wing media have whined that Obama is "scrambling after week-old spill" and that Obama visited the Gulf BP disaster too late. They have the audacity to try to compare Obama's response to some imaginary Republican who would have been "absolutely pilloried in the press" if a Republican administration had "gone eight days without serious action."
Really? We don't have to imagine. I checked some press articles from 1989, and Papa Bush apparently did not show up in Alaska when Exxon Valdez happened because he was either too busy or believed a site visit would be a "political downer." Moreover, how has Papa Bush been "pilloried in the press" for not providing compensation claims to the people in over 20 years?
Exxon-Valdez oil disaster happened on March 24, 1989. Papa Bush apparently never personally visited the site, but continually made excuses that he was too damn busy when the truth was that he did not see how he could yield any political benefit from personally visiting the devastation caused by his oil buddies. No matter of the economic impact on the area or that "thousands of animals died immediately," with estimates of "250,000 seabirds, at least 2,800 sea otters, approximately 12 river otters, 300 harbor seals, 247 bald eagles, and 22 orcas, as well as the destruction of billions of salmon and herring eggs."
This is what the media reported back then.
April 14, 1989: Bush first had no comment as to why he did not plan to visit the disaster site.
A White House spokeswoman said the president is not planning to visit Prince William Sound, where the Exxon Valdez was torn open by a clearly charted reef March 24, spilling 10 million gallons of oil in the worst tanker accident in U.S. history. When asked why Bush has not made the trip, the spokeswoman said, "We have no comment."
April 30, 1989: WH did not recognize "enormity of the disaster" during vacation weekend perhaps because it just affected the "small people."
In the first hours after the Exxon oil tanker slammed into a reef off Alaska, almost no one at the White House recognized the enormity of the disaster. The president was taking off for a family weekend, and preparations had begun for the annual Easter egg roll on the back lawn of the White House.
May 6, 1989: No need to visit when have Quayle. Yes, Quayle, who did not know how to spell the word potato, assured the nation that Bush would "benefit" from Quayle's "firsthand report" because he "saw quite a bit."
At the news conference, he defended the Bush Administration from pointed questions about whether it had been tardy in responding to the oil spill.

Asked by an Alaskan reporter why President Bush had never come to see the devastating effects of the spill even though he had often expressed concern about the environment, Mr. Quayle replied that he would give Mr. Bush a ''firsthand report.''

''The President is going to benefit from me reporting directly to him when I arrive,'' Mr. Quayle said. ''The President understands the problem and the President is committed to seeing this job completed. He has got that commitment.'' 'I Saw Quite a Bit'
August 31, 1989: Trip would be "political downer."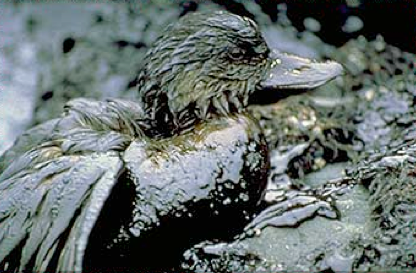 Bush scrapped plans to travel to Alaska to "survey first-hand damage from the nation's worst oil spill, officials said, bowing to objections from some advisers that the trip would be a political 'downer.'"
September 1, 1989: "Continuing negative publicity" about the oil spill caused Bush to abandon plans to travel to Alaska.
The test was what political benefit could Bush obtain from visiting the environmental disaster? Bush "scrapped plans to go next month to Alaska, still embroiled in controversy over the Exxon Valdez oil spill, officials said... ." Administration officials "voiced privately" that there were "various reasons" for dropping his visit to Alaska. The chief of staff stated that there were "logistical problems and weather conditions." Two "officials denied that weather and logistics were the reason for the cancellation." In fact, "another official said the main reason for dropping the trips was a feeling that Bush already had a full schedule for September, with several important policy issues, and that the Alaska trip would not do him any good politically."
September 14, 1989: Bush "too busy"
According to presidential spokesman Marlin Fitzwater, the WH scrapped plans for Bush to visit Alaska because "Bush's September travel schedule was too busy... ." Yet, Quayle would plug a visit into his busy schedule as he headed off to "Asia for 12 days."
Fortunately, anonymous sources stated that the real reason was that "administration officials convinced Bush it would not be politically beneficial to refocus attention on the spill, after initial criticism that he took too long to get the federal government involved in the clean-up."
September 19, 1989: Clean up not going well, so stay away!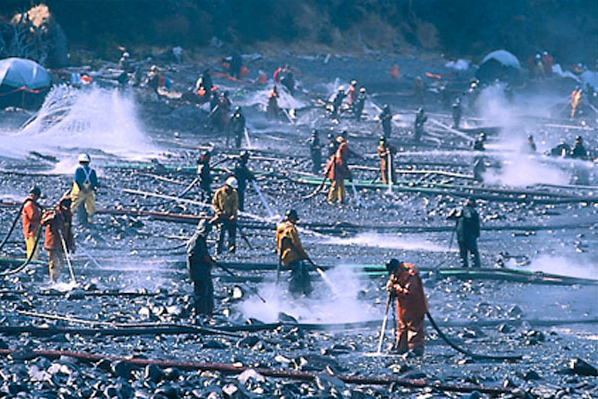 Papa Bush had planned to visit Alaska this week to "see the spill first-hand," but the "president's trip was canceled after news reports that the Exxon cleanup effort was not going well."
Apparently, Bush was still too damn busy:
"Please don't associate my not going to Alaska at a rather busy time with a lack of interest in Prince William Sound," Bush said.
September 19, 1989: Too "politically risky"
But Bush aides feared that a visit now [from Papa Bush], just a few days after Exxon stopped its uncompleted cleanup for the winter, would be politically risky for the president, so they canceled the trip and pressed Quayle into service instead.



By my count, Papa Bush spent months coming up with excuses to the one simple action of visiting the site of a major environmental disaster.
Moreover, has Papa Bush been "pilloried in the press" for the failure to compensate those who had claims against Exxon-Valdez in the past 20 years? Obama's creation of an independently operated BP escrow fund is intended to avoid the GOP mess of Exxon Valdez where people have been fighting in court for two decades to get their claims.
Exxon fought paying damages and appealed court decisions multiple times, and they have still not paid in full. Years of fighting and court appeals on Exxon's part finally concluded with a U.S. Supreme Court decision in 2008 that found that Exxon only had to pay $507.5 million of the original 1994 court decree for $5 billion in punitive damages. And as of 2009, Exxon had paid only $383 million of this $507.5 million to those who sued, stalling on the rest and fighting the $500 million in interest owed to fishermen and other small businesses from more than 12 years of litigation.
Leaving claim compensation in the hands of BP would just provide another form of corporate welfare by avoiding payment:
Twenty years later, some of the original plaintiffs are no longer alive to receive, or continue fighting for, their damages. An estimated 8,000 of the original Exxon Valdez plaintiffs have died since the spill while waiting for their compensation as Exxon fought them in court.
Yup. A corporation lives on forever, and can outlive those who were harmed by simply litigating while they have the money to pay:
Yet Exxon made high profits even in the aftermath of the most expensive oil spill in history. They made $3.8 billion profit in 1989 and $5 billion in 1990. And this occurred while Exxon disputed cleanup costs nearly every step of the way.
There is no comparison. There is much that needs to be done for the Gulf states devastated by BP's reckless and indifferent conduct in terms of this cleanup, recovery, health care, proper booming, media access, etc. But President Obama has done more with this independent BP escrow fund than Papa Bush and the GOP have accomplished in 20 years.
UPDATED: GOP now say BP Gulf oil gusher is "natural disaster," revisionist history as we live it: corporate crimes now equals natural disaster?
Statement by House GOP Leaders Boehner, Cantor, & Pence on Rep. Barton

Washington, Jun 17 -

Follow @GOPLeader for Twitter updates

House Republican Leaders John Boehner (R-OH), Eric Cantor (R-VA), and Mike Pence (R-IN) issued the following statement:

"The oil spill in the Gulf is this nation's largest natural disaster and stopping the leak and cleaning up the region is our top priority. Congressman Barton's statements this morning were wrong. BP itself has acknowledged that responsibility for the economic damages lies with them and has offered an initial pledge of $20 billion dollars for that purpose.

"The families and businesspeople in the Gulf region want leadership, accountability and action from BP and the Administration. It is unacceptable that, 59 days after this crisis began, no solution is forthcoming. Simply put, the American people want all of our resources, time and focus to be directed toward stopping the spill and cleaning up the mess."