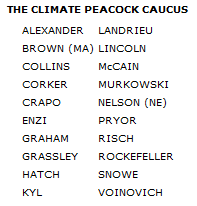 From the Wonk Room.
Sen. Harry Reid (D-NV) is giving obstructionist senators a chance to finally take action on climate and clean energy, after they attempted to block the "unelected bureaucracy" of the Environmental Protection Agency from doing so. After holding a "thrilling" climate caucus with his members last week, the Democratic majority leader plans to bring an "impenetrable" comprehensive package of legislation to repair the damage caused by fossil fuels to our economy and our planet.
Earlier this month, 47 senators -- every Republican and six Democrats -- voted for Sen. Lisa Murkowski's (R-AK) resolution to overturn the Environmental Protection Agency's scientific global warming endangerment finding, finalized after years of delay in following a Supreme Court mandate to obey the language of the Clean Air Act.
Twenty of Murkowski's supporters claimed they voted to reject science in order to preserve the "balance of power" between the legislative and executive branch. They said that they had to overturn the EPA's scientific finding because setting pollution limits should instead be the job of the elected members of Congress. Sen. Mike Enzi (R-WY) even said he voted for Murkowski to "ensure that Congress keeps its responsibility to establish our nation's environmental regulations."
Like "deficit peacocks" who pretend to be hawkish on budgets but refuse any real solution, these "climate peacocks" claim to care about science, energy reform, and the environment, but have yet to find solutions to the threat of climate change. Reid is now calling the bluff of these twenty "responsible" senators, who will be proven to be fossil-fueled hypocrites if they fail to support policies that bring the swift reduction of carbon pollution that science demands.
<h2>The Climate Peacock Caucus</h2&gt
Lamar Alexander (R-TN): "It's Congress' job -- not a bureaucrat's or agency's -- to take action on carbon in a way that preserves jobs."

Scott Brown (R-MA): "We cannot allow these decisions to be made by an unelected bureaucracy; this is an issue that deserves a full debate in Congress."

Susan Collins (R-ME): "I also have serious concerns about unelected government officials at the EPA taking on this complicated issue instead of Congress. It is Congress that should establish the framework for regulation of greenhouse gas emissions."

Bob Corker (R-TN): "I don't believe it's appropriate for the EPA to mandate large-scale carbon emissions reductions through administrative regulations. If there is any action taken in this regard, it should be done through Congress."

Mike Crapo (R-ID): "Such an important debate as climate change, and the potential to drive up costs on consumers and small businesses, should not be left in the hands of Washington, D.C., bureaucrats."

Mike Enzi (R-WY): "I rise in support of Senator Murkowski's resolution that would ensure that Congress keeps its responsibility to establish our nation's environmental regulations."

Lindsey Graham (R-SC): "This is a balance-of-power issue and it has long been clear to me that Congress should write the rules when it comes to the regulation of carbon, not the EPA."

Chuck Grassley (R-IA): "These decisions should be made by Congress, where officials can be held accountable by the people, rather than by an unelected bureaucracy, in this case the same agency that tried to penalize farmers for the fugitive dust that kicks up from the tractor on windy days."

Orrin Hatch (R-UT): "Hatch and Murkowski believe it is Congress's job to establish any carbon control program, not the executive branch."

Jon Kyl (R-AZ): "I believe it's wrong for the administration to try to advance its goals by any means possible, in this case, by going around the legislative branch and using the EPA to enact sweeping economic and energy regulation."

Mary Landrieu (D-LA): "If the federal government is serious about reducing carbon emissions, Congress needs to develop the right goals, guidelines and tools necessary to do the job."

Blanche Lincoln (D-AR): "Congress – not unelected bureaucrats – should be making the complicated, multi-faceted decisions on energy and climate policy."

John McCain (R-AZ): "What this debate, and this resolution, is really about whether the American people get a say in our Nation's energy policy through their elected representatives or if they will be bound to the whims of the unelected bureaucrats at the EPA."

Lisa Murkowski (R-AK): "We should continue our work to pass meaningful energy and climate legislation, but in the meantime, we cannot turn a blind eye to the EPA's efforts to impose back-door climate regulations with no input from Congress."

Ben Nelson (D-NE): "Controlling the levels of carbon emissions is the job of Congress. We don't need EPA looking over Congress' shoulder telling us we're not moving fast enough."

Mark Pryor (D-AR): "Although I agree with the science, I firmly believe that Congress, and not the EPA, should determine policy on greenhouse gas emissions."

Jim Risch (R-ID): "The merits of global warming and how to address it should be debated in the legislative bodies of Congress, not decided by an unelected bureaucratic agency of the federal government."

Jay Rockefeller (D-WV): "I intend to vote for Senator Murkowski's Resolution of Disapproval because I believe we must send a strong message that the fate of West Virginia's economy, our manufacturing industries, and our workers should not be solely in the hands of EPA."

Olympia Snowe (R-ME): "It is Congress – and not unelected bureaucrats – that should be responsible for developing environmental policies that integrate our nation's economic well-being as an urgent priority along with the reduction of carbon emissions, and I do not accept that these are mutually exclusive goals."

George Voinovich (R-OH): "Unfortunately, the Obama Administration and Senate Democrats today rejected an attempt to put our nation's environment and energy policy back into Congress' hands."