Today we are releasing our Top 10 finalists for the Critters for Kennedy photo contest that we introduced here a few weeks ago. We got some great photos and it was really difficult to narrow it down to just 10. Voting begins at noon today online and ends at 11:59 pm Thursday.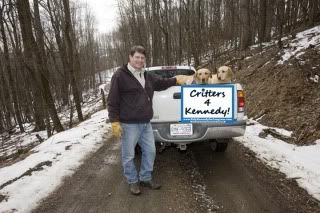 We've had a lot of fun with this contest, and it has generated a lot of excitement for our campaign. It also brought attention to a very serious issue.
One of our supporters came into our headquarters the day after we announced the contest and brought with them a copy of HR 5092, a bill in the House which would ban the sale of animal "crush" videos. These horrific videos show shocking scenes of women in high heels crushing small animals to death with their feet for the sexual gratification of viewers.
More than 330 members of the House have signed on as co-sponsors to this legislation since it was introduced on April 21. I know this won't surprise you, but my opponent Rep. Virginia Foxx isn't one of them.
In April, the United State Supreme Court struck down a 1999 federal law known as the Crush Act which banned the sale of crush videos, saying that the legislation was too broad and infringed on free speech rights. HR 5092, introduced after the ruling, amends the Crush Act to add certain protections for hunters and sportsmen. Opponents of the original Crush Act argued that the legislation put hunters at risk of federal prosecution for the production and sale of videos involving hunting, fishing, trapping and other legal sports activities.
Hunters and other sportsmen are in support of the amendment, including the U.S. Sportsmen's Alliance, crediting the bill's author for tackling animal cruelty while preserving hunter's rights.
"No one supports malicious cruelty to animals of the sort depicted in these 'crush videos,' but we also want to be sure that legal activities like hunting are not blackballed by a law that is too vague," said Bill Horn, U.S. Sportsmen's Alliance director of federal affairs. "We are glad that HR 5092 addresses legitimate animal cruelty issues without penalizing honest sportsmen."
I challenge Congresswoman Foxx to support this bill, and if not, I'm sure everyone would love to know why she won't.
This bill only highlights why the people of NC-05 would have better representation in DC with me as their Congressman. Please vote in the contest, and then please, if you can, help to support my efforts to reach the voters of NC-05.