Welcome to Income Inequality Kos.
Join us Thursdays, at 9:00 p.m. Eastern. We discuss income inequality, concentration of wealth, and related issues.
Guidelines for Diarists
Diaries come from the community.
Volunteers for the next diary make two commitments:

They will publish the next week's diary.
They will find a volunteer for the diary after that.

A good way to find the next week's volunteer is to ask and handle it in a comment thread in your diary.
If you can't find a volunteer, email the series originator, email address in profile. Something will be worked out.
Copy for this introduction is available in a google doc. Copy and paste it as your diary Intro.
Use "Income Inequality Kos" in your diary title, and add the same tag, that people can find it.
Community Statement
The shared community value is a belief that income inequality is a political issue of high importance. Otherwise, all takes on the issue, from within the general Daily Kos community, are welcome.
Tonight, we'll be focusing on the question: What happened to productivity gains over the last 30 years? We'll leave solutions to a later diary, but many steps seem obvious once we examine causation.
Back in September 2007, CBS proudly proclaimed U.S. Workers World's Most Productive. A UN report noted:
Each U.S. worker produces $63,885 of wealth per year, more than their counterparts in all other countries, the International Labor Organization said in its report. Ireland comes in second at $55,986, ahead of Luxembourg, $55,641; Belgium, $55,235; and France, $54,609.

(emphasis added)
Not only was the US worker the most productive in the world, but US worker productivity continued to grow rapidly. Productivity growth should be good news, not only for John McCain, but for American workers as well. As Paul Krugman wrote back in 1990,
Productivity isn't everything, but in the long run it is almost everything. A country's ability to improve its standard of living over time depends almost entirely on its ability to raise its output per worker . . . the essential arithmetic says that long-term growth in living standards . . . depends almost entirely on productivity growth.

Quoted in Where Did the Productivity Growth Go? (PDF) by Ian Dew-Becker and Robert J. Gordon

(emphasis added)
In theory, Krugman is right. Higher productivity should result in a higher standard of living. But the catch was that, even back in 1990, that higher standard of living was experienced only by the fortunate few. The average worker was seeing none of the fruits of his increased productivity. Look at the following graph of hourly and non-supervisory wage earner income growth compared to productivity: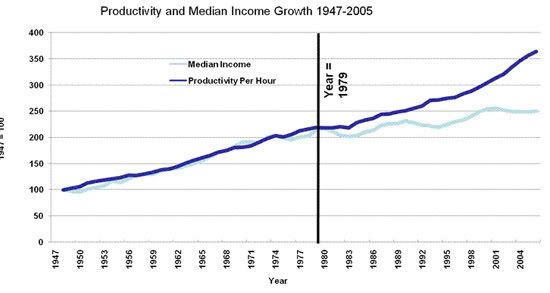 Source
Clearly, hourly workers began losing significant ground on the productivity/wage ratio chart around 1980 and, despite ever-increasing productivity growth, have continued to see their wages flatline.
So where did the money from all that productivity growth go? That's easy to see on this graph:

Source
Obviously, almost all income growth and standard of living improvements in the last 30 years went to the Top 1%. Some may argue that much of the growth among the economic elite came through investment gains and the tax advantages afforded to capital gains. Surprisingly, while the investment income gap also widened, this graph, which tracks income growth among the top 10% both with and without capital gains, shows that non-investment income grew at an exponential rate for the privileged few as well:

Source
So the question is: What Happened in 1980?
One good place to start to answer that question is with the UC Berkeley David E. Feller Memorial Labor Law Lecture given by Damon Silvers, Associate General Counsel for the AFL-CIO, back in April 2008. Silvers offers this summation:
For thirty years, America's economic elites and their political allies have pursued a combination of economic and social policies designed to produce a low wage economy. These policies—our labor laws and our broader system of labor market regulation, our tax policies and our approach to globalization, have yielded decades of stagnant wages and rising economic inequality.

(emphasis added)
Silvers first gives a little history lesson. He explains that between 1933 and 1948 "it was pretty clearly the policy of the United States government to foster unionization in the private sector." Beginning with the Taft-Hartley Act of 1948, that policy began to shift to preserving the status quo. But at the time, the Overton Window as firmly established on the side of labor. As Silvers says, "[I]t was a status quo that centered on collective bargaining." The result was that labor captured most of the productivity gains and the middle class grew and the standard of living improved. But there was a sudden shift in 1980. When Ronald Reagan was elected, productivity gains and wage gains "were uncoupled."
The first and biggest anti-labor step that Reagan took was an executive order to fire striking PATCO members (air traffic controllers) and to use permanent replacement workers to take their jobs. As Silvers points out, the message to private industry was loud and clear:
[T]he federal government fires strikers and hires replacement workers; you can too. By doing so, the right of employers to hire permanent replacement workers, a right that had been recognized in theory by the NLRB in the 1950's, but never acted on, became a living part of American labor law.

(emphasis added)
In addition to opening that Pandora's Box, the Reagan Labor Department and National Labor Relations Board (NLRB) effectively ceased enforcing labor law. While that abated during the Clinton years, it was reinstated with a vengeance under George W. Bush. The result has been not only fewer union members but a weakening of collective bargaining power, which has hurt non-union workers as much as or more than organized workers.
Here's the statistical proof of the effects of policy on union membership. The peak was reached just prior to the enactment of Taft-Harley, but notice the accelerated decline after 1980:

Source
As a result of policy shifts, union membership has fallen to Depression-era levels. Coincidence? I think not.
Another contributing factor in the divorce between productivity gains and wage gains comes from our tax structure. As with labor laws, the New Deal ushered in an unprecedented shift to a radically more progressive taxation agenda. From the 1940s until the JFK administration, top marginal rates hovered at around 90%. Kennedy lowered the top rate to 70%, but the real damage belongs to the Reagan tax cuts enacted in the early 80s and the Bush tax cuts of the 00s.
A quick look at this graph shows the shift:

Source
Of course, the basis for this shift was "Trickle-Down Economic Theory", accurately characterized by George H. W. Bush in his 1980 primary campaign against Reagan as "Voodoo Economics." Naturally, Papa Bush, lacking all principle and with his finger in the political winds, adopted Reagan's view during his own presidency. The theory said, supposedly, that if we give huge tax breaks to the rich, they will invest in new industries, providing jobs and standard of living improvements for all. We all know how that worked out; the rich kept their gains and later decided to speculate wildly in untested and unregulated mortgage-backed "securities."
With no tax penalty on outrageously high incomes, an incestuous relationship developed among the Boards of Directors of many companies. CEOs all sat on each other's boards and gave themselves huge compensation packages and golden parachutes. The neofeudal lords took care of their own. And CEO pay soared: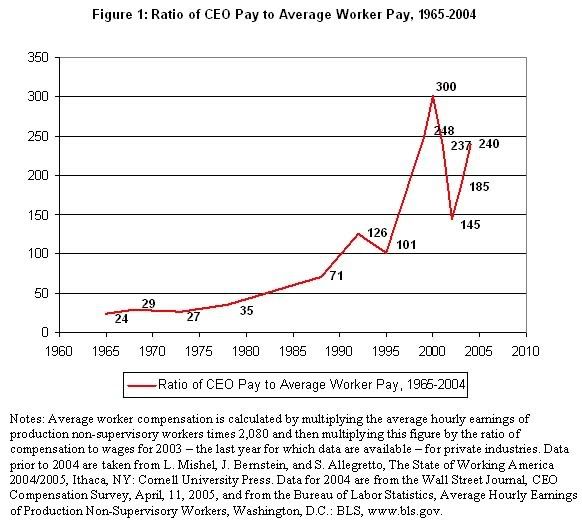 Source
As you can easily see, in 1965, CEOs made 24 times what the average worker made. By 2000, CEO's made 310 times as much. Let's assume an inflation-adjusted income for average workers is $30,000. In 1965, the boss would have made $720,000, not a bad income. In 2000, that CEO made $9,300,000, or almost as much in one day as a worker made in one year. Why? Well, in 1965, anything your boss paid himself over that $720,000 would have been taxed at a 70% clip. Reagan lowered it to 28% at one point (the same as middle class workers), and today the rate stands at 35%, half what it was in JFK's time and only a few points higher than the middle class top margin.
Silvers notes that
The third legal source of our national low wage strategy is our approach to globalization. In the 1990's, the United States entered into a series of trade agreements that, combined with technological developments, fully expose the U.S. economy to goods and services produced by low wage labor around the world. Prior to 1989, . . . American business historically had been supportive of high trade barriers, fearing competition from foreign manufacturers.
Of course, all that changed in the 1990s with the enactment of NAFTA (North American Free Trade Agreement), the WTO (World Trade Organization), and most-favored nation status for China. All of these, unfortunately, came about under a Democratic president, Bill Clinton, who eagerly embraced this new economic world order.
This agenda produced staggering negative effects on the US economy and on workers' wages in particular. As Silvers points out, these efforts toward globalization were enacted and pursued with little or no consideration given to labor or environmental standards. The results have been disastrous for the American worker because of "the absence of a meaningful national strategy for preserving and increasing incomes in a globalized economy."
What resulted in the US was a race to the bottom in worker compensation, the loss of millions of good-paying manufacturing jobs, and a massive trade imbalance. We have already seen that workers' wages stagnated. Take a look at what happened to manufacturing jobs: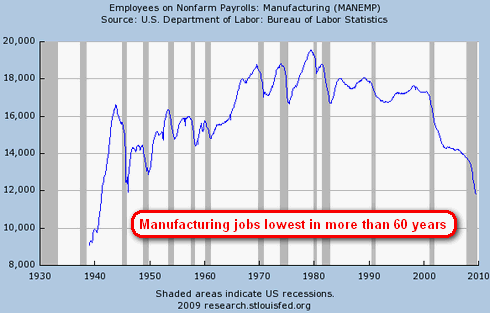 Source
As you can see, nearly 8 million US manufacturing jobs have disappeared since the 1980 peak. Since manufacturing jobs generally pay better wages and provide better benefits than service sector jobs, the result has been a net loss for American workers.
Where did those manufacturing jobs go? Just look at our trade deficit: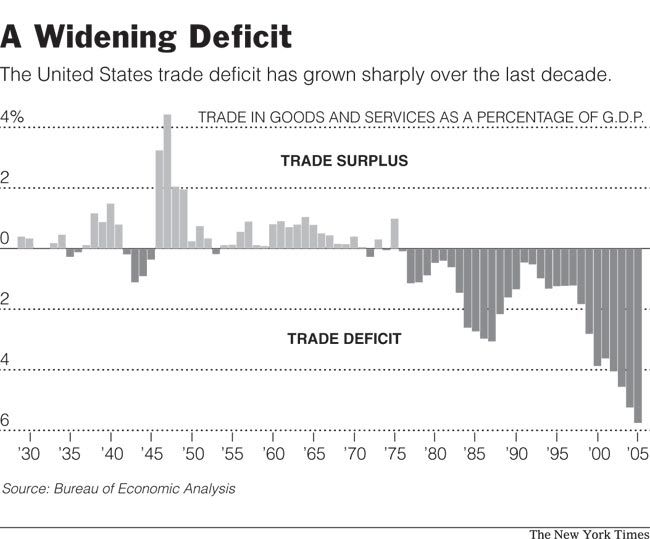 Source
A vicious cycle has taken hold in the US. Downward pressure on wages forces US consumers buy more and more cheaply-made foreign goods in order to maintain their standard of living. But buying cheaper foreign goods and services leads to fewer US jobs and more downward wage pressure in the US, causing wages to slip further, leaving many US consumers with little choice but to buy cheap foreign goods and services, which leads to even fewer jobs and more downward pressure on wages--ad infinitum.
So there you have it: Destruction of labor unions and lax labor regulation, regressive tax policies, and unregulated globalization have created a disconnect between productivity and wages. Had wages risen with productivity, perhaps all Americans could have experienced a higher standard of living instead of just the fortunate few.