A special welcome to anyone who is new to The Grieving Room. We meet every Monday evening. Whether your loss is recent or many years ago, whether you have lost a person or a pet, or even if the person you are "mourning" is still alive ("pre-grief" can be a very lonely and confusing time) you can come to this diary and process your grieving in whatever way works for you. Share whatever you need to share. We can't solve each other's problems, but we can be a sounding board and a place of connection.
Tonight's diary is not my own story. It is the story of an acquaintance who has suffered a tremendous loss. Because of the nature of the internet and the rise of social networking, I am in daily witness to her pain and suffering in a way I never would have been before, and it's been on my mind a lot, so I thought I'd write about it.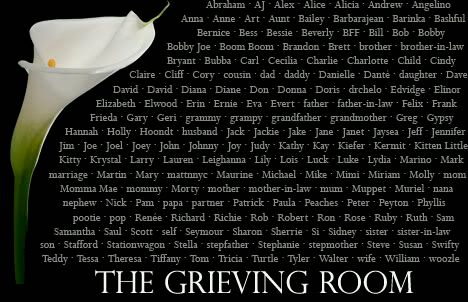 Tonight's diary is not about me or my own grief. It's about an acquaintance that's been on my mind a lot, about whom I think often and mourn the suffering she's experiencing.
This diary is also about a relatively new phenomenon in the cycle of grief: grieving in the age of social networks.
This acquaintance of mine, I'll call her Mary, is a girl I knew vaguely in high school, and became Facebook friends with when I attended my 20th high school reunion. Eveyone was joining Facebook to post old pictures and tell goofy stories from The Old Days.
Then her son, a young man, killed himself. I never knew him, so I don't know very many details, I certainly didn't want to ask for them. But as time has passed and poor Mary makes her way through the journey of grief, she is sharing more and more, posting frequently about her pain, her feelings of extreme loss, about how she isn't ok even though she is forced to pretend she is, about how she both hates and loves that everyone is asking how they can help.
Mary is clearly flailing, trying to assimilate what happened to her family and to her son, and she is doing it in a very public forum, to a large amount of friends. She also has a blog where she has been writing about her feelings and experiences. She shared recently that she has been losing friends on Facebook and followers on her blog.
I must admit that I myself have strong reactions sometimes when I read her postings, and I have considered "unfriending" her, though in the end I did not, and I'm glad I resisted the urge. It's just so painful and disturbing to read the graphic details of what she's going through. One would imagine that having personal experience with being left behind by a suicide (my mother killed herself 11 years ago) I would have an abundance of sympathy for her, which I do. I wouldn't say to her that I understand her grief, since losing a son is a totally different experience that losing a mother, both horribly painful, but different. After I thought it over for a while, I realized that though it might not be the way I would grieve, I wonder if the simple act of reading about her pain and allowing her to express herself is a way that I can help, even though in reality I can't do anything to help her.
It seems to me that Mary needs people to listen to her, or in this case read what she has to say, without judgement or comment. It's the equivalent of sitting quietly in a room with someone who is venting or crying. Just letting them get it out can sometimes be helpful. I know it makes me feel better sometimes when I'm at a low point.
What is it about grief that makes us want to turn away? What put the unkind thoughts of "Well, she needs to stop talking about this so much and move on..." or "All this sharing isn't helping her..." into my head? I was kind of appalled at myself for even thinking these things, but when I read that Mary was losing "friends" and "followers" I realized that I was not the only one who was uncomfortable with her public grief.
The rise of social networking only amplifies an age old truth about grieving and friends. People don't want to hear about it. People say stupid things to try and make you feel better. People are more comfortable with platitudes when confronted with suffering. Sites like Facebook only put it into a public forum, they don't change the nature of grief in our society.
It's ugly, and people don't really want to hear it. But is it doing us a favor by forcing us to confront our feelings? Now, instead of thinking, "Oh, I really should call Mary and see how she's doing, but--ugh--I don't want to so I'll just do it another time," we are faced with the more active option of "unfriending" her. Maybe some people friend and un-friend with ease, but I feel really badly when I unfriend someone, so it made me stop and think about what I was doing.
In the end I don't really have any grand conclusions about my musings. I wonder if people have opinions they'd like to leave in the comments. I know with so many people in this diary series actively experiencing loss and grief, you must all have your own interactions with various social networking sites.
I hope you'll all join me in wishing Mary some peace. If prayers are your thing, say a prayer for her and her family.
Here is link to all the previous TGR diaries: