Just over two years ago, I posted this diary. I was going to say, "this amazing diary," but that's inaccurate.
It's just a diary. Before the second update, it says very little, except, "My nephew is [very] ill, I'm at home waiting for information, and I'm scared."
What's amazing about the diary are the incredible, supportive, caring, helpful comments from incredible, supportive, caring, helpful Kossacks.
While I posted the above diary, 3 1/2 year old Danny was losing feeling in his legs - losing the ability first to walk straight, then to walk at all, then to stand up. A couple of days later, I gave another diary update. When I posted it, he hadn't moved his legs for a couple of days. About a week after the original diary, followed this - which celebrated Danny moving his legs for the first time in a week, and his release from the hospital.
A few days later, Danny was crawling again. A few days after that, he was table surfing.
Nearly a month after he arrived at the hospital, we took a day trip (on the TRAIN!) to the Lincoln Park Zoo. (Included a video of Danny walking.) Most of my updates after that were in response to comments, but I did follow up about 9 months later Danny's (un) birthday (everyone had the flu on his real birthday!)
Danny is just about to enter kindergarten. Tomorrow, he goes to "meet the teacher" and then Thursday is his first full half-day of class. (He is in the afternoon Kindergarten group.) With that 'line in the sand', it seemed an appropriate time for an update.
When Danny first re-learned to walk, his gait was uncertain, and tended to swerve a bit. One leg was definitely stronger than the other. In rehab, the therapists asked whether he had a tendency to "one step" up or down the stairs. Well, yes. The house is an old, hand built home, and the staircase upstairs is very steep in sections. For his own safety, he was taught to 1) hold the rail and 2) take it slow, which became 1 step down, foot meets the other. 1 stemp down, foot meets the other. The therapists had him continue to take it slow (and safe), but to consciously use both legs up and down the steps.
He worked on balance a lot, since that seemed to be an issue. As medical insurance put limits on the number of visits that Danny could have in rehab, the therapists set up 'check in' appointments, where they checked his development. The rehabilitation center, Marianjoy, offered very reasonably priced swimming lessons while Danny was in that check in phase, so mom signed him up. Most of the kids in the classes were dealing with significant physical disabilities - and for Danny, who is used to being a kid brother to Eddie, who is 5 years older than Danny, this was really kind of one of the first times that Danny was the kid who excelled. (Not that he needed that 'ego-boo' - the kid is Mr. Self Confidence.)
The regular swimming significantly improved his strength, which probably contributed a lot to his balance improvement. One issue that seemed on-going - Danny was in 'trainer' pants when he'd lost his ability to walk, and bladder control was another issue that definitely took a hit, and didn't return as rapidly as walking. He'd tend to get distracted by something interesting, and forget about that bladder thing, and then have an accident. And then, he started walking around kind of hunched, perpetually grabbing - well, looking like a professional baseball player. It triggered many, "Do you have to go to the bathroom?" questions.
That has significantly improved.
For quite awhile, Danny still did have a tendency to not walk in a (mostly) straight line - I guess he moved kind of in the direction that felt stronger. And, if his leg got tired (I guess that's what happened), he'd do a bit of a canter (or, how I'd canter, when I pretended to be a horse), which duplicated that same foot first motion that he'd used up and down the stairs. That's gotten a lot better, with time.
Unrelated: He's also really good at Wii games.
Last fall (I think), my sister enrolled Danny in gymnastics - which he loved. He was able to stay in a class through most of the school year (he was not in school, but did attend a preschool a few half days a week), and it continued to help build his strength and his balance skills.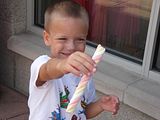 Unrelated: He always wins at Wii games, even if he doesn't actually get the highest score. It's a Danny thing.
A few weeks ago, we went to the zoo. Brookfield is a big honkin' zoo - and we did a lot of walking that day. (We didn't walk through the African / Australian section, but we did take the mile long walk... well, slow trot... around the lake.) The only reason that the kids wanted to leave was because they wanted to go play Mini Golf.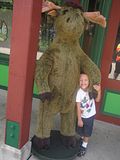 Unrelated: He must be first to hit his golf ball, at least half the time. Lists on scorecards be hanged.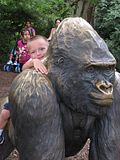 So, that's it for now. There's still an increased likelihood that Danny could develop MS or something like it, in the future - but so far, he's gotten past learning to move his legs, crawl, table surf, walk and run two times, so we're grateful for that and hopeful for the future.