Yesterday I posted a Rec-list diary in which I (and Michigan's 8th District Democratic Party) accused Michigan Secretary of State Terri Lynn Land's office of attempting to stonewall the removal of Kande Ngalamulume (the Democratic primary winner who dropped out of the race and left the state a week after the filing deadline) from the ballot, thus preventing the Michigan Democratic Party from replacing Mr. Ngalamulume with a new candidate, progressive Democrat Lance Enderle.
While it took Ngalamulume an absurdly lengthy period of time to finally get around to providing formal proof of his move out of Michigan to Pennsylvania (thus making him legally ineligible to run for Congress in Michigan), proof of his Pennsylvania voter registration was eventually sent to the Michigan SoS almost two weeks ago.
The Secretary of State's office declined at the time to remove Ngalamulume from the ballot, stating that they still hadn't received a notarized letter from him specifically requesting that he be removed from the ballot.
That documentation was provided to the SoS, via hand delivery, on August 20.
However, over the next six days, the SoS office still did not remove Ngalamulume from the ballot--even though they did remove him from their voter registration list. In the meantime, with a replacement candidate patiently waiting, the clock ticking and the 60-day deadline for printing up the absentee ballots quickly approaching, the 8th Democratic Congressional Committee took action, issuing a press release in which they accused Michigan's Republican Secretary of State, Terri Lynn Land, of putting up roadblocks to prevent Ngalamulume's removal and replacement with Enderle.
Today, I am happy to report, the Michigan Secretary of State's office has stated that Ngalamulume has, FINALLY, been formally removed from the ballot:
Michigan Secretary of State Spokesperson Kelly Chesney today said allegations made by members of the 8th Congressional District that Secretary of State Terry Lynn Land is attempting to block the group from naming a replacement candidate for the party's previous nominee are completely off base...

"Now ( Ngalamulume's) name will not appear on the ballot," Chesney said...The Democratic Party can now select whomever they would like to replace Mr. Ngalamulume."
So...two things.
FIRST OF ALL... Hallelujah! House Wreck II: The Wrath of Kande is finally at an end, some 86 days after he dropped out of the race in the first place (and just 67 days before the election). The way is now cleared for Lance to be formally added to the 8th Congressional District Democratic ballot line. Hooray!!
Secondly, there's the matter of the SoS's explanation for the delay. From the same article:
[SoS spokesperson Kelly] Chesney Friday said the Secretary of State first needed to verify Ngalamulume's move to Pennsylvania before he could be taken off the ballot. She said the office received information regarding a change of address — not of new voter registration, which meant Ngalamulume's name was to stay on the Nov. 2 ballot.

Chesney added the Secretary of State office, after some research, discovered Ngalamulume had registered to vote in one Pennsylvania county when he gave information stating he was registered in another.

"Now ( Ngalamulume's) name will not appear on the ballot," Chesney said. "The process is not as simplistic as the Democratic Party would have you believe.
Now, the thing is, I've seen the official Delaware County, Pennsylvania voter registration application receipt that Kande Ngalamulume sent to the Michigan SoS office. It's legitimate, it's included with his notarized letter stating that he has moved to Pennsylvania and in which he specifically requests that his name be removed from the ballot. If I understand what Chesney is saying, she's claiming that Ngalamulume actually registered to vote in a different Pennsylvania county. Why he would have done this is beyond me, and doesn't explain why he'd have a registration receipt (with his name and address on it) in the other county. This also matches a previous media report in which he stated that he had indeed registered to vote in Delaware County, Pennsylvania.
OK. Now, there's two things going on here:
First, given Kande Ngalamulume's rather...complex...history in this campaign and a few of his previous actions, it's possible that he could have somehow managed to register to vote in the wrong county. How the hell he could have done this--especially since he provided the actual receipt for his voter registration application from Delaware County, Pennsylvania (where he had already stated he had moved to) to the SoS office--I have no idea. But, it's certainly conceivable.
HOWEVER, at the same time, to the best of my knowledge, the SoS office never explained what exactly the problem was to anyone, and they still had physical possession of ample proof that Ngalamulume was no longer a Michigan resident for at least 6 days, to the point that they had even already removed him from the voter records.
With just 2 days to go before the MDP statewide convention this weekend, and just 8 days to go before the deadline for making changes to the ballot (they need 60 days before the election in order to print up and distribute absentee ballots), getting upset about the seeming inaction was pretty understandable, especially without being given adequate information about the reason for the additional delay.
So...is an apology in order? Well, it still sounds an awful lot to me like there was some stonewalling going on. HOWEVER, as long as Ngalamulume is indeed FINALLY off the ballot--and as long as there's no trouble given about adding Lance to the ballot, given that he's legit and approved by the MI-08 Dems and the MDP--then I, for one, am willing to let it go.
------------
SO, with all of THOSE headaches finally out of the way...
...I hereby present to you the Democratic Candidate for Michigan's 8th Congressional District, Lance Enderle!!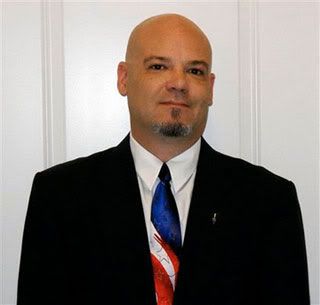 So, who is this guy, and how can you help him? Well, my "go-to" answer to that is this excellent piece about Lance from The Political Carnival from shortly before the primary:
I just got off the phone with a someone I could have hung out with for hours. He owns a golden retriever he calls "Dude", he is a 6th-12th grade social studies teacher going for his masters in special ed at Michigan State, and as lay back and wickedly funny as he is, he's dead serious about representing the people of Michigan's 8th district.

And when I say people I mean people. Not corporations. Not BP. Not K Street. Not like Republican Mike Rogers, the incumbent, who really ought to give the HBO movie "Gasland" a little look-see.
Oh, yeah--and I can't forget the money quote:
After talking to him for quite awhile, I could easily draw parallels to Rep. Alan Grayson. IMHO, Enderle could very well become the new most dangerous man in Washington. Sort of an Alan Grayson with a James Earl Jonesish voice.
Yup. She went there.
You guys keep saying you want more Alan Graysons in Congress, right?
Now imagine Alan Grayson with Darth Vader's voice.
How can you help?
Take a guess: Lance's ActBlue Page
Lance's Facebook Page (changing soon, but this is the link for now)
Full Disclosure: I'm being paid a nominal amount to develop and maintain Lance's campaign website. However, any blogging I'm doing to promote his campaign is being done strictly on my own time and my own dime.