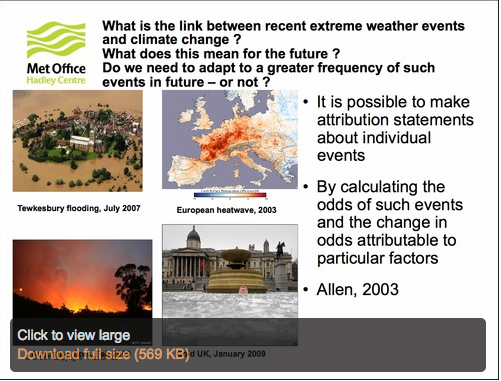 Scientists are working on linking extreme weather events happening today to climate change now. Scientists have been careful in the past to state the distinction between weather and climate change. As NASA states, some "scientists define climate as the average weather for a particular region and time period, usually taken over 30-years." Some scientists and government officials have recently moved the ball forward, saying that the Pakistan floods and Russian fires might be linked to climate change. Last week, atmospheric scientists met to discuss Attribution of Climate-Related Events or the use of simulations to calculate probabilities for extreme climate events now.


Climate Event Attribution "seeks to explain the complex causes behind a given weather event, be it an especially cold winter, an intense heat wave or a devastating flood, with the particular aim of detecting a possible departure from "normal" conditions, and the role – if any – that human activities played." The ability of scientists to "attribute specific extreme weather events to manmade or natural causes" would be a "major step forward" to answer questions about human-caused climatic changes and their causal relationship to current extreme events, such as the floods, fires, iceberg calving and droughts. Presently, scientists can't say that the recent extreme weather events are "proof" of climate change.
Frustration arises because these extreme events are "exactly the stuff" that "scientists have been warning would be a likely consequence of climate change." Yet, news reports then say: "While these events are consistent with climate change, no single event can be directly linked to or regarded as proof of climate change." What scientists can say at this point are that extreme events are related to climate change because the "odds of them happening are much greater with climate change."
The purpose of this meeting last week on climate attribution was to "discuss what information is needed to determine the extent to which human-induced climate change can be blamed for extreme weather events - possibly even straight after they have happened." Kevin Trenberth of the US National Center for Atmospheric Research, a federally funded research and development center, says that we "should assume global warming plays a role in every climate event, then ask whether that role is a significant one."
There is precedent for assigning blame: "In 2004, Allen and his colleagues showed to a high level of confidence that human greenhouse gas emissions had at least doubled the risk of the European heatwave of 2003 occurring." The tool to obtain the information is computer "simulations of the climate as it is and as it would have been without human influences, then compare the number of times a given event occurs in each scenario." Thus, scientists can estimate probabilities, but "rarely can it be asserted with 100 percent confidence that there is a causal relationship between variables."
Trenberth thinks that similar analyses can be done within weeks of an event, such as with the Pakistani floods and Russian fires.
For instance, we know that high sea-surface temperatures and large amounts of moist air over the Indian Ocean helped bring about the Pakistani floods and the heatwave in Russia. It should be possible to determine how great a role human climate change played in these events, Trenberth says.
Assigning numbers to the consequences or impacts of climate change might be used in a variety of ways. First, the public might then realize that climate change impacts are happening now, and be more supportive of comprehensive climate change legislation. Second, lawsuits based on climate change and pollution are already being filed in the courts. Third, an analysis of specific events and their causes will help governments and people try to be prepared for the climate change impacts with adaptation and mitigation. And, a United Nations fund to assist developing countries with adapting to climate change might be able to use the numbers to help determine which regions are suffering the most from climate change impacts.
For more information on climate event attribution, please see links provided here.
More news in tonight's Climate Change News Roundup.
BP & FOSSIL FOOLISH NEWS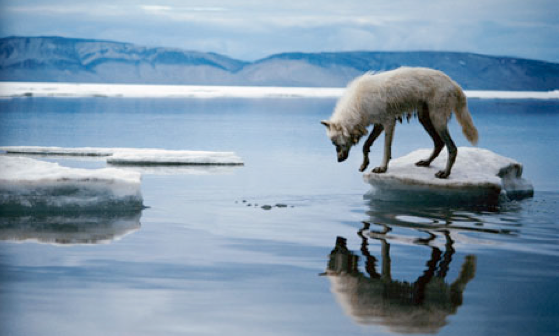 Horrors of fracking kept quiet by settlements barring public discussion:
CLIMATE CHANGE & ENERGY
New report documents more coal ash contamination: "The report, by the Environmental Integrity Project, Earthjustice and the Sierra Club, documents 39 additional coal-ash dump sites in 21 states that are contaminating drinking water or surface water with arsenic and other heavy metals."

Wind Turbine Projects Run Into Resistance from U.S. military over radar interference. (photo of 1.5 megawatt turbine at Marine base.)

Moving turbine blades can be indistinguishable from airplanes on many radar systems, and they can even cause blackout zones in which planes disappear from radar entirely.

...Because of its concerns, the Defense Department has emerged as a formidable opponent of wind projects in direct conflict with another branch of the federal government, the Energy Department, which is spending billions of dollars on wind projects as part of President Obama's broader effort to promote renewable energy.

...In 2009, about 9,000 megawatts of proposed wind projects were abandoned or delayed because of radar concerns raised by the military and the Federal Aviation Administration.
WILDLIFE & ENDANGERED SPECIES
Threat To Polar Bears Worries Russian Experts.

Environmental experts in Russia have warned that unless urgent steps are taken internationally, climatic changes combined with man-made factors could reduce the world's population of polar bears by as much as 70 percent by 2060.

Some scientists say "sudden climatic change" or of cold temps kills millions of fish and thousands of alligators, turtles and river dolphins.

But during the Southern Hemisphere's recent winter, unusually low temperatures in part of the country's tropical region hit freshwater species hard, killing an estimated 6 million fish and thousands of alligators, turtles and river dolphins.

Scientists who have visited the affected rivers say the event is the biggest ecological disaster Bolivia has known, and, as an example of a sudden climatic change wreaking havoc on wildlife, it is unprecedented in recorded history.

...With such extreme climatic events potentially becoming more common due to climate change, scientists are hurrying to coordinate research into the impact, and how quickly the ecosystem is likely to recover.
PAKISTAN FLOODS
Climate-related Security Predictions Coming True in Pakistan.

Analysts have been warning for several years that the impacts of climate change directly relate to the national security of the U.S. and other countries, but the link has never been so clear as it is today in northwest Pakistan.

The security implications of climate change first got official U.S. government attention this February, in the Quadrennial Defence Review, a four-yearly report from the Pentagon on the direction of national security strategy.

Noting rising sea levels, water shortages, melting Arctic ice, and extreme weather events, the review said that "while climate change alone does not cause conflict, it may act as an accelerant of instability or conflict, placing a burden to respond on civilian institutions and militaries around the world."

When floods swept through the country in late July, they pushed some desperate refugees right into the arms of militant groups in the northern regions of the country, where government aid was too slow or too little.

Pakistan: A Land Left to Drown by the 'Timber Mafia'.

The warnings regularly given by all manner of experts had been ignored for decades.

If Pakistan's authorities continued to allow the country's timber mafia and a benighted and oppressed peasantry to strip the country's forests at a faster rate than anywhere else in Asia, as is happening, floods of Biblical proportions would be inevitable. They would not be acts of God. They would be man-made catastrophes.