IMPORTANT: This should be the final diary I post about Kande Ngalamulume. It is my hope, my wish, my prayer, that going forward any diary that I post about MI-08 will be purely about Lance Enderle and his opponent, GOP incumbent Mike Rogers. However, after being intertwined with this saga for the past 6 months, I couldn't not break the entire thing down into a full timeline. Consider this a mental palette-clearing, if you will.

I know this is more of a rant than anything, but a Rec would be nice if only for the sheer amount of work it took to write this up! ;)
OK, class (adjusts glasses and clears throat).
I'd like to present a timeline, if I may:
Thanksgiving week, 2009: Kande Ngalamulume, born in Zaire, raised in E. Lansing, Michigan, 2002 graduate of MSU, and Sr. Analyst for Independence Blue Cross in Philadelphia, has a sudden urge to quit his job in Pennsylvania, give up his home and local relationships and move back to Michigan's 8th District, specifically for the purpose of running for U.S. Congress as a Democrat against incumbent Mike Rogers.
(And yes, this is the same Mike Rogers who once voted to allow oil drilling in the Great Lakes; the same Mike Rogers who shit all over the 9/11 First Responder heroes; the same Mike Rogers who blamed Pres. Obama for Gen. McChrystal's Rolling Stone insults; and the same Mike Rogers who just this month openly called for the execution of the WikiLeaks whistleblower for revealing war crimes.)
November 25, 2009: The day before Thanksgiving, Ngalamulume registers KandeForCongress.com, and has someone start putting together a campaign website for him.
March 21, 2010: I meet Kande Ngalamulume at the MDP Justice Caucus' annual Millie Jeffries Awards Dinner/Fundraiser. We talk a bit, he seems like a nice enough guy, and I give him my card. He emails me that same night about taking over maintenance of his campaign site.
March 31, 2010: Kande and I discuss his site again, but no formal contracts or proposals are written up or discussed yet.
April 4, 2010: Kande sends me, without warning or any formal agreements, emails with all of his website login information--server login, passwords, etc., along with a list of updates/changes he'd like.
Early April, 2010: After I explain my rate structure and offer a hefty discount (given that he's running a grassroots Democratic campaign against a particularly party-line Republican), he pays a modest amount for the work done.
May 7, 2010: Ngalamulume formally files his candidacy for U.S. Congress, just 4 days before the filing deadline.
April - June, 2010: Kande Ngalamulume runs what seems to be a fairly normal, if shoestring-budgeted Congressional campaign without any noticeably unusual incidents. I undercharge him substantially for the work I'm doing—partially out of a genuine "good Democrat" attitude; partially out of the prestige that I figured I would gain from having a Real U.S. Congressional Candidate as a client. Little did I know how this was gonna turn out...
May 11, 2010: As Mike Rogers is considered to have a fairly safe U.S. House seat, no other candidates besides Ngalamulume jump into the race, and the filing deadline passes.
June 2, 2010: 3 weeks after the filing deadline, Ngalamulume announces--via email, and without informing either myself or the 8th District Democratic officials beforehand--that he's dropping out of the race, citing lack of fundraising and other forms of support. He blasts "the political establishment" and "many constituents in the district" for not having enough interest in replacing Rogers.
June 2, 2010: Ngalamulume gets into some sort of strange, childish flamewar with Joe DiSano of Two Guys Named Joe fame on Facebook, at one point calling a fellow Democrat a "sorry excuse for a human being" and challenging political consultant and radio talk show host DiSano to a push-up contest. 
I'm not making this up.
June 7, 2010: Ngalamulume contacts the local media to declare that he's reversed himself: Donations are on the way, and he's not dropping out after all! Game back on!
June 7, 2010: A few hours later, Ngalamulume contacts the local media again to say, whoops, never mind, my bad, no donations, and drops out again.
Since he had filed before the deadline, no one else had done so, and he had dropped out after the filing deadline--but had MI-08 as his legal residence--this means that Ngalamulume's would be the only name appearing on the August 3rd Democratic Primary ballot, and, therefore, would be the only one listed on the ballot in the general election in November against Rogers.
Again, no, I'm not making this up.
June 11, 2010: Lansing resident Lance Enderle, a laid-off teacher, Master's Degree student and progressive, pro-choice Democrat, outraged at the thought of Mike Rogers getting a free ride to his 6th term, decides to do whatever he can to make sure that someone challenges Mike Rogers on the November ballot. He decides to throw caution to the wind and run a write-in campaign against the now "Phantom" candidate Kande Ngalamulume (who had moved back to Pennsylvania) in the hope of beating him in the Primary so he could at least present a living, flesh & blood challenger to Mike Rogers in November.
appx. June 16, 2010: I decide to introduce myself to Lance Enderle via Facebook, and explain who I am and my connection to the whole Kande Ngalamulume/MI-08 situation. We hit it off and eventually come to an agreement regarding my becoming his web developer.
June 22, 2010: I register LanceEnderleForCongress.com and LanceEnderle.com for my new, more serious, more realistic, more progressive, less-erratic client, and as the Age of Kande ends, the Age of Lance begins.
At this point, Lance Enderle has exactly 42 days to win a U.S. Congressional Primary race. As a write-in candidate. With virtually no money, staff or name recognition.
June 30: I post on dKos, MichLib and B4M for the first time about the messy situation in MI-08, including Ngalamulume's back story.
Kande calls me later that day, outraged (the first time I've heard from him since before he dropped out of the race), and proceeds to go on a 30-minute (clocked!) rant about how I have the story all wrong, how he's being inaccurately portrayed, how the powers that be within the MDP betrayed him, how no one's giving him any credit for putting his neck out by running in the first place, yadda yadda yadda. He also went on and on about how much he'd sacrificed just to run for this House seat—giving up his job, his home, family/friends/etc back in Pennsylvania.
I respond by pointing out to Kande that no one in the Michigan Democratic Party ever ASKED him to give up his job/etc and fly back to Lansing to run for Congress; he decided to do all of that of his own volition. He was also the one who decided to drop out a few months later; there was no other candidate with establishment backing, and no one had pressured him to drop his campaign. If he no longer has a job or solid income—well, that would be true whether he'd dropped out of the race or not, right up through November (and beyond, assuming Rogers had beaten him, which was certainly more likely than not to have happened).
However, I do inform him that 1) I'ld correct any factual errors on my part if he can specify them; 2) I'd also remove any personally negative language or speculation on my part about his motives (ie, I changed "screwed over" MI-08 Dems to "left MI-08 Dems in a difficult position", that sort of thing); and 3) If he really wants "his side of the story" to be known, he could send me a written version of what he'd just harangued me about (hopefully in a shorter version) and I'd be happy to post that as a dKos diary with just as much promotion/visibility as my prior diary on the subject.
To date, he has failed to do so, nor has he contacted me directly again in any way.
Late June - Late July, 2010: Lance campaigns his ass off, while I develop his website and become Mr. Blogosphere Guy, pimping his campaign on dKos, MichLib and B4M as much as possible. Ngalamulume is the invisible man, presumably tucked safely away back in Philly.
July 28, 2010: Lance appears on Michael Patrick Shiels in the Morning to try and explain the situation:
Sometime in July, 2010: A link is discovered to Kande Ngalamulume's "InstantCast" aspiring actor profile, which lists his home as Philadelphia and his interests as "Commercial, Live Event, Movies, Music, Other, Print, Stage, TV".

Nothing about being interested in politics, I should note.

It also quotes him as saying that he has "the look and the determination. I am passionate about acting, which by the way comes natural to me. I'm going to surprise a lot of people."

Well...yeah, I guess he did indeed surprise a lot of people, that's for sure. The people of Michigan's 8th Congressional District, to be precise.
July 30, 2010: Just 4 days before the primary, rumors spread that Kande is a) back in town in E. Lansing, and b) is supposedly running Facebook ads for the primary after all. I've never been able to verify either of these one way or the other.
July 30, 2010: On the same day, one of my numerous dKos diaries on Lance's campaign nabs attention from Kossacks, including StrandedWind and spedwybabs, who offer to see what else they can do to assist in Lance's campaign.
July 31 - August 1st, 2010: SW and SB's efforts via Facebook, Twitter and various progressive blogosphere outlets hit some amount of success, including articles on Crooks & Liars, The Political Carnival, and Alan Colmes' Liberaland. Site visits shoot up and several hundred dollars are raised for FB ads and palm cards for voters. Not much money, but it's something.
August 2, 2010: Primary day. Unfortunately, despite our best efforts, the vast majority of Democratic primary voters in MI-08 are unaware that the only name listed on the ballot has dropped out and left the state. Kande receives 93% of the vote. Lance does manage about 7% (around 2,000 votes), which is pretty impressive given the circumstances. However, it just wasn't meant to be.
August 3, 2010: The day after the primary, Ngalamulume suddenly pops up out of the woodwork and announces that (and I am not making this up), "the people have spoken" and that he's going to re-enter the race, presumably running his campaign out of Philadelphia.
August 3, 2010: Less than 3 hours later (clocked!), Ngalamulume issues a second press release, stating that after speaking with his father (who apparently lives in France), he's changed his mind again and has decided not to re-enter the race after all.
August 4, 2010: Lance, his campaign manager and I mutually agree that I should back off on the blog posts for a few days to see whether or not Kande makes good on his latest decision; the last thing I want to do is to ruffle his feathers and cause him to change his mind a 5th time.
August 6, 2010: Ngalamulume finally announces that he's going to actually change his legal residence from Michigan to Pennsylvania.
Which, if he follows through, would allow the Michigan Democratic Party to formally challenge his listing on the November ballot.
Which, in turn, would allow the 8th District Democrats to appoint someone to replace him on the ballot.
Someone like, you know, Lance Enderle, who, to date, has been the only other MI-08 Dem to step up to the plate, who's been working his butt off to salvage the situation, and who was described by The Political Carnival as "Alan Grayson with a James Earl Jonesish voice".
August 9, 2010: After further consulting with Lance, we agree that we can't keep quiet about the latest developments forever; I post a general update, being careful not to say anything that might upset Ngalamulume's sensibilities to the point that he reverses himself again.
August 11, 2010: Ngalamulume announces to MSU student newspaper The State News—but not to any actual Democratic Party officials—that he officially registered to vote in Pennsylvania on Monday and has sent proof of the registration to the Michigan Secretary of State's office, which should arrive "no later than Friday":
"Despite officials' lack of notification, Lance Enderle, a 41-year-old MSU graduate student who campaigned in the primaries as a write-in candidate against Ngalamulume, said he is moving forward with his campaign in hopes of being appointed as the Democratic Party's candidate.

"I'm grateful that the democratic process can move forward in the 8th district," Enderle said.

No confirmation could be reached from Tramontana, but Enderle said a meeting among the county leaders in the 8th district already has been called. Enderle said as far as he knew, no other candidate is interested in running.

Tramontana said the Michigan Democratic Party does not have a self-imposed deadline for appointing a replacement. But Kelly Chesney, a spokeswoman for the Michigan Secretary of State, said the information about who is running must be known before the printing of the ballots for the Nov. 2 election occurs.

"We would need the information about (whomever) would be selected 60 days in advance of the election, which would give them time to mail (the ballots) out to the local municipalities," Chesney said.

Enderle's recent campaigning primarily has consisted of participating in parades and community events to make his presence known, he said.

"We have no intention to quit on the people of the 8th district," he said."
August 18, 2010: "No later than Friday" has turned into "the following Wednesday", but the Michigan Secretary of State's office *still* hasn't received the proper documentation to officially strip Kande off the ballot.
As I understand it, Kande did finally file to vote in Pennsylvania as promised, but instead of having the documents a) notarized; b) sent certified mail; and c) sending them to the proper authorities, he instead sent them un-notarized, via non-certified mail, to the wrong destination.
August 20, 2010: Kande insists that he's overnighted the proper documentation, a notarized letter stating his change of residence along with proof of his voter registration change, this time to the proper authorities.
He also, however, makes a rather bizzare claim:
Ngalamulume said he did not register to vote in Pennsylvania prior to the Aug. 3 primaries at the request of Michigan Democratic Party, or MDP, president Mark Brewer. MDP spokesman John Tramontana said he was not familiar with the request.
...which is the first anyone's ever heard of that, and which makes no sense whatsoever for Brewer to do unless he truly didn't want any Democrat to run in MI-08...which I find difficult to believe given that he's the Chairman of the Michigan Democratic Party.
But whatever...FINALLY, we come to the light at the end of the tunnel:
August 24, 2010:
LANSING — A letter delivered to the Secretary of State could soon allow the Democratic Party to nominate a candidate to challenge incumbent Mike Rogers, R-Howell, in the 8th U.S. Congressional district general election in November.

A representative from the Michigan Secretary of State said the department was hand delivered a letter Monday from current Democratic candidate Kande Ngalamulume, D-East Lansing.

Ngalamulume had announced that he would send a notarized letter to the Secretary of State announcing that he had registered to vote in Pennsylvania, where he is now living.

By registering to vote in Pennsylvania, Ngalamulume's name would be removed from the November general election ballot.
Hallelujah, right?? At long last, the deed is done, the Wrath of Kande is over, right??
EXCEPT FOR ONE LITTLE PROBLEM:
Secretary of State officials said Monday afternoon the letter had yet to be reviewed by election officials and there is no legal timeline for the review process. Although, a department spokesperson did note the review likely would have to be completed by mid-September since ballots will begin to be printed for the November election about that time.
Of course, "by mid-September" simply wouldn't cut it, since the deadline for any changes to the ballot need to be finalized at least 60 days before the election (September 2), in order to allow for printing and distribution of absentee ballots.
Suspicious and concerned about the seeming delay by the SoS office (and given the lack of explanation about what the problem actually was), this led to the MI-08 Democratic Committee to issue a press release blasting Terri Lynn Land:
August 26, 2010:
EAST LANSING – A special committee of the 8th District stands ready to appoint Lance Enderle as the Democratic nominee for the 8th Congressional District, but Republican Secretary of State Terri Lynn Land is putting up a roadblock.

Lance Enderle, a teacher from Clinton County, appeared before the special committee on Wednesday night and discussed his plans for a campaign to defeat Republican incumbent Mike Rogers in November. The committee recommended that Democrats in the 8th Congressional District endorse Enderle at their caucus on Saturday during the Michigan Democratic Party convention at Cobo Hall in Detroit...

A copy of the letter was hand-delivered to the Bureau of Elections on Monday by the Michigan Democratic Party. State party Chair Mark Brewer informed the Bureau of Elections that the nomination was vacant and the Michigan Democratic Party would move promptly to fill the vacancy.
August 27, 2010: One day after the MI-08 press release was issued, the Secretary of State officially removes Kande Ngalamulume from the ballot, and attacks MI-08 Dems for being "off-base" in their accusations.
The explanation for the delay?
[SoS spokesperson Kelly] Chesney Friday said the Secretary of State first needed to verify Ngalamulume's move to Pennsylvania before he could be taken off the ballot. She said the office received information regarding a change of address — not of new voter registration, which meant Ngalamulume's name was to stay on the Nov. 2 ballot.

Chesney added the Secretary of State office, after some research, discovered Ngalamulume had registered to vote in one Pennsylvania county when he gave information stating he was registered in another.

"Now ( Ngalamulume's) name will not appear on the ballot," Chesney said. "The process is not as simplistic as the Democratic Party would have you believe.

"The Democratic Party can now select whomever they would like to replace Mr. Ngalamulume."
While Ngalamulume's name was finally removed from the ballot, there remained the question of how a new voter registration in one PA county managed to get entered as a change of address. That question was answered on...
August 29, 2010: Ngalamulume's name removed from ballot
Secretary of State spokesperson Kelly Chesney called the accusations "off base" and said time was needed for review because of multiple problems with Ngalamulume's voter registration.

"It's simply not true," Chesney said of the Democrat's accusations. "(Ngalamulume) had never let Pennsylvania know he left."

Chesney said Ngalamulume was registered to vote in Pennsylvania prior to moving to Michigan and registering to vote. However, his Pennsylvania registration was never terminated. When Ngalamulume, moved back to Pennsylvania, authorities filed his paperwork as a change of address rather than a new voter registration, causing Michigan not to be notified that he was registered to vote in Pennsylvania.

Chesney described the situation as a "breakdown" in the voter registration system.

"I don't know exactly where the breakdown was," Chesney said.

...

Chesney said Enderle's name will be added to the November ballots once the Democratic Party notifies the Bureau of Elections of its nominee.
Yup. Apparently Ngalamulume was in such a rush to leave Pennsylvania in order to run for Congress in Michigan that he never bothered letting anyone there--including the county clerk, Secretary of State or post office--know that he was leaving. As a result, when he moved back to PA some 9 months later, to a different county, they just assumed he had moved directly from Chester County to Delaware County, never having moved to Michigan in the first place as far as they were concerned.
So...is an apology due to the SoS office here? Well, assuming that this is accurate--and lord knows, given some of the previous chapters in this story, it certainly sounds plausible--that would certainly explain some of the delay at the Michigan SoS end of things.
HOWEVER, it doesn't explain why they didn't let anyone at the MDP or MI-08 Dems know what the problem was earlier, nor does it explain the earlier "mid-September" deadline quote, so speaking for myself, I'm only letting them halfway off the hook on this.
IN ANY EVENT, Kande is officially OUT, and as for Lance...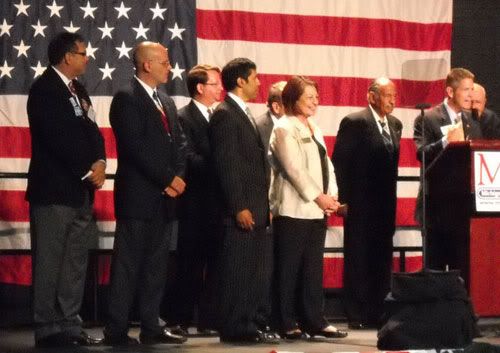 this is from Sunday at the Michigan Democratic Party's Nominating Convention at Cobo Hall in Detroit. You see the bald guy second from the left, on stage with Gary Peters (MI-09), John Conyers (MI-14) and Mark Schauer (MI-07), among others?
August 31, 2010:
Lance Enderle chosen to run against US Rep. Rogers

LANSING, Mich. (AP) - Democratic officials have chosen a replacement candidate to run against Republican Rep. Mike Rogers in Michigan's 8th Congressional District.

Lance Enderle will compete in the Nov. 2 matchup.

The Michigan State University graduate student from East Lansing ran against Kande Ngalamulume (KAHN'-dee GAH'-lah-moo-loo-may) as a write-in candidate in the Aug. 3 Democratic primary election after the other man withdrew.

Ngalamulume won, but officially was taken off the general election ballot after he certified he registered to vote in Pennsylvania.

State Democratic Chairman Mark Brewer says Democratic officials from Ingham, Shiawassee, Clinton, Oakland and Livingston counties met Tuesday in Lansing and chose Enderle for the race.
(yeah, I posted the whole thing but what else could I do? The whole story is only 122 words, including the title and byline!)
Yep, that's right. That's Lance Enderle, who is now, finally the Official Democratic Candidate for U.S. Congress for Michigan's 8th District.
And yes, given the absurdly short timeframe involved, he needs help. As in, a LOT of help. As in--you guessed it--financial donations to help give him at least a chance.
-----------------------------------------------
As for Lance himself, I just wanted to give a taste of one of the excellent 3rd-party blogosphere stories from The Political Carnival; to wit:
I just got off the phone with a someone I could have hung out with for hours. He owns a golden retriever he calls "Dude", he is a 6th-12th grade social studies teacher going for his masters in special ed at Michigan State, and as lay back and wickedly funny as he is, he's dead serious about representing the people of Michigan's 8th district...

After talking to him for quite awhile, I could easily draw parallels to Rep. Alan Grayson. IMHO, Enderle could very well become the new most dangerous man in Washington. Sort of an Alan Grayson with a James Earl Jonesish voice.
Yup. She went there.
You guys keep saying you want more Alan Graysons in Congress, right?
Now imagine Alan Grayson with Darth Vader's voice.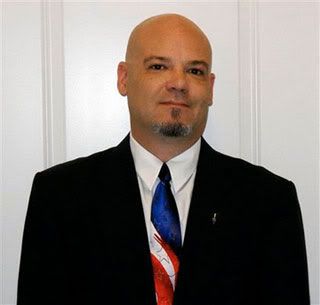 If you can't donate, a Diary Rec would be tremendously appreciated!
Oh, yeah, and check this out--some guy with absolutely no connection to the campaign was inspired to set up his own Facebook page dedicated to getting Lance 200,000 votes in MI-08! (a tall order, no doubt, but he has the right spirit!)