(Paraphrasing Robert Creamer):
Progressive values have served as the foundation for the expansion of human freedom and have been the central theme of American history. They underlie the great documents of American freedom.
As a Progressive, I am taking a stand FOR:
A government that supports the notion that everyone deserves enough income to provide the basic conditions of human existence in American society-- a living wage.

The belief that everyone wants to feel a sense of self worth, and have the opportunity to have a job which provides them with a reasonable standard of living.

The right of employees to have power over their conditions of employment through free, independent unionization.

Government that includes affordable health care, Social Security, and other social safety nets and systems that are necessary to allocate resources where needed.

Trade agreements that give as much priority to rights of labor and protecting the environment as property rights.

A high wage economy that helps spur innovation and productivity growth, producing high levels of economic demand for products and services. Bottom up, not top down economics.

An economy that promotes and supports small businesses while limiting huge, monopolistic corporations.

Greater equality in the distribution of wealth so that wealth isn't concentrated within a small group who wield unjust political power at the expense of the majority of Americans.

The belief that power must be diffused to everyone. We are most successful as a nation and community when we stand up for each other, and help each other to succeed, not just focus on ourselves.

Empathy and responsibility not just for self but for others to ensure that everyone flourishes.

The belief that the future is malleable and can be affected by our behavior today.

The belief that people are what they are in part because of generations that have come before them. No one is independent. We are interdependent. Each individual and group will be better off if everyone is better off. One person doesn't have to diminish another to advantage himself, his family or country. If we all move into the future together we will all be better off.

That individual freedom is only possible when the government is used for the commonwealth, the common good of all its citizens.

That governments should assure the public health, provide public education, build and maintain infrastructure for our common life, from streets to parks, to airports, to mass transportation to legal and judicial infrastructure that allow business to function in our society.
As a Progressive, I am taking a stand AGAINST:
Radical conservatives who value moral authority, discipline and self reliance through self interest and responsibility for self only.

The Conservative value system which ignores complex systematic causes and interactions that impact humanity and society, in which Individual success is not attributed to social context, cultural advantage, the inventions or innovations of prior generations or the advantages provided by an American society and its laws and government.

The conservative belief that everyone should pursue his own self interest at the exclusion of others.

The conservative policy of trickle down economics and the myth of the "free market" which has never worked to stimulate long term growth. It only works to feed the insatiable appetite of the very wealthy.

A future where environmental damage and overtaxation of our Earth's resources or global climate change leads to violence, genocide or a standard of living that prevents the next generation from being better off than our own.

A future of massive inequality where the haves control a greater and greater share of the world's resources from the have nots.

A future of global conflict between religions and ethnic groups that leads to more death and suffering.

A future where structural violence inflicts unnecessary suffering on people worldwide.

A future that requires us to sacrifice our liberty to our fear; a culture that is suffocated and our inquiry is limited by dogma and stifling ideology.

A future where we we allow the institutions we have created to take on lives of their own, and prevent us from making the decisions that will allow us to control our technology and shape our history.

A future that ends in a mushroom cloud or the catastrophic collapse of our environment.
As a progressive I am taking a stand to no longer pretend I have the slightest respect for the appalling negativity that emanates from religious and other radical conservative individuals and groups which promote ongoing prejudices against blacks, Jews, women, Muslims, immigrants, and LGBT individuals. I will no longer listen to their high sounding pious rhetoric, nor tolerate it.
I will no longer pretend that there is some middle ground between prejudice and oppression.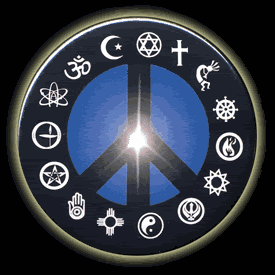 (Robert Creamer's book is worth the read)
What are you taking a stand for?