This diary is about a farm dinner on the Lower East Side of Manhattan that took place on Tuesday, August 31st. I have photos and thoughts from this special evening to share below the fold but first the fascinating story of the man who educates people about food issues by uniting the farmers and dinner guest. Martha Teichner offered my introduction to Outstanding in the Field a couple of years ago and it's a good start for understanding all the things Jim Denevan does.
That old video that ends in the same Manhattan garden where I had dinner on Tuesday touches most of the bases but there is so much more about Jim that makes him "Outstanding in the Field."
What is it about Jim Denevan and his wonderful support team? There are many green issues facing Americans and one of the solutions is getting back to local food. Enthusiastic locavores keep writing about it but what about the power of example?
"Senses are heightened in the fresh air. And it's not every day you get to sit next to the person who planted the beans, raised the lamb, and shaped the cheese on your plate."
- Jim Denevan
To understand the magic of Outstanding in the Field, it helps to go back to the beginning, to an idea that started in the summer of 1998. Back when there wasn't much of a local food movement, Jim hosted a series of "farmer dinners" at Gabriella Cafe in Santa Cruz, California.
Several of the restaurant's regular producers were invited out of the field and into the restaurant. The night's menu would feature dishes where the ingredients came straight from the farm and the girl or guy that grew the food or raised the animals or caught the fish would join everyone for the meal. When the first farmer stood and addressed the hungry diners with "this came from my farm" it was clear, people wanted to hear from and appreciate farmers.
The the next step came the following year.
Jim's older brother Bill Denevan, a pioneering organic grower in California was one of those farmers that brought his ingredients and his story into the restaurant. Bill's productive orchards in the scenic Santa Cruz mountains are planted among groves of tall redwoods. From experience working and staying on Bill's farm as a teen Jim knew there was an even better place to celebrate the farmer... right on the farm!
That first evening people came and sat down to dinner within a few feet of where the food was grown and learned something about life on a farm.
With this idea in mind in August of 1999 farmers were contacted, a schedule was developed and fingers were crossed. Would anybody come to this thing? The word went out and guests did arrive, enough to fill a long farm table. In a tradition that continues, people came toting there own plates showing myriad colors and style, brought from home, each diner contributing to the unique table composition. After a welcome greeting guests were shown around by farmer Andrew Griffin, the farm tour ending at a table set among flowering irises and ripe tomatoes.
It would seem that little has changed from that first dinner. After a few seasons on the farm Outstanding in the Field just grew from fifty people who were friendly to the idea to fifty thousand fans. First to other farms, ranches, vineyards and orchards in the San Francisco Bay area, then in 2003 all the way across the country for an event at Stone Barns Center for Food and Agriculture in New York.
Also back in 2003 Katy Oursler, who happens to be about the nicest person I ever met in my life, attended a farm dinner at Bill Denevan's farm. Soon Katy and Jim hatched ambitious plans to take the farm dinner idea from coast to coast. It is so fascinating to hear Katy tell the stories of "how crazy it all sounded in the beginning" and "finding a rickety old red and white 1953 Flxible transit bus for $7,000 on the SellaBus.com website." Stories of climbing over tables and chairs to get to a bed in the back of the bus, stories about a bus that everyone on the crew still sleeps in and makes me think of the "Tiny Dancer" singalong in the movie "Almost Famous."
It is not simple task to prepare a gourmet cookout in the field without a kitchen. With the logistics of coordinating the local chefs in each area, often meeting the person that would cook the meal and seeing the dinner sight for the first time when they get off the bus, it is amazing that they pulled this traveling food carnival off. On that first season when "an optimistic crew of Katy, Jim, Natalie Mock and Caleb Coe hit the road" in that old bus Katy thinks it was the photograph of the perfect table in a farm field that captured people's imaginations. The review of the first season on the history page offers "Numerous adventures and misadventures later the crew safely returned home."
Now six years later the old bus is still with them and these field prepared outdoor gatherings are perfectly delicious. Back in 2005 when the business model made little sense, a not to kind review of Jim's dream in The New York Times called Sand Blast billed Katy Oursler as "Wendy to his Peter Pan" and implied the concept was just a well timed foodie fad. Now the Foodie feasts straight from the farm has also become a successful business but it is so not about money. I was delighted to hear from Katy that they now have a bobtail so they don't need to climb over the tables and cooking utensils to get to their bus beds. That trailer that has turned Outstanding in the Field from a bus to a bus and truck tour was appropriately purchases from a touring rock band. This photo from the Outstanding in the Field blog shows that magic bus.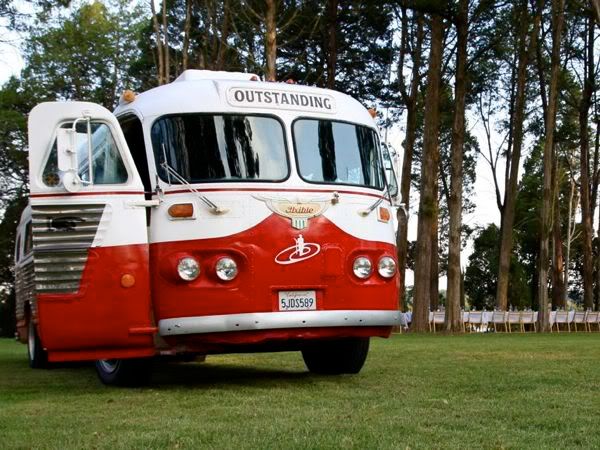 Urban events must be different from actually going out to a farm for education. Since my first Outstanding in the Field event was in a San Francisco park and my second was on a Rockefeller Center rooftop I cannot even begin to describe the farm experience but I have a few fresh thoughts about transforming the rare Manhattan green space to a farm feast. Food that is served in a neighborhood that seems so far from the nearest farm is presented and you are told where it comes from, places like Brooklyn, Queens and suburban settings just across the George Washington Bridge. Familiar names if you frequent the farmer's markets, soon to be familiar if you don't.
So what is the big deal about people who can obviously afford an expensive meal coming out for one of these events? Well finding out how great fresh local food taste and how bad it makes other choices seem counts but that's not the magic. The fact that on Tuesday afternoon into the evening I sat across a dinner table from the legendary Organic Farmer Annie Farrell who now oversees Millstone farms just a stones throw from Manhattan and a young man who works on a commercial rooftop garden within city limits made it a learning experience. Sitting across from two generations of local farmers explaining what they do and why they do it while to my left sat a beautiful young lady who coordinates Grow NYC in Brooklyn. Between the two urban farmers telling stories as varied as getting water to Brooklyn rooftops, sheering sheep or managing a CSA and the young Greenmarket coordinator filled with hopeful stories about transforming neighborhoods to greener living block by block, new farmer's markets starting in former urban food deserts and recent victories connecting food stamp users with farm fresh produce, it was a pretty amazing Manhattan dinner conversation.
Meeting people like this is an occasion of genuine people powered politics and to really appreciate all they do for us, you can't read about it in a book or a blog. You cannot see the look on an author's face in a newspaper article about the benefits of eating local food. At an Outstanding in the Field event you can taste the passion, feel the enthusiasm for the good work done and the promise of things yet to come. These dinners are inspiration events. You can't stand up from a dinner with farmers and young people working for change saying "yea it all sounds good but not for me." More important is the fact that very few can walk away from such an event without telling everyone they know. Word of mouth is the real success story of Outstanding in the Field and what the event stands for.
This Tuesday if you were walking the streets of Manhattan and you happened by the corner of Avenue C and 9th Street you would have seen a sidewalk sandwich board that proclaimed "Farm Dinner." Some lucky guest got to go inside and find out what it was all about. Many neighborhood residents tried to get a look through the fence to see what was going on and many dogie noses were poking through the fence too. If you would like a look inside this Manhattan oasis, you can watch this smooth jazz presentation La Plaza Cultural-Armando Perez GreenThumb Public Garden.
Leah Scafe is another important member of the crew. She is presented on the 2009 OITF crew list as "Tour mother and tall Canadian, fairest of the fair. Keeps it all together with common sense and profound organization skills. Looked up to by entire staff, even Jim who is 6'4"" Here is a photo of the welcome from Leah Scafe (on the left) and Katy Oursler at the entrance of La Plaza Cultural-Armando Perez GreenThumb Public Garden.
Here is Katy and Jim when I first walked in.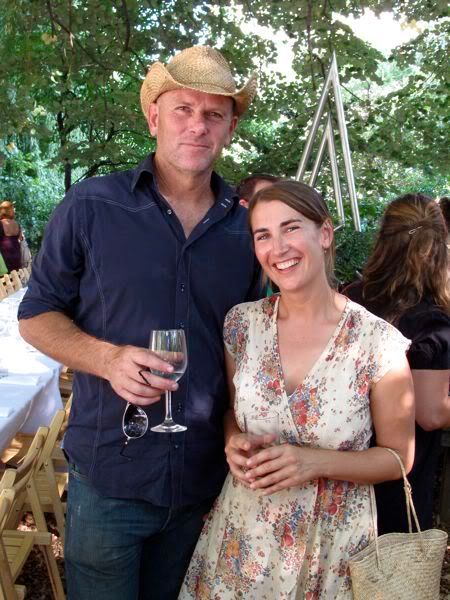 And here is Troy MacLarty guarding the appetizers. Tuesday's starters included chilled tomato & red pepper soup, arctic char gravlax with beet jam, grilled pizza with red pepper & arugula and Telepan ham & figs.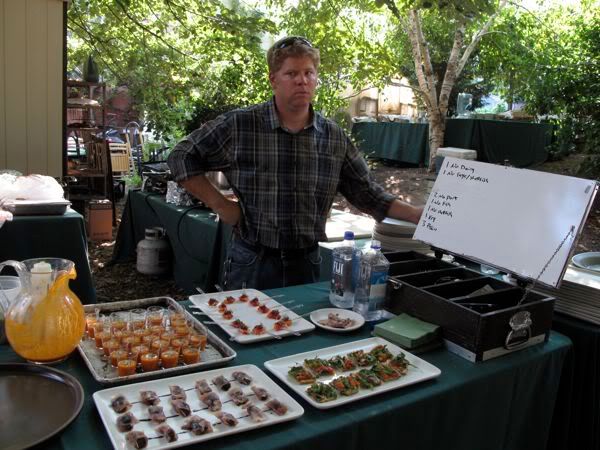 Just kidding about Troy. The crew is really welcoming and from all over the United States. Here is Katie Wyer who comes from Chicago, a crew member whose name I forgot and John Thurmond from Knoxville, Tennessee.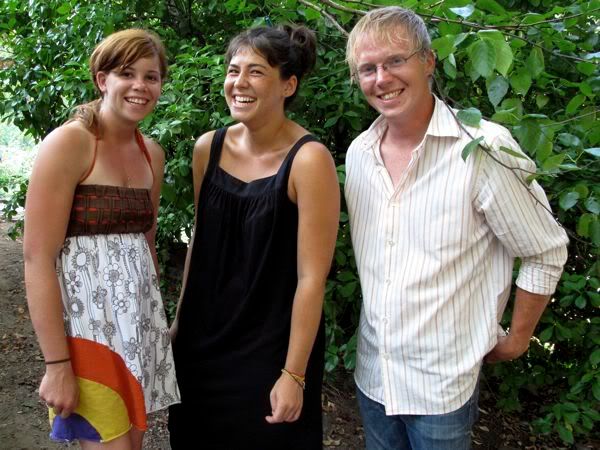 A welcoming smile and that fabulous tomato & red pepper soup.
And here is Steve Thorlton who just arrived out of Boston, wedged between Katie and the mystery crew member with the wonderful smile.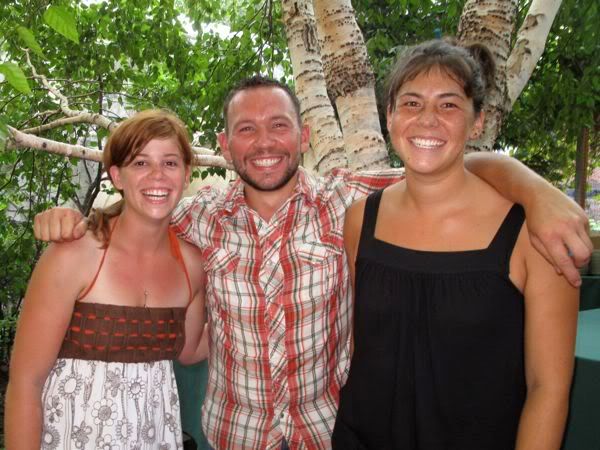 New Yorkers arrived continuing the tradition of the traveling plates.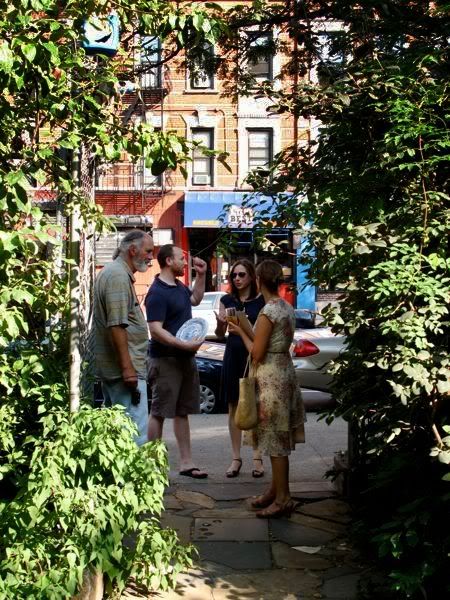 And if you forgot to bring your own the the OITF crew provided one for you.
Jim took me for a tour of the long table. Jim is an artist, usually it is big art and his work can be seen here. He takes great pride in making everything look just right for the dinner and can be seen moving rocks or trimming trees, whatever he thinks improves the view. Jim seemed very happy to inform me that La Plaza was his first ever "question mark shaped table." I always make sure to get a photo of him walking the line.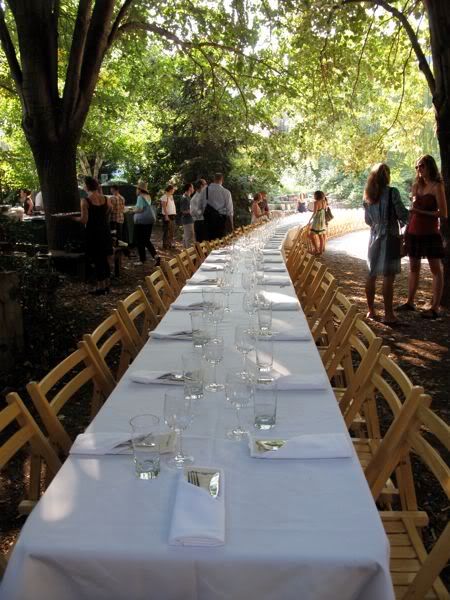 People began getting acquainted, in the front garden. City dwellers talking with the local farmers and food artisans, hearing stories about the farms and the origins of their food.
While the appetizers were served with a 2005 Sparkling Pointe Brut.
Before we went to pick our seats there was a few speeches. Credit was given to all the supporters and farms that participated. It was announced that the star chef for the evening Bill Telepan would be donating all the night's proceeds to his nonprofit, Wellness in the Schools. This project of his has made a big difference in advocating access to good food in New York City Public Schools.
After Leah, Jim and Katy shared their experiences and stories of past gatherings, Ross Martin who runs the La Plaza Cultural Garden stepped up and told a very animated story about the history of the garden.
It was a whole different angle to the evening but a very interesting story of community green space preservation with heroes like Eliot Spitzer, villains like Rudolph W. Giuliani. There is also the mention of the very healthy willow trees, a rare sight on city streets since willows love to have wet feet. You can see the video of his speech here.
It's dinnertime! Time to find a seat out of the hot sun and under one of those willow trees.
I was pretty amazed that this was the kitchen.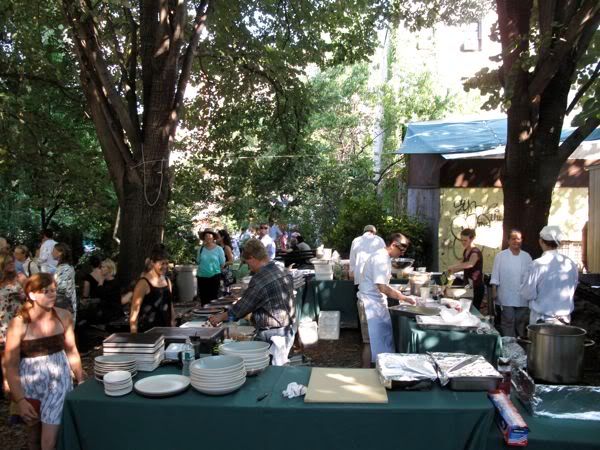 The first course was spicy melon, cucumber & radish with Leib Cellars Pinot Blanc.
Here is Bill Telepan putting the finishing touch on what I thought was the most familiar course of the evening. Cherrystone clams with succotash sauce and grilled sourdough seemed both farm to table and so New York City.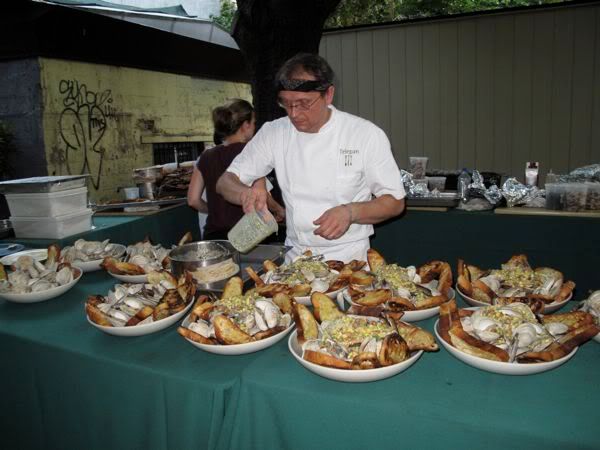 And young Katie passing out the Blue Point Toasted Larger to go with the clams.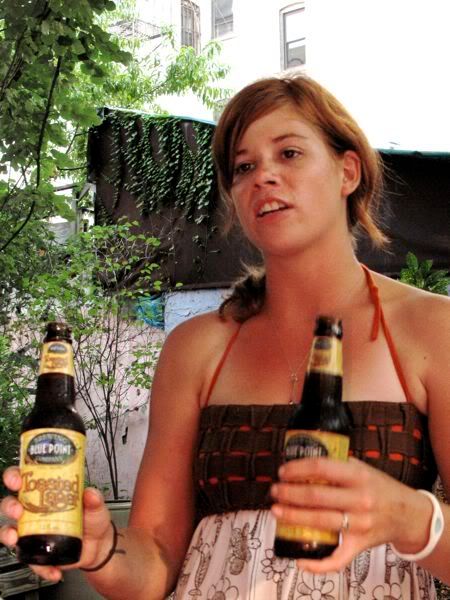 As the sun began setting Jim made the rounds and Katy passed out candles.
The main course was like the rest of the meal, local food. I don't know where there are goats in the New York area but a plate of roasted goat and cherry tomatoes was the main course. My first time eating goat and it was real good. Along with the goat was grilled fingering potatoes, shell beans and garlic kale plus fried summer vegeatbles. A little Cabernet Franc "Bouchet" Schneider 2006 to wash it down. What a spread!
As day turned to night the great conversation continued until desert, peach pie with stone fruit salad and red berry whipped cream with a Bouquet White Dessert wine.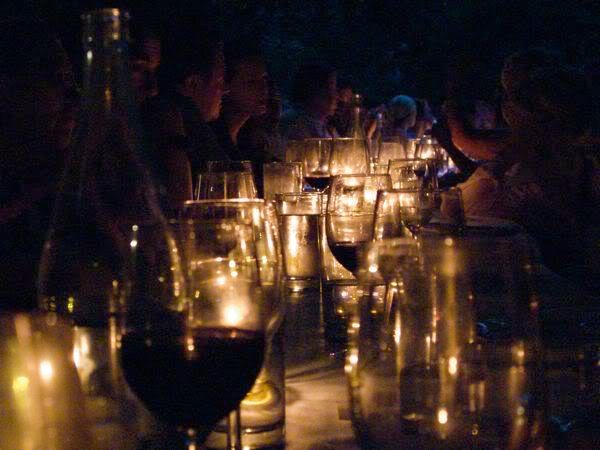 Then sadly it ended and as Elaine Skinner handed me my freshly washed plate I hoped I could make it again next year.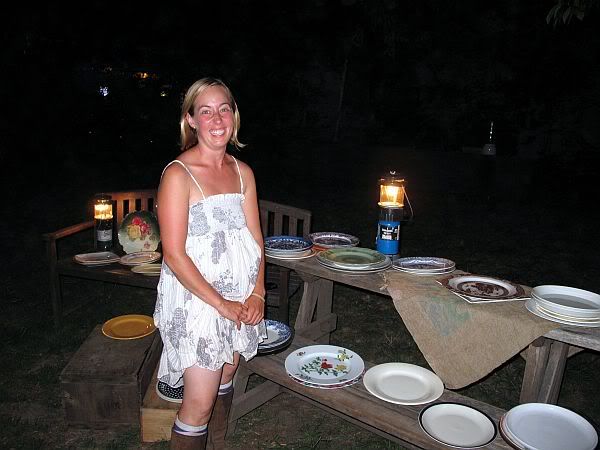 If you would like to attend an Outstanding in the Field event, you will need to sign up on their mailing list because the tickets sell out very fast.
If you live in New York and you would like Jim make some of his art then on Friday, September 10th you will have a chance.
Stepping off the bus for a few days, Jim Denevan, founder of Outstanding in the Field, will be doing a live artwork performance in New York City on Friday, September 10th from 8 pm to 11 pm. Come and watch Jim make a giant drawing on the street in front of the Anthropologie store at Chelsea Market, 401 W 15th St. Anthropologie funded Jim's recent art project in Siberia, Russia. Video clips and photos of the work can be seen at theanthropologist.net
This photo diary ends with a photo that I did not take, hopefully someday I will see this romantic farm view.