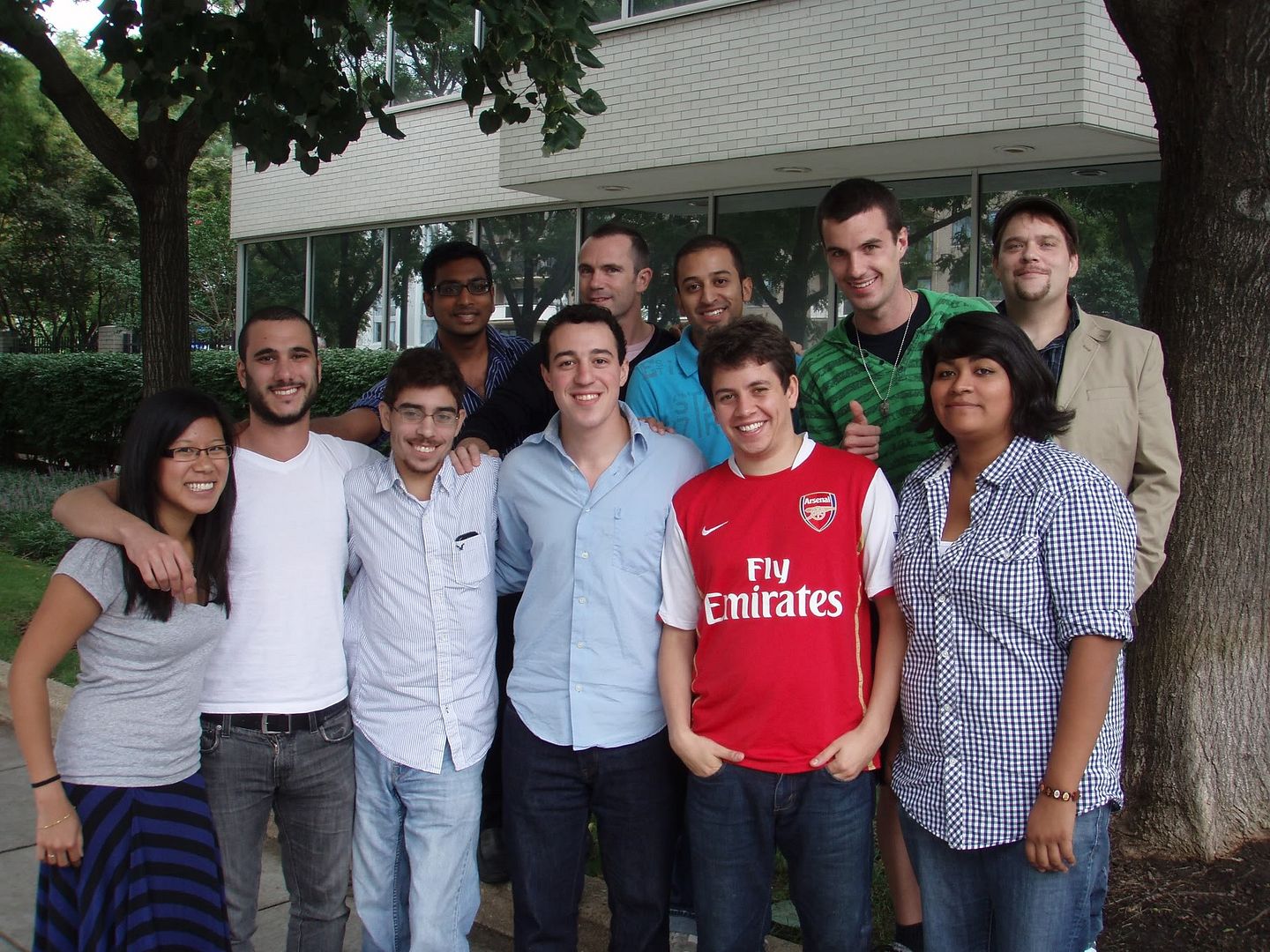 The EqualiTeam assembled for training in Washington, DC August 23-25, 2010.
Among the most valuable resources in the planet are those popularly referred to has "human resources." Anyone working on a campaign knows there's no substitute for smart, enthusiastic, hard-working people who are willing and able roll up their sleeves and get to work.
National Stonewall Democrats has vetted, hired and delivered across the country a slate of such staffers to assist candidates that have distinguished themselves as remarkable in the area LGBT pro-equality. Shoring up pro-equality candidates in Congress and the Senate is an essential task the LGBT community has always and, unfortunately, will continue to face. Victory in these races can deliver a resounding message: "Equality wins."
Meet the groups of individuals that are right now in the field working hard to Elect Equality in November 2010.

Alex Kapelman is an Organizer for the Rush Holt for Congress campaign in New Jersey's 12th District. Before joining the EqualiTeam, Alex worked for Grassroots Campaigns, Inc. as Lead Field Manager and Assistant to the Canvass Director. He raised tens of thousands of dollars for progressive causes, including the American Civil Liberties Union, Amnesty International, and Planned Parenthood Federation of America. Alex graduated from Bates College in May 2009, where he received a degree in Sociology. He ultimately plans to pursue a law degree. | Follow his campaign on Twitter here.
Alison Goh is organizing to elect equality in Providence, Rhode Island with the David Cicilline for Congress campaign. Before becoming a member of the EqualiTeam, she lived in China teaching English to college students, continuing her study of Mandarin Chinese and enjoying the local street food. As an undergraduate, she interned at the SEIU during the 2008 Presidential Campaign, assisting with the logistics and planning for union members deployed throughout the nation. Alison graduated from American University with a double major in Political Science and International Studies, as well as a minor in Chinese. She spent two semesters studying abroad at Peking University in Beijing, China, studying Chinese and learning about Chinese politics, as well as interning at the China Youth Development Foundation, one of the largest NGOs in the country. She was born in Singapore and raised in Dallas, Texas and intends to return to Washington, DC after the campaign and begin a career in politics and advocacy. | Follow her campaign on Twitter here.
David Grossman is an Organizer for the Patrick Murphy for Congress campaign. Born and raised in Los Angeles, CA, his parents transferred their deeply-held beliefs in equality and our political system to me around the dinner table. Always politically active, he took a semester off of college to work on then Senator Obama's presidential race. Armed with a Political Science degree from American University, David is confident that joining the EqualiTeam is just as important in the fight for justice as was working for President Obama, if not more so. When he's not fighting for justice, you can find David reading, collecting records, and playing basketball with friends. | Follow his campaign on Facebook here.
Daniel Ramos is organizing in Palm Springs, California for the Steve Pougnet for Congress Campaign. He recently graduated from the University of Colorado at Boulder with a degree in Sociology and Spanish. Active in CU-Boulder's Student Government, he served as a Representative-At-Large, Chief of Staff, and Student Body President where he pursued a number of social justice and sustainability initiatives.
A true believer that "Education is a Right", Daniel served on the Board of Directors for the United States Student Association, the nation's oldest and largest student-led advocacy organization in the United States. Working with USSA, Daniel organized students on his campus for Student Aid Reform and the DREAM Act. After working on a number of Congressional and Issue-Based Campaigns in Colorado, he is excited to bring his experience to California's 45th Congressional District to get ElectEquality candidate Steve Pougnet to Congress. | Follow his campaign on Twitter here.

David Wilburn grew up in Northeast Louisiana. He was raised by a progressive mother who taught him to educate, organize and know when to duck. He has worked in political campaigns from his early teens and been involved in many groups educating voters. He worked in New York for almost ten years as national brand manger for a publisher and as a consultant developing new markets. Since returning to Louisiana he has worked in a number of campaigns and has been working to organize Democratic Party and LGBT activities in Louisiana. David's specialty is direct voter contact planning and management. In the 2008 election cycle David served as the Field Director for the Louisiana Democratic Party. Last year David worked with Forum for Equality as Statewide Coordinator developing local chapters and developing advocates who had significant impact on state and local policies affecting the LGBT Community. Currently David has joined National Stonewall Democrats as an EqualiTeam member working to re-elect Pro-Equality Democrat Representative Tim Bishop from New York's 1st Congressional District. | Follow his campaign on Twitter here.

Genevieve Flores was born in Los Angeles, but moved to the beach side community of Oxnard, CA as a child. The oldest of three children, she is the only girl and was raised in a Latino-Catholic family. A recent University of Southern California alum, she holds a B.A. in Psychology with a minor in Gender Studies. She plays both the acoustic and electric guitar in two different bands, where she writes both the music and lyrics. She is also a poet and performer.
While at USC, she was elected Executive Director of the Gay Lesbian Bisexual Transgender Assembly and worked to create positive changes, including increased outreach to the fraternity and sorority systems, developing relationships with other Los Angeles area universities and colleges, and within the USC community. Genevieve received campus recognition for her efforts with the GLBTA, including being named a 2009-2010 Remarkable Woman, 2009-2010 Program Board Director of the Year, and a member of the Order of Troy. She currently sits on the Board of Directors for the USC LGBT Lambda Alumni Association as Events Co-Chair. She is currently working on re-electing Nevada's Rep. Dina Titus to Congress. | Follow her campaign on Twitter here.

Mark Doumet brings more than three years of experience in politics, communications and foreign policy to the Alexi Giannoulias Campaign for U.S. Senate. While he specializes in public policy and foreign policy, Mark is working in collaboration with Alexi For Illinois's Field Program to outline a robust state-wide strategy of LGBT outreach—crafting targeting strategies of volunteer recruitment and GOTV to Illinois audiences.
Before joining the Giannoulias Campaign, Mark helped develop a public policy strategy at Kaiser Associates for Canada's largest oil and gas trade association.
Mark developed his skills in moving public policy as a legislative intern working with the Speaker of the U.S. House of Representatives, Nancy Pelosi, and as a marketing intern with the largest LGBT organization in America, the Human Rights Campaign.
Mark is an honors student in Georgetown University's School of Foreign Services. He studies the intersection of culture and politics in international relations, focusing on political polarization for partisan mobilization in pluralistic states. Mark has also pursued certificates in Jewish Civilization and International Economics within the School of Foreign Service. He chose to forgo an early graduation to help elect Alexi GIannoulias, a fellow Greek Orthodox LGBT-advocate to the United States Senate. | Follow his campaign on Twitter here.

Scott Wooledge is Michigan native, transplanted to New York City 18 years ago. After studying journalism and graphic communication, he moved to New York City and pursued a career in consumer magazines, working for a variety of high-profile publications.
He still found time for activists politics, and worked for the Obama campaign in 2008, canvassing in Pennsylvania and working on GOTV operations out of his Sarasota, FL offices in the last month of the cycle. He also participated in state and local campaigns and New York's fight for marriage equality.
In 2007 he started posting at the Daily Kos blog under the handle Clarknt67 and has risen to some prominence in the blogging world, posting about LGBT and New York state politics. He eventually became a front pager at Pam's House Blend, a contributor to Albany Project and others, asserting a strong voice for equality. He's proud to be part of an effort to shore up our pro-equality allies in the US Congress. He's working for the Paul Hodes for Senate Campaign in New Hampshire. | Follow his campaign on Twitter here.
Sean Mann moved to Washington, DC to pursue studies at George Washington University's in GW's Campaign Management Program, specializing in advocacy politics. He am delighted at the opportunity to work for the ElectEquality campaign through NSD as it has been his dream to be an advocate for the rights of minorities, especially those in the LGBTQ community. Sean originally comes from the Daytona Beach, Florida and is excited to work for Elect Equality candidate Ed Potosnak. Seah has past experience advocating and campaigning for local campaigns in Florida like Gainesville's No on Amendment 1. | Follow his campaign on Twitter here.

Tim Hines was born in New York State and moved to North Carolina in 1998. In 2005, he graduated from McDowell High School. Taking an active role in politics, he ran for county commissioner in the county of McDowell. While he was the youngest candidate in North Carolina to ever run for a county commission seat, he only received ten percent of the primary votes. Since then, he has assisted in many other political endeavors.
By the time Tim graduated from Western Carolina University with two bachelor's degrees, in both Political Science and English – with a concentration in Professional Writing, he has become a strong advocate for issues such as Education, Healthcare, Foreign Policy and Politics, and
social issues such as LGBT and pro-choice. In addition, Tim has worked with UNICEF, various political organizations and Stonewall Democrats. Furthermore, Tim is an avid leader and always willing to take charge of an issue in which it is beneficial to the United States. Currently, Tim is in New Hampshire assisting the campaign of Congresswoman Carol Shea-Porter. | Follow his campaign on Twitter here.
Travis Baillie is a Native New Yorker who graduated from American University in May 2010, with a B.A. in International Relations & Business. He has worked in various capacities in both the LGBTQ and Reproductive Justice movements. Most recently, Travis worked with NARAL Pro-Choice America, helping to coordinate NARAL's affiliates all across the country.
Travis is committed to a diverse LGBTQ movement, and makes progress towards that goal as a board member of KhushDC, one of the largest South Asian LGBT organizations in the country. He also serves on the board of Out For Work, which helps LGBT and allied young professionals prepare for success in the workplace and to connect them to pro-equality workplaces. As a daily escape from politics and social justice, Travis is training for the 2014 Antarctica marathon. He is in Florida working on behalf of Kendrick Meek campaign for Senate. | Follow his campaign on Twitter here.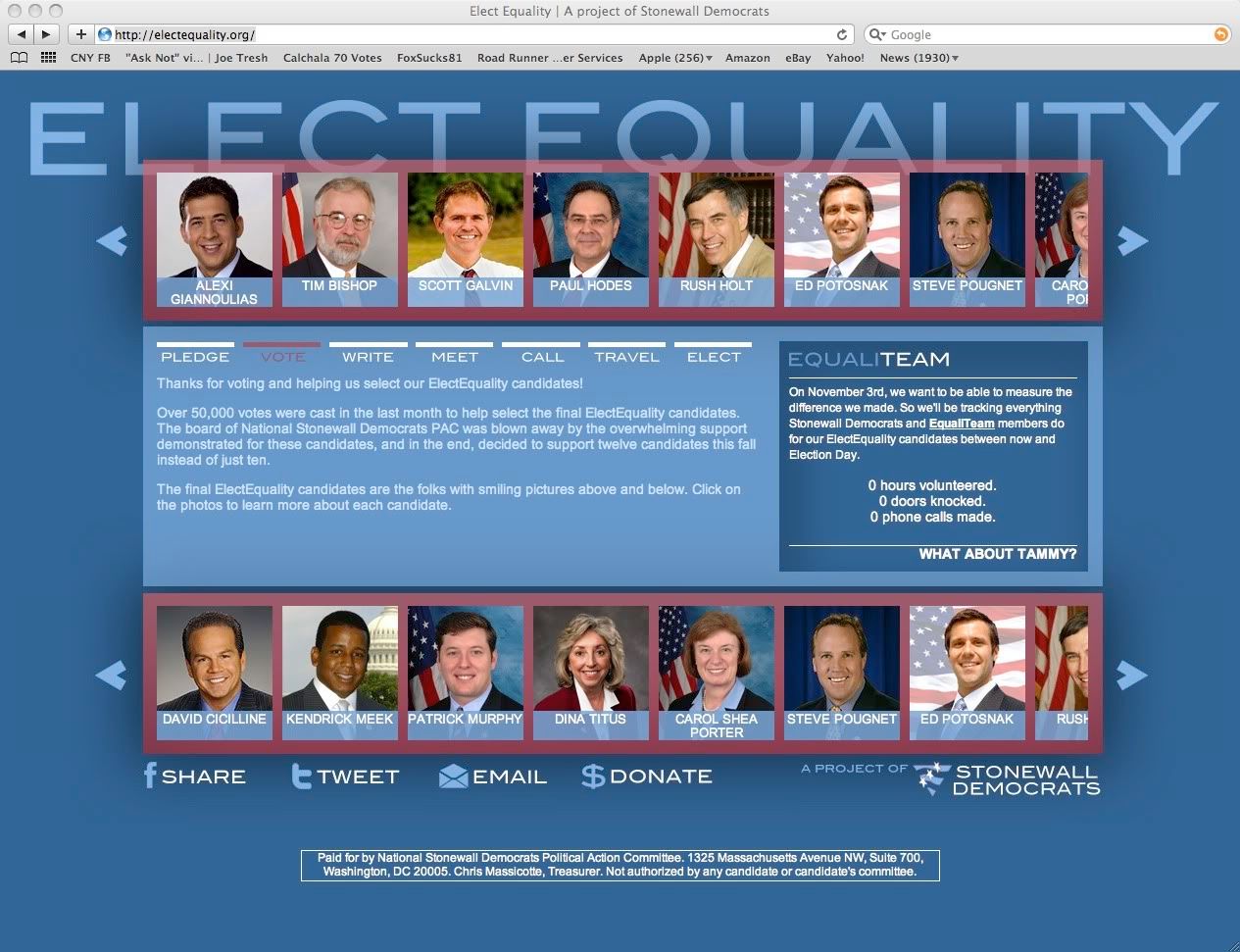 The Elect Equality program is a project of the National Stonewall Democrats. Launched on August 30, the EqualiTeam is made up of trained organizers that the National Stonewall Democrats dispatch to work with local affiliates, state parties, and LGBT volunteers to engage LGBT and allied voters in areas where our ElectEquality candidates are running. For more information on the candidates, and why they're worthy of the title "pro-equality" please see the Elect Equality website. To find a local affiliate chapter of Stonewall Democrats in your area here.

Stay connected to the EqualiTeam's efforts