Anniversaries about tragedies are supposed to inspire us to move forward. How is that working out?
In 2009 I wrote a diary about how the metaphysical significance of the Gregorian calendar only means that the Earth has orbited the Sun to the same location since the last time we called it "September 11th"; and yet, it's not the same location in space at all.
In 2008 I wrote that if we're really worried about the loss of 2978 lives, we're not worried about saving the next 2978 as much as we care about who's to blame for their deaths. We ignore things that we could easily change that would save them - but choose not to because the effort required from us as individuals is inconvenient. Instead, we tilt at windmills over stuff that is largely not under our control, because ranting about it gathers a larger and more bloodthirsty crowd that is easily manipulated for many other ends.

I went to Purdue University, where a legend which involves the phrase "one brick higher" is recalled.
Follow me, one brick higher, if you will, please.
The "new" bell tower was erected at Purdue University my first semester there in 1995. I say "new" because it was the third, and the history of how it came to be and it's significance is told on a bronze medallion at the base of the tower:
The Plaque beneath the bell tower at Purdue University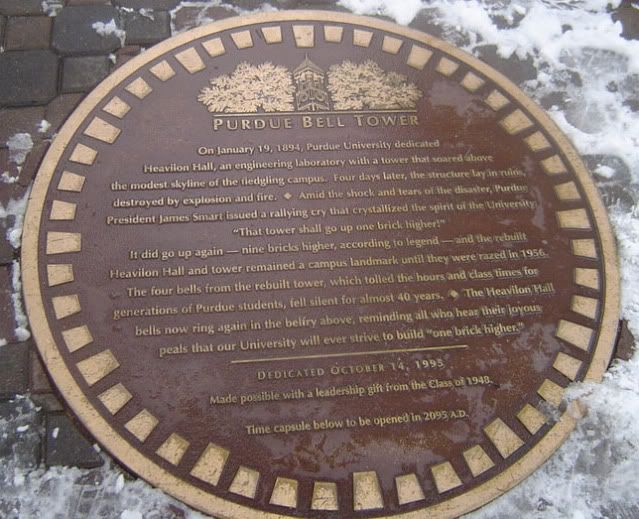 The medallion reads:
"On January 19, 1894, Purdue University dedicated Heavilon Hall, an engineering laboratory with a tower that soared above the modest skyline of the fledgling campus. Four days later, the structure lay in ruins, destroyed by (a boiler) explosion and fire. Amid the shock and tears of the disaster, Purdue President James Stewart issued a rallying cry that crystallized the spirit of the university:

"That tower shall go up one brick higher"

It did go up again - nine bricks higher, according to legend - and the rebuilt Heavilon Hall and tower remained a campus landmark until they were razed in 1956. The four bells from the rebuilt tower, which tolled the hours and class times for generations of Purdue students, fell silent for almost 40 years. The Heavilon Hall bell now ring again in the belfry above, reminding all who hear their joyous peals that our Univeristy will ever strive to build "one brick higher".
I think we should put the original Twin Towers back up just as they stood in 2001 - only modernized to 2010 standards and maybe even make them the first 20,000 occupant buildings that can be evacuated in 20 minutes if we want to make a statement.
Right now, any Al Queda terrorist and disgruntled Muslim will always be able to look at every movie that has those two buildings in them and say, "heh, we did that. And they couldn't stop us, and we changed their plans to this day" - as if somehow on September 10, 2001 all of America really looked at those two buildings and thought we wanted something different in their place. How many of us thought we needed a "Freedom Tower" on September 10, 2001 - because without one the world might not know that Freedom was something we embodied?
Maybe it's too late now - but a building that has to put "freedom" in it's name is a bit cheezy for me. It's like Rush Limbaugh putting "Excellence" in the "Excellence In Broadcasting" network. If Limbaugh's network really is the embodiment of excellence, he wouldn't need to put it in the name. If America really is emblimatic of freedom, we would not feel such a need to trademark it and stencil it onto everything that we can find room to squeeze it on, then sell it.
I have a quote that I cannot find precise attribution for, but I find it telling about all the self-proclaimed "patriots" who think that they alone know what "freedom" (TM) and "liberty" look, feel, and taste like:
"When your work speaks for itself, don't interrupt."
We wouldn't need to put up a "Freedom Tower" if the country itself really stood as it's own monument, any more than we would need to call "French Fries" "Freedom Fries" just to thumb our noses at the French.
I always wondered what would have happened if the 9/11 hijackers had taken out the Statue Of Liberty - would Republicans in the US turned down an offer from the French to make us a new one? That would have been classy.
I don't come here as much as I used do; too much abject hostility amongst those of us who are (according to the Right) blindly monolithic in our thinking. If that were only true...
If that were true, we wouldn't need a blog to hash out our differences.
Same goes for our country; yes, there is freedom of speech and freedom of worship -
But for the love of all that could be called American, when Americans only seem to use that "freedom" to tell other Americans that they are full of shit, dangerous, and unwelcome, are we really so proud of it?
Bin Laden must be laughing his ass off at us. We're eating ourselves from the inside, and he doesn't have to do a goddamn thing any more.
We ought not to be this hungry.