I was inspired to create this series by former Beatle and vegetarian advocate Paul McCartney who partnered with the Meatless Monday campaign to promote less consumption of meat. We not only discuss the benefits of a vegetarian diet we also do some cooking, share recipes and listen to great Beatle/McCartney music!
It's becoming increasingly obvious that individuals will have to shoulder much of the responsibility and sacrifice in combating climate change. We will have some help from government but we are going to have to push and organize and create our own movement. Many people taking small steps creates a movement so it's within our grasp if we assume individual responsibility for reducing our own footprint.
There are many ways to reduce our carbon footprint but the easiest, most effective and fastest way to reduce our carbon footprint is to reduce or eliminate meat and dairy consumption. Fortunately, it can also be the most delicious and today I will share some recipes that make it easy and healthy to be the change the planet needs.
Stir frying is a go-to cooking method for me. It's very satisfying to add ingredients to a wok or skillet and within a matter of minutes have a complete one pot one dish meal. These recipes are guidelines because the beauty of stir-frying is that you use what you have. So have fun substituting your favorite ingredients to make these recipes your own.

VEGETABLE and TOFU STIR FRY with GINGER
A simple recipe for an easy Chinese-style vegan vegetable stir-fry with tofu in a light ginger sauce. You could also omit the tofu, or use seitan or tempeh instead. Serves about 4
* 3/4 cup soy sauce
* 1/2 cup lemon juice
* 1 tbsp fresh ginger, grated or minced
* 1 block firm or extra-firm tofu, well pressed and cut into 1 inch cubes
* 2 tbsp vegetable or olive oil
* 1/2 cauliflower, chopped
* 1 bunch broccoli, chopped
* 2 carrots, sliced
* 1 onion, chopped
* 1 bell pepper, any color, sliced
* 1 cup snow peas
* 1 cup mushrooms, sliced (any kind)
* 3 green onions (scallions), sliced
* 2-3 cups rice, pre-cooked or use pre-cooked soba noodles or other noodles or grain
In a large shallow bowl, whisk together the soy sauce, lemon juice and ginger. Marinade the tofu in this sauce for at least one hour.
In a wok or a large skillet, cook the cauliflower, broccoli, carrots, onion, bell pepper(or whatever veggies you like) and tofu over high heat, stirring frequently.
Add the snow peas, mushrooms, green onions and marinade from the tofu. Allow to cook for just a few more minutes. Vegetables should be tender but not soft.
Add the rice and cook just until heated through and well mixed.


PINEAPPLE CASHEW and QUINOA STIR FRY
serves about 4
* 1 cup quinoa
* 1 cup pineapple juice
* 1 cup cold water
* 1/4 teaspoon soy sauce
STIR-FRY
* 4 ounces raw unsalted cashews
* 3 tablespoons peanut oil
* 2 scallions, sliced thinly
* 2 garlic cloves, minced
* 1 hot red chili pepper, sliced into very thin rounds
* 1/2 inch piece gingerroot, peeled and minced
* 1 red bell pepper, diced
* 1 cup edamame, cooked
* 1/2 cup fresh basil, sliced into thin shreds
* 2 tablespoons fresh mint, finely chopped
* 2 cups fresh pineapple, cut into bite-size chunks
* 3 tablespoons soy sauce
* 3 tablespoons vegetable stock
* 1 tablespoon mirin
* lime wedge (to garnish)
1. PREPARE THE QUINOA FIRST: Combine the quinoa, juice, water, and soy sauce in a medium-sized pot.
2. Cover, place over high heat,and bring to a boil.
3. Stir a few times, lower the heat to medium-low, cover, and cook for 12 to 14 minutes, until all the liquid has been absorbed and the quinoa appears plumped and slightly translucent.
4. Uncover, fluff, and let cool.
5. For best results,place the quinoa in an airtight container and refrigerate overnight.
6. If you're in a hurry, chill the covered quinoa for at least an hour.
7. When ready to use, break up any chunks of the cold quinoa with a fork.
8. PREPARE THE STIR-FRY; Use the largest nonstick skillet you have (at least 11 inches in diameter) or a wok.
9. Have ALL of your ingredients chopped and easily within reach.
10. Place the cashews in the dry pan and heat over low heat, stirring them, until lightly toasted, about 4 minutes.
11. Remove the cashews from the pan, raise the heat to medium, and add the peanut oil, scallions, and garlic.
12. When the garlic starts to sizzle, add the sliced chile pepper and ginger.
13. Stir-fry for about 2 minutes, then add the red bell pepper and edamame.
14. Stir-fry for about 3 minutes, until the bell pepper is softened and edamame is bright green.
15. Add the basil and mint, and stir for another minute before adding the pineapple and quinoa.
16. In a measuring cup, combine the soy sauce, vegetable stock, and mirin.
17. Pour over the quinoa mixture.
18. Stir to incorporate completely and coat the quinoa.
19. Continue to stir-fry for 10 to 14 minutes, until the quinoa is very hot (it helps to use two spoons/ spatulas to scoop the quinoa around).
20. Serve with lime wedges and additional soy sauce, to season individual servings to taste.

THAI TOFU STIR FRY with SPICY PEANUT SAUCE
serves 4
1 block extra firm tofu
1/2 cup chunky peanut butter
1/2 cup water
2 tablespoon soy or tamari sauce
1 tablespoon sherry (optional, but gives it a little kick)
1 teaspoon lemon juice
1 tablespoon brown sugar
2 tablespoon peanut, coconut or vegetable oil
2-4 cloves garlic, minced (to taste)
1-3 teaspoons crushed red pepper (depending on how spicy you like!)
3 to 4 cups favorite stir fry veggies
1 - 2 tablespoon spicy Thai chili sauce (again depending on how spicy you like!)
In a small bowl blend peanut butter, water, soy sauce, sherry, lemon juice and brown sugar. (tip, I heat the peanut butter in the microwave prior to adding other ingredients to "liquefy" the peanut butter. It blends much easier that way)
**IF you want, mix the peanut sauce the night before and marinade the tofu in 1/2 the peanut sauce over night. Cut the tofu into thin strips length wise and then in half width wise. This coats the tofu nicely for pan searing the next night. Reserve the other 1/2 the marinade to pour over the stir fry.**
In a large skillet or wok heat the oil over high heat. Add the garlic and crushed red pepper, stir fry 30 seconds.
Add the marinated tofu being sure to include as much of the marinade as possible (a lot of it will be absorbed by the tofu). Shear the tofu on each side (about 5-10 minutes each side).
Add veggies and stir fry until they just begin to soften but are still a little crunchy (about 5 minutes)
Stir in the other 1/2 of reserve peanut sauce and chili sauce until sauce is smooth. (about 3-5 minutes)
Serve over rice or noodles
* 1 tablespoon plus 1 teaspoon canola oil or veg oil, divided
* 2 large cloves garlic, minced
* 4 scallions, greens included, rinsed, trimmed and thinly sliced
* 1 tablespoon minced ginger
* 4 cups leftover cooked brown rice
* 3/4 cup finely diced red pepper
* 3/4 cup cooked, shelled edamame
* 1/2 cup fresh or frozen, thawed, corn
* 6 ounces firm tofu, cut into 1/4-inch cubes
* 2 eggs, beaten
* 3 tablespoons low-sodium soy sauce
Heat 1 tablespoon of oil in a wok or large skillet until very hot. Add the garlic, scallions and ginger and cook, stirring, until softened and aromatic, about 2 to 3 minutes. Add the rice, red pepper, edamame, corn and tofu and cook, stirring, until heated through, about 5 minutes. Make a 3-inch well in the center of the rice mixture. Add 1 teaspoon of canola oil, then add the eggs and cook until nearly fully scrambled. Stir the eggs into the rice mixture, then add soy sauce and incorporate thoroughly. Serve hot.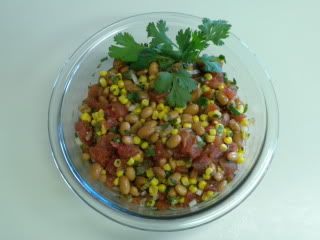 MEXICAN SUCCOTASH
serves about 8
* 1 poblano chile
* 2 cups shelled fresh lima beans (about 2 pounds unshelled beans)or use canned
* 1 tablespoon olive oil
* 1 cup finely chopped Vidalia or other sweet onion
* 1 cup finely chopped red bell pepper
* 1/2 cup finely chopped green bell pepper
* 3 garlic cloves, minced
* 2 cups fresh corn kernels
* 1 cup grape tomatoes, halved
* 1/4 cup chopped fresh cilantro
* 2 tablespoons fresh lemon juice
* 1/2 teaspoon salt
* 1/8 teaspoon freshly ground black pepper
* Cilantro sprigs (optional)
Preheat broiler or char poblanos directly on stove burners, if using burners keep chiles whole then when charred place in plastic bag
Cut poblano chile in half lengthwise; discard seeds and membranes. Place chile halves, skin sides up, on a foil-lined baking sheet; flatten with hand. Broil 10 minutes or until blackened. Place in a zip-top plastic bag; seal. Let stand 5 minutes. Peel, chop, and set aside.
If using fresh beans place beans in a medium saucepan; cover with water. Bring to a boil; reduce heat to medium, and cook 25 minutes or until tender. Drain. If using canned go to next step.
Heat oil in a large nonstick skillet over medium-high heat. Add onion and bell peppers; sauté 6 minutes. Add garlic; sauté 1 minute. Stir in beans and corn; sauté 6 minutes or until corn is tender. Add poblano and tomatoes; cook 2 minutes. Remove from heat; stir in chopped cilantro, juice, salt, and black pepper. Garnish with cilantro sprigs, if desired.

HOT and SOUR SOUP
You can cure your cold and still reduce your carbon footprint with this delicious soup which goes great with the stir-frys serves 4
* 6 cups vegetable broth
* 2 cups mushrooms, sliced (Chinese wood ear mushrooms or shiitake are best but most work here)
* 1 small can bamboo shoots
* 1 small can water chestnuts
* 2 tbsp soy sauce
* 1/2 tsp pepper
* 1 tsp hot sauce
* 2 tbsp vinegar
* 3 cloves garlic, minced
* 1/2 cup scallions (green onions), sliced
* 2 tbsp chili oil
Bring vegetable broth to a simmer and add all the ingredients, except the scallions and chili oil.
Allow to simmer for at least 20 minutes.
Add the scallions and simmer for about 5 more minutes. Stir in the chili oil.
Add additional soy sauce, hot sauce or vinegar to taste.
"Live and Let Die" Paul McCartney and Wings

"Back In The USSR" Paul McCartney

Congrats to Paul McCartney for being selected to receive the 33rd annual Kennedy Center Honour!
What have you all been cooking? Please share your recipes and fave Beatle/McCartney music here!