Lindsey Graham has just provided disturbing evidence that exposure to the Alberta tar sands impairs mental function. The U.S. Senator from South Carolina was in Alberta last week to visit the tar sands as part of a "fact-finding" mission. Graham does not have any energy-related committee assignments, so why he felt the need to conduct this taxpayer-funded mission is unclear. Perhaps the mission was to prove his loyalty to multinational oil companies after he committed the cardinal sin ofadmitting that climate change was real and we needed to transition to clean energy. His first step to mend fences with dirty energy companies and fellow Republican Climate Zombies was to proclaim that climate change did not need to be taken seriously.
"The science about global warming has changed. I think they've oversold this stuff, quite frankly. I think they've been alarmist and the science is in question.
His recent bizarre and deceptive statements about Canadian tar sands oil further establish his Climate Zombie credentials.
Take a closer look at some of Graham's statements in a September 17 interview published in The Globe and Mail, Canada's second largest circulation daily.
You talk about dirty oil. Oil sands oil is dirty. They are reducing their carbon footprint. They are making it cleaner.
According to the U.S. Department of Energy, greenhouse gas emissions from upgraded synthetic crude is substantially higher than other sources. The U.S. Environmental Protection Agency estimates that well-to-wheels greenhouse gas emissions for Canadian tar sands oil is 82% higher than conventional oil sources. Greenhouse gas emissions from tar sands oil extraction are likely to increase in the future because 80% of the recoverable reserves will require deep extraction (in situ) methods, which have a substantially higher carbon footprint than surface mining of tar sands.
So why did Graham claim that Alberta tar sands is reducing their carbon footprint? Simple. The pipeline projects under construction and in the planning stage will bring bitumen sludge ("heavy crude blends") into the U.S. that shifts the carbon footprint for upgrading tar sands oil from Canada to U.S. refineries.
Graham falsely claims that tar sands oil extraction has a smaller carbon footprint than domestic production in California and comparable to conventional oil production in Iran. There are lies, damn lies, statistics, and Republicans. Perhaps his obsession with California is a reference to Speaker Pelosi's recent visit to Alberta to discuss environmental concerns over Alberta tar sands development and importing into the U.S. market. Or perhaps it reflects oil company irritation with California'sLow Carbon Fuel Standard, which stacks the deck against tar sands synthetic crude.
Graham even claims that our puppet government in Iraq is despotic.
Dirty oil to me is oil coming from Iraq and Venezuela where you have really despotic people running the country. The money that is received by those regimes doesn't go to the common good.
Graham probably meant to say Iran to fit his bad regime narrative, but I see little reason to cut him any slack. One can also ask how money received by oil companies goes to the common good since they have suck heavily at the taxpayer teats and fund disinformation campaigns to slow transition to clean energy, but I digress.
Graham apparently needs to have his eyes checked or his integrity questioned with his claim that tar sands extraction "really blends in with the natural habitat." That might be true if the natural environment is a toxic waste dump.
Here is a look at tar sands surface mining operations.
Here is a look at a tiny fraction of an in situ extraction site footprint.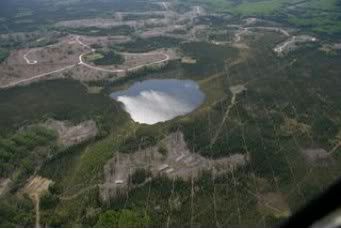 Here is a look at toxic tailing ponds and processing facilities.
Graham's choice of words is interesting. Here is how a Syncrude spokesperson described their half-hearted reclamation efforts.
"If people aren't looking closely, it blends into the natural landscape."
With Graham's apparent blindness and disregard for the truth, it not surprising that he decided to ignore the laughable net energy profit associated with tar sands oil, arboreal forest destruction (one of Canada's most important carbon sinks), water consumption and contamination, environmental issues associated with pipeline construction, recent spills by existing Enbridge pipelines in the U.S., or the lack of meaningful reclamation.
Graham also missed stories in the Canadian press during his visit that revealed that Canadian taxpayers are likely to be left holding the bag for much of tar sands reclamation costs.
We've all seen the photos: northern Alberta's boreal forest marked by open pit mines, polluting smokestacks and growing tailings lakes. It's what oilsands mining looks like. With this big mess comes a big price tag and it looks like Alberta taxpayers might be left on the hook for the lion's share ($10-15 billion) of the cleanup bill.
He also probably missed a just published report of significant surface water contamination associated with tar sands extraction.
Research published online yesterday in the Proceedings of the National Academy of Sciences shows that 13 elements classified as priority pollutants (PPEs) by the US Environmental Protection Agency were found in the Athabasca River in the province of Alberta1. Seven of these were present at high enough concentrations to put aquatic life at risk. The findings are also of concern to human health.

[snip]

He and his team found that there were higher concentrations of PPEs in the Athabasca River downstream of tailing ponds and other tar sands development infrastructure, and in areas downstream of watersheds stripped of soil and vegetation in preparation for mining, than there were at sites upstream of mining projects.
Graham did manage to tell the truth on some issues. In particular, he said he would protect the interests of the oil companies in tar sands development.
I am going to do everything I can to make sure that oil sands production is not impeded because of U.S. policy.
He also noted his work to encourage dependence on fossil fuels is likely to succeed.
Well you know what, we are going to be depending on fossil fuels for a long time to come.
There was one statement I found confusing. Apparently Canada's oil contributes to our energy independence.
I consider Canadian oil part of America's energy independent strategy.
In addition to promoting Canadian tar sands oil, the other objective of Graham's junket was to push for carbon shell games. Saskatchewan Premier Brad Wall wants more U.S. funding for carbon sequestration projects, including creating a pipeline to store carbon dioxide from a Canadian coal-fired plant in Montana. This project would cost taxpayers $250 million to test carbon capture and sequestration on a ridiculously small level.
The project calls for storing 1,000 tons of CO2 in a geological formation called the Bowdoin Dome in northeastern Montana, and monitoring its behavior, but it's unclear what the project would accomplish. A thousand tons of CO2 is a miniscule amount, not enough to bring scientific certainty to resolve a host of questions about long-term sequestration which need answering.
Other projects call for expansion of carbon sequestration in oil wells.
But Wall said there is already a successful project in Weyburn where captured carbon dioxide is being pumped into mature oil wells so that more oil can be extracted. The project uses underground pipes to feed greenhouse gases from a coal gasification facility in Beulah, N.D., to oil fields in Weyburn, Sask.
Pressurized carbon dioxide is used as part of enhanced oil recovery. Since more than half of the carbon dioxide returns with the oil, expensive secondary collection systems must be developed to call this sequestration. And let's not forget that the real objective is dredge up more carbon energy to burn and release as greenhouse gas emissions from the transportation sector. It's the ultimate in "greenwashing" and all the rage for oil companies.
Does deficit hawk Graham really buy into these expensive projects of dubious environmental impact? Absolutely. It helps to promote continued use of coal.
South Carolina senator Lindsey Graham noted that half the power in his state comes from coal, so he's very interested in carbon capture and sequestration technology, as well as clean coal projects in Saskatchewan.

"This province is leading the way for the world, and capturing CO2 not only gives us cleaner air, it makes sure coal is viable," Graham told media Saturday morning.
To be fair, Graham was accompanied by Senators Kay Hagen (D-NC) and Saxby Chambliss (R-GA). Together, they represent states heavily dependent on coal energy but with few geological formations suitable for carbon sequestration unless there were, say, offshore oil wells off the Atlantic coast.
Graham and his fellow Senators talked to many dirty energy companies in two Canadian provinces. Care to guess who they did not talk to?
Chambliss told The Canadian Press on Friday that the senators did not talk to environmentalists, scientists or aboriginal people who live downstream from the oilsands who have voiced concerns about the adverse impacts of pollution.