School's out for summer
School's out forever
School's been blown to pieces

No more pencils
No more books
No more teacher's dirty looks

Out for summer
Out till fall
We might not go back at all
School's Out - Alice Cooper
I admit that 30+ years ago I loved hearing that song on the radio, it meant the beginning of summer vacation. Even if, for the most part, I loved school. But there were times, especially in grades 1-4, that I wished my school would burn down, be swallowed up by a cataclysmic earthquake or get washed away in an epic flood.
For 1.2 - 2.5 million kids in Pakistan, their schools, the public government schools and the private schools have been washed away in an epic flood.
Amal said more than 9,780 government schools were damaged - 2,700 fully and 7,000 partially.

The number of private schools affected - a statistic he said was not yet available - would push the figure beyond 10,000, he said.
Even students who were not displaced by the flood are being effected by it. 5,563 schools are still being used to shelter about 567,000 people displaced by the flood. Those schools are not in operation as schools right now.
Schools/education in Pakistan are of special interest to me, not just as an educator, and coming from a family of educators (both my parents were teachers). But also because my brother-in-law and sister-in-law in Pakistan founded, own, and run (they are the administrators) a private school in the Rawalpindi/Islamabad area.
They will tell you point blank that even before the flood, and even with the monumental and important work that Greg Mortenson is doing, Pakistan is a country with more children than there are schools (public and private) to accommodate them.
" What Greg understands better than most — and what he practices more than anyone else I know — is the simple truth that all of us are better off when all of us have the opportunity to learn, especially our children. By helping them learn and grow, he's shaping the very future of a region and giving hope to an entire generation."
—Admiral Mike Mullen, Chairman, Joint Chiefs of Staff
(thank you LaughingPlanet)
When schools in Pakistan released for summer vacation, they were, the country was, trying to reach a UN Millennium Development Goal of 88% adult literacy by 2013. In a country where there are more children than schools it was already an ambitious goal. Primary school enrollment (school is not compulsory) is around 57%. Pakistan was already lagging, and this flood may put that goal out of reach.
Currently the country as a whole has an adult literacy rate of 57%, much of that coming from the cities. In some of the flooding's worst hit rural areas in Baluchistan province, female literacy was only at 7%.
Often when you say "schools in Pakistan" people think of a Taliban madrassa ("madrassa" is an Arabic word meaning simply "school.") When speaking about my BIL and SIL's school I am quick to add that it is a Montessori and a school using the Oxford Curriculum (link to pdf catalog) as in Oxford University Press in, you know, Britain. Students in their school (as in many private schools in Pakistan) sit for the General Certificate of Education (GCE).
Pakistan also runs the GCE education level. Some of Pakistan's top schools such as ROOTS, Aitchison College, ST. Michael's convent school, St.Patrick's high school, KGS, ST.Paul's high school, Beconhouse School System, LACAS, LGS, SICAS, SISA, Resource Academia, Bahria College and The City school use the GCE. A student educated in Pakistan currently holds the world record for attaining the largest number of "A's" in A-Level. Ali Moin Nawaish Khan received 21 A's in A-level. The last record holder received 12 A's in A-Level.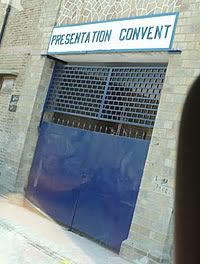 As you can see by that list there are a fair number of Catholic schools. When americandad posted his dairy, The great churchless lie about Islamic nations, I quite happily shared some pictures with him, like this one of the front gate of Presentation Convent. It is where my sister-in-law, my niece and the woman who introduced my husband and I all attended.
You can see advertisements for schools, public/government schools, private schools, universities, institutes, etc. in cities and large towns and on the highways, and road intersections in Pakistan. The sign for co-ed Gandhara Public School is/was on the Karakoram Highway. ("was" because it may have been taken out by the flood)
One of the most moving things I saw on our trip to Pakistan in 2008 occurred in the mountains above Abbottabad.
In Pakistan the work/school week runs from Monday to Saturday. With a half day on Friday for Jummah (Friday Prayers) and Sunday off. Mountain towns in this part of Pakistan reminded me very much of the mountain towns in Colorado during my youth. Even the terrain looks similar, but greener and more lush.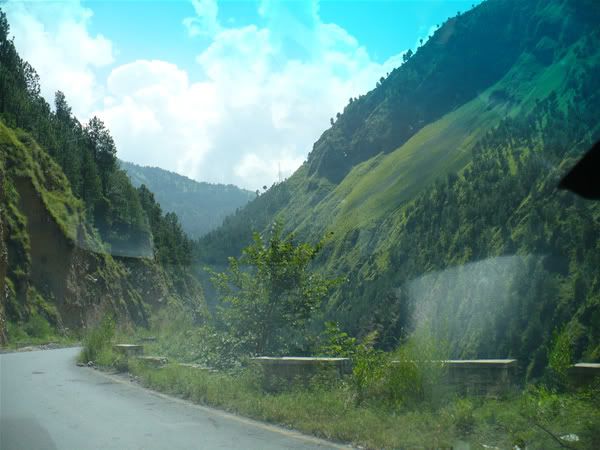 That Friday we were on our way from Thandiani (Tandy-ah-nee) to Muree, a wonderful trek of alternating elevations. The public schools were letting out for the day (a half day) all along our route and children were on their way home. They were easy to spot because most primary/high schools in Pakistan, whether public or private have a uniform.
We drove slowly, there were so many children, on their way home from schools like this:


So many children. Hordes of children. Young and teenager, girls and boys. There were times we'd be driving on the side of one mountain, you'd have children making their way home in front, in back and beside you. You'd look down into the valley and see the now familiar uniform of more children walking home from school, then you'd look up at the side of the other mountain and there would be still more children. In school uniform, making their way home. They'd walk for miles, up and down steep terrain, all for a chance to go to school, in a public school system that is admittedly, not very good. And this scene repeated itself town after town until it was lunch time.
We often forget how our public school system was (and still is) the "great leveler." How in the 1800s and early 1900s an education was only available to the rich. It was one of those "golden promises," that a poor man's children would receive an education just like a rich man's children that brought people to these shores. Seeing the determination of these kids to get an education no matter how hard, how daunting, or how poor the education they are getting in a government school, was humbling and awe inspiring.
It makes me more than a little angry when the (our) right attacks our Public Schools and public education. I know how determined they are to destroy and end them. An education mover and shaker in the Republican told me, to my face. But the public school is how we became the land of opportunity, where dreams of all have a chance to come true.
The public/government school in Pakistan begins at age 6. Most children enter school speaking the language of their provincial language or regional language such as Punjabi (of which there are 6 dialects), Pashto, Sindhi, Saraiki, Balochi, Bengali, Kashmiri.
In school children learn the national and official languages of Pakistan; Urdu AND English. For most people Urdu is their second or third language, English as well.
In my BIL and SIL's school children begin at 4 years of age in Montessori, they begin learning Urdu and English at that time. By the time they are ten they are proficient in both languages.
These pictures were taken during summer vacation before the "getting ready for the new year" clean up began. During the summer the school had added a whole new wing of classrooms.
Many multi room schools in Pakistan may remind you of schools in US states that are pretty warm through out the year.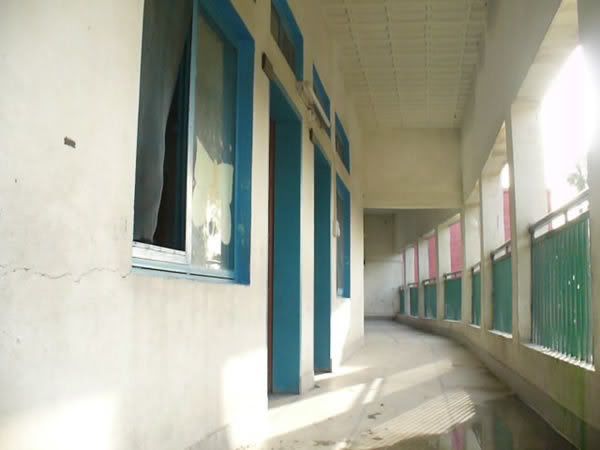 But the open air corridors serve another purpose than just helping to cool school rooms in a place where the temperature can reach into the 90s long before summer. It's light.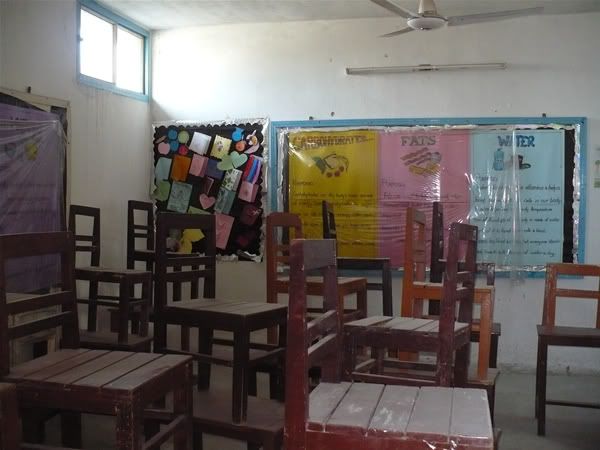 For the past 40 years, maybe since it's inception (I've never asked) Pakistan has engaged in "load shedding."
Remember the engineered "power shortage" that Californians endured in the late 90s. The rolling brown outs. That's what load shedding is. Several times a day an area of a city has a scheduled black out. One of those scheduled times happens during the school day.
Usually the brown out is an hour or two, sometimes it can last for many hours.
If a person/family has enough money they will have a Universal Power Supply (UPS)at home, which are basically a row of batteries. It may only be large enough to keep the refrigerator running. If the brown out isn't too long a UPS can usually fill the gap. The power surge when the power is restored is taken care of by a large surge protector you see near every expensive appliance, TV, computer, air conditioner, microwave, etc.
The UPS is recharged when the power comes back on.
Hospitals have generators for coverage, several shop owners we visited had their own generators too. Some school may have generators, but that's impractical for a large number of them. Especially those, like my BIL and SIL's school that try and keep their tuition as low as possible so that more children can attend.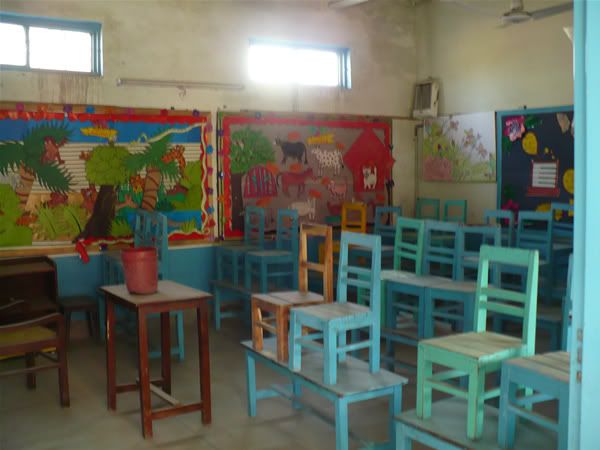 During load shedding the fan to move the air and cool the room doesn't work and during the winter that little heater in the corner doesn't work for some part of the school day too.
Granted in this area it doesn't often get below freezing but anywhere you live a drop of 50 degrees is still considered cold. When you a used to temps in the upper 90s, 40 degrees is miserably cold to you.
Load shedding also frustrates many Pakistanis, who ask why after all this time hasn't the power system been upgraded to meet demand.
The only solar panels I saw were on a communication's tower in Thandiani. I did not see any wind generators.

In this school the teachers move from class to class. The children stay at their desks.
But they, like most schools in Pakistan do the best they can.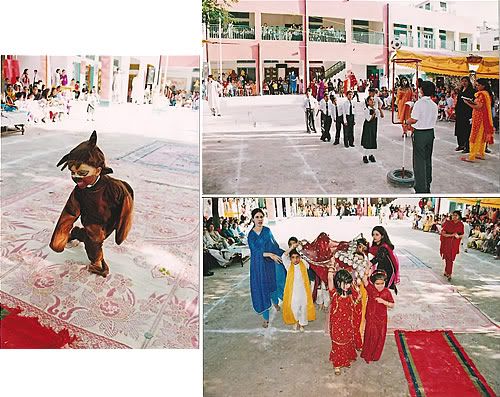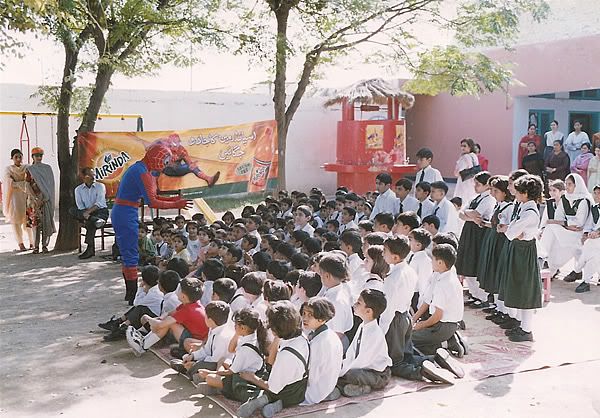 In recent weeks I have read calls from people that say Pakistan should take care of it's own mess. Those same people beg understanding, indulgence and forgiveness for Bush over Katrina and New Orleans. This is a thousand times bigger than the devastation of New Orleans. In a country that has less wealth than the US. Add to that this was 1/5 of their country destroyed/under water, that's thousands of New Orleans.
What would it look like if you took to scale one 1/5 of our country out in a natural disaster. How many displaced people, to scale, would we have?
How would we feel if the world media and the world itself ignored us in our time of need?
1.2 - 2.5 million kids in Pakistan, their schools, the public government schools and the private schools have been washed away in an epic flood.
9,780 government(public) schools were damaged - 2,700 fully and 7,000 partially.
a currently unknown number of private schools have been fully or partially destroyed (it could be 1 or 2 thousand conservatively).


Education is the path to a better life. They know this. . .

Pakistani children who survived floods take a class at a temporary shelters set up for displaced people in Makli, Sindh Province, southern Pakistan, Tuesday, Sept. 21, 2010. - AP Photo

Pakistani children displaced by floods listen to a teacher at an army-run makeshift camp in Sehwan, Sindh province, on September 21, 2010. - Getty Images
Pakistani children displaced by floods attend school in a tent at an army-run makeshift camp in Sehwan, Sindh province, on September 21, 2010. Pakistan's worst floods in history have affected up to 21 million people and left 10 million without shelter. - Getty Images
. . . and so do you
Right now international donations to help with this crisis are not even half of the amount needed.
Right now 10 to 20 million have been displaced from their homes. Due to the receding waters some have been able to return to clean up and to rebuild their homes.
The schools and other infrastructure will take months even years to rebuild.
Right now millions still face the threat of water borne and vector borne diseases because of the flood.
100,000 Pakistani kids face starvation because of the flood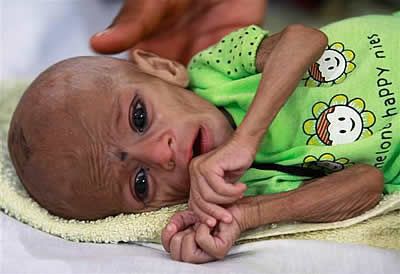 It's not over. . . in many ways it's not even half way there.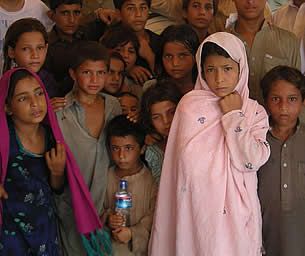 In the early days we focused on organization that gave direct support. That list is here:
• • • • • •
Greg (Three Cups of Tea, Stones Into Schools) Mortenson's non-profit (CAI) recommends supporting a local (Pakistani) groups to which donations will likely have a large, immediate, and lasting impact-


Human Development Foundation
http://www.hdf.com
(800) 705 1310
DONATE

• • • • • •

:
DONATE

:
DONATE

:
DONATE

:
DONATE

Toll free: 1-800-FOR-KIDS (1-800-367-5437)
Text: "Text FLOODS to 864233 (UNICEF) to donate $10"

:
DONATE

ShelterBox tents in Shishkat upper Hunza, Pakistan

• • • • • •

From the US State dept.

How You Can Help:

Text "FLOOD" to 27722. Your $10 will go to the State Department Fund for Pakistan Relief that Secretary Clinton announced August 19, and is part of a new effort to bring attention to the need for aid.

Text "SWAT" to 50555 ; $10 goes to United Nations High Commissioner for Refugees fund for flood victims
• • • • • •
Don't have money to spare?
That's OK.
Please consider signing the Avaaz Pakistan Debt Petition to forgive Pakistan's debt so they can instead use their scant resources to aid the suffering millions of people in their country. (click the image below)
• • • • • •
We are looking at what may be the worst humanitarian crisis the world has seen in a century, and the worst Climate Change disaster yet.

Some of us at Daily Kos use a Google group to help organize for the crisis in Pakistan. Anyone who would like to get involved or get alerts when a new HELP PAKISTAN diary is posted, please join
( CLICK THE PIC )