You all showered me with love last week and I owe you this story, my friends. It is not fiction:
The exhausted mother-to-be had reached the end of her endurance. Despite training sessions in home-birth with 5 other local women who were all due within an eight-week period, sponsored by the local medical rural medical clinic, and with an intern in attendance, after more than 30 hours of labor her baby was stuck, unable to move out despite her being fully dilated. At 3 am on Monday, December 2, 1973, defeated, we made the 35 mile trip down to the nearest hospital, in Espanola, NM.
The mother was Madeline Evans Lovejoy, B.A., M.A. (English Lit). She called herself "Mal". Our son, already named but still unborn, was Random Comet Lovejoy, and I was driving the '52 International truck that was our transportation that year.
They were not pleased, back in 1973, to see our ragged band of mountain hippies drag its dire emergency into their sterile hospital midst, and we were not pleased to come asking for help, but we did, and they did their duty, delivering Random with the help of forceps to adjust the presentation of his head (there is a proper Ob-Gyn term for this improper presentation, which I have forgotten).
But the story of Random's difficult beginning had started 2 months earlier, when Mal badly broke her arm, requiring surgery (screws and plates!) to fix it, and then fell ill to a virulent in-hospital infection that took the latest of their antibiotics, "Keflex", to cure. Two months after his birth, Random was back in that same hospital with a severe bronchial problem and was saved by extraordinary medical intervention.
Mal was quite clear on the capricious nature of life; had Random been a girl child (we didn't know til he was born) she would have been named Chauncey. The transitory comet Kahoutek was in the sky as he was growing within her.
Despite all this, Random thrived once he came back home and weighed a hefty 29 pounds at the end of his first year. He got his first teeth when he was 5 months old, was breast-fed as long as Mal could stand it and we grew much of what he ate, there on our little farm. He was known throughout the valley for his bright rosy cheeks and bubbling energy.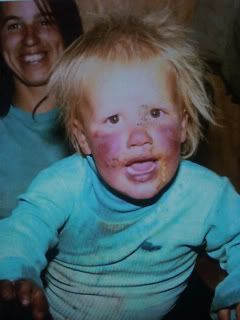 For reasons it is not necessary to go into, Mal and I split up within a year, but I moved into the house next door and Random toddled freely between our houses, no more than 60 feet apart. This lasted another couple of years, until I moved out of the hills and down to the City, turning my back on 11 years of that life and entering the world of work and "responsibility", as I was suddenly the only available parent to my two older kids by a different woman, Clane and Haud.
My daughter, Clane Hayward, has written two memoirs of these times, from her own perspective: Hypocricy of Disco, and Nothing is Fixed.
(photo by Stephen Cooper ca.1976)
That's Random on the right, with his rosy cheeks, and his big sister Clane on the left with a friend between.
So Mal raised Random up in the hills while I struggled with raising my own kids and and pursuing what became my career as an adobe builder, 120 miles away in Albuquerque. Mal became a shining example of an autonomous, uncompromising and competent woman in the hills and she and Random grew very dear to their community. She was an avid skier, on the Ski Patrol of the local area, and trained to become an EMT and then an RN. She rode a little motorcycle around town, and Random became a skier at age six and a motorcyclist around 10 or so. He had accidents, some of which I probably never even heard about, including encountering a concrete truck while riding his little 'hood, and as he grew, fully embraced the concept of "thrashing", whatever he was riding, bikes, skateboards, skis, snowboards, and ultimately, anything with an engine; you name it.
I missed out on all that, with only brief contacts of no real intimacy. Almost 20 years go by as she gets him through the local public school, a minority Anglo child in a 80% landed-native Hispanic demographic, and then college, (the University of New Mexico, B.A. Psych), denying him nothing and loving him absolutely.
In late 1998, with Random to graduate in the next month, Mal suddenly died in a skiing accident, and I re-entered Random's life, the father he had never really known. Mal's death shook Random to the core, and he rapidly went into a nosedive of bad choices. It got scary. The family rallied and we brought him into the family construction business (both my younger half-brothers are also builders). I trained him to build fireplaces, he got into it, and he found his footing again. He flew.
And what a man he was! A 6 foot hunk of engaging smile, with a brain behind it, and strong and knowing hands.
In time, Random settled in with and married a fine woman, Sabra, and they had two gorgeous boys, Malcolm and Milo, both little tow-heads with the intense rosy cheeks he had had as a child. They all lived in the same two-room, hundred-year-old adobe house Mal had raised him in, the house Mal and I had bought in early 1973 for $1,350 complete with half a water-right and half an acre.
Random's wife Sabra and his sons Milo (L) and Malcolm.
It seemed like he was making it, especially with the financial boost of being 30 years old and owning his home free and clear. He had parked the motorcycle, his beloved Ninja rice-rocket, and settled in to family life and fatherhood, something he had never really known as a child, as I had not either. I never saw my own father after I was five years old, and I failed as a father myself in many ways. My other kids, now in their 40s, could tell you all about it, but at least we talk.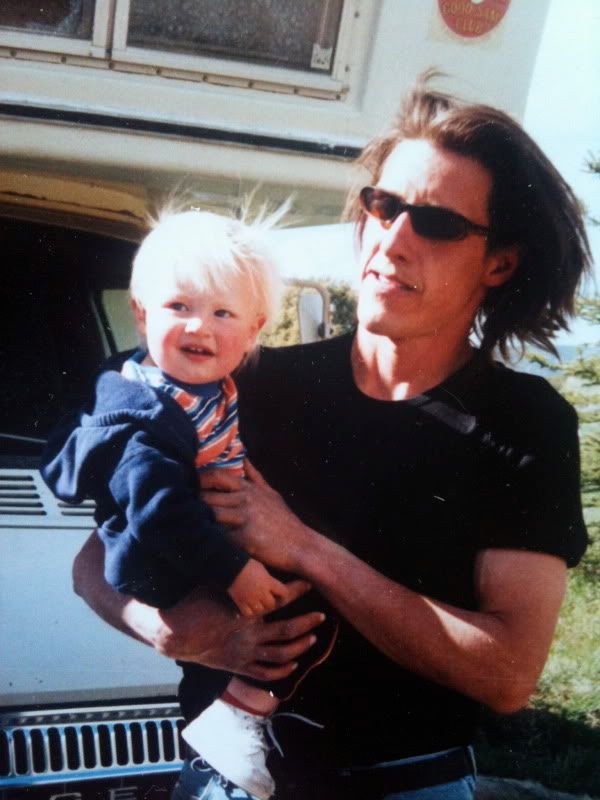 But it was not to be, Random living happily ever after. I can't tell you how it happened, so slowly over time that we all, who loved him, couldn't really see it to begin with. Certainly drugs and alcohol played a part, but they were a symptom of something deeper that troubled him. In the last year or so I lost track of how many cars he wrecked and bad choices he made. He lost his job, but got enough bits of work to keep him going. His substance abuse got worse and worse. He wrecked one car after another, taking bigger and bigger risks and running afoul of the Law. His wife Sabra, heartbroken, moved herself and the kids to another house she rented, and protected her children. He was never violent towards them, but she couldn't live with the risks he was taking.
He and I talked some, and I gave him some jobs as I had them; he built four fireplaces in that adobe palace I built last year that I have discussed often, he did a fine piece of work here at my place just a month or so ago, beautifully fitted natural flagstone, but I had come to where I could no longer believe anything he told me, however much I loved him and wanted to trust him. He got into various rehab programs, but couldn't put into them the commitment to himself that success in such programs requires.
When the end finally came, on yet another wild ride, nobody was surprised. Horrified and saddened, yes, but for many of those who loved him, it was also a relief. But it was the phone call from Hell, the phone call every parent dreads, and I had to take the call.
Random was 36 years old.
Our community there had already learned to deal with the death of its members; when his Mom died we followed the local tradition of making our own coffin, digging a grave up in the hilltop cemetery overlooking the village and gathering for potluck and tears. So we did the same for Random, placing him a few feet from his Mom, and we all shoveled the earth over him, returning him to his Mother. The man who made his coffin had known him his whole life. I drove the coffin and some clothes for him in my station wagon down to where his body had been processed. A friend of his, who had grown up next door, brought him back home in his old Suburban. 200 people who had known and loved him gathered at the community center.
as I said in a letter to a friend:
We sent him off properly, in a box we made, in a hole we dug and filled in, in the tiny descanso on a hill overlooking the village of Ojo Sarco, near to his Mom, who we all put there in 1998. He is buried less than a mile from where he was conceived and lived his whole 36 years. About 200 people gathered, hugged each other, cried and ate potluck. Lived fast, died young, and left a beautiful corpse, buried with his helmet and leather.
Sabra burying her man,with her community helping.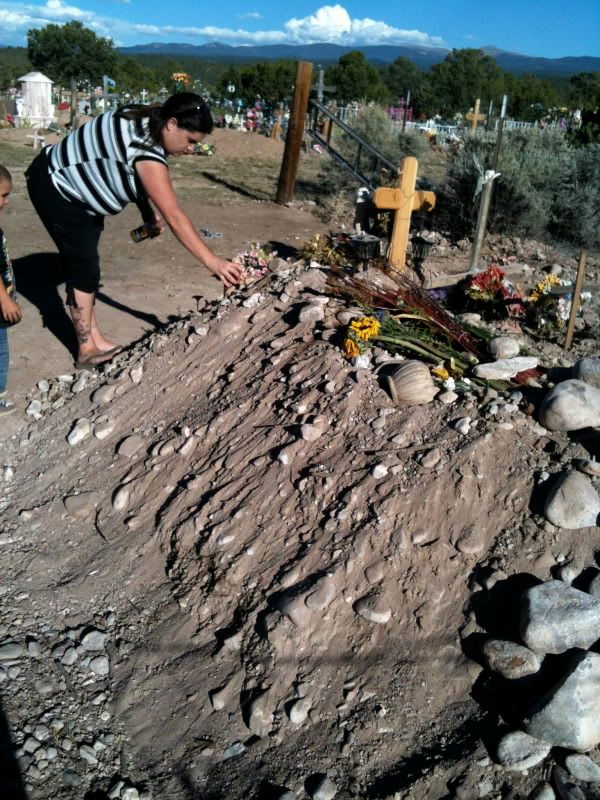 Let me digress here a little bit. DIY (do it yourself) is more than Joe Homeowner down at the BigBox; it's an attitude, and a way of life. It is empowerment, autonomy, and freedom. YMMV, but I have lived this way a long time. My older son was born at home, in 1969, and Random was to have been also. It is only right and fitting that we also bury our own dead, together, with such ceremony as feels appropriate.
Random left his house to Sabra and the boys, and they are looking forward to moving back there once the pain has eased and we have all worked to clean up the wreckage of Random's last few months, and complete the finish work on the architecturally ambitious addition he built over the past 4 years. A few people here last week asked me about donations to a worthy cause in Random's name. Sabra has asked that memorial donations be used for materials to complete his project.
Her address is Sabra Lovejoy, HCR 67 Box56, Chamisal, NM, 87521. Her PayPal addy is sabra@sabralovejoy.com. I thank you for any kindness you can show them, as I am in no position myself to contribute more than my own time and 65 yr old labor.
Lastly, I want to thank all of you who offered words of condolence last week. You have no idea how much that helped me in that moment of frozen-hearted despair and grief. A special thanks to Otteray Scribe for this haunting music that finally brought the tears I needed to shed:
And finally thank you to my dear partner of many years here at the high desert caravansary, Evelette, for her steadfast and loving support.
Community may be just an abstraction until you really need it.
Seek it.
Nurture and cherish it.
(Saturday Morning Home Repair blog will return next week. Thanks.)