I realize that this is pretty much speaking to the choir, but I just wanted to throw a few of the more obvious reasons that Lance Enderle needs your help in MI-08 to give incumbent Republican Mike Rogers the boot.
While most here are well aware of the first two points (everyone knows the GOP is in lockstep when it comes to horrible economic/tax rate policies), the second two may surprise some folks, especially in Michigan's 8th District.
1. MIKE ROGERS ON ECONOMICS: Republican Mike Rogers still endorses the same exact failed Bush economic policies that got us into the worst recession in American history. Rogers was also against the Democratic actions that have created over 3 million jobs according to the non-partisan official CBO report (August 2010).
2. MIKE ROGERS ON TAXES: Republican Mike Rogers desires a deceptive "Flat Tax". It's undeniable arithmetic that, assuming the same level of government services (cops, teachers, roads etc.), Rogers wants to raise taxes on everyone else in order to massively cut taxes for multi-millionaires & billionaires. This despite the fact that most of the wealthy are OK paying their share of taxes and aren't out there protesting that they even want further tax cuts.
Some Perspective; Highest Tax Rate under Presidents…
Eisenhower (R): 91%
Nixon (R): 70%
Reagan (R): 50%
Clinton( D): 39.6%
Bush Jr (R): 36%
Barack Obama's proposal is to simply bump the highest rate back up to the Clinton-eara 39.6% (but only for those who make more than $250,000 per year), to reduce the national debt by hundreds of billions of dollars. And yet Republicans are deceiving the American public by falsely claiming this tax rate is "Socialism".
Obama is proposing tax rates that are less than they were under Ronald Reagan.
3. MIKE ROGERS ON OIL DRILLING: Republican Mike Rogers still wants to allow oil drilling in the Great Lakes. Even after the two oil spills in Louisiana this year. Incomprehensibly, even after the 800,000 gallon oil spill in the Kalamazoo river just this past summer, Mike Rogers wants to expand oil drilling in the largest supply of freshwater in the world.
Unlike the Gulf of Mexico, where the millions of gallons of oil should at least eventually dissipate, if there's a large oil spill in one of the Great Lakes, you can forget about it--there's nowhere for it to go, and the LARGEST SUPPLY OF FRESH WATER IN THE WORLD will be essentially wiped out permanently. The economies of at least a half-dozen states (as well as much of Canada) would be devastated, and Michigan--already one of the hardest-hit states in the nation, which relies on tourism, boating and fishing as one of its' largest industries--and which is surrounded on 3 sides by the Lakes--would be effectively destroyed.
Here's Lance Enderle's first web video ad...it runs a minute long, and some have opined is that it has too much stuff happening in it, but overall I think it does a good job of making the simple point that there's a reason for government regulation: To protect the rest of us from those who commit crimes, whether that crime is a mugging on the street or polluting an entire ecosystem:
And finally, most disgusting of all:
4. MIKE ROGERS WANTS RAPE VICTIMS FORCED TO CARRY RAPISTS' OFFSPRING: The whole nation is abuzz about Alan Grayson's opponent, "Taliban Dan" Webster. Well, guess what? Republican Mike Rogers is also so extreme on abortion that he wants women who are the victims of rape to be forced to give birth to their rapist's offspring. I can't imagine the injustice of police detaining & supervising rape victims for 9 months until their rapists' spawn are born. Yet that is the necessary consequence of Mike Rogers' position.
Conclusion: Mike Rogers is one of the extreme Republicans who has slipped under the radar for too long.
Learn more about Lance at his campaign website.
Finally, I should also note that Lance is one of the only candidates in either party who is refusing to accept corporate PAC or special interest money. As a result, he's even more reliant on individual donors (ie, you guys!) than most candidates.
So, if at all possible, please donate to Lance on ActBlue!
Note: This diary was originally written by a different supporter of Lance who sent it over and gave permission to modify/post it here.
Full disclosure: I am being paid as Lance's website developer, but any blogging/other promotion of his campaign is done strictly on my own time and my own dime.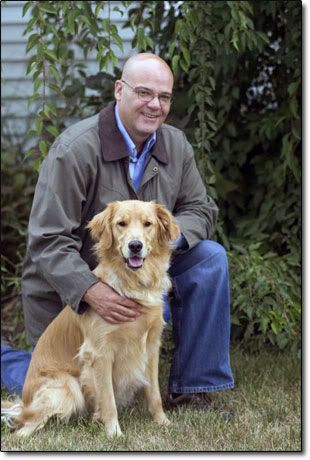 Lance "Alan Grayson w/Darth Vader's Voice" Enderle with his dog, Dude