The Chinese Shang dynasty was founded by 1700 BCE and lasted until it was replaced by the Zhou dynasty in 1050 BCE. One of the important roles of the Shang kings was religious and involved divination—the ability to see and understand the future.
Divination has been an important religious activity from ancient times through the present. In some cultures, such as those of American Indians, the future can be revealed through dreams. In other cultures, such as that of ancient Babylon, the future was seen through the movement of the planets (astrology). Among African cattle herders, an ox would be ritually slain and its entrails examined. For the ancient Chinese, oracle bones were used to understand the future.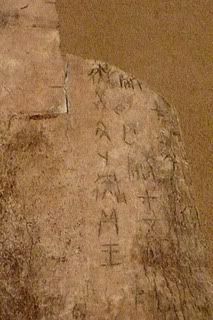 During the Shang dynasty, the king would ask questions of the ancestors on behalf of the people. The divination ceremony would generally take place in the palace. During the ceremony, the royal musicians would play. The divining specialist or shaman would come in bringing a bone—usually the scapulae of oxen or sheep—or a turtle shell. The king would ask the question and the shaman would then write it on the bone. The shaman, or sometimes the king himself, would then take a piece of metal which had been heated until it was red-hot and touch it to the bone. The bone would crack with the heat and the cracks would run across the bone and the characters of the question. These cracks could then be interpreted by the king and/or the shaman. The interpretation would then be written on the bone and the bone taken to the palace archives.
The questions asked using the oracle bones covered a wide range of subjects: illness, death, birth, warfare, agriculture, weather, and so on. King Wu-ting, for example, asked over 170 different oracle bones about his escort Fu Hao and her role as the leader of his armies.
Two thousand years later, Chinese physicians were using these ancient oracle bones as medicine. Called Dragon Bones, the ancient oracle bones would be ground up and the powdered bones used in making various medicines.