The purpose of this diary is simple. A lot of people have been pointing out recently that all the attention on Christine O'Donnell is taking the heat off equally batshit-crazy candidates who actually have a chance of getting elected.
SO I thought I'd list a few of the wingnuts with links to the opposing Democrats sites so people can DONATE MONEY to defeat teh crazies.
Now I know I've left out a few of the crazies...so PLEASE make a few suggestions in the comments if you think of someone I overlooked.
Anyway...
The next time you think about Michele Bachmann and her "Light Bulb Freedom of Choice Act" please consider donating to Tarryl Clark
The next time you hear Sharon Angle babbling about sharia law in Michigan, please donate to Harry Reid
And if you aren't scared enough, Marcy Kaptur is running against a guy who participates in Nazi re-enactments!!!
http://www.marcykaptur.com/...
The next time you hear Jan Brewer say something stupid ( like her idiotic claims about decapitated bodies in the desert ) please donate to Terry Goddard
And who could forget Rand Paul? Nooobody sats crazy like Rand Paul!
So maybe you could help out Jack Conway?
http://actions.jackconway.org/...
And, of course, the next time you see a newt with a witch's head on it, please donate to Chris Coons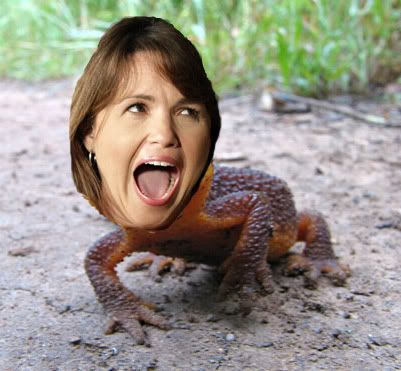 Not against a crazy, but still worthy of Honorable Mention: Russ Feingold
And if you think of a totally batshit crazy loon I left out, please point it out so I can post a donation link to their Democratic opponent