Yes, I know that's hyperbole, but it's well-deserved.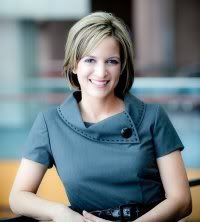 She graduated magna cum laude from Wellesley.
She founded the Women in American Political Activism conference.
She earned her Masters Degree in Sociology as a Marshall Scholar at Oxford University.
She graduated from Harvard Law,where she was the editor of the Harvard Civil Rights-Civil Liberties Law Review.
Impressed yet?
She was an investigative journalist for the Southern Poverty Law Center, going undercover to investigate white supremacist & neo-Nazi groups.
She is a professor of election law at Wayne State University.
She literally wrote the definitive book on being a Secretary of State.
She is a marathon runner--in fact, she just ran the Detroit Marathon over this past weekend.
She skydives--she actually went skydiving with her husband the day after they got married.
Oh, yeah--did I mention she's only 32 years old? (She turns 33 on Friday).
Quite frankly, I'm not entirely sure that she isn't really a female Buckaroo Banzai.
Many of you know that I've been pushing hard for Lance Enderle in MI-08, and I will continue to do so right up until the election. I'm also obviously concerned about my own Congressman, Gary Peters, here in MI-09, who is facing a tough race himself.
Certainly I'm rooting for Virg Bernero for MI-Gov and David Leyton for MI-AG, along with candidates for the state Senate and Supreme Court.
One candidate who I haven't talked about much until today, however, is Jocelyn Benson, running for Michigan Secretary of State.
If the above bio doesn't make your jaw drop, actually seeing her talk in person will. She's quite possibly the most-prepared candidate for Secretary of State in history, true; but she's also amazingly dynamic, energetic and more passionate about the job itself--being a Secretary of State--than I've ever seen before.
Here she is accepting the Democratic nomination for SoS at the MDP state convention back in August:
Of the many impressive endorsements that she's received, her recent endorsement by the Detroit Free Press is quite an eye-opener--not because they endorsed a Democrat (the Freep tends to be a bit more left-leaning than the Detroit News, though both are jointly owned/operated), but because of how enthusiastic it was:
Jocelyn Benson, 32, who easily outshone rivals for the Democratic secretary of state nomination, is a nationally recognized authority on elections law who aspires to bring state of-the-art voting practices to Michigan. No candidate for statewide office has approached his or her candidacy more seriously; in preparation for her campaign, Benson took a year-long leave from her teaching duties at the Wayne State University Law School to interview secretaries of state across the nation about best practices in the 37 states where, as in Michigan, the secretary of state is the top elections official.

...
The book in which she collected her research on secretaries of state has been hailed by office-holders in both parties as a comprehensive resource for those interested in assuring that elections are as fair, efficient and transparent as possible.

...
Benson found that voters express more confidence in the integrity of elections in states where the top election official eschews any role in campaigning or fundraising for candidates for partisan office. That discovery led her to vow that, if elected secretary of state, she will not co-chair any campaigns or endorse any candidates running in elections in which the secretary of state serves as the final certifier of results.

...
In light of her diligent preparation for the job, her methodical efforts to identify best practices in secretary of state offices across the country and her commitment to a more inclusive and transparent elections process in Michigan, the Free Press proudly endorses JOCELYN BENSON for Secretary of State.
Here's a feature article about Benson, also from the Freep:
No candidate seeking election to any statewide office this November has prepared for the task more methodically than Jocelyn Benson, who spent the year before she entered the Michigan Secretary of State race researching and writing a book about the way the job is being done in 49 other states.

At $89.95 a copy, "State Secretaries of State" isn't likely to show up on many voters' bookshelves. Its 156 pages include scarcely a single biographical detail about the 32-year-old author, save that, to write it, she took a leave from teaching at the Wayne State University School of Law.

But secretaries of state and other election law wonks rave about Benson's book, which includes profiles of 10 officeholders -- five Republicans and five Democrats who either hold the job or left it within the last year. Mark Ritchie, the Democratic secretary of state in Minnesota, predicts in his preface that Benson's tales of administrative derring-do may inspire readers "to run for Secretary of State themselves."
In 2008, Benson discovered that the Michigan Republican Party (or at least the Macomb County branch) was attempting to illegally challenge voters whose homes had been foreclosed on:
Lose your house, lose your vote

The chairman of the Republican Party in Macomb County, Michigan, a key swing county in a key swing state, is planning to use a list of foreclosed homes to block people from voting in the upcoming election as part of the state GOP's effort to challenge some voters on Election Day.

"We will have a list of foreclosed homes and will make sure people aren't voting from those addresses," party chairman James Carabelli told Michigan Messenger in a telephone interview earlier this week. He said the local party wanted to make sure that proper electoral procedures were followed.
Using such lists is an illegal form of voter challenge because people can, in fact, live in a home that has been foreclosed upon for many months after the filing of the foreclosure notice. That prompted oversight by the U.S. Department of Justice and a lawsuit between the Democratic and Republican parties that resulted in a consent decree not to use such lists.

Benson, an election law expert at Wayne State University Law School, brought up the issue during her debate with Johnson, the Oakland County Clerk, on Tim Skubick's Off the Record show.
WIth two weeks to go, Benson has just launched her first TV ad:
In addition to being absurdly well-qualified, Jocelyn has proven to be an extremely effective campaigner; for someone who's never held elected office, she's run a hell of a campaign and knows what it takes come crunch-time--which is now. She's currently neck-and-neck with her opponent, Oakland County Clerk Ruth Johnson, who served on John McCain's steering committee in 2008--shades of Katherine Harris running George Bush's Florida race in 2000. The absurd conflict of interest inherent in a chief election official also running a partisan election for which they're responsible for overseeing is obvious, and is what led Benson to make a pledge to never do so one of her chief selling points.