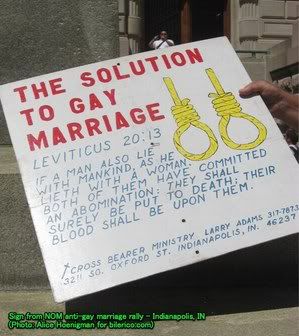 ...and I'm not talking about the federal government per se.
One of the most underreported stories of the year (and I'm as guilty as anyone for not beating this particular drum more loudly over the past few months) was the conservative Christian movement to get revenge on the Iowa courts for recognizing the basic humanity of its LGB citizens. Not content with losing their case in court, they decided to bring the battle to the courts themselves by aiming their guns at the justices.
Sadly, they succeeded.
Tonight, all three of the Iowa Supreme Court justices up for reelection were ousted. And now that the homophobes have won, they've promised to bring it to your doorstep. That's not a threat: it's a promise, and their victory tonight guarantees that they'll be shoring up their position in other states.
This should be sobering news to those of us who've argued that the 'normalization' of same-sex marriage will mute anti-gay efforts... after all, once they see how little same-sex marriage affects society, they'll back down, right?
Wrong, wrong, wrong: they're going to bring it hard as ever, and we need to be prepared.
For the past few months, the Courage Campaign and HRC have been trying to direct attention to Iowa as a key state in the long-term battle over marriage, and especially the still-important role of the National Organization for Marriage - they of the "Gathering Storm" video - in the aggressive propaganda blitz that our allies found themselves fighting against:
NOM's president Brian Brown has admitted here that his group's effort in Iowa's judicial election was actually about intimidating judges around the country into ruling against equality for millions of loving American families. In Iowa, NOM spent an unprecedented $600,000 on TV ads and a 45-county bus tour.
Got that? They NOM nationwide tour wasn't just an effort to bait the gays into harassing them, it was a mission to lay roots from coast to coast, challenging judges who read the constitution to prohibit discrimination based on sexual orientation.
This isn't about Iowa: it's about intimidating the judicial system in every single state, something that even got the attention of the notoriously quiet Sandra Day O'Connor.
What Can We Do?
In the short run, and especially in the dust-settling that follows the election, very little. We'll probably see the community rallying around the hail-mary pass of DADT repeal in the next few weeks, and given that this has nationwide implications (and is our last chance to pass any pro-LGBT legislation for the next two years), that's probably for the better: to that end, Servicemembers United has posted a video on Youtube outlining the roadmap to repeal. Reid is planning to put repeal up to a vote in the lame duck session, which is our last, best shot to get this done legislatively. Focus on that for now.
In the long run, there are multiple things we need to be doing if we're serious about preventing another Iowa:
Start following/donate if you can to the NOM-watch, linked above. They're not the only homophobic movement out there, but they have a nationwide network and now (with the Iowa victory) a record of success that makes them that much more formidable. Know when they're coming to your state, who they're talking to, and when you can come out to counter-protest. Let them know they're not welcome in your state.
Get in touch with your statewide LGBT orgs. It's great that the Courage Campaign and HRC have been doing such stellar work tracing NOM's tour of oppression, but each battle will be local in tone and strategy. Most states have both state-wide and local (city, county) orgs that have a better sense of the ground, like OneIOWA, who fought hard against a nationwide blitz.
Vote. Yeah, I know this is late advice, but it'll be just as applicable in every local, district, and state election from now through 2012. Whatever the frustrations with Democrats at the national level, voter turnout affects everyone from dogcatcher to, sadly, state justices - and these local positions often have a greater impact on the type of policies that affect us directly. 2012 will draw out larger numbers due to the presidential elections, but if you have interim decisions to make, don't skip the polls, ever. Little decisions can have major ramifications.
I'm saddened by what's happened in Iowa tonight, and I know the last thing people want to hear tonight is more bad news. But I want us all to recognize the coming war, and to be prepared, and to know where to go when NOM comes knocking at your door.
Major Update: as a couple of commenters have pointed out (here and here), this isn't just theoretical... NOM has set repealing the New Hampshire marriage law as its next big goal. This is coming, and it's going to be a difficult fight:
Lynch wins in NH; but we've flipped the state legislature in a monumental win. Get ready for a vote to protect marriage!
*shudder*
Update: I'd be remiss if I didn't point out some of the diarists who did a better job than me in trying to bring this race to our attention, like Funkygal, Inland, and Christan Dem in NC, among others.