By about 1782 BCE Egypt was beginning to decline and by 1700 BCE foreign kings, known as the Hyksos were ruling from the Nile Delta region. By 1663 BCE the Egyptian kings in Thebes were beginning to reunite Egypt and drive out the Hyksos. The Egyptian Pharaoh Ahmose (1570-1546 BCE) came to the throne as a child and his mother, Queen Ahotep, ruled until he came of age. He succeeded in unifying Egypt and in securing the northern and southern borders. This marks not only a new beginning for Egypt, but a period in which Egyptian women become more powerful.
When Amhose died, his son Amenhotep I assumed the throne and continued the military aggression of his father. When Amenhotep I died, he left no sons. Tuthmosis I (whose name means "Thoth is born") became king by marrying the right women: the daughter of Ahmose and Queen Ahmose-Nefertari. When Tuthmosis I died, he left no sons by his Great Wife: only a 12-year-old daughter, Hatshepsut.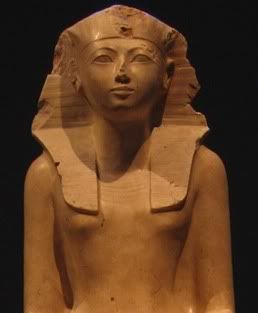 Egyptian Kings had only one Great Wife and their offspring were considered to be fully royal. Egyptian Kings also had other wives whose offspring were considered to be half-royal. There were also numerous concubines. Marriage to a full royal woman provided legitimacy to claims to the throne.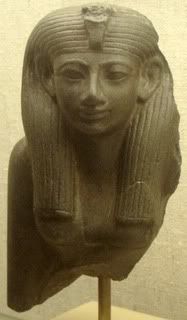 Tuthmosis II was born to Tuthmosis I and the sister of the Great Wife Queen Amhose. By marrying Hatshepsut, Tuthmosis II secured his place as the King of Egypt. During their 20 year marriage, the couple had one child, a daughter who died in her teens. When Tuthmosis II died in 1479 BCE, Tuthmosis III, the son of Tuthmosis II by one of his lesser wives, married Hatshepsut's daughter shortly before her death, thus solidifying his claim to the throne. Since Tuthmosis III, who was both stepson and nephew to Hatshepsut, was still a child, Hapshepsut stepped in to rule Egypt as regent.
At some point, Hapshepsut changed her title from King's Great Wife to King. The story of her birth now changed as well. According to her account, the god Amun, disguised as Tuthmosis II, had visited her mother, Queen Ahmose, and had impregnated her. Thus Hapshepsut claimed the throne not only through her royal lineage, but she because her father was the god Amun, she was divine.
In the hieroglyphs, Hatshepsut was shown in traditional kingly regalia, including a false beard which was a symbol of the pharaoh (Egyptian males were traditionally clean-shaven so a fake beard was worn even by male pharaohs). She also instructed that drawings of her show her in the male pharaoh garb. She did not, however, attempt to pass herself off as male.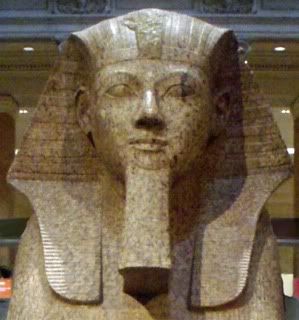 During her fifteen year reign she mounted at least one military campaign and initiated a number of impressive building projects, including her superb funerary temple at Deir el-Bahari. Since the pharaohs were divine, the funerary temple was where the pharaoh-god was to be worshiped for all eternity. This was not where the pharaohs were buried.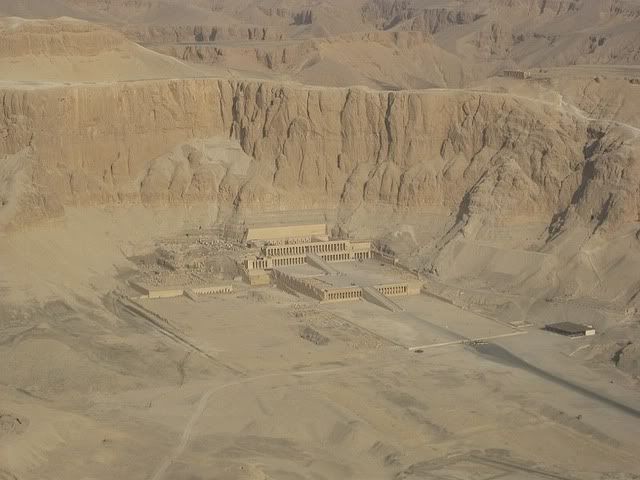 As pharaoh, she sent trading expeditions into Punt (perhaps modern-day Ethiopia or Eritrea) to obtain ebony, ivory, myrrh saplings, animal skins, gold, perfumes and exotic animals. She had two great obelisks, some of the tallest in Egypt, raised. The stone for the obelisks was quarried at Aswan and then floated down the Nile to Karnak. The obelisks were quarried, carved, and erected in a period of seven months, an incredible feat for those times.
The Red Chapel at Karnak justified Hatshepsut's kingship: the oracle statue had proclaimed that she would be king.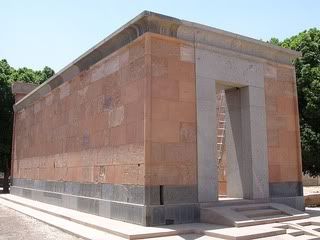 In the few remaining images which show Hatshepsut and Tuthmosis III together, she is usually shown in a more powerful position.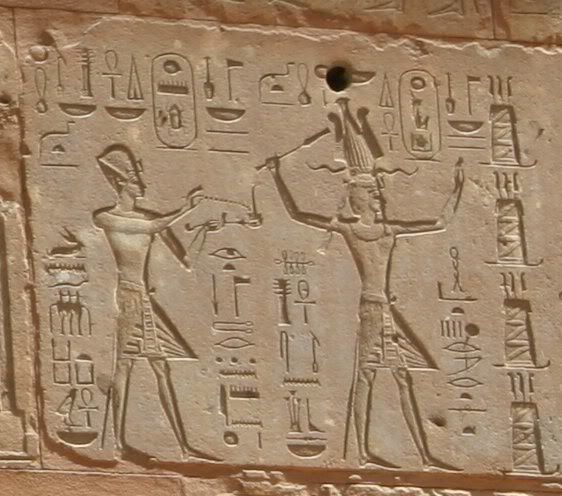 Hatshepsut died about 1504 BCE. Like other pharaohs of this era, she was buried in the Valley of the Kings. Beginning with Tuthmosis I, Egyptian pharaohs had their tombs constructed in the Valley of the Kings where they could be more easily hidden from grave robbers. By having her tomb constructed in the Valley of the Kings, she declared that she was a true Egyptian pharaoh. Her tomb contained two sarcophagi: she was buried with her father, not her husband.
Twenty years after her death, her name was erased from all public monuments at the direction of her successor (step son and nephew), Tuthmosis III. The Red Chapel was dismantled. The official king's list did not contain her name.
It was rumored, according to some of the graffiti drawn by the workmen in the Valley of Kings, that Hapshepsut had been lovers with a commoner, Senenmut. Senenmut held about a dozen titles and was an important person during her reign. Pornographic graffiti show a man in an overseer's cap (Senenmut who was the overseer of the royal palace) making love to a female pharaoh (Hatshepsut).
The XVIIIth Dynasty is generally considered a period of Egyptian greatness. Hatshepsut, the female pharaoh, contributed to that greatness. She was more than a place-holder for Tuthmosis III: during her reign Egypt continue to expand its trading networks, wealth, and greatness.