With only two days left before the expiration of federal extensions of unemployment compensation for jobless Americans, Republicans are at it again. It's Sen.-elect Mark Kirk this time:
KIRK: We should extend the Bush tax cuts and make sure we don't have a double-dip recession. And I have the honor to be the first of ninety-five new Republicans, fiscal conservatives, to help right our ship of state. [...]

Q: The first thing you're talking about is deficit reduction and spending. Does that mean that right now, as of today, you'd be against extending the unemployment insurance?

KIRK: That's right. You could extend it if you found a way to pay for it. And I voted for that in the past. But these proposals to extend unemployment insurance by just adding it to the deficit are misguided.
Without the extension of unemployment insurance, half a million Americans who have been out of work for six months or more will immediately lose their average $290-a-week benefit checks. By New Year's Eve, another 2 million will lose theirs. By the end of next year, the number losing benefits in a still anemic economy will total 5 million. That's 5 million people unable to keep a roof over their families' heads, unable to put enough food on the table, unable to keep up the car payments or buy the other sundry items that keep thousands of small businesses afloat. It's estimated that unemployment compensation not only helps the jobless keep their heads above water, but also keeps 1.6 million employed workers from joining the ranks of the jobless.
A generous person might call Kirk's contradictory stance in these matters cognitive dissonance. But that's not what it is. It's outright class warfare. Extending Bush administration tax cuts for the upper 2 percent of Americans (at a 10-year cost of $830 billion) without requiring that this contribution to the deficit be paid for up front - while simultaneously chopping unemployment compensation - is no different than many of the economic policies that have been plaguing our nation for the past 30 years. It's called screw-the-working-class, which, despite what some people like to pretend, includes the middle class. Unlike some of the other screw jobs, however, the egregiousness of this one is instantly obvious.
But about the only adjustment you can expect to hear from those prosecuting (or going along with) this latest assault on the working class is to cut public spending to pay for those top-level tax-cut extensions. In other words, make those who need public services most see them slashed so more money can be delivered to those who need it least. That's the oligarchy's version of the American Dream.
The putdown promoted for the past two years by most Republicans and many Blue Dog Democrats that unemployment compensation provides a cushy lifestyle that makes recipients lazy and unwilling to hunt for jobs is grotesquely out of whack with reality. Even more so when we compare our system with that of other developed countries. Indeed, the United States is right at the bottom, as shown by this graph.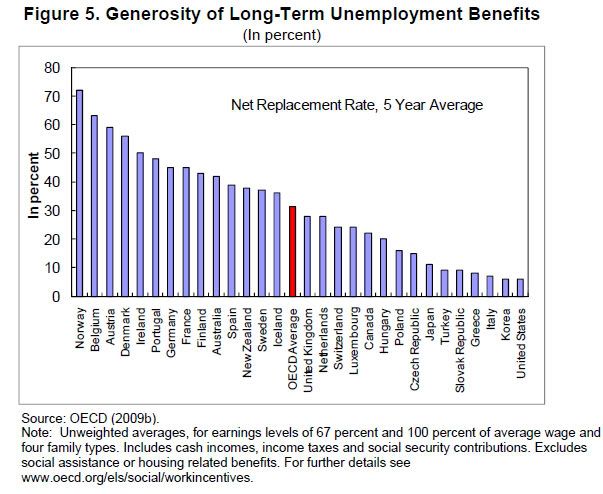 Extending unemployment comp is just a Band-Aid. What's required - how often must it be repeated? - are controls on off-shoring of jobs, an industrial policy and trade policy that deals effectively with the impact of economic globalization, a more progressive income tax system, and incentives for competing alternatives to the corporate model, including - among others things - worker cooperatives and state-owned community-development banks. Obviously, given the make-up of the new Congress, we're unlikely to get the Band-Aids, much less the surgery we so desperately need.
= = =
h/t to Think Progress and Democrats Ramshield.