The past couple weeks, it's safe to say, have been marked with a level of anger and disillusionment from the left towards President Obama, to an extent not really seen before. Both Democrats in Congress as well as a large number of liberal columnists and media personalities reacted furiously to Obama's tax deal with the Republicans. The administration's seeming failure to score any wins for liberal causes on any other fronts as Congress winds down (DADT repeal's fate pending) have only made things worse.
It's a disillusionment which, to a certain extent, I share. However, it's worth noting that so far, this anger hasn't instantly translated into dramatically lower poll numbers. In fact, Obama's numbers have remained more or less completely unaffected since early summer, if we're to believe Gallup, who pegs them at 45% approve, 47% disapprove.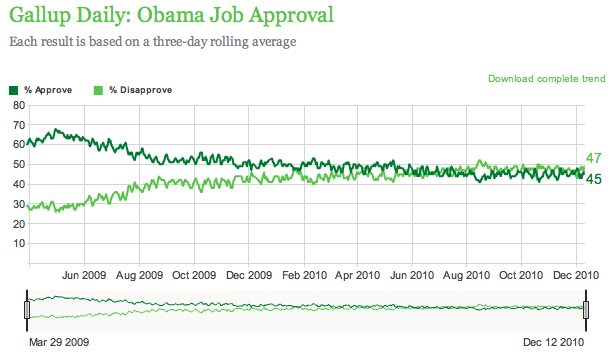 The Pollster average of polls gives us a somewhat lower number (down 5% vs Gallup's negative 2%), but that's largely because of a handful of strongly negative polls from less reputable outfits (Zogby in particular), along with Rasmussen, which provides consistently lower numbers because of its conservative slant. ABC-Washington Post, with one of the newest polls available, actually gives us a positive number.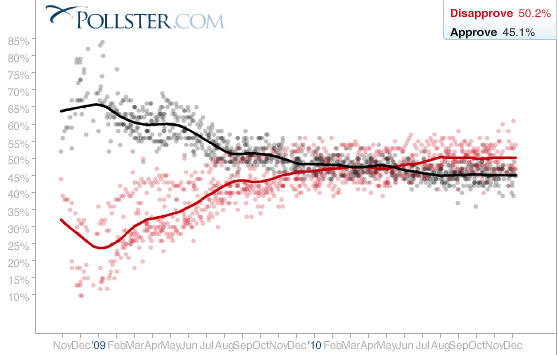 And despite any theoretical GOP resurgence, Obama also looks relatively strong for 2012 (again, compared to the rhetoric out there), beating Romney in Michigan, Huckabee in Ohio, Pawlenty in his home state, and Palin by 15 points. (In other interesting news, PPP has Russ Feingold beating Paul Ryan and all other comers in a highly theoretical Wisconsin Senate poll)
This doesn't mean the liberal activist anger won't eventually have an effect. There are polls - the aforementioned Zogby but also YouGov - which show him with massive drops in popularity. A few days ago, Nate Silver pointed out a Marist poll, albeit one with a small sample size, that showed a decline among liberals specifically. It's possible the more tuned-in members of the population are simply a leading indicator, and that this decline will eventually be reflected in the more "mainstream" polls.
However, whatever disagreement I have with Obama's policies (and this diary isn't about his policies so don't think I'm apologizing for them), his political resilience stands in contrast to the "sky is falling" hyperbole you often hear, both on the right (who mostly just look at Rasmussen polls that show him at approximately negative one hundred gazillion), along with an increasing number on the left.
Given that he's running a country that is currently suffering something like 17% real unemployment, hemorrhaging cash, fighting two unpopular wars, politically deadlocked, and where at least one major media outlet has built an industry out of demonizing him, the fact that Obama is still only a couple points below breaking even is something of a minor miracle. Whether he wins or loses in 2012, people may well look back and conclude that he actually weathered the storm pretty decently, and certainly better than almost any other politician would have. Whether you think that is a good or a bad thing, may be a product of your level of disillusionment.