It's true. Fox News' late night, youth-oriented program Red Eye hosted by Greg Gutfeld held a panel discussion where a group of young conservatives went on a merciless (and, honest to God, FUNNY!) tear on the conservative outrage surrounding gay Republicans yet again, being invited to the CPAC Conference (see Ben Smith at Politico for background).
Partial transcript, thoughts after the fold.
Gutfeld sets the mocking tone right up-front with his introduction:
They're here, they're queer and the Family Research Council refuses to get used to it. Nor will the Concerned Women for America--love them. As a result both groups are refusing to attend the DC-base Conservative Political Action Conference this February due the fact the righty group GOProud has been invited, because you know, they're evil sodomites.

Says FRC flack Tom McClusky of his boy-centric boycott, quote,

"We have been very involved in CPAC for over a decade.... However, we will no longer be involved...because of the organization's...movement away from conservative principles."

Meanwhile, like-minded gay-haters applaud the move, with Peter LaBarbera of Americans for Truth About Homosexuality, you know their meetings are shirtless [panel laughs and chuckles in agreement]. Saying, quote again,

"Shame on CPAC for defending the absurd proposition that one can be 'conservative' while embracing moral surrender...."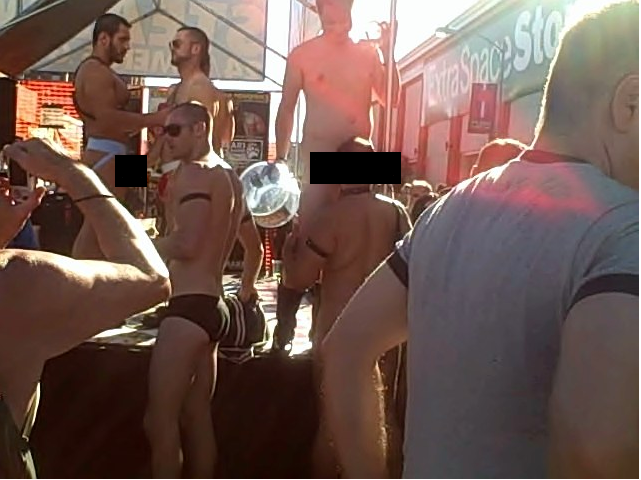 Gutfeld knows exactly of what he speaks, Peter Lababera is popularly known as "Porno Petey" in gay activist circles. His nickname is derived from the countless hours he spends exhaustively "investigating" and "documenting" the depravity he, and he alone, has the courage to "research." He helpfully posts pictures at his Newspeak-monikered website, "Americans for Truth about Homosexuality" so those who share his moral indignation of men running around in various stages of undress can feed that outrage in the privacy of their homes, with the doors securely locked to keep the smutty pictures and video safely away from their wife and kids.
I personally appreciate Gutfeld's inclusion of gay penguins in the report, because really, what report on the lavender menace can fail to include gay penguins? Gay penguins have always been with us, and they always will be.
Beyond the laughs there are some interesting and important points being made in the discussion:
Gutfeld poses the question to panelist Kimberly Guilfoyle, what should CPAC do about the boycott threats? She recommends something contributors on Fox rarely consider, common sense and decency:
"Pretend that they never even made a statement about it. Honestly I think that if they address it they are giving some kind of validity to their position. I think they are being divisive, it's not helpful. They should participate if they want their voices to be heard, and actually show up."
I have been laughing at gay Republicans since the 1980s or before. Oh, they said they were fighting for a place at the Republican table, and I, and many, many of us laughed, laughed and laughed.
And then we laughed some more.
But here it is. CPAC is one of the biggest, most influential conservative political conferences of the year, and gay Republicans have assumed a seat at the table, and the gay-haters have taken their ball and stomped home.
I said when the story broke that these groups were boycotting, if they accomplish absolutely nothing else, it is worthwhile that GOProud's mere presence has marginalized the haters from the room. It probably isn't a coincidence that all three of these groups, Family Research Council, Concerned Women for America and Americans For Truth about Homosexuality, made Southern Poverty Law Center's list of anti-gay hate groups. That kinda makes it slightly more problematic for CPAC to stand with them and not the gays.
By assuming a seat at the GOP table, they're on their way to debunking all the hyperbolic horseshit that the far-right has spewed unchallenged about gays in their echo-chamber for decades. And this panel is right there with them.
They appear to be at a complete loss to understand what riles up the far right on the issue. Referencing his time in Allentown, PA as an example, Gutfeld describes the benefits of "vibrant gay communities in every town." (Allentown? Who knew?)
Daily Beast contributor, Dana Vachon, speculates much of the conservative anti-gay rhetoric is cynical politics the proponents do not even believe, and adds:
"This is what the gay rights movement has going for it. Everybody knows a fundamentally decent gay person."
What? Time was no good conservative would ever concede that being gay was not fundamentally at odds with being "decent!" Did Fox News viewers really just have their reality challenged with the novel concept that "decent" and "gay" are not mutually exclusive traits?!
Panelist Joe Devito expressing the unanimous opinion that gay just doesn't matter:
Our country's in debt to China, Bloomberg can't get the snow out of the streets, we have people crossing the border and we have no idea who they are, but 'Oh, let's worry about gay people!' It's so annoying. It's no one's business, if they're there and they want to be at your conference, you should look at the things you have in common with them politically. This is the Republicans, this is where they are going to squander the gains they've made."
And there's some real world evidence to suggest they don't still have the same fire in their belly on teh gay. Perhaps the immutable cornerstone of the GOP platform that "Bad for Gays = Good for America" is indeed showing some cracks. We did get 23 Republicans to vote for repealing "Don't Ask, Don't Tell." Mitch McConnell clearly cut the caucus loose from the party line, at least that once, so far.
How will the party square the recalcitrant views of teh gay of their religious fundamentalist base with a new open-mindedness of their youth? This is definitely an interesting and developing story.
Obligatory disclaimer: make no mistake that this is an endorsement of gay Republicans. I still think Republican in general and gay Republicans specifically are wrong about almost everything. But, that doesn't mean this isn't a strategic and political win for these gay Republicans (who I disagree with on almost everything, in case you missed it). But the reality is that echo-chamber of hate won't fix itself. Someone's gotta do it. I don't personally have the patience or the stomach to hang out with Republicans and beg them to please conclude I am "fundamentally decent." But I do recognize the pragmatic reality that if LGBT-affirmative legislation will ever again land on the desk of a President in my lifetime, it will be because someone convinced some Republicans to vote for it. Better Chris Barron than me.