In this weekly series we have been discussing the benefits of a vegetarian diet including; animal rights, food safety, better health, global food crisis, frugal living and the immense contribution of meat production to global warming/climate change.
Factory farming now accounts for more than 99% of all farmed animals raised and slaughtered in the United States.3
The present system of producing food animals in the United States is not sustainable and presents an unacceptable level of risk to public health and damage to the environment –Pew Commission on Industrial Farm Animal Production
There is now a scientific consensus that animal agriculture is the single largest contributor to global warming.9
I was inspired to create this series by former Beatle and vegetarian advocate Paul McCartney who partnered with the Meatless Monday campaign to promote less meat consumption. We not only discuss the advantages of a vegetarian diet we also do some cooking, share recipes and listen to great Beatle/McCartney music!
Some of you may have suspected that I am an anglophile. Though not a royalist, I am happy when any of the royals use their influence to champion environmental causes as Prince Charles has done throughout most of his adult life. He has written a book called "Harmony" about how man has become dangerously disconnected from nature. Here is the trailer.
Happy New Year All! i am still traveling around and finding it difficult to get a good connection when needed but I miss you guys and will get back on schedule soon.
Today we are heading to Windsor Castle in Windsor, England UK to celebrate an event that actually occurred on November 3, 2009. For the first time in it's one thousand year old history Windsor Castle hosted a Vegan banquet! The banquet for 200 bigwigs, including UN General Secretary Ban Ki-moon, the Grand Mufti of Egypt and Archbishop Valentine Mokiwa, President of the All Africa Conference of Churches and heading up the table was the Duke of Edinburgh, founder of the secular Alliance of Religions and Conservation (ARC) which, with the UN Development Programme, organised the lunch as part of "the Celebration of Faiths and the Environment". The Duke, a meat eating, animal hunter was the host of leaders of nine different faiths most of whom followed a meatless and dairy free diet. The result was this beautiful menu created by Xanthe Clay.
WINDSOR CASTLE VEGAN MENU

STARTER
Salad of roasted English pear steamed celeriac and oven roasted cobnuts
Frizee leaves tossed with a hazelnut oil and lemon oil dressing
Served with a red grape reduction
Ciabata bread served with olive oil

MAIN COURSE
Portabello mushroom stuffed with artichoke, red onion and thyme
Set on pearl barley and butternut squash risotto with Gremolata oil
Roasted root vegetables to include carrots, parsnips and beetroot
turned with baby chard

DRINKS
Cranberry & fresh orange cocktail
Jugs of iced tap water and lemon on the tables
(No dessert due to extremely tight schedule)
ROASTED PEARS with COBNUTS and RED GRAPE REDUCTION
3 pears (any variety), peeled, halved and cored
1 Tbsp. olive oil
1/2 tsp. kosher salt
1/2 cup roasted whole cobnuts (a type of hazelnut,but use whatever nut you like)
8 to 10 cups frizee lettuce (or other lettuce of choice)
To roast cobnuts, shell them and place them in an oven at 300 degree F/150 degrees C/ Gas Mark 2 for up to an hour, depending on their size and freshness, until they are hard and browned, but not burnt. About 4oz nuts in their shells will produce 1.5oz of roasted kernels, but be generous - they are so delicious some may never reach the dish.
Dressing:
2 tablespoons hazelnut oil or olive oil
juice of 1 lemon
1 tablespoon Dijon mustard
1/4 teaspoon fresh ground pepper
2 teaspoons honey
1 teaspoon Worcestershire sauce
1/2 teaspoon salt
For grape reduction:
3 cups Red grapes or other grapes (about 1 1/4 pounds)
1/2 cup water
Make grape reduction:
In a 1 1/2-quart saucepan simmer grapes in water, uncovered, 30 minutes. Pour mixture through a fine sieve into a bowl, pressing hard on solids to extract as much liquid as possible. Transfer liquid to cleaned pan and gently boil until reduced to about 1/2 cup. Sauce may be made 1 day ahead and chilled, covered.
Preheat oven to 425 degrees F. Brush pear halves with the tablespoon of olive oil and kosher salt. Place cored side down on a sturdy baking sheet or cast iron roasting pan. Roast 7 minutes. Turn over. Roast another 5 to 7 minutes until soft. Remove from oven to cool.
For serving: Toss frizee with dressing place on serving dish and place 1 or 2 roasted pear halves on top. Drizzle red grape reduction over pear and place several roasted cobnuts in pear cavity.
NOTE:I could not find the original recipes so these are recipes I devised per description. You can make them as simple or as complex as you like. I just wanted you to get an idea of the elaborate preparations for a royal banquet.
PORTOBELLO MUSHROOM STUFFED with ARTICHOKE, RED ONION and THYME
serves 5
2 teaspoons extra-virgin olive oil, a drizzle
5 medium portobello mushroom caps
Salt and freshly ground black pepper
2 tablespoons balsamic vinegar
Stuffing:
1 tablespoon extra-virgin olive oil, 1 turn of the pan
3 cloves garlic, chopped
1 medium red onion, chopped
1 pound fresh spinach, coarsely chopped
1 can, 6 to 8 count, 15 ounces, artichoke hearts in water, drained well on paper towels
Salt and freshly ground black pepper
4 to 6 sprigs fresh thyme, chopped, about 2 tablespoons
3 slices Italian bread, toasted and chopped into small cubes(or use about 1/2 dry bread crumbs)
1/2 cup vegetable stock
1/4 cup nutritional yeast or cup grated Parmigiano-Reggiano, a handful
Preheat oven to 375 degrees F.
Heat a large nonstick skillet over medium high heat. Add a drizzle of oil and the portobello caps. Season caps with salt and pepper, to taste, and cook 3 minutes on each side. Add balsamic to the pan and allow the vinegar to cook away as it coats the caps. Transfer balsamic glazed caps to a cookie sheet. Return pan to the stove and add oil, garlic and onion. Saute onions and garlic 3 minutes, add spinach to the pan and let it wilt. Coarsely chop artichoke hearts in the food processor or by hand and add to the spinach. Season veggies with salt and pepper and thyme. Add chopped toast or breadcrumbs and dampen stuffing with vegetable stock. Combine stuffing and sprinkle in a little grated cheese . Top each mushroom with ⅕ of the filling. Set mushrooms in oven for 5 minutes to set the filling.
NOTE: Set this on Pearl Barley or it also works well as an everyday dinner on some marinara sauce.
PEARL BARLEY
1 tablespoon olive oil
2 cloves garlic, minced
1/2 chopped onion
1 1/2 cups barley
4 cups vegetable stock
1 cup fresh diced tomato
1 cup peas (frozen is fine)
salt and pepper
grated romano cheese (optional)
Directions:
In olive oil, saute onion and garlic until softened.

add barley and cook for 5 minutes until lightly toasted.

add 3 c stock, tomato, salt& pepper.

Bring to boil, cover and simmer 25 minutes, stirring ccasionally.
add peas and some additional broth if needed, simmer an additional 10-15 minutes stir in cheese if using, and more salt& pepper if needed.
Thought you all might enjoy watching this filming of a Windsor Castle banquet. This banquet was honoring then President Chirac of France. It shows the St. George Hall dining room which was the likely site of the Vegan banquet and also shows the behind the scenes Windsor Castle kitchen banquet preparations.
BUTTERNUT SQUASH RISOTTO
5 1/2 to 6 cups hot vegetable broth
1 medium onion, chopped
1 clove garlic, minced
2 cups uncooked Arborio rice
1/4 cup white wine (optional)
2 1/2 cups peeled, diced butternut squash, 1-inch dice
1 Tbs. minced fresh rosemary
1/4 cup grated Parmesan cheese (optional)
Salt and freshly ground pepper to taste
In small saucepan, bring broth just to a simmer over medium-low heat.
While broth is heating, coat large saucepan with nonstick cooking spray or use 1 tablespoon of olive oil, heat pan over medium heat. Add onion and garlic and cook, stirring often, until beginning to brown, about 5 minutes. Add rice and stir constantly 1 minute. Add wine and stir until almost completely absorbed, 1 minute. Add 1/2 cup of hot broth to rice and cook, stirring constantly, until liquid is almost completely absorbed. Add another 1/2 cup broth and cook, stirring constantly, until liquid is almost completely absorbed. Stir in squash and continue adding broth 1/2 cup at a time, making sure that most of the liquid is absorbed before adding more. # Remove pan from heat when about 1/2 cup liquid remains. Start checking doneness by biting into a grain of rice–it should be firm but tender. (Timing from first to last addition of broth is 25 to 30 minutes.) Stir in rosemary, Parmesan cheese if desired and salt and pepper. Serve hot.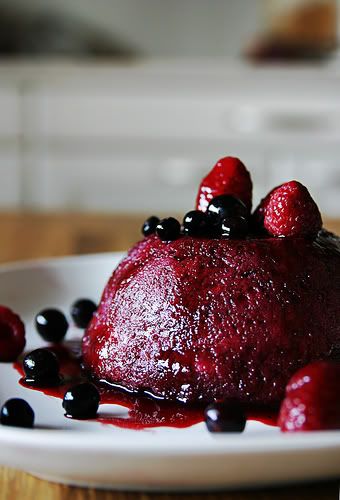 SUMMER PUDDING
I really felt sorry for the guests at this banquet not having time for dessert so I made one for them. Of course it's a summer dessert so would have been difficult to get the berries in November but it's one of my favorites. (10 servings)
* 14 to 16 1/2-inch-thick slices firm Italian bread, crusts removed
* 8 cups berries, hulled, rinsed and dried
* 2/3 cup sugar
Summer pudding is an old-time English dessert that makes use of stale white bread and fresh summer berries, lightly cooked to release their juices. It's lovely served on its own or with whipped cream. Use blueberries, strawberries and raspberries.
Directions
1. In large, nonaluminum saucepan, combine berries and sugar. Cook over medium heat until sugar is dissolved and berries release their juice but still retain some shape, about 10 minutes. Place berries in large sieve over bowl to catch juices.
2. Swirl some of the berry juice in the bottom and up sides of flat-bottom, glass or ceramic mold or bowl with a 3-quart capacity. Cover bottom and sides up to 1 1/2 inches from top of mold with bread slices, cutting pieces to fit any holes. Pour a little more reserved juice over bread on sides. Add half the fruit. Top with layer of bread, piecing to fit. Cover with remaining fruit, then with layer of bread, piecing to fit. Pour in all but 1/2 cup remaining juice, brushing with pastry brush to cover bread. Cover top bread layer with plastic wrap. Place flat plate or pot or smaller mold on top. Weight with four 15-oz. cans (pumpkin, beans, tomatoes). Set on plate to catch any drips. Refrigerate overnight.
3. To serve, remove weights and plastic wrap. Loosen edges of pudding carefully with spatula. Invert onto serving plate. Brush any white bread spots with reserved juice. Slice into wedges with serrated knife.
CHOCOLATE TRUFFLES
The guests would have loved these,you will too!
1/2 cup chocolate soymilk
1 12-oz. pkg. vegan chocolate chips
1/2 cup unsweetened cocoa

1.Warm soymilk until hot to the touch. Set aside.
2. Melt chocolate chips in large metal bowl set over saucepan of simmering water, stirring until smooth. Stir in warmed soymilk until smooth. Cover, and refrigerate 4 hours, or overnight.
3. Place cocoa on plate. Shape chilled chocolate mixture into 1-inch balls, and roll in cocoa.
QUEEN ELIZABETH'S FAVORITE QUICHE
This is a recipe for Queen Elizabeth's favorite quiche. I simplified it just a bit keeping in mind the integrity of the recipe.
For quiche pastry
* 1 1/4 cup all-purpose flour
* 1 stick unsalted chilled butter
* 1/4 tablespoon salt
* 4 tablespoons ice water
For filling
* 3 spring onions (green only)
* 1 package frozen (defrosted) or canned artichokes (in water) sliced in eighths
* 2 green zucchini, core removed, quatered and sliced thin
* 1 medium portobello mushroom, sliced in eighths
* 2 tomatoes skin off, seeded and large dice
* 6 asparagus tips, blanched, shocked and split in half lengthwise
* 1 cup whole milk
* 1/2 cup heavy cream
* 3 medium eggs
* salt, pepper and nutmeg to taste
Make the pastry:
Combine dry ingredients in food processor and pulse several times. Place chilled butter, cut into pieces, into food processor and pulse until a crumb-like substance appears. Add water and pulse until a ball begins to form. Form into a flattened patty, cover with plastic wrap and refrigerate for one hour.
Roll out dough on a well floured surface, place in a 10-inch quiche pan and chill for 30 minutes. Blind bake in a 375° F oven for 20-25 minutes until edges are slightly colored. Allow to cool to room temperature.
Make the filling:
Lightly rub onions with olive oil, season with salt and pepper and saute in olive oil for 2 minutes. Allow to cool and cut into small pieces. Sauté artichoke hearts in olive oil and season with salt and pepper. Allow to cool. Sauté zucchini for 45 seconds in olive oil and season with salt and pepper. Allow to cool on a large plate to avoid overcooking them. Sauté portobello mushroom in a very hot pan with olive olive oil so that the mushrooms sear and keep in the natural juices. As all of the ingredients are cooling, combine eggs, milk, cream and seasoning into a bowl and incorporate with a whisk.
Assemble the quiche by layering each vegetable, one on top of the other, in the pie crust. Use the asparagus tips as garnish for the top of the quiche by placing them in a pinwheel around the dish. Add egg/cream filling so that it stops just before covering the asparagus. Bake in a preheated 350° for about 30 minutes or until filling sets and top of quiche is lightly browned. Allow to cool 10 minutes before serving.
"Her Majesty" Paul McCartney

"The Pound Is Sinking" Paul McCartney

What have you all been cooking? Please share your recipes and fave Beatle/McCartney music here.