A January 4 article in the Wall Street Journal about Speaker of the House John Boehner (R-OH) included this curious sky-map of his personal constellation.
.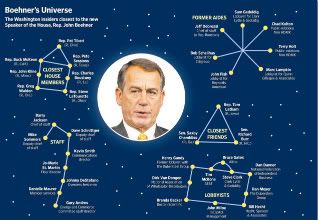 Click herefor full size.
.
Closest in orbit is a triangle that outs Boehner's BFFs: Rep. Tom Latham (R-IA), Sen. Richard Burr (R-NC), and Sen. Saxby Chambliss (R-GA).
Let us divine what this mysterious alignment of Republican Stars portends for the future of the Republican party in general, and its potential presidential ticket in 2012.
The chance that Boehner will run for president in 2012 is improbable, but not impossible. There's already a facebook page asking him to run, with 372 friends and a link to their petition that goes nowhere. There's also a petition on the Care2Petition Site that's been signed by six people. So at least 738 people think he should run. Let's assume for a moment that Boehner will run for president.
* * *
In his Political Insider column, "Meet one of the best friends of the next U.S. House speaker," Jim Galloway writes:
In Washington, Boehner is surrounded by a cadre of loyal, dedicated staffers and former staff members that forms the innermost circle of what they call BoehnerLand... and has a core group of friends from the rank and file in both the House and the Senate.
But BFF status is reserved for the troika of Latham, Burr and Chambliss. "They even have their own supper club [and] can frequently be found dining at restaurants on Capitol Hill."
.
Let's look at who Boehner's BFFs are.
Rep. Tom Latham

Latham represents himself a champion of fiscal responsibility, and sits on the House Appropriations Committee; he is the ranking Republican on the Transportation, Housing and Urban Development subcommittee.

"He has free access to Boehner, serving as his eyes and ears on other lawmakers." WSJ

On Latham's web page, it quotesone Iowa newspaper (which is never identified) that Latham is "a fiscal conservative who not only talks the talk but walks the walk when it comes to spending he controls."

But Latham has a solid Republican record pursuing funds for local projects. Using his position on the Appropriations Committee, Latham has scored significant support for Iowa's homeland security first-responders, law enforcement, the Iowa National Guard, transportation projects, agriculture, environmental and public education initiatives, health care, community, economic and small business development.

In Their Own Words
"From its founding, America has consistently applied equal protection under the law to citizens and legal visitors. The very act of entering the country illegally shows disrespect for this important principle and I believe that it should not be rewarded in any way."

Sen. Richard Burr

After 10 years in the U.S. House, Burr is the senior senator for North Carolina. He sits on the following committees: Energy & Natural Resources; Health, Education, Labor & Pensions; Indian Affairs; Intelligence (Select); and Veterans' Affairs"

"Burr is making a quick climb up the party's power structure and became the Senate GOP chief deputy whip in the 111th Congress. In May 2008, he was mentioned as a possible running mate for Republican presidential nominee Sen. John McCain (R-AZ.)."

That's about it. There was no other mention of Burr from any of these sources, none of "his own words," nothing. Yawn!

Sen. Saxby Chambliss

Georgia's senior senator sits on the following committees: Agriculture, Nutrition & Forestry (Ranking Member), Armed Services, (Select) Committee on Intelligence, Committee on Rules and Administration, and Special Committee on Aging.

Republicans portray Chambliss as a one-man "firewall" against the Democratic Party's majority.

In His Own Words
You have delivered tonight a strong message to the world that conservative Georgia values matter...that a balance of government in Washington is necessary, and that's not only what the people of Georgia want but what the people of America want.
So. We have a pantywaist from Iowa whose face is eminently forgettable. We have mid-level dude from North Carolina who looks a little (and sort of acts) too much like Dan Quayle to be taken seriously, no matter how quickly he's climbing in the ranks.
And then you have Chambliss, with his "elder statesman" look that evokes confidence and, of the three, who looks the most like a Republican. He represents the southern stronghold and commands respect for his numerous committees and seniority. He scores well with the teabaggers. And that name! He's too perfect.
* * *
Boehner told reporters recently,"I'm going to run the House my way and work with members on both sides of the aisle to decide what should come to the floor and what shouldn't come to the floor."
"I don't want to be dismissive of participation," says Rep. George Miller (D-CA), who worked harmoniously with Boehner on the Education Committee. He warns, though, "Don't translate that one-off moment into lasting bipartisanship. The speaker-in-waiting would never reach out in that way today."
"That was in a galaxy far, far away, in a place doesn't exist anymore"