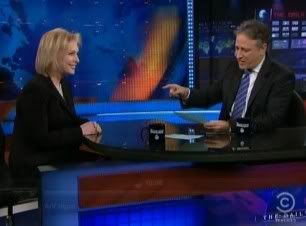 Senator Gillibrand absolutely glows in late night. And why not? She's earned the right to finish 2010 with definitive victory lap.
It seems I am not the only one with a crush on my Senator, Stewart is clearly smitten throughout. A reminder these two kids have history: Stewart rode to the rescue of Gillibrand's 9/11 Health Bill in December, producing a game-changing show on GOP efforts to block the bill. My diary of it was well read. You might have missed BruinKid's take on it. Don't. It was excellent.
Stewart was not shy about presenting Gillibrand as the foil to all that's wrong in the Senate. He recounts her long list of accomplishments in her two brief years; instrumental in "Don't Ask, Don't Tell" repeal, 9/11 First Responders Health Bill, Food Safety Bill, Crib Safety Ban, etc.
As we learned in high school, over-achieving like that can only result in social ostracization. Stewart asks her: "So, does anyone sit with you at the cafeteria now or no?"
"What is your game, Gillibrand?" Stewart asks her to explain her failure to get with the Senate program and kick back and do nothing for 50-60 years. She shows a definite talent for the role of straight man and deadpans, "That's typically how it's done, yes."
All throughout, Gillibrand expertly walks a line that says she's in on the joke, while still remaining appropriately Senatorial. When Stewart describes New York's other Senator Chuck Schumer as "made of spotlight-eating bacteria," she enjoys the laugh (it is legend in NY that the most dangerous place on Earth is between Schumer and a camera). But, Gillibrand graciously praises her senior colleague as a great partner who closed the 9/11 health bill.
Gillibrand hits all the right notes; playful, humble and diplomatic, serious when appropriate. She's clearly having fun. On the topic of the 9/11 Health Bill, she facetiously asks Jon, "Did... did.. did... you do a show?" And later circles back to credit Stewart and Daily Show for making a big difference on the 9/11 bill, thanking him for "amplifying the work of all these first responders."
Stewart says, "Thank you for the kind words. It honestly meant the world to us. You were nice enough to give us one of the flags. I can't tell you how much that means to us."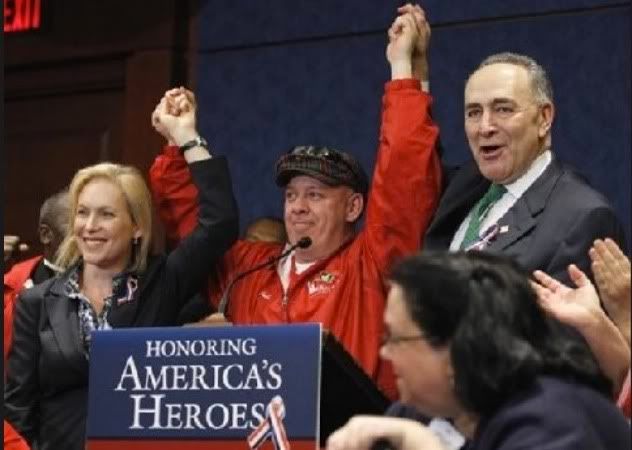 What's the flag about? Backstage before the show, Gillibrand met with Stewart and gave him a flag that flew over the Capitol the day the 9/11 health bill passed. Also, on behalf of the first responders, she gave him a red Feal Good Foundation jacket, exactly what many of the first responder advocates would wear when advocating for the bill. (Gillibrand and Schumor pictured with John Feal.)

She remains generous throughout recognizing the hard work and contributions of our servicemembers and 9/11 heroes, Reps Carolyn Maloney and Jerry Nadler, and all the advocates and activists that make Democracy work (when it does).
Addressing her efforts at filibuster reform, Stewart asks her what she's doing in the Senate, "You know what you are? You are the "Who" in the hotel, you're just wrecking the joint."
Stewart wraps up by pointing at the elephant in the room: he calls her "adorable."
I know you're a comedian Jon, but let me remind you, Kirsten Gillibrand is an accomplished US Senator.
(And yeah, you're right about that.)
Upon Hillary Clinton's departure it was observed the US Senate is filled with show horses and work horses. Hillary, it was said, was a work horse. And her offices' output may well have supported that contention. But let's get real; wherever a Clinton goes, there is always a good show.
With this charming appearance and her head-turning November Vogue magazine profile Gillibrand distinguishes herself as a successor capable of delivering both substance and style to the Empire state. And we expect nothing less. This is New York, after all.

Paul Rieckhoff, Executive Director of Iraq And Afghanistan Veterans Of American was just one of many that tweeted their accolades... and crushes.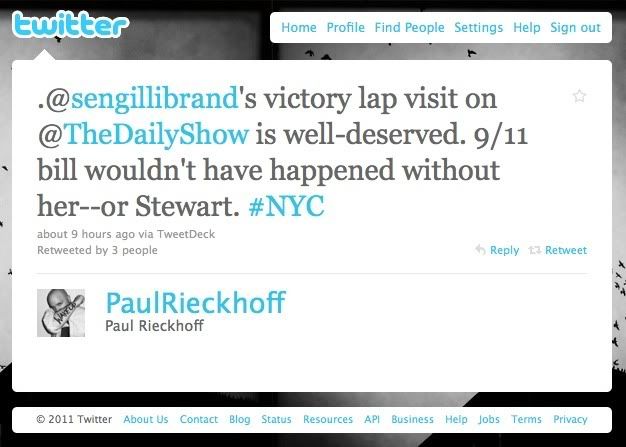 Update: Gillibrand was just sworn in. @ChrisGeidner hits the nail on the head:
Now being sworn in: Coburn, Crapo, DeMint and Gillibrand! #whichoftheseisnotliketheother

Transcript for the video impaired, provided courtesy of one of the many gay veterans Gillibrand helped, Justin Elzie. His book, Playing By The Rules, was just published.
Stewart: Very nice.  Kudos, nice to see you.

Gillibrand:  Nice to see you.

Stewart: Thanks for joining us.  How long have you been in the Senate?

Gillibrand:  Just two years.

Stewart:  Two years, you if I may and I don't mean to embarrass you.  ... Instrumental in passing the repeal of DADT, instrumental in passing the 911 first responders bill, instrumental in passing the food safety bill, instrumental in the ban on drop side cribs that were hurting children, instrumental in a law stopping illegal drugs from crossing the Canadian border.  You've been there two years, Gillibrand what's your game?  Your goal in the Senate is to entrench yourself and stay there for 60 to 70 years moving as little as possible.

Gillibrand:  That's typically how it's done.

Stewart: So does anyone sit with you at the cafeteria now or no?  What are you trying to pull Gillibrand?

Gillibrand:  These are important issues, I mean if you look at DADT how can you not fight for the integrity of the armed services, for the men and women who have done everything, given their lives, these are things worth fight for.

Stewart: Well sure if you're thinking about it.  Well if the idea was the knee jerk reactionary motions to keep political power not passing things to improve people's lives.   You got a lot of learn Gillibrand.

Gillibrand:  Indeed, indeed. 

Stewart:  Now you have done all of this very much under the radar and out of the spot light.  Is this because as the junior Senator from New York, Chuck Schumer is made of spotlight eating bacteria?

Gillibrand:  Chuck is a great partner.  We work really well together.  We worked hard together on the 911 health bill.  He made a huge difference, particular as the closer; he was the closer on this deal.  He really made a difference, we work well together.  We're a good partnership.

Stewart: What is it with the lame duck session, was so productive this last week two weeks were you got all this done.  Are you tempted as democrats to throw more elections, because you were more productive as, and again I am probably not framing this right way, losers.  Is that how this is?

Gillibrand:  No no, these were issues that we were working on for so long and these things all just happened to come together at the end.  The 911 bill we were working on it for nine years.

Stewart: Believe me listen I am somewhat familiar with it.  I was so glad.

Gillibrand:  Did you do a show?

Stewart: We may have done a few things here, but the important thing is the people that were working on it and have been doing it tirelessly for nine years.  Now that is the amazing thing and those people deserve all the credit in the world and thank goodness that the right thing was done by them.  And I hope that.. I don't care what they want, honestly.  Do they want us to carry them around on liters, I'll do that, I don't have a problem with that.

Gillibrand:  These men and women have been coming to the capital week after week, month after month, year after year, and these are our first responders, these are our heroes, the men and women who literally ran up the towers when people were running down.  They were the first ones there looking for survivors then for remains, they did the hard work.   And now the worst thing is that they are literally dying because of the toxins they were breathing in were so awful and these are young men and women.

Stewart:  Such good people.   Why did this take so long for this to coalesce?  What was the difficulty?  Is it a bubble in Washington where there are things are used for political symbolism but when the actual representation of that or the physical manifestation shows up in their office, you are like, "I don't know who you are?"

Gillibrand:  No it should have never taken this long.  Nine years was too long.  It should have been done right away.  But that being said you know it started in the house, Carolyn Maloney, Jerry Nadler  they worked so hard, they wrote a good bill, 21 hearings,  and it finally  came to the Senate it is something Senator Schumer and I worked on this last year. It took time, to create the bipartisan support you needed to pass this kind of bill.  It takes time.

Stewart: Talk about the back room stuff at the last minute.    We all heard about Tom Coburn has said that he had put a red flag on it.  You had to go to he and Senator Enzi and so it is you Chuck Schumer, Enzi, Coburn, and Harry Reid.  Is this at Hogwarts or where does this duel, where does this take place?

Gillibrand:  We had a meeting in Coburn's office.  And we talked through, and this was the day we were going to finally pass this bill.  We talked through some of the changes that they were hoping to have in the bill and we reached a consensus and it brought people together and during the whole last month we were hoping for this Christmas miracle.  When people of good will could come together and compromise get something on the table that would really stand behind these first responders.  And that is what we finally did.  It was years of effort and so many people and everything had to happen to make it happen.  And I have to tell you John your show make a difference.  It really made a difference. 

Stewart: You're very kind to say it.

Gillibrand:  I know you're shy.  I know you're modest but it made a difference.  And let me tell you, you put a spot light on an issue, and what it did, it amplified the work of all of these first responders, because they had been going at it for years literally.

Stewart: That is what is crazy, the idea that something has to be on television to mean anything is what is so crazy.  I am so proud of the staff here, and everybody's passion for it and anything that we did, but I feel like we drove by a burning care on the highway, and went, "someone should call that in" and so that is what we did and meanwhile people are standing around the car the whole time going we've been saying that.  I know but we have a phone.

Gillibrand:  It made a difference and frankly that's what democracy is about.  It's about people using their voice whether you have a show that is worldwide or whether you're an advocate who is literally knocking on every door in the House and Senate.  That is what democracy is about; it's about people rising up demanding action.  And you did it, our great newspapers here in New York did it.  The Daily News has been covering it and we had advocates all over the country, and they finally said this is what the American people demand and I can tell you that the American people should be proud because this is an instance where the Americans stood behind our heroes and made the difference to get this bill over the finish line.

Stewart: Well you deserve so much of the credit.  Thank you for the kind words.  It honestly meant the world to us   You were nice enough to give us one of the flags.  I can't tell you how much that means to us.   You're going to change the filibuster, now you're going to go in there and do that.  You know what you are, you are the "Who" in the hotel, you're just wrecking the joint.  Are you going to change the filibuster?

Gillibrand:  Well a lot of us are working on that right now.  Tom Udall is leading the charge.  Amy Klobuchar and a number of people and what we are trying to do is change the rules.  Because everyone knows Washington is broken.  It has been broken for a long time and unfortunately the rules in the Senate have been misused and they have been misused over time in that we can't even proceed to debate on the bill.  We can't even move forward to talk about the merits of legislation.  So we want to reform the filibuster rules. 

Stewart: Do you believe that will be able to occur?

Gillibrand:  Yes.

Stewart: Or will someone filibuster?

Gillibrand:   We want them to get up and say why they are for against the bill.  I want them to stand up until 4:00 in the morning and say you are for it or against it and why.

Stewart: Transparency honest argument you are adorable.  Thank you so much, and continued success and I really mean it and you're doing a hell of a job.  Senator Kirsten Gillibrand.