UPDATES and SEE LINKS BELOW
New elected Governor or newly hired CEO Rick Snyder State of the State Speech is tonight, where Rick Snyder will outline the Snyder Administration policies and Snyder Team tasks and objectives. He will be referring to a Michigan Report Card and Michigan Benchmark his team has developed.
To assist the corporate media, and what is left of Lansing political reporters and analysts, and Michigan Policy WONKS, we have made a "Governor Rick Snyder: State of the State and Policy BINGO CARD" for your use and enjoyment.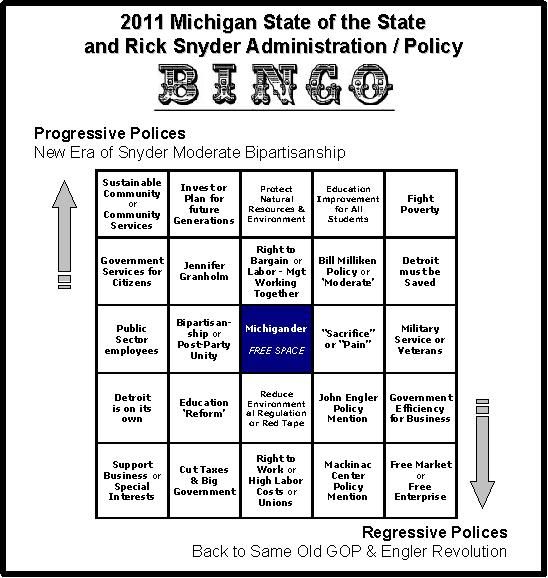 Instructions BELOW...
UPDATE PART 1: Michigan Gov Rick Snyder's Nerd-Centric Politics 101 - An Introduction (SERIES)
UPDATE PART 3: Applications of the Milliken Model of Leadership LDR 203
RELATED: Michigan's CEO Rick Snyder: Transition Hits Snag and Will Snyder Toe-the-Line?
So far, Snyder has not announced his administration's policies or approach to government. Is Rick Snyder a 'Milliken Moderate' of decades past, or will the Snyder Team comprised of a number of John Engler staffers take Michigan "back to the future" and the same old Michigan Republican agenda?
Governor Rick Snyder will outline his new policies for the State of Michigan in the Michigan State of the State speech, transcripts of which will be posted HERE, but will not be released ahead of time.
We do know something of the format of the speech and policies to be announced by Snyder from the Detroit Free Press:
He said he plans to present a report card that he'll use every year when he gives State of the State speeches. It will have about 21 different measures in five different areas including the economy, health of people in the state, public safety issues and education. "Here's a benchmark of where we are, and here's where we're going," Snyder said.
We can assume Area 1 will be economic development and JOBS.
How to play:
Played like normal BINGO, if you hear the terms or policies list on a square, you put you chit on that square.
If you are a Michigander, geographically or just at heart, you get the "Michigander" free space or squire in the center of the card.
First line to be filled in is the winning policy tone or philosophy of the new Snyder Administration.
Winning horizontal lines or strings are generally shades of 'progressive' vs 'regressive' policies tendencies, horizontal winning lines indicate mixed policy positions, and a diagonal line might show policy as incoherent (not perfect, hey it's a swag - low budget here).
Winners/Losers will be the Citizens of Michigan or just Big Business and Special Interests.
What you need:
All Players
Print out the card
Pencil or "chit" (your kids' Cheerios, Michigan Micro-brew beer cap, Michigan State quarters, etc.)
Access to TV or Radio (Michigan Public Radio)
Other items are bit tricky because this depends on where you stand and your current opinion going into the speech.
Alarmed Progressives
TV Bricks
Earplugs for the Kids so they don't hear you swear
Remote, in case you get heart palpitations or panic attack symptoms
Scotch or similar mind-numbing substance
Willing to Try Anything New Michiganders
Open Mind
Hope
Ability to sort good from the bad
__________ (Snyder will fill this blank)
Michigan Unemployed
Good neighbor or friend with TV or Radio ('cause your cable is shut-off)
Blankets ('cause your heat is down or shut-off)
MARVIN Phone and Pin Numbers
Window open to Resume to send to ANY companies Snyder might mention tonight that are hiring
Corporate Fat-Cat
Big screen HD 50-channel TV
Checkbook (but you probably used that already)
Snyder's home or cell number to text "Great Job Buddy"
Engler or Mackinac Center Republican
Dick Posthumus' cell on speed dial
Window open on computer to right UP or DOWN Op-Ed
Detroit News comments log-on and password
Copy of Weekly Standard or Mackinac/Heritage Newsletter (to read during the boring parts)
FULL ANALYSIS and the winning BINGO policies will be UPDATED to this Posting.
Cross-Posted from Blogging for Michigan.