Political conversations at work are fun. So you can guess my surprise when Eric finished his telling of Jared Loughner and the numbers 6/18 with the lovable line "just another Leftist."
Ah, buzzword bingo. "Really? The guy writes 'I can't trust this government' and he's a leftist? Aren't we government lovers, Eric?". Hence this diary.
You see: I've made diary entries before that have been very useful in later discussions because they're timelocked. I posted that people should get out of the stock markets in December of 2007, and the Republicans would claim our victories as theirs, but it wasn't anything mystical. I simply used past events to see what was fated to happen.
So I'm timelocking Jared Loughner. Already, the right wing (not just Eric) have claimed Loughner as the antithesis of everything they stand for.
Just like they did with this guy...
The photo was of Jim David Adkisson. On July 27, 2008, a fatal shooting took place at the Tennessee Valley Unitarian Universalist Church in Knoxville, Tennessee. Jim David Adkisson fired a shotgun at members of the congregation during a youth performance of a musical, killing two people and wounding seven others.
On July 27, 2008, the clear-cut motive for the killing was not known by the public. We'll get to that at the end, because right now we're concentrating on who people blamed before the truth was brought to light.
ONE DAY AFTER the shooting, Jesus Christ Is Lord on Wordpress published the following...
Knoxville Liberal Unitarian Church Shooter Jim Adkisson IS AN ATHEIST WHO HATES RELIGION!

Posted by Job on July 28, 2008

More here from WorldNetDaily, who beat me to the punch by 20 minutes (grr!) and GetReligion who beat me by 15 (grr grr!). Is that what the media is reporting? NO! They are reporting that Adkisson targeted this unitarian universalist church because Adkisson hates liberals in stories like this (see link). Also, CNN's report is more of the same.
The police released the barest of details of (what has become known as) the Adkisson Manifesto...
Police found right-wing political books, brass knuckles, empty shotgun shell boxes and a handgun in the Powell home of a man who said he attacked a church in order to kill liberals "who are ruining the country," court records show.
...but why deal with the small information that is known? Certainly not the conservatives. They had an agenda to push. Blame the opposition, and declare outrage that the usual suspects (the mainstream media). Adkisson was the man repeatedly referred to as a 'lone gunman' and 'crazy', and right-wing sentiments were the furthest thing from his mind because he was just crazy and a lone gunman, end of discussion, we were told repeatedly.
In August 2008, the right-wing was still circulating the story that Adkisson was a leftist that hated religion full term, hence the shooting in a church. One poster on a MediaMatters thread noted, as an aside...
But I'm sure the spin will be that this was some liberal reporter standing in the wrong place so that he'd get kicked out and create an impression of racism, just like Adkisson was really a liberal who hated Christians and was trying to give Christian conservatives a bad rap.
Here's a page from 2008, detailing how the Religious Right had decided Jim Adkisson was really the most liberal of liberals and the most left-wing of left-wingers...
Atheist attacks church! See how Christians are persecuted, and murdered by godless heathens! The atheist movement is on the march! It's the end of the world!

---

"When Atheists Attack"

---

If you've been following the news, you are surely aware of the recent mass-shooting attack at a Unitarian Universalist church in Knoxville, Tennesee. If not, then click here to find out. The news media at this stage appear to be trying to spin it as "a right winger attacks a liberal church", or some such rubbish. However, this is not supported by the actual evidence.
Atheist! Attack! The idea it was a right-winger is "some such rubbish ...not supported by the actual evidence".
We didn't know much about the contents of Adkisson's four-page letter back then, just as we only know a part of Jared Loughner's written intentions right now in January 2011, but that didn't stop the right-wing from inventing "the actual evidence". It wasn't until February of 2009 that it was released online in PDF format for all to see. What follows are a few segments of that four page letter. THIS is the actual evidence.
This may offend some people. I make no apologies. This is a historical document detailing the thought processes of a 21st century gunman, and also (by its existence) the thought processes of those that defended his motives for political reasons in 2008 and early 2009.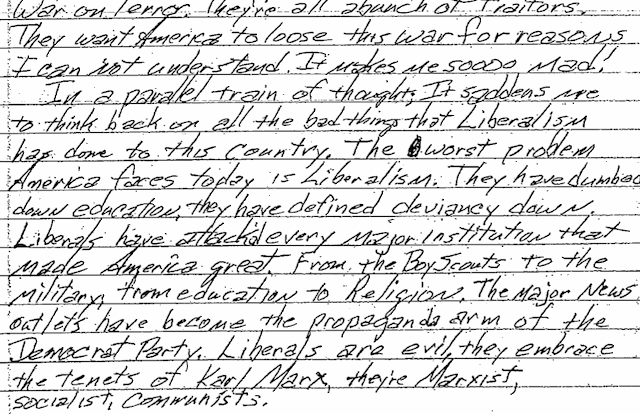 Remember how he was an atheist, and anything else was "spin"?
The same thing is said by the right-wig about Muslims. Even by their elected officials, as shown here.
Here we see the disdain for the word "progressive". And the not-so-hidden racism and homophobia.

Remember: the mainstream media (a favorite epithet of theirs, and of Eric's at explaining why his information was correct - because it didn't come from 'the mainstream media') was spinning this. This was just rubbish. There's also something about bearing false witness, and the eternal punishment for that, but it escapes my mind for the moment.

Yes, those American-hating Liberals that hate the Constitution. Giving habeas corpus to prisoners, just like it says to do in Article 1, Section 9 of the United States Constitution. For shame!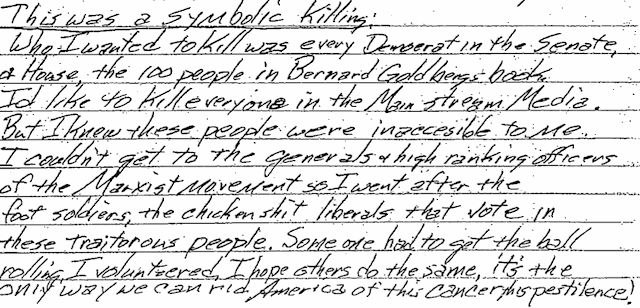 This is perhaps the pivotal part of the letter. He wanted to kill Democratic reps in Congress. And he hopes others do the same. A sentiment repeated at the end of his fourth page.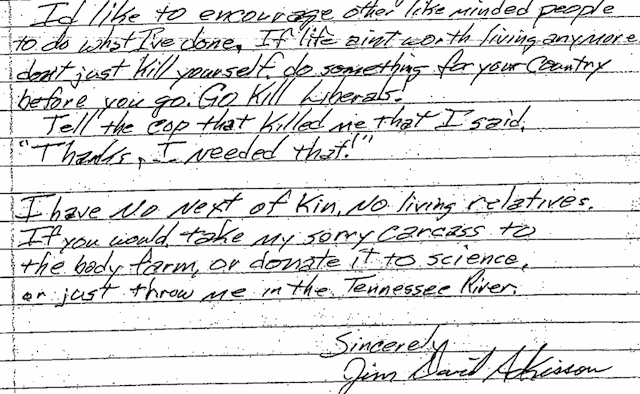 So: that was Adkisson. And how the right-wing denied he was firmly one of them, how he was crazy, how he was a lone gunman with no inspiration from conservatives and Republicans at all. It was an 'isolated incident' ...Just like the other EIGHTEEN cases of domestic-terrorism inspired by right-wing extremism in the past couple of years. All I've done is shown the repeating gameplay by the right with one of these terrorists. The same can be done with any of the others. Deny he was right-wing, blame progressive secular humanist leftist wharrgarbl.
Bob Carson of Now Public said it best in 2008. "For years the Conservatives have blamed rappers and the likes of Marilyn Manson for influencing their audience to commit acts of violence," Carson writes. "Some of these same conservatives need to look at this event and take a look at the hate they preach on a daily basis."
Time to lock this up. Timestamp: between 8 and 9am, Friday January 21, 2011. Let's wait and see what we find out about Loughner.