In this weekly series we have been discussing the benefits of a vegetarian diet including: better health , animal rights, global food crisis, frugal living, food safety and the immense contribution of livestock/meat production to climate change/ water and land depletion
The livestock sector, including feed production and transport, is responsible for about 18 percent of all greenhouse gas emissions worldwide
The livestock sector is a major environmental polluter, with much of the world's pastureland degraded by grazing or feed production, and with many forests clear-cut to make way for additional farmland.
Animal waste is a serious concern, since only a third of the nutrients fed to animals are actually absorbed and the rest pollute lands and waters. Total phosphorous excretions of livestock are estimated to be seven to nine times greater than from humans.
I was inspired to create this series by former beatle and vegetarian advocate Paul McCartney(Macca) who partnered with the Meatless Monday campaign to promote less consumption of meat. We not only discuss the many advantages of a less meat diet we also do some cooking, share recipes and listen to great Beatle/McCartney music!
I have some very exciting news! The biggest news yet from Meatless Monday! The small steps that we all are making to reduce our personal meat consumption and to spread the word about its' benefits is having a global response!
I don't know how to top that news as today I was planning on taking you all on a quiet virtual trip to Norwich, England. After reading about Norwich, my inner foodie bibliophile surfaced and this bookish anglophile was consumed by a desire to cross the pond.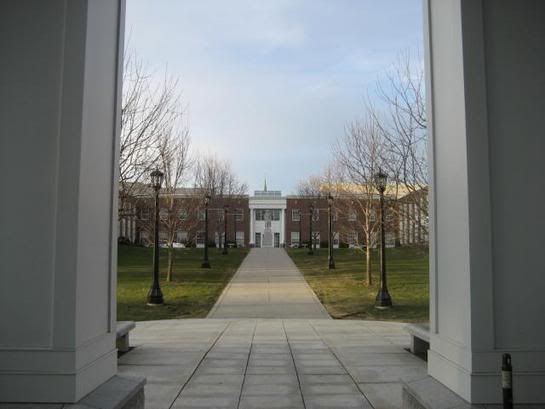 Norwich University Library
Of course, a city for book lovers with some good restaurants is just my cup of tea. So today, I'm heading to the Library Bar and Grill in Norwich, a one-time nineteenth century library. Their menu looks lovely and very veggie friendly so I devised some vegetarian recipes using their menu.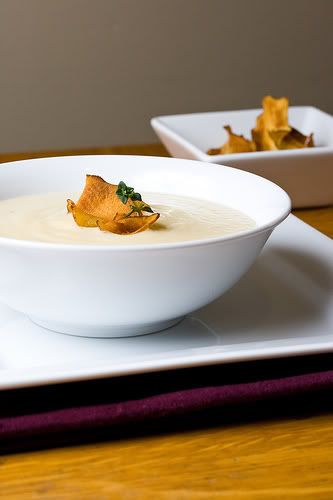 PARSNIP APPLE SOUP
I love starting with this Irish winter soup.
2 teaspoons butter or vegan butter
1 onion, chopped .
1 lb parsnips, thinly sliced
1 clove garlic, crushed
1 lb cooking apples, peeled and cored and sliced
2 teaspoons Curry powder
1 teaspoon Ground cumin
1 teaspoon Ground coriander
2 pints vegetable stock
Salt and pepper
1/4 cup heavy cream or vegan cream
dried apple chips for garnish (optional)
Melt the butter in a saucepan and sauté the onion until just beginning to get soft.
Add the parsnip, apple and garlic and cook until softened but not browned. Stir in the spices and cook for 2 minutes stirring.
Add the stock and bring to the boil stirring continuously. Season with salt and pepper.
Reduce the heat and simmer for about 30 minutes until the parsnips are tender.
Puree in a blender or with hand blender and stir in the cream.
Heat gently without allowing the soup to boil.
Serve with dried apple chips if available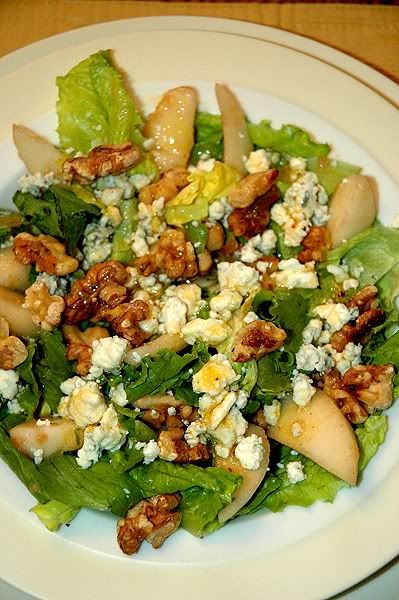 BABY GREENS, PEARS, BLUE CHEESE and WALNUT SALAD
Staying in season with this luscious salad
3 tablespoons fresh lemon juice
1 tablespoon Dijon mustard
1 medium shallot, minced
1 1/2 teaspoons chopped fresh thyme
1/2 cup olive oil
1 5-ounce bag mixed baby greens
2 large ripe pears, halved, cored, thinly sliced lengthwise
1 cup crumbled blue cheese
1 cup walnuts, toasted, coarsely chopped
Whisk first 4 ingredients in small bowl to blend. Gradually whisk in oil. Season dressing to taste with salt and pepper.
Toss greens in large bowl with enough dressing to coat. Divide greens among 6 plates. Top with pear slices, dividing equally. Sprinkle with cheese and walnuts. Drizzle lightly with remaining dressing and serve


CHICKPEA and PUMPKIN BURGER
This recipe appears on their lunch and brunch menu so I had to try it!
2 10.5 oz cans chickpeas, drained and rinsed (or home cooked)
1 can about 14 ounces pumpkin, cooked, drained, mashed(NOT pumpkin pie mix)
1 onion, finely diced
1 small/med red bell pepper, seeded, finely diced
1 tablespoon tahini
2 teaspoon finely chopped fresh ginger
1 teaspoon coriander(dried)
2 teaspoons cumin(dried)
1 teaspoon crushed garlic
1/2 cup chopped chives
Place chickpeas in a food processor and process until they resemble large breadcrumbs (avoid over processing so you can enjoy the taste and crunch). Place processed chickpeas in a bowl with vegetables, tahini and herbs. Mix well, then work the mixture together with your hands until it begins to stick together. Shape into burgers and refrigerate for at least 2 hours before cooking.
Lightly oil a frying pan and heat until very hot, cook burgers on both sides until brown.
The Library serves this with Spicy guacamole and now you can too!


RISOTTO with ROASTED VEGETABLES
Once you roast your veggies you can use them for both the risotto and the vegetable tart which follows. I love making risotto, so satisfying.
An assortment of vegetables for roasting, cut into 1/2"dice (I used a green bell pepper, a red bell pepper, two carrots, one zucchini, one yellow squash and two tomatoes. Eggplant would be great here mushrooms also.
4 tbsp. olive oil, divided
kosher salt
freshly ground pepper
2 cups Arborio rice
1/2 onion, finely chopped
6 cups vegetable broth (about 4 cans)
2 or 3 tbsp unsalted butter or vegan butter (I use Earth Balance, in large pieces
2/3 cup grated Parmesan cheese or vegan cheese, divided
Small handful of fresh basil, sliced into ribbons
Preheat oven to 425°F.
Toss prepared vegetables with 2 tbsp of the olive oil, and sprinkle with salt and pepper. Spread vegetables in an single layer on a baking sheet lined with foil and roast for approx. 25 minutes, stirring halfway through and making sure they don't burn. Remove from oven and set aside.
Meanwhile, heat broth in a small pot. Bring to a boil and then maintain a simmer. In a medium-sized heavy-bottomed pot — make sure it has a lid — over medium heat (I used a 3½ quart cast iron pot), heat the remaining 2 tbsp oil. Add onion and sauté, stirring occasionally, for about 5 minutes until onion is soft. Add rice and stir to coat in the oil; cook for 3-5 minutes.
Now start adding the broth. Using a soup ladle, add one ladle into the hot rice/onion mixture. Stir constantly (not too fast). When the liquid is added, you want the pot to be hot enough to keep it at a healthy simmer. Once the liquid is absorbed, add the next ladle of broth, and keep stirring until it is again absorbed by the rice. Again, make sure to maintain the simmer consistency with your heat (this was just below medium on my stove). Continue this procedure until you have used up all of your broth. It will feel like it is taking forever, but keep with it(took me about 25 minutes total). The reward is worth the effort. Bring a book in the kitchen if you have to.
Test your rice. It should have an ever-so-slight bite to it, but it shouldn't be crunchy. It should be smooth and creamy. Stir in some salt if needed (this will depend on the saltiness of your broth).
Now, remove the pot from the heat and add the pieces of butter, stirring them in, followed by 1/3 cup of the Parmesan cheese. Grab the roasted vegetables you set aside and fold them in, too. You can also stir in some of your basil, or you can save it all as a topping when you serve the rice, whatever you like. Place the lid on your pot and let all of this rest for about 5 minutes.
Spoon the risotto into bowls, and serve with extra cheese and basil on top.
ROASTED VEGETABLE TART with FETA CHEESE
Nonstick cooking spray
roasted vegetables from risotto recipe above
1 tablespoon minced fresh thyme
1 tablespoon minced fresh oregano
1/4 cup extra-virgin olive oil
Salt
Freshly ground pepper
4 ounces feta cheese, room temperature
3 ounces cream cheese, room temperature
1 tablespoon freshly grated Parmesan cheese
2 eggs
1 (15-ounce) package refrigerated pie crusts for 2-crust 9-inch pie
Set a rack in the center of the oven and heat the oven to 450 degrees. Spray 2 baking sheets with nonstick cooking spray.
Combine the vegetables from above, thyme and oregano in a large bowl. Stir in the oil to coat the vegetables and sprinkle with salt and pepper to taste.
Pour the vegetables into a large roasting pan in a single layer and roast until the vegetables are softened, 15 minutes.
While the vegetables are roasting, combine the feta, cream and Parmesan cheeses in the bowl of an electric mixer. Add 1 egg and mix on high until smooth, 2 minutes.
Unwrap the pie crusts and place 1 on each baking sheet. Repair any tears in the dough. Divide the cheese mixture between the crusts, spreading it to within 2 inches of the edges. Spread the vegetables on top of the cheese filling, dividing them between the crusts. Fold in the sides of the crusts to the middle (they won't reach the center) so that each fold overlaps the last slightly to form a rustic-looking tart. Pinch the overlapping edges to seal. Beat the remaining egg and brush it on the crusts to coat.
Bake the tarts until the crusts are golden brown, 20 minutes.


BLACKBERRY and APPLE CRUMBLE
recipe by Simon Boyle, Head Chef
The Library Restaurant Bar and Grill
His text:
With the season turning to Autumn I look to the hedgerows and am
inspired by nuts, fruits and berries now coming into season.
A popular dish in the restaurant is everyone's Sunday favourite Apple and
Blackberry Crumble.
For cracking results I use 900g/2lb of Granny Smiths and Braeburn Apples
along with 350-400g/12oz-1lb of local Blackberries.
Peel and roughly chop apples all to the same size; thumb size.
Sautee lightly in butter, sprinkle with caster sugar, a pinch of cinnamon
and put into your roasting tray.
Sprinkle with blackberries.
For the topping rub together: 250g of Flour
185g of Butter
100g of Demerara Sugar
100g of Rolled Oats
Sprinkle onto your fruit and cook at 180C/Gas 3-4 until golden, bubbling and the
tip of a knife can easily pierce the Apple (approximately 30 minutes to 1 hour).
Serve with either or a combination of cream, custard, ice cream and booze.
And Enjoy
"Paperback Writer" The Beatles "will you read my book"

"Write Away" Paul McCartney

What have you all been cooking? Please share your recipes and fave Beatle/McCartney here!