I'm attempting to do something a little different here. As most folks know, protests again authoritarian regimes are springing up all over the wider Middle East. I am attempting to create a repository that can be used to track news of such protests.
I have more form than content here. Basically, I have simply set up a space to focus on protests across the Middle East and North Africa by country. I invite folks to post any links to articles about such protests. I will attempt to keep this dairy up to date with all links that folks provide.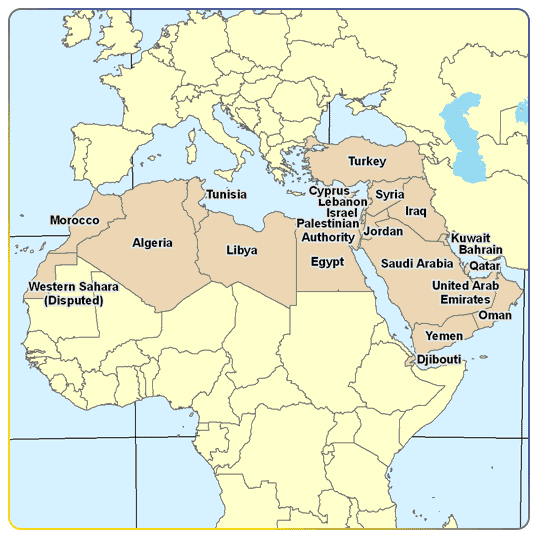 Algeria |Bahrain | Egypt | Lebanon | Libya | Iran | Iraq | Israel | Jordan |Kuwait | Oman | Morocco | Palestine | Qatar | Saudi Arabia | Sudan | Syria | Tunisia | Turkey | United Arab Emirates | Yemen | Other
Overview Articles
Generally, one of the key driving forces is food prices. The Food and Agriculture Organization (FAO) notes that food prices in December passed their historic peak (June, 2008, which also saw protests in many parts of the world. The UN Dispatch has a handy chart showing just how out of the norm these prices are, and hence how devastating they can be to people living in or on the edge of poverty.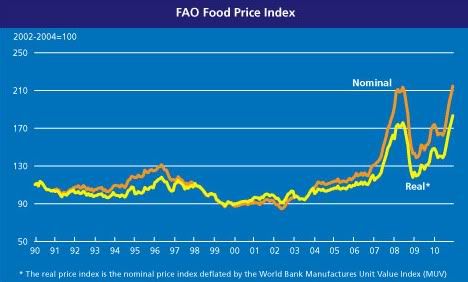 See the CIA World Factbook for various background information, including world inflation rates.
Jan. 31: A roundup of regional protests from Reuters.
Feb. 2: Protests Spreading To Syria, Jordan And Beyond. "As Egypt's protests continue to rage, the unrest is spreading to its neighbors, with demonstrations planned in Yemen, Jordan, Syria and Saudi Arabia in the next 48 hours."
Feb. 3: Anti-government protests in [more than] 3 Arab states
Jan. 31: Morocco watches nervously as Egypt erupts
Morocco has not been touched, yet, by the violent protests that have ended the rule of Zine El Abidine Ben Ali in Tunisia, threaten Egypt's Hosni Mubarak and have shaken Algeria's Abdelaziz Bouteflika.

"But we mustn't be deceived, almost every authoritarian systems will be affected by this wave of protest, Morocco will probably be no exception," a cousin of King Mohammed VI warned in an interview published Monday.
Jan. 30: YouTube video apparently of Jan. 30 protests in Tanger via Gracian
Feb. 3: Algeria to lift emergency rule soon:official media
Feb. 2: Pro-government members of Algeria's parliament have proposed lifting a 19-year-old state of emergency
Feb. 2: Algerian Government warns opposition against any violence at the major rally planned on Feb. 12.
Jan. 29: More than 10,000 protest in Bejaia
Jan. 29: Call for mass demonstrations on Feb. 9
Feb. 1: Protests to oust Ben Ali left at least 219 dead. This is almost three times the official government figure.
Jan. 31: Tunis Police Break Up Protest at Interior Ministry
Feb. 1: Libya cancels soccer matches due to Egyptian protests and Wikileaks disclosures
Jan. 30: Is Qaddafi of Libya now getting worried?
Too much news to cover. I'll simply direct you to the latest DKos Mothership diary:
Feb. 3: Middle East Protests Mothership #12
Feb. 3: Sudan cracks down on opposition ahead of protests. "Sudan widened its crackdown on the opposition by arresting 10 journalists from the Communist Party newspaper ahead of anti-gvernment protests expected on Thursday by activists inspired by Egypt's uprising."
Feb. 3: Sudan: Authorities Tighten Controls on Press After Anti-Government Protests, Referendum
Jan. 30: Sudanese police, students clash in the capital
Sudanese police clashed with [approximately 100] students Sunday as protests inspired by rallies in Egypt broke out in the capital.
Some reports say one protester was killed.
Feb. 3: Is Arab Democracy Good for the West -- and Israel?
Feb. 2: Israel demands the West impose conditions on Egypt. "Prime Minister wants international community to make clear that new leadership must meet a series of conditions similar to those posed by Hamas in order to gain recognition of legitimacy."
Feb. 2: Israeli study finds coup possibility in Mococco and Saudi Arabia
Jan. 31: Israel urges world to cool criticism of Mubarak
Feb. 1: Palestinian media mum on Egypt protests
Feb. 1: Palestinian government calls for local elections amid Egypt unrest
Feb. 1: Police in Gaza break up Egypt solidarity rally. Notes that government in Ramallah broke up a similar protest there.
The situation is extremely complex. There were sharp protests by certain portions of the Sunni community following the election of Najib Mikati (supported by Hezbollah and the resistance) as Prime Minister last week, but theyse seem to have died off very quickly.
Feb. 3: Calls for weekend protests in Syria. "Organisers say protests will be staged in front of the parliament in the capital, Damascus, on Friday and Saturday, and at Syrian embassies across the world. Several pages have been set up on Facebook, with the most popular one, named "The Syrian Revolution", "liked" by about 13,000 people by Thursday."
Feb. 1: Syrians call for protests on Facebook and Twitter
Jan. 31: Syrians called to join in anti-government protests
In neighbouring Jordan a group calling itself the Damascus Alliance for National Change is planning nationwide rallies next weekend.

Organisers have begun circulating leaflets and messages on the internet demanding freedom of speech, human rights and economic reforms and they are asking demonstrators to rally outside parliament house in Damascus, the Syrian capital.
Jan 31: Syria Strongman: Time for 'Reform'
Jan. 30: The Syrians are watching
Feb. 3: Jordan's Muslim opposition refuses Cabinet posts
Feb. 1: Jordan protests: King Abdullah names Marouf Bakhit PM
Feb. 1: Jordan's King Dismisses Cabinet
King Abdullah II of Jordan fired his government in a surprise move on Tuesday, in the face of a wave of demands of public accountability sweeping the Arab world and bringing throngs of demonstrators in the streets of Egypt.

The Jordanian news agency Petra announced that following recent protests in Jordan itself, the king had sacked Prime Minister Samir Rifai and replaced him with Marouf al-Bakhit, a former general and ambassador both to Israel and Turkey. He is widely viewed as clean of corruption.
Feb. 1: Factbox: Political risks to watch in Jordan
Jan 29: Civil unrest spreads to Jordan
Feb. 1: Iran officially supports uprisings in Tunisia and Egypt. However,
Feb. 1: Iranian opposition groups inspired by Egyptian protests, call for Iranian protests Feb. 12.
Jan. 28: How Tehran Sees Tunis
Feb. 2: Translation of PM Erdogan's Feb. 1 speech
Feb. 1: Turkish PM backs Egypt protesters
Feb. 1: Some experts argue that the Gulf region, back by massive oil money, is inherently sheltered from these types of popular protests.
Feb. 1: Kuwaiti parliament approved legislation to grant each Kuwaiti 1,000 Kuwaiti dinars ($3,580)
Jan. 29: Kuwait is currently quiet, but worried. Kuwait threatens to deport "foreigners" who organize protests.
Jan. 20: Kuwait spends $4 billion to subsidize food
Feb. 1: Saudi Arabia May Not Seem Weak, But It's Hiding Three Political Threats
Feb. 3: Factbox: Groups challenging Yemen's government
Feb. 3: Tens of thousands at Anti-gvernment rallies in Yemen stay calm
Feb. 3: Dueling Protests in Yemen Unfold Peacefully
Feb. 2: Yemen's Leader Pledges not to Run Again. "President Ali Abdullah Saleh of Yemen said Wednesday that he would not run for re-election when his term ends in 2013."
Feb. 1: Protests Spring Up in Rural Yemen
Yemen's opposition turned its focus to the country's rural areas Monday, organizing demonstrations in southern and central provinces that drew thousands—unusually large gatherings for these mountainous, hard-to-reach areas.

Over 3,000 opposition supporters gathered in the town of Maweya in Taiz province, in southern Yemen, condemning alleged oppression by the ruling party of President Ali Abdullah Saleh, according to eyewitnesses. And in Dhammar province , in central Al-Hada district, the opposition was able to gather more than 1,500 followers, in a district considered a stronghold for the ruling party.

Monday's protests are much smaller than demonstrations that drew thousands to the streets of San'a, the capital, and other urban centers late last week. Opposition leaders said they were now targeting rural areas, where loyalties to tribal and local authorities often outweigh any allegiance to Mr. Saleh's central government. They have promised country-wide demonstrations on Thursday.
These protests follow up on last Thursday's protests, in which tens of thousands of Yemenis rallied against the government in the capital.
American media expresses skepticism that the Yemenis could ever overthrow their government (and we all know how good the American media is at predicting this sort of thing.
Feb. 2: Al-Jazeera says broadcasting disrupted
Feb. 3: Anti-government protests in [more than] 3 Arab states. The very last line mentions "Protests were also reported planned for Feb. 14 in Bahrain."
Feb. 3: Bahrain's King Orders Increase in Main Food Subsidies
Feb. 1: 30 years of photos showing just how much the West loved Hosni Mubarak
Feb. 1: Red Cross warns of uprising in Pakistan triggered by flooding.
Jan. 31: Russian Police Arrest Dozens At Protest Rallies
Jan 31: Albanian opposition to hold new anti-government protest, as calls for compromise ignored
Jan. 31: Beijing Blocks Protest Reports