I am filling in today for LaughingPlanet and Smiley Creek, who invited me to guest host WNU.
In DK3 nomenclature, groups are our diary series, projects, sub-communities, blogathons and live blogs. DK4 provides us with groups functionality just like the FP of DK4, which is another group blog.
But Groups are so much more. Groups are an exciting, major innovation in DK4 to make it easier for us to organize and expand our political activism where the limitations will primarily be only our imaginations. We can use groups to organize local political groups, create databases and aggregators that become THE online resource and create resources for kossacks. You think of the idea for groups, and kossacks will help you do it!
I asked Markos and Meteor Blades about how they will use groups, and also did some research on how groups operate so we can all hit the ground running when DK4 launches. Markos also graciously answered a few questions about group moderation, which will be covered in part II diary tomorrow.
Creation of Group
You must be a Trusted User (TU) to create a group and TU's may create multiple groups. To create a group, you click onto the FP navigation bar link to "Groups" and it will take you to the Groups page where there is a link to "Create New Group."

Simply fill in the form to provide the requested information of group user name and group description, which is the text that will show on the top of the group's blog page. A group cannot have the same name as an existing user or the name of an existing series or sub-community at DK. Once a group is created, any kossack can be invited to join a group whether he/she is a TU or not.
Groups Organization
The purpose of groups is to assist kossacks with working on projects, diary series, blogathons as well as communities and sub-communities. As markos stated, "anyone can follow a group," but "joining a group means having content responsibilities for that group," such as writing and posting diaries, or running the queue. Markos explains that an invitation is needed to join a group:
Just like the front page, you have to be invited to join a group. Each group, I can guarantee, will be run differently, with different rules and guidelines for being invited. As it should be, IMO. This isn't a cookie-cutter thing, it'll be as free-wheeling as the blogosphere.
The Group is comprised of admins, editors and members.
Admin is the creator of the group, but can choose to ask another person to handle administration of the group. Admins add, remove and set privileges for users. After a person has been invited to join a group, the admin will add the person to the group and determine whether the person should be an admin, editor or member. The admin is also the person that can remove (ban) members from the group. The admin also has permissions granted editors.
Editors have permission to edit diaries in the queue or published to the group blog, post diaries to the group, view diaries queued for the group and read private messages sent to the group.
Members only have permission to post diaries to the queue and cannot view diaries queued or read private messages sent to the group. Thus, editors or admins will need to schedule or publish member's diaries directly to the group blog.
Markos explained that members is the role assigned to Featured Writers at DK:
This is how the Featured Writers operate on Daily Kos. They can put stuff in the queue, but it's up to either Barb or Susan to actually decide if and when that material will run on the front page.

Why do that? It's a good way to test someone out for a bigger role. You see a writer who has potential, but have no idea what their temperament is like, try them out as featured writers, without any editor pressures or potential for mischief making that those individuals would have if they had access to the queue.
Internal Group Rules
The DK4 system provides the technology for tools, but groups will have to decide how those tools are used: For example, just because editors have the capability to edit does not mean that all editors should have the right to edit. If a group has 50 editors, it might wish to limit editing rights to a handful of them.
This is what Markos does on the FP where "Featured Writers operate under a separate set of rules than editors who operate under a separate set of rules than the paid staff."
Right now, all my contributing editors can go into any of the others' diaries (including mine) and mess with their material. But they don't. And if they did, they'd get the boot. But we give every editor very specific instructions on what they can and can't do, and they follow the rules.
Publishing Group Diaries
Groups provide attribution to both the individual diarist and the group, and the diary is posted at both the individual diarist's blog page and the group's blog page. In this picture, the attribution is provided to the diarist aoeu and the group, called Test Group.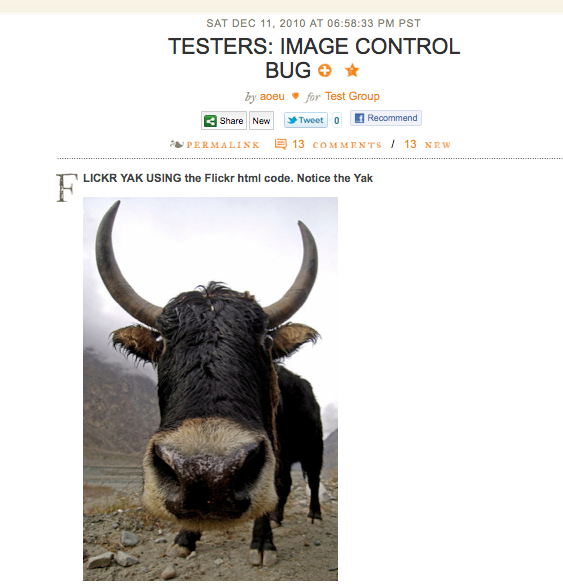 To publish a diary, just click onto "new diary" on the FP as you would for writing and posting any diary. Click onto preview to check out your great diary. If you want to publish your diary, click onto "publication manager."
This is a new diary interface with a new dialogue box of publication manager with 3 publishing options: publish to your own blog immediately, schedule to publish to your blog at a specified date and time, or send your diary draft to your group blog queue. After the group diary is in the group blog queue, then the group can manage posting from the queue with the options to schedule for posting at a later date or publish right away.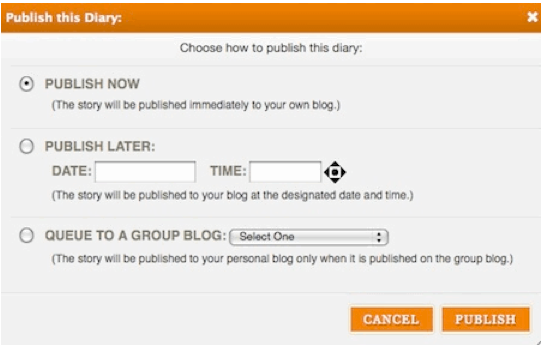 Deletion of Diaries
If a diary otherwise qualifies for deletion under DK rules, then a diarist can delete his/her diary, including any republication of that diary. Only a diarist can delete his/her diary: An admin "should be able to REMOVE a diary from her/his group, not delete."
Editing of Diaries
Blog admins and editors can edit draft or published diaries, but cannot edit republished diaries. If there is an accidental or wrongful edit, there is a tool to retrieve the prior text. DK3 (thanks sardonyx) has the tool of "previous story revisions" located at the bottom of our published diaries, and Markos says this tool should be available on DK4.
Finding Groups
On the FP navigation toolbar, click onto "groups" link and you end up on the Groups page, where you find 4 different lists for groups: Most recently created groups, the most followed groups, the groups most active this month, and the most prolific groups.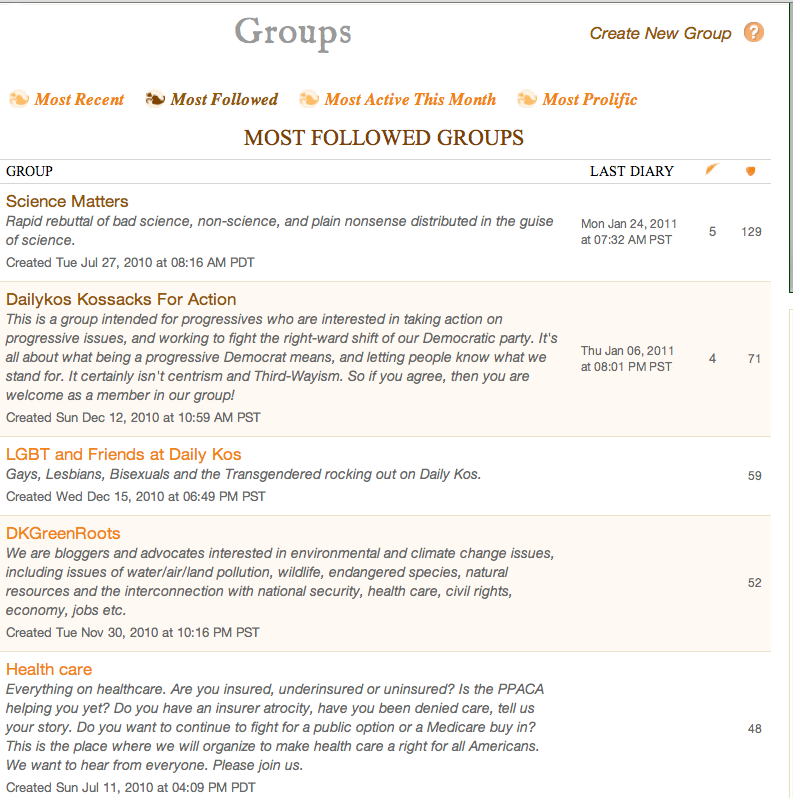 Each Group provides a description about their purpose so you can decide whether you would like to join.
It is not completed yet, but there will also be a search engine created to find groups too.
More Benefits of Groups
The Group has a blog page with the features that are used for the FP of DK, including the option of a custom header logo and posting of diaries on the Group's blog page. Groups will also be able to follow groups, tags, and diarists, but it might not be activated before DK4 is launched.
Groups can republish diaries it finds interesting to provide additional exposure of a diary to our community that follows your group. Republication is a type of Group diary rescue. Group editors "should be able to add an editor's note at the beginning to explain why the diary is being republished.
Groups may collaborate on diaries at the drafting stage where members can open the diary in the group queue and edit the draft diary.
Markos might "explore…later this year" the possibility of adding a google list type feature to DK4 for chats. And, Markos would "love to do calendars" for groups some time in the future.
Groups can be used for a variety of purposes. I asked Meteor Blades what he liked about groups:
"We're expecting that there will be a plethora of action-oriented, data-gathering groups. I'll be spending much of my time facilitating these groups where needed, putting them in contact with other groups that may have worked out glitches and logistical problems, as well as urging mergers or collaborations of groups doing similar projects. For me, this is one of the most exciting aspects of DK4."
Groups can be used to create databases and aggregators of news stories and documents of issues, people, policies, actions etc. And with DK4 search engines for groups (later) and tags, we can easily retrieve information rather than need to reinvent the wheel each time we blog as well as bring new voices to DK.
Meteor Blades will be busy. Here are two great ideas by kossacks.
Bruce Webb will use his Group of Social Security Defenders as an "aggregator/portal for all things Social Security," not just DK diaries, but also "off-site sources and advocacy groups" with the goal of becoming "THE point of nexus" for Social Security advocates. Olinda would like to see Groups used to create local groups for "Kossacks in my area to plan activist activities, meetups, or even personal activities, and get to know my neighbors."
Markos talked about how he will use groups:
I'll also keep an eye out on groups focusing on some of my other hobbies and interests -- immigration, vegetarianism, cycling, aquascaping, etc. I might even try to join a few and do some niche writing away from the front page.

But aside from how I will use them, I can't wait to see how others will.

I'm really looking forward to groups focused on local politics. In fact, a future revision of the site will allow us to suggest local groups to users based on their zip codes. We need to better strengthen local activist networks.

I also look forward to groups keeping an eye on what the Right is doing. For example, we want to launch a group that tracks and debunks right-wing email forwards (yeah, Snopes does it, but the more debunking, the merrier). We're also trying to talk Hunter into creating a group simply for reposting emails he gets from a wingnut church.
So, how will you use groups?
Additional resources on DK4:
DK4: Tips on Networking for Readers, Comments & Rec List
DK4 FAQ by sardonyx is a must read for all.
Using Groups in DK4 by elfling.
Markos posts:
DK4 open beta just days away, and why we did it
Daily Kos beta: On trolls and unlimited diaries
DK4 update and responses to more community concerns