As we travel we are changed by the people we meet, by the things we see and the things we do. We take a piece of a place into ourselves and become an owner of those memories. We make a small impact on the places we go, the people we talk to, and to a certain extent we leave a piece of ourselves to replace the much larger part we take with us. But the experiences, the impacts are infinitely great, unlimited enough that nothing we take limits what is left behind. I have traveled to Egypt at least every other year since 1986 (and once previous to that, in 1973). Over that time I have known many people, had many conversations more with people whose names I either never learned or don't remember. They probably don't remember me too well either. But they are a part of me, and I have been thinking of them more and more over the last several years. A few names and pictures.
Cairo did not start out to be my favourite place in Egypt. It is big, loud, sprawling, and polluted. And modern. I worked in small villages, on archaeological digs (although I was fortunate that the first dig I worked on was in the not-so-small town of Luxor, at the time a small corner of heaven that was friendly, knew the local archaeologists, and greeted us as we walked through the streets on our way home in the evenings). I stayed in village houses, made of mudbrick, milked a buffalo one afternoon (at least I tried to), and drank the milk fresh and hot and amazingly rich. I ate village bread. The bread in Cairo or that we bought from a bakery in Luxor was rough and gritty -- you could feel your teeth grinding down as you ate it. It was stone ground with the stone still in it. Pita bread, whole wheat with straw bits in it, I am sure. Bitter in flavour. It would stale up by the end of the day, and the bread we got at dinner was hard. But in the Delta in 1997 we got fresh bread cooked in a mud oven, heated with straw. The bread was the most amazing thing I ever ate.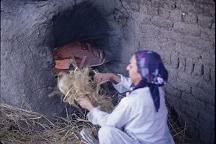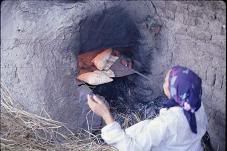 You couldn't buy this bread. You also couldn't buy "aysh shams" (literally "sun bread") in a store. It was made with whiter flour, left to rise in the sun, and then baked in a low cake which resulted in a tough crust, lots of bubbles inside of it... Better than any San Francisco sourdough you could imagine. The yeast used in this bread had been used for bread since the time that wheat had been growing in the sun as the kings sailed by on their way past the local temples on their way south to Nubia. When the local guard assigned to our site discovered we preferred it to anything we bought in town, he had his wife make it for us on a daily basis and we ate this marvelous bread for the last of three seasons we spent at our site in Upper Egypt.
That area, although along the Nile, was far from any tourist site and far from any city. The first two seasons we were there the village shop didn't even have plastic bags for its purchases, but that changed by the last season (1998). It was isolated, with houses just like they had been. Little concrete, but mudbrick (which is more comfortable -- cooler and warmer when you need it to be), and pigeon cotes. One day our Peugot we hired to take us from the city to our site broke down and my (female) friend and I got out and walked -- figuring that the car when it was fixed would come along the road and pick us up. As we were two women walking along the road, we were not a threat, and there was no one out who would have harrassed us. We were invited into a house by the side of the road where the woman was making yogurt in a goat skin swinging from a high tripod and being heated over a low fire. I got a few photos, but I don't think they turned out very well. I was too shy to get up close (even though I had their permission to take the pics) and I didn't have a zoom lens. They would exist somewhere in my thousands of photos of Egypt taken over the years. Many of the pictures, though, are the same over and over. They are of the light on the sand at the edge of the desert. Like this one, taken at Dahshur: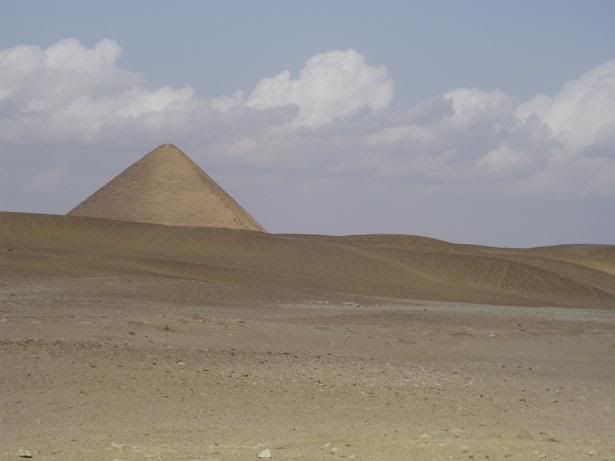 I spent one summer at a site among the pyramid fields of northern Egypt. It was lovely, but we were very isolated from the locals and were disliked -- it is the only time my car has been stoned as we drove through a village. But one did not spend the weekend at the site -- we were driven up to Cairo. So I spent every Friday in Cairo, bought myself a map, and walked and walked and walked around the city. From Zamalek south to Old Cairo (Roman Babylon) and the Coptic area. From Zamalek to the mosque of Ibn Tulun and the Gayer Anderson house. From Zamalek to Sultan Hasan mosque and the Citadel.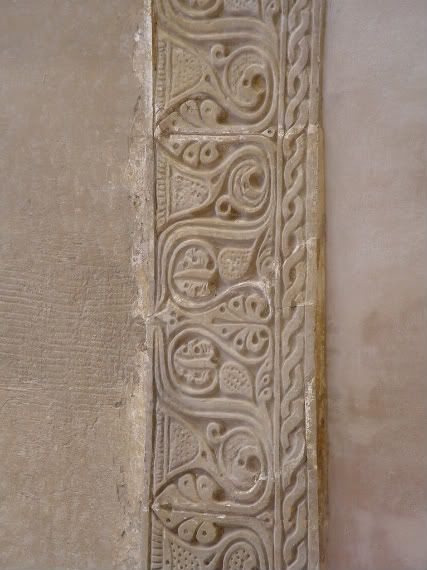 From Zamalek to the city of Al Qahira, and the spice market and the Khan el Khalili. Crowded streets and people who completely ignored me. I grew to love spending time on my own, walking and wandering and stopping when it was time to eat and getting a piece of pastry in a shop, drinking a 7Up from a street seller. And learning things that I had no where to read about. Summer in Cairo is hot. Winter in Cairo can be cold. But both have the feeling of a city that is incredibly alive.
And it is multi-layered. One of my favourite views recently is from the south, looking north toward Giza, across the Nile. You can see architecture that would have been right at home in the time of Khufu, along with smokestacks from brick kilns.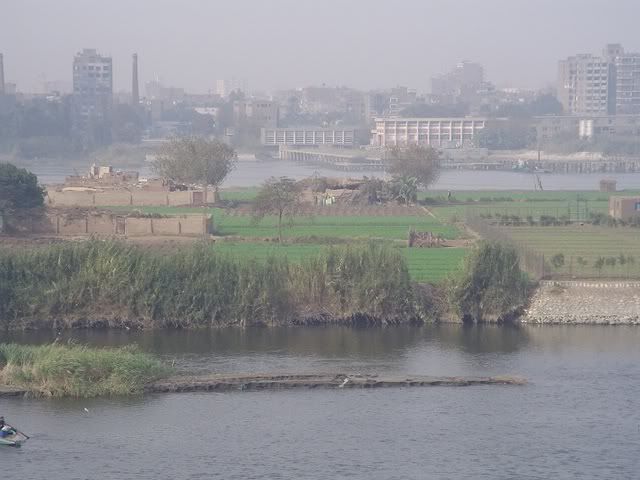 Yes, there are marvelous monuments there. Ancient sites, tombs that smell musty and temples that smell of bats. But they are all part of a living country. Yes, there is the romantic villages. But people live there. These are the women that helped a friend and I climb up into a Toyota pickup to give us a ride to the train station, when we were walking from Amarna. They are the people who shared their bread with us when we got on the local train that stopped in a remarkable number of local stops on the way to Minya.
They are the women who laughed at another friend and I in Luxor one day when we bought water jars of Qena clay and taught us how to arrange our scarves on our heads so we could carry our jars back to the dig house properly. This country is the one that produced a lovely man whom I have hired as a taxi driver every trip I have been on since 1995, who took my students to a cousin's wedding the first time I took students to Cairo, who sat with me on the top deck of a cruise boat (New Year's Eve on the river with bad buffet food and belly dancer! A way to welcome my students to Egypt) as I was in the cold rain, sobbing. So relieved to get to Egypt with the group intact (it was a question whether half my students would make it as there were flight delays for them). So upset at having spent a few days with a mother that I finally had to accept was starting to show clear signs of slipping away from us. The noise, the bright colours, the happy cheering of the crowds, all was too much. So I slipped away to rest, and found my way to an abandoned rainy deck, and he came to find me, trying to get me to tell him what was wrong. What he could do. It was a lovely thing, and he worked very hard to care for me, to cheer me, while dealing with the fact I had a flock of students with me. After I came back, I got an email from him. I have never answered it, but I have cherished it. And when I go back, I will write to him, perhaps to take him up on his offer to come and meet his family. To have him welcome me to Egypt without my students, to come and visit as a friend. I have written to his family's hotel, which is just two blocks off Tahrir Square, to tell them I am thinking of them and hoping they are well and safe. But I don't want to do anything more, to get anyone in trouble by having contacts abroad that might not be appropriate.
My foreign friends in Cairo are okay. They post occasionally on Facebook groups, and I got an email from one today asking me where a revision of an article was (long overdue, because I forgot I had to do it). So they are getting along.
But "my" Egypt -- the one of little pieces in my memory, of walking home through Karnak temple by the light of a full moon, of the chirping of sparrows on a hot afternoon when people are hiding from the sun, of being taken back into the kitchen area to meet the women and children of a house while the male archaeologists have the much more boring job of dealing with the men of the household and make small talk about the dig and the television, etc. Of wandering the streets of Sohag in the evening and buying ice cream, knowing it wouldn't be very good but wanting the coolness and sweetness anyway. Of the view from the cliffs at the site -- the view that clearly was the most attractive feature to those who built a large building in a difficult-to-access place that commands the valley for ten miles or so to the north and south.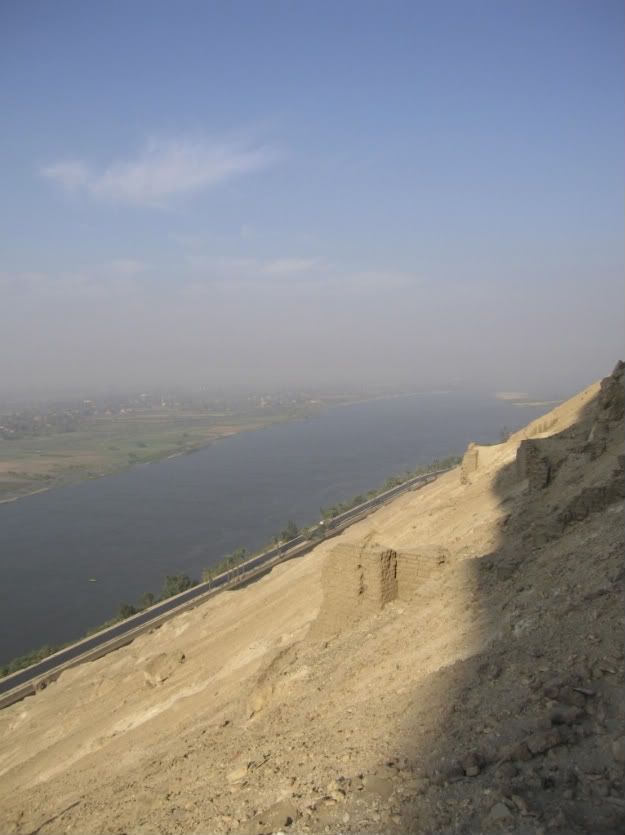 Of the wonderful smells (even if they aren't nice ones) of a city a thousand years old, or a tomb that is three or four or even five thousand years old. The rocks from pyramids scattered in the desert on which you can see quarry marks that are 4500 years old: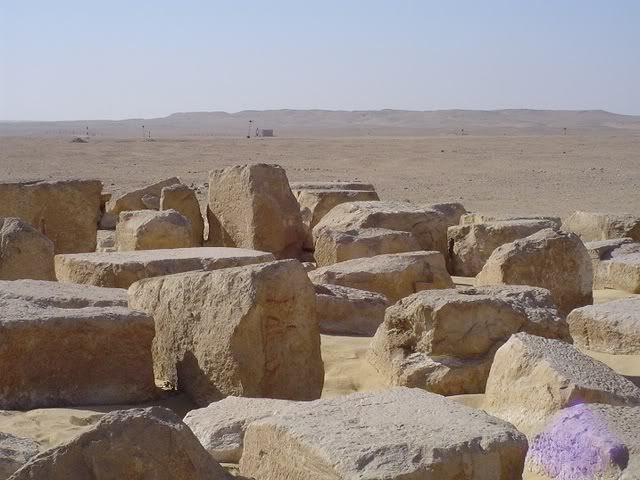 When I went to Egypt in 1973, I remember thinking that the palm groves would have been the perfect place for a brontosaurus to come padding through. They still look primitive to me. And would be welcoming to the local vegetarian dinosaurs. I was 11 and this is what I remember about Egypt.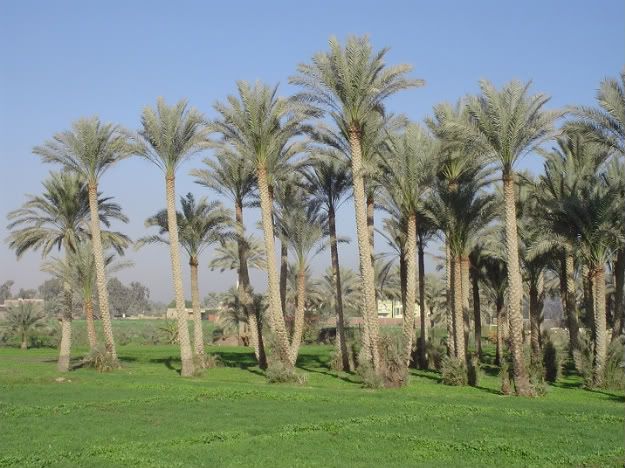 That is part of "my" Egypt as well.