No one could have imagined that drilling deep holes and pumping down a pressurized heavy, dense slurry of chemicals designed to fracture the overburden and underlying rock formations along a KNOWN EARTHQUAKE FAULT would cause a problem.
And yet, just a few months and 800 "seismic events" after fracking began in northern Arkansas, people are beginning to suspect that it might not be such a great idea. Even the politicians are taking note and the Arkansas Oil and Gas Commission imposed an emergency stoppage on the drilling of new injection wells in the central part of the state. For now. The moratorium will expire in July. And the order only halted work at sites that started in December, 2010. Those in operation before then are still in use.
Ironically, this year marks the bicentennial of the New Madrid earthquakes, a series of earthquakes estimated to have been over 8.0 on the Richter scale rocked America's western frontier in 1811 and 1812.
New Madrid Seismic Zone
The New Madrid seismic zone covers seven states. At the time of the last major quakes the population of this area was still sparse. St. Louis had about 1,200 people, all living in the rock-based Laclede's Landing area, now near the Arch and the river. The future Memphis would not be handed over from the Chickasaws until 1818. Settlers were mostly illiterate, but the following account was pieced together from newspaper reports and personal narratives.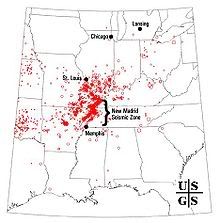 The New Madrid Seismic Zone (NMSZ) lies directly above an ancient failed rift, the Reelfoot rift. About 550 million years ago, a rift began to form under the present day site of New Madrid.
For unknown reasons, the rift failed and subsequently became filled with sediment. Similarly, 180 million years ago, as the Atlantic Ocean began to open, a rift developed near present day Charleston. This rift was successful. Over the next 180 million years, the margin of continental North America moved thousands of kilometers away from the spreading center, but the crust around Charleston, known as a passive margin, remains faulted.
The New Madrid fault system is a series of faults several miles below the surface. Experts say we're overdue for a "6" like the one in 1895 which shook down buildings in the Charleston, Mo. area. The "big ones" of 1811-12 were probably "8"s, accompanied by a few thousand smaller ones over 4-6 months.
New Madrid Earthquakes
The New Madrid event began about 2a.m. on December 16, 1811, with a violent shock that threw sleepers from their beds. Centered near present-day Blytheville, Arkansas, the quakes affected the entire Mississippi and Ohio river valleys. Not long sunrise, as the bleeding, terrified survivors began to venture out of their homes, an aftershock of equal power ripped through the area. In New Madrid it opened cracks in the earth and spewed mud, liquid sand, and sulfurous gases. Quakes followed all day, with sinkholes swallowing houses, trees being thrown like twigs in the air, and wild and domestic animals running around in terror.
Tremors continued daily until the next major event. Five weeks later, about 8 a.m. January 23, 1812, another big shake struck, north of Caruthersville, in the Missouri bootheel. The towns of Point Pleasant and Little Prairie completely crashed into the river and were swept away without a trace.
Perhaps the biggest quake came two weeks later, in the early hours of February 7th, 1812. The dip-slip motion may have produced the strongest quake ever recorded in the United States. Researcher Otto Nuttli wrote that this quake caused 60 miles of the New Madrid Fault to rupture. This caused waterfalls on the Mississippi, and the river to run backwards for several hours, in the river bends just northeast of New Madrid. This quake also created Reelfoot Lake in Northwest Tennessee.
According to historian Francis Hunter:
Finally, on February 7, 1812, came the "big one." Centered in the town of New Madrid itself, it is estimated to have been at least 8.8 on the Richter scale–ten times as powerful as the San Francisco earthquake of 1906. For several days prior to the quake, a survivor recorded, the earth had quivered continuously "like a side of freshly killed beef." At 3:15 a.m., the earthquake exploded. Instantly, a tsunami from the river roared through the town, wrecking everything that was left and killing an unknown number of people. The quake was so powerful that within three minutes, church bells were ringing and walls were cracking as far away as Charleston, Washington, and Boston. The quake itself lasted an ungodly fifteen minutes. For several hours that followed, the Mississippi River ran backwards. Two temporary waterfalls lasted for days. Needless to say, even the sturdiest brick and stone homes were tumbled from their foundations for miles around. St. Louis and Louisville suffered major damage. Aftershocks hammered the country for days.

About of a population of about 15,000 in the affected area, about a thousand people were killed and at least 2000 were homeless refugees. Besides the loss of life was the physical damage. Five settlements, one military fort, and countless Indian villages were completely gone. In many places, the land itself was completely destroyed, covered with sand boils, fissures, and crevasses. Dead trees were everywhere. Swamps had been lifted, good land submerged, and huge new lakes formed.

The United States had never experienced a disaster of such magnitude.

From an account of survivor Elizabeth Bryan of New Madrid:

There were several shocks of a day, but lighter than those already mentioned until the 23d of January, 1812, when one occurred as violent as the severest of the former ones, accompanied by the same phenomena as the former. From this time until the 4th of February the earth was in continual agitation, visibly waving as a gentle sea. On that day there was another shock, nearly as hard as the proceeding ones. Next day four such, and on the 7th about 4 o'clock A.M., a concussion took place so much more violent than those that had proceeded it, that it was dominated the hard shock. The awful darkness of the atmosphere, which was formerly saturated with sulphurious vapor, and the violence of the tempestuous thundering noise that accompanied it, together with all of the other phenomena mentioned as attending the former ones, formed a scene, the description of which would require the most sublimely fanciful imagination.

At first the Mississippi seemed to recede from its banks, and its waters gathering up like a mountain, leaving for the moment many boats, which were here on their way to New Orleans, on bare sand, in which time the poor sailors made their escape from them. It then rising fifteen to twenty feet perpendicularly, and expanding, as it were, at the same moment, the banks were overflowed with the retrogade current, rapid as a torrent - the boats which before had been left on the sand were now torn from their moorings, and suddenly driven up a little creek, at the mouth of which they laid, to the distance in some instances, of nearly a quarter of a mile. The river falling immediately, as rapid as it had risen, receded in its banks again with such violence, that it took with it whole groves of young cotton-wood trees, which ledged its borders. They were broken off which such regularity, in some instances, that persons who had not witnessed the fact, would be difficultly persuaded, that is has not been the work of art. A great many fish were left on the banks, being unable to keep pace with the water. The river was literally covered with the wrecks of boats, and 'tis said that one was wrecked in which there was a lady and six children, all of whom were lost.

In all the hard shocks mentioned, the earth was horribly torn to pieces - the surface of hundreds of acres, was, from time to time, covered over, in various depths, by the sand which issued from the fissures, which were made in great numbers all over this country, some of which closed up immediately after they had vomited forth their sand and water, which it must be remarked, was the matter generally thrown up. In some places, however, there was a substance somewhat resembling coal, or impure stone coal, thrown up with the sand. It is impossible to say what the depths of the fissures or irregular breaks were; we have reason to believe that some of them are very deep.

The site of this town was evidently settled down at least fifteen feet, and not more than a half a mile below the town there does not appear to be any alteration on the bank of the river, but back from the river a small distance, the numerous large ponds or lakes, as they are called, which covered a great part of the country were nearly dried up. The beds of some of them are elevated above their former banks several feet, producing an alteration of ten, fifteen to twenty feet, from their original state. And lately it has been discovered that a lake was formed on the opposite side of the Mississippi, in the Indian country, upwards of one hundred miles in length, and from one to six miles in width, of the depth of ten to fifty feet.

Denial: Not Just a River in Egypt
While the quake history of New Madrid is well-known, you couldn't tell it by looking at the behavior of "responsible" parties in the area. The population of the area today is five million. While some cities are built on bedrock, others, like Memphis, are built on soil known to liquify during earthquakes. However, almost none of the cities that would be most directly impacted have building codes that are adequate for earthquake readiness because such requirements are deemed "too expensive."
Today an 800-foot power generation smokestack in St. Jude Industrial Park at Marston (just south of New Madrid, good photo) marks the approximate center of that quake. This could someday become a monument to dumb engineering. There are others.
An AECI - Associated Electric - power plant worker told us they feel a quake in the plant about once a month, amid the turbines and industrial atmosphere, but "everyone is used to it." The power plant employs 200, and can burn a train load of coal per day. A huge Noranda aluminum processing plant alongside, directly employs more than 1100 people.
According to the USGS,

The New Madrid Seismic Zone, midway between St. Louis and Memphis, has a history of shaking violently, about every 500 years. When it shook for three months in 1811-12, this was the western frontier, and the population was sparse. If it shook with that magnitude again, the devastation would make Hurricane Katrina look "like a Sunday School picnic."
Planners expect sections of I-55 which connects St. Louis and Memphis to be unusable in the Bootheel after a major quake because of liquefaction on roads and bridges. Rail, air, trucking, river distribution of goods in Memphis area is key to the nation. In addition. major refined oil and natural gas pipelines run through the area, connecting the petroleum fields of Louisiana and Oklahoma to the chilly northeastern states. The Missouri Emergency Planning says three major lines run through the Missouri bootheel.
The New Madrid bicentennial and the increased seismic activity has sparked some additional interest in emergency planning. The Great Central U.S. Shakeout will be held on April 28. Sponsored b y FEMA, the USGS, the Red Cross, the Central U.S. Earthquake Consortium - CUSEC, Ready America, and the National Earthquake Hazards Reduction Program, the ShakeOut
will focus on how to protect yourself during earthquakes and to get prepared. The ShakeOut already has more than 880,000 registered participants
Another exercise, the National Level Exercise 2011, will be May 16-20, 2011. Coordinated by of the Central US Earthquake Consortium, the purpose of National Level Exercise 2011 (NLE 2011) is to prepare and coordinate a multiple-jurisdictional integrated response to a national catastrophic event – specifically a major earthquake in the central United States region of the New Madrid Seismic Zone (NMSZ).
NLE 2011 will involve thousands of government officials at the federal, state, local and tribal levels, members of the private sector, and the general public. Participants will conduct simultaneous, related exercise activities at command posts, emergency operation centers and other locations in the Washington D.C. area and the eight affected central U.S. states (Alabama, Arkansas, Illinois, Indiana, Kentucky, Mississippi, Missouri, and Tennessee). The functional exercise will offer agencies and jurisdictions a way to validate their plans and skills in a real-time, realistic environment and to gain the in-depth knowledge that only experience can provide.
Further Information
- You can read Elizabeth Bryan's complete account here.
- An interesting compilation of eyewitness accounts collected by U.S. Representative Samuel L. Mitchill and published in the Transactions of the Literary and Philosophical Society of New York (vol. 1, pp. 281-307) is available here
- Compilation of newspaper accounts of the earthquakes is here.
- A survivor's Account from the Boston Weekly Messenger, is here.
- And a fascinating account of Chief Tecumseh's prophecy of the exact date and location of the New Madrid earthquakes is at here.
UPDATE: Poycer has an excellent diary up on fracking here.

Send in Your Nominations
Before you rush off to check your seismometer, here is a word from our sponsors. . . .

We have so many insightful and powerful diaries written here at Daily Kos. Our diaries inform, inflame, impassion, and even entertain. We Kossacks have strong voices and an even stronger will to be the change we wish to see in this country.




One of the richest, and perhaps most under-appreciated, areas of thought come in the form of comments attached to these diaries.




Here at Top Comments we strive to recognize and promote the talent of this community by highlighting outstanding comments found throughout the day by the diarist, and through nominations by other Kossacks. So when you find a comment that enlightens, entertains, or encourages, send it to:
topcomments at gmail dot com.




Comments should get to the inbox by 9:30 EST to be included that day (but we will carry over later ones). Don't forget to include your Dkos screename, a link to the nominee, and a brief comment about why you think it is a Top Comment.



Tonight's Top Comments
From bronte17:

Meteor Blades lays bare what class warfare really is in a diary of charts (each one worth those 1,000 words) Shared Sacrifice: Why some are Sharing more than Others --some charts by jamess.

From
trashablanca
:
jorogo makes a reply in his own diary that's a perfect slogan for the (Honey)Badger State liberals.

From
Hedwig
:
With edscan continuing to mail Kos and Kos putting that in the weekly hate mail...which I'm not sure why...there's always a few good ones about Ed...this week a comment by 88kathy cracked me up.

From
sardonyx
:
In teacherken's diary No wonder health costs are so high, hannah has a pair of comments: the first, reprinting a comment she made earlier in the day in nyceve's diary, and then some additional thoughts posted immediately thereafter.

From
me
:
nonnie9999 shows her support for Wisconsion protesters.

Commenting on Boehner's refusal to allow the remains of World War I veteran Frank Buckles to be honored at the Capital Rotunda, ZedMont explains it is a perfect example of the Repub attitude toward our soldiers.

hannah nails the practitioners of human husbandry that is the Republcan prison-industry complex in States' Brilliant Budget Solution: Sacrifice Public Education to Spend More on Ineffective Prisons.