Monday arrived again right on time. The time has come to gather around and take a well deserved hiatus from the politics of the day. Science talk is here. New discoveries, new takes on old knowledge, and other bits of news are all available for the perusing in today's information world. Over the fold are selections from the past week from a few of the many excellent science news sites around the world. Today's tidbits include scientists track great hammerhead shark migration, climate change causing demise of lodgepole pine in western North America, new implications of perennial crops for biofuel, the application of human cells in spinal cord injury, Arctic phytoplankton blooms occurring up to 50 days early, some Antarctic ice is forming from the bottom, rising CO2 is causing plants to release less water to the atmosphere, and researchers demonstrate the use of proteins as raw material for biofuels. Gather yourselves around. Pull up that comfy chair and sit by the fire. There is plenty of room for everyone. Get ready for one more session of Dr. Possum's science education and entertainment.
Featured Stories
Some parts of the mystery of the great hammerhead shark are being resolved as scientists apply technology to tracking the creatures.
This preliminary study is part of a larger effort by (researcher) Hammerschlag to satellite track tropical sharks to identify hotspots — areas that are important for feeding, mating, and pupping — and to document their largely unknown migration routes. In the last year, the (research) R.J. Dunlap team has tagged the fins more than 50 large and environmentally threatened sharks in Florida and Bahamas, among them great hammerhead, bull and tiger sharks.

The great hammerhead shark is listed as endangered in the northwest Atlantic and Gulf of Mexico by the International Union for Conservation of Nature (ICUN) due to a suspected population decline of nearly 50 percent over the last 10 years. The shark is found in tropical waters worldwide and is under threat of extinction due to overfishing for its large fins, which are prized for shark fin soup, and from accidental bycatch from commercial fishing operations.
The lodgepole pine is a hardy species which thrives in cold climates.
Lodgepole pine ecosystems occupy large areas following major fires where extreme cold temperatures, poor soils and heavy, branch-breaking snows make it difficult for other tree species to compete. This includes large parts of higher elevation sites in Oregon, Washington, the Rocky Mountains and western Canada. Yellowstone National Park is dominated by this tree species.

However, warming temperatures, less winter precipitation, earlier loss of snowpack and more summer drought already appear to be affecting the range of lodgepole pine, at the same time increasing the infestations of bark beetles that attack this tree species.

The researchers concluded that some of these forces have been at work since at least 1980, and by around 2020 will have decreased the Pacific Northwest range of lodgepole pine by 8 percent. After that, continued climatic changes are expected to accelerate the species' demise. By 2080, it is projected to be almost absent from Oregon, Washington and Idaho, some of the areas facing the most dramatic changes.
The continuing search for alternate fuel sources including biofuels brings a new focus on perennial grasses as a source of material for conversion to ethanol.
In their study, the researchers simulated an entire growing season with a state-of-the-art regional climate model. They ran two sets of experiments – one with an annual crop representation over the central United States and one with an extended growing season to represent perennial grasses. In the model, the perennial plants pumped more water from the soil to the atmosphere, leading to large local cooling.

(snip)

The primary physical process at work is based on greater evapotranspiration (combination of evaporated water from the soil surface and plant canopy and transpired water from within the soil) for perennial crops compared to annual crops.
Spinal cord injury in both humans and animals is a major source of concern and cause of disability.
For the first time, scientists discovered that specific human cells, generated from stem cells and transplanted into spinal cord injured rats, provide tremendous benefit, not only repairing damage to the nervous system but helping the animals regain function as well.

(snip)

There is one caveat to the finding – not just any old astrocyte will do. Using cells known as human fetal glial precursor cells, researchers generated two types of astrocytes by switching on or off different signals in the cells. Once implanted in the animals, they discovered that one type of human astrocyte promoted significant recovery following spinal cord injury, while another did not provide any benefit.
If, when, and where this research will lead is not yet obvious but the potential is truly exciting.
Warmer temperatures may be the cause of earlier phytoplankton bloom in the Arctic.
The earlier Arctic blooms have roughly occurred in areas where ice concentrations have dwindled and created gaps that make early blooms possible...

(snip)

During the one- to two-week spring bloom, which occurs in warm as well as cold regions, a major influx of new organic carbon enters the marine ecosystem through a massive peak in phytoplankton photosynthesis, which converts carbon dioxide into organic matter as part of the global carbon cycle. Phytoplankton blooms stimulate production of zooplankton, microscopic marine animals, which become a food source for fish.
The eventual effect on the Arctic food chain remains to be seen.
Scientists in some of the remotest areas of the Antarctic have found ice formation occurs from the bottom up in some places.
The scientists found that refrozen ice makes up 24% of the ice sheet base around Dome A, a 13,800-foot-high plateau that forms the high point of the East Antarctic ice sheet, at 3.8 million square miles roughly the size of the continental United States. In places, slightly more than half the ice thickness appears to have originated from the bottom, not the top. Here, rates of refreezing are greater than surface accumulation rates. The researchers suggest that such refreezing has been going on since East Antarctica became encased in a large ice sheet some 32 million years ago. They may never know for sure: the ice is always moving from the deep interior toward the coast, so ice formed millions of years ago, and the evidence it would carry, is long gone.

Deeply buried ice may melt because overlying layers insulate the base, hemming in heat created there by friction, or radiating naturally from underlying rock. When the ice melts, refreezing may take place in multiple ways, the researchers say. If it collects along mountain ridges and heads of valleys, where the ice is thinner, low temperatures penetrating from the surface may refreeze it. In other cases, water gets squeezed up valley walls, and changes pressure rapidly. In the depths, water remains liquid even when it is below the normal freezing point, due to pressure exerted on it. But once moved up to an area of less pressure, such supercooled water can freeze almost instantly. Images produced by the researchers show that the refreezing deforms the ice sheet upward.
The rise in CO2 levels in the past 100 or so years has caused a decrease in the number of plant pores available to release water to the atmosphere.
Most plants use a pore-like structure called stomata (singular: stoma) on the undersides of leaves to absorb carbon dioxide from the air. The carbon dioxide is used to build sugars, which can be used by the plant as energy or for incorporation into the plants' fibrous cell walls. Stomata also allow plants to "transpire" water, or release water to the atmosphere. Transpiration helps drive the absorption of water at the roots, and also cools the plants in the same way sweating cools mammals.

If there are fewer stomata, or the stomata are closed more of the day, gas exchange will be limited -- transpiration included.
As the use of lipids and carbohydrates as substrates continues to evolve researchers have now shown how proteins may be put to the same usage.
In nutrient-rich conditions, proteins are the most abundant component in fast-growing microorganisms. The accumulation rate of proteins is faster than that of any other raw materials, including cellulose or lipids. In addition, protein does not have the recalcitrance problems of lignocellulose or the de-watering problem of algal lipids. Protein biomass can be much more easily digested to be used for microorganisms than cellulosic biomass, which is very difficult to break down.

Further, cellulose and lipids don't contribute to the process of photosynthesis. But proteins are the major component of fast-growing photosynthetic microorganisms.
Since many proteins cannot be used for food, processing these proteins into biofuels may one day become a reality.
...the culture area needed to produce 60 billion gallons of biofuels (30 percent of the United States' current transportation fuel) based on the new technology could be as little as 24,600 square kilometers — equivalent to 1.9 percent of the agricultural land in the U.S.
Other Worthy Stories of the Week
The art of acid mine drainage
Dry lake reveals evidence of Southwest 'megadroughts'
Metals strong as steel, moldable as plastic
Migrating sea turtles have magnetic sense for longitude
New hope for one of the world's rarest chameleons
Drier conditions predicted to accelerate dust storms in the southwest
Scientists unravel the mysterious mechanics of spider silk
The role of fish in ocean sediment in the world's oceans
How severe can climate change become?
Measuring methane gas from cattle flatulence
Birth of a baby planet
New insights into early eye evolution
Thd dusty disc of NGC247
Four new species of zombifying ant fungus found
Ancient creatures trapped parasites in pearls
Mystery of the missing sun spots solved
Oldest objects in the universe indicate a turbulent beginning
Genetic analysis reveals history, evolution of morels
Mapping human vulnerability to climate change
Satellites see evidence of one-two asteroid punches on Mars
Meterorite tells of how planets are born in a swirl of dust
California islands give up evidence of early seafaring
Human ancestors lived on shaky ground
Environmental impact of animal waste
NASA Earth observation satellite fails to reach orbit
No such thing as a dormant volcano
Reviving 100-year old resting spores of diatoms
Exploring the magnetic personalities of stars
For even more science news:
General Science Collectors:
Alpha-Galileo
BBC News Science and Environment
Eureka Science News
LiveScience
New Scientist
PhysOrg.com
SciDev.net
Science/AAAS
Science Alert
Science Centric
Science Daily
Scientific American
Space Daily
Blogs:
A Few Things Ill Considered Techie and Science News
Cantauri Dreams space exploration
Coctail Party Physics Physics with a twist.
Deep Sea News marine biology
Laelaps more vertebrate paleontology
List of Geoscience Blogs
ScienceBlogs
Space Review
Techonology Review
Tetrapod Zoologyvertebrate paleontology
Science Insider
Scientific Blogging.
Space.com
Wired News
Science RSS Feed: Medworm
The Skeptics Guide to the Universe--a combination of hard science and debunking crap
At Daily Kos:
This Week in Science by DarkSyde
Overnight News Digest:Science Saturday by Neon Vincent. OND tech Thursday by rfall.
Pique the Geek by Translator Sunday evenings about 9 Eastern time
All diaries with the DK GreenRoots Tag.
All diaries with the eKos Tag
A More Ancient World by matching mole
Astro Kos
SciTech at Dkos.
NASA picture of the day. For more see the NASA image gallery or the Astronomy Picture of the Day Archive.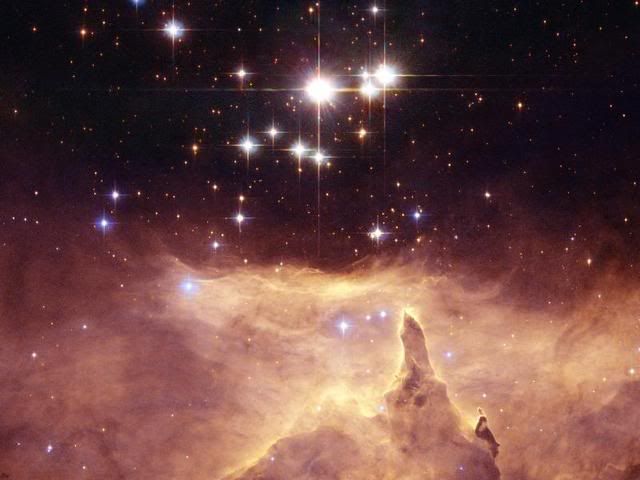 NGC6357, NASA, Public Domain