Women in the World Live Stream Finale
Hello everyone. March is Women's History Month. Today is the last day of The Daily Beast and Newsweek's second annual Women in the World Stories and Solutions summit
where extraordinary leaders from every field will come together: Brave dissidents speaking out against tyranny and cruelty; dedicated journalists trying to tell the truth in countries where it is a deadly vocation; foreign correspondents at risk in the vortex of wars and revolution; resourceful entrepreneurs launching self-sustaining businesses in the teeth of cultural and political resistance.

At the heart of this summit lies Newsweek and The Daily Beast's commitment to report the potent stories that are often ignored. We want to inform fairly but frankly, too, we want to provoke action.

On our opening night, we will meet firebrands from the tumult for democracy who talk with Christiane Amanpour. Then, we will hear from a powerful advocate for women, Melinda Gates. And at a special dinner event, President Bill Clinton will bring his uniquely informed perspective to the events shaking our world.


On Saturday, we are excited to welcome former Chilean President Michelle Bachelet, who will talk with Barbara Walters about her first 100 days as the new director of U.N. Women.

Some narratives we will present are touching, others astounding: Sokha Chen, who was found three years ago scavenging on a trash heap in Phnom Pehn, is now a star student and dancer; Divya Keshav turned around her father's printing business in Delhi, inspiring a new generation of young Indian business women; Dr. Amy Lehman will tell us about building a floating clinic that will reach up to three million people in Africa.
Secretary Clinton's Keynote Speech
In an electrifying keynote address at Friday's Women in the World summit, Hillary Clinton spoke about one of the great "unfinished businesses" of human history: The full emancipation and equality of women.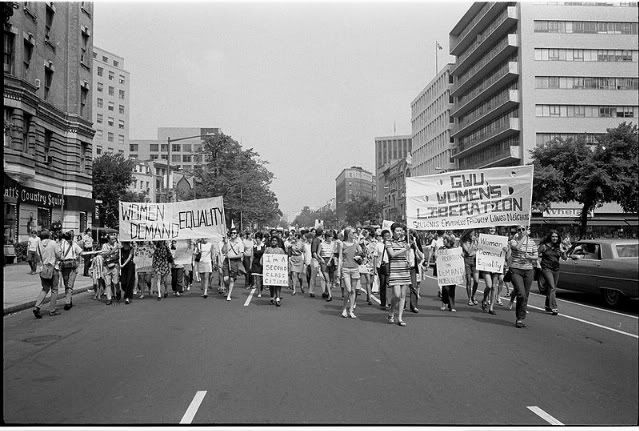 A Women's Liberation march in Washington, D.C., 1970. (Wikipedia.)
The public celebration of women's history in this country began in 1978 as "Women's History Week" in Sonoma County, California. The week including March 8, International Women's Day, was selected. In 1981, Sen. Orrin Hatch (R-Utah) and Rep. Barbara Mikulski (D-Md.) co-sponsored a joint Congressional resolution proclaiming a national Women's History Week. In 1987, Congress expanded the celebration to a month, and March was declared Women's History Month.


Presidential and Congressional Support




Rep. Barbara Mikulski (D-Md.)

The first steps toward success came in February 1980 when President Carter issued the first Presidential Proclamation declaring the Week of March 8th 1980 as National Women's History Week. In the same year, Representative Barbara Mikulski, who at the time was in the House of Representatives, and Senator Orrin Hatch co-sponsored a Congressional Resolution for National Women's History Week 1981. This co-sponsorship demonstrated the wide-ranging political support for recognizing, honoring, and celebrating the achievements of American women.


Presidential Message 1980



President Jimmy Carter's Message to the nation designating March 2-8, 1980 as National Women's History Week.

"From the first settlers who came to our shores, from the first American Indian families who befriended them, men and women have worked together to build this nation. Too often the women were unsung and sometimes their contributions went unnoticed. But the achievements, leadership, courage, strength and love of the women who built America was as vital as that of the men whose names we know so well.
Photos



Women supporting the Equal Rights Amendment demonstrate in front of the Statue of Liberty on August 10, 1970. Nearly 100 women from various women's liberation groups participated in the demonstration. Shortly after noon, park rangers made the women remove the banner from the base of the statue. (AP Images)





Victorian Postcard. (Wikipedia.)





March 8 rally in Dhaka, organized by Jatiyo Nari Shramik Trade Union Kendra (National Women Workers Trade Union Centre), an organization to the Bangladesh Trade Union Kendra. Photo: Soman. (Wikipedia.)


The 1932 Soviet poster dedicated to the 8th of March holiday.

The red text reads:

The 8th of March: A day of rebellion by working women against kitchen slavery.
The grey text in lower right reads:

Say NO to the oppression and vacuity of household work!"


"For the Women's House" by Faith Ringgold




Women's Liberation!