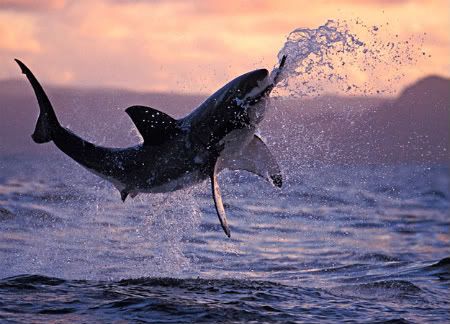 Carcharodon carcharias
, more commonly known as the
great white shark
, is the largest predatory fish in the oceans. It is typically found in coastal waters between about 54 and 75 degrees Fahrenheit. The great white shark inhabits the epipelagic zone, also known as the sunlit zone, which is the top "layer" of the oceans: The section of water from the surface of the sea down to approximately 200 metres. The lighting this close to the surface is sufficient to allow visual predators such as the great white to
use their eyesight
as they hunt their prey. Despite the scary movies and occasional horror stories found in the news, humans are not the shark's preferred cuisine; rather, the adult great white primarily
seeks out
marine mammals to prey on and large animal carcasses to scavenge from.
Whatever one's personal feelings about great whites, they are undeniably a valuable part of the ecosystem. As a high level predator, a severe depletion in great white populations could lead to an explosion in the populations of marine organisms lower in the food chain, which could in turn alter the ecology of the entire area.
Already considered vulnerable by the International Union for the Conservation of Nature, a potentially alarming new study indicates that there are significantly fewer great white sharks inhabiting the waters near the California coast than scientists had previously believed.
The San Francisco Chronicle is reporting that biologists believe only 219 full-grown or near-grown adults populate the coastal waters between Bodega Bay and Monterey each fall.

University of California, Davis researcher Taylor Chapple says he's surprised by the low number of great whites counted in the first-ever census of the marine predators.

The results are being published this week in the journal Biology Letters.
The researchers used high-resolution photos of the sharks taken over three years to determine their number.
Though the number of sharks came as a surprise to researchers, it is yet unclear whether the low number is due to a natural trend, or whether other factors are at work.
"This low number was a real surprise," said lead author and doctoral student Taylor Chapple in a UC Davis press release.

"It's lower than we expected, and also substantially smaller than populations of other large marine predators, such as killer whales and polar bears. However, this estimate only represents a single point in time; further research will tell us if this number represents a healthy, viable population, or one critically in danger of collapse, or something in between."

[. . .]

"The decline of sharks in the global oceans underscores the need for careful assessment and monitoring of remaining populations," the researchers wrote in the study.
Hopefully further research will shed some light on the cause(s) of the unexpectedly low shark population, and will determine whether the current trend will be reversed.