Days after the government switched from search and rescue operations to recovery operations, and after teams of foreign SAR personnel had abandoned further effort as fruitless, Abe Sumi, (80) and her grandson Jin (16) were pulled from the rubble of their house in Ishinomaki Japan today. They spent a total of 9 days trapped there in freezing temperatures and somehow managed to survive. Their house, as the map below shows, was right by the shore and must have been in one of the hardest hit areas of the district: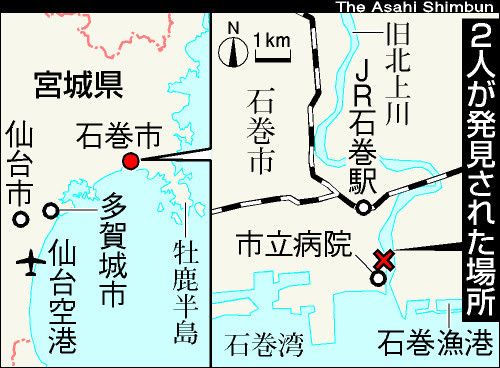 Location of Abe House, Ishinomaki Japan (Asahi Shimbun)
That they managed to survive at all, let alone for nine days in the cold, is quite simply amazing. According to the Ishinomaki hospital, they reported that they were trapped under the rubble of their house, but that somehow managed to make some space. As luck would have it, they were within reach of a refrigerator and managed to subsist off water, cola and yogurt. How they were not killed by the tsunami in this location, I have no idea.
Let us hope that they can put this ordeal behind them and make something of the remainder of the lives so miraculously extended well beyond the point of any reasonably hope.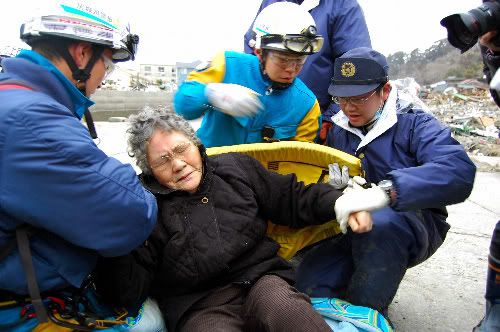 Abe Sumi, 80, is helped by rescue workers (Asahi Shimbun)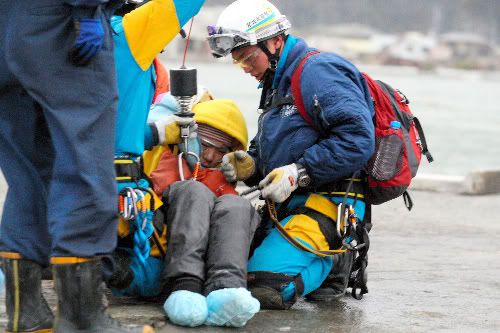 Abe Jin (16) is prepared for evacuation (Asahi Shimbun)
As happy and inspiration as this story is, let us not forget that the Abes and all of the other survivors of these disasters are still in a desperate situation. People are dying for want of basic provisions and care. One hospital within the area affected by the ongoing crisis at the Fukushima nuclear plant had to evacuate and could find no other hospital to take its patients. They were moved to one of the make-shift shelters in a school gymnasium. Two of them died in transit and twelve more died in the awful conditions of the shelter.
"We feel very helpless and very sorry for them,"Inamura [Chuei, a Fukushima municipal official] said. "The condition at the gymnasium was horrible. No running water, no medicine and very, very little food. We simply did not have the means to provide good care."
Also please note that Kossack pvmuse is in touch with the people at ShelterBox and has very generously offered to match donations given by the people in the DailyKos Community for up to $500. Journeygirl and I have already pledged $100. We need people to pledge to get us up to the $500 mark. If you can spare anything, even five or ten dollars, no amount is too small. Please give all that you can.
These people need our help.
We can do some real good here.
Japan Disaster Relief Donations
the Japan Earthquake and Tsunami Information and Assistance group.