Group rides are so much fun! It's a chance to meet others with your passion for cycling. It's a good way to discover new routes or explore new areas you might not venture into on your own. It's a good way to increase your speed and stamina.
Many organizations sponsor group rides. Aside from cycling clubs, you'll see group rides posted on AMC Outdoors, at REI, at Sierra Club, at bike shops, on community bulletin boards. I divide group rides into two basic types: training and social. Training rides usually focus on a targeted pace for a set number of miles. Social rides usually focus on relaxed sightseeing, making friends, and learning about a community. This diary will focus on social rides, since I have more experience in this type of group ride. Anybody who wants to write about training rides, please let me know.
Social Rides
Social rides are about getting out and having fun on your bike. A listing might look like this:
DATE: Name (email/phone) will lead a ride starting at the City Park information booth at 10 am. Will follow road and bike path, stopping at historic hot dog stands. Rolling hills, starting and ending on the flat. 25 miles, 10-12 mph. Helmets required.
Not sure if this is right for you? Email or phone the leader and ask. For some social rides there's a policy of being open to all abilities, but if you've never ridden more than 10 miles and are terrified of hills, this may not be the right ride for you. Worried about being too slow and being left behind? Ask what the policy is. Most social rides will wait at key intersections to make sure stragglers or those with flats or other mechanical problems don't get lost. But if you've never ridden with this group or this leader before, it's best to ask.
Note that the 10-12 mph estimated pace doesn't mean this 25-mile ride starting at 10 will be done a little after noon. It'll be closer to 2:30. Why? Though the moving pace may be 10-12 mph, rides like this tend to average 5 mph when factoring in a late start, lunch break, part of the group hitting a red light, stopping to admire some local landmark, waiting for somebody who needs to fix a flat, and/or waiting for slower riders to catch up.
Here's a brief scenario of what to expect at the ride listed above, at least in our area. Early that morning, check your bike to make sure it's in good working order. Check tire inflation, make sure the brakes are in good order. Pack a couple of liters of water, a repair kit, and lunch. For the ride listed above, you'll want to bring some money to buy hot dogs. You may also want to bring an extra jacket and/or wind pants in case the weather takes a turn. Wear your helmet. Wear bike shorts. Wear your brights. I know people gripe about brilliantly-colored cyclists, but it helps to be able to spot others in the group, even from far away. And don't presume just because you're in a group you'll be seen by drivers! Brights and lights really help. Especially when you might have separated from the rest of the group it's easier to spot them and have them spot you if you're all brightly colored.
Arrive at 9:55, and there are about 15 people already there and more still arriving. If there's a parking area, it's already full. Somebody's handing around maps and/or route sheets. Another sheet is going around – this is the sign-in sheet, which might also double as a release form. This will say something along the lines of "we hope you have a good time, but you are responsible for your own safety and that of your minor children."
This is something key to remember. There is no way for the leader or the organization to guarantee you won't be hit by a car, lose control of your bike, get a flat tire, or have a heart attack. You're participating at your own risk. While getting a flat or other mechanical problem is the most likely misfortune you will encounter, other problems may occur. You are the best qualified to assess risk and prevent problems. Others may help in times of need, but they can't prevent all potential problems.
At about 10:05 (nothing ever starts absolutely on time!) the leader will introduce herself and say a bit about the proposed course, the sponsoring organization(s), the important scenic/informative stops, and a few words about safety. She may nominate someone to act as sweep. This is a person who volunteers to ride at the back, making sure nobody gets lost or is abandoned to mechanical trouble.
At 10:15 or 10:20, the leader will assume that the last stragglers have arrived and signed in, and will announce that the ride is starting. In my experience, that's usually when the last person arrives, and the sweep usually takes responsibility for getting that person signed in and ready to go.
Though it's tempting to assume safety in numbers, you need to be as alert and focused as if you were riding alone. More so! You not only have to be aware of auto traffic, pedestrians, car doors opening unexpectedly, dogs, etc., but you also need to be aware of what the other cyclists in the group are doing. Unexpected stops or slowdowns probably cause the most problems in groups. Call out "slowing" or signal a stop by holding your right hand down palm flat to the back. If you see a pothole or road debris, point it out to those behind you.
The general rule is ride single file. There may be instances where it's safer to take up a lane on the road, but let the leader make that call.
It may take a few miles for you to settle into your place in the pack. There is no right answer for everybody. For most rides, I start somewhere in the middle of the pack. I may lag at the midpoint and be back near the sweep, and then end the ride near the front.
Traffic lights can be challenging. With larger groups, the whole group will probably not get through the light on the same cycle. Sometimes you can block traffic to let the whole group through, but let the leader determine this. Be polite to drivers. Don't seize the right of way just because you're part of the group. Wait for the light to turn green before proceeding. It can be intimidating, especially if the rest of the group has vanished up ahead. You'll catch up! If the leader isn't waiting on the other side of the intersection, she's likely waiting at the next turn. Again, this is where it's helpful to have a sweep who knows the planned route.
I want to say this again: Be polite to drivers. Stay to the right and ride single file. Cede right of way when you have a stop sign or stop light. Even more than when you're riding alone, when you're in a group you're representing the group and representing cyclists in general. Many people already feel cyclists have a rude, selfish, superior, and entitled attitude. Be polite. Smile and wave when a driver waits for you to cross.
Once in a while there's a member of the group who refuses to wear a helmet, rides in the middle of the road, and flips off drivers. Who knows? Maybe she didn't think she'd need bike shorts and is in a lot of pain. The behavior is still embarrassing. Please don't be this person. The incident I'm referring to happened several years ago, and my husband still brings it up as an example of bad cycling behavior, exactly how NOT to behave on the road.
A quarter of the way into the ride, a few people have dropped out. Reasons might include not feeling up to it, mechanical problems, or just not feeling like it today. Others drop out halfway, or at the point of the ride closest to home. If you decide to drop out or know in advance that you're going to bail when you're close to home, tell someone and ask them to pass the info on to the leader or the sweep. Leaders will usually count heads periodically, so spare them the frustration of waiting for you when you've already dropped out. The ride we went on last weekend started with about 30 people and ended with under 20. That's not too abnormal.
Take advantage of stops to eat and drink. I really drag when I'm hungry or thirsty. A 20+ mile ride will usually have a lunch stop. Sometimes it's somewhere you can buy something to eat but don't count on it even on a food-centered ride like the hot dog ride. Your stomach might rebel at the first bite of hot dog or ice cream and you'll want home-made snacks and lunch to fall back on.
My husband usually spends a lot of time on rides chatting with other cyclists. Me? I'm not the social one in the family, so I usually just ride and enjoy the scenery and don't get past a few pleasantries. Neither way is more correct than the other. Don't be offended if somebody isn't interested in chatting and don't feel obliged to make small talk if you'd prefer to just focus on the road.
Most of the rides we go on are open to everybody, so you never know who's going to be there. There are some regulars we recognize from other rides, and sometimes it's all people we haven't met before. There are also regular club rides where most people know each other already, and it's a different dynamic. Then you'll really need to assess how you fit in with the culture of the group.
There may be times when you find that the leader and the front of the pack are so far ahead of you they're out of sight, and the sweep is so far behind you you can't see her either. This is a situation that plays on all my fears of getting lost and abandoned in a strange place. Don't panic. This is where the route sheet or map saves you. Identify your present location and the next turn. If you're uncomfortable proceeding alone, wait for the sweep. And, if this is a ride without a map, without a route sheet, and without a sweep -- still don't panic. Keep going. It's likely the leader is waiting at the next turn or has sent somebody back to look for you.
At the end of the ride, thank the leader and sweep. Their planning and assistance made the ride possible. If you had fun, ask about other rides the group is planning.
If the ride wasn't pleasant for you, ask yourself why. Were you unprepared? Was the weather horrible? Was it longer/shorter/faster/slower/hillier than expected? Were the other riders too chatty/too quiet/not welcoming? Some factors are under your control (preparation/training), some are luck of the draw (weather, and to some extent participants), and some might indicate this isn't the right group or leader for you. Let go of the stuff that's out of your control, prepare better next time, and keep shopping to find a group or leader that really clicks with you.
Here's a brief ride report the group ride we did last Saturday. Note that although hot dogs were involved, the this is not the hot dog ride described above. That was just a hypothetical exercise.
We started from Paul's Bridge in Milton, Ma. It was easy to get to find because we're often in that area hiking the Blue Hills. From the ride description I assumed we'd be heading south and west, but the route sheet proved me wrong. We were headed Northeast into Boston and hitting the midpoint at Castle Island. Nearly everyone reacted the same way – excited about Sullivan's hot dogs for lunch! Here we are at the start: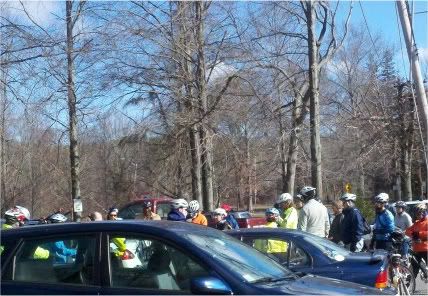 The group was superb. A great mix of experienced cyclists, people we'd met on other rides, and newbies. Everyone was happy about it being snowfree and while not exactly warm it wasn't bitter cold (for most of the ride at least!).
We had a headwind as we progressed toward the shore, but it wasn't a huge problem until we got right on the water. Bitter cold wind was blasting right into us at shoreside, and as it was right before the lunch stop I kinda ran out of steam and wondered if I'd make it to Sully's. I couldn't feel my toes for about an hour. BRRR!!! I should have worn wool socks in addition to my tights. Here's a picture of the gray and brutally cold Boston Harbor: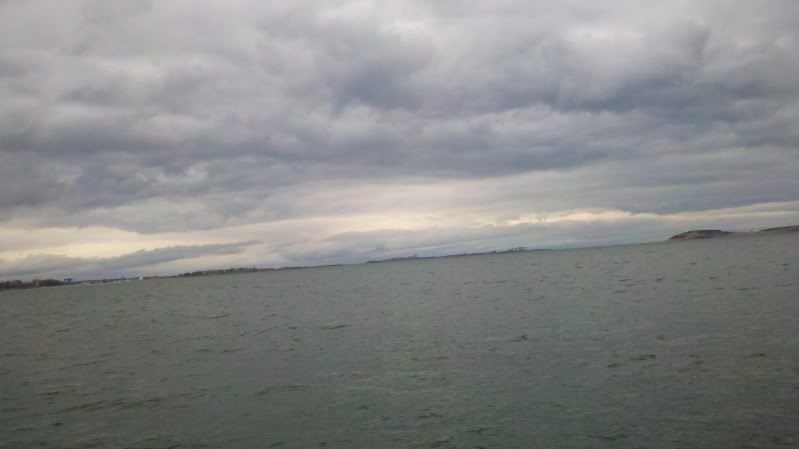 I was very glad to have a thermos of soup to eat for lunch! Though I did sneak a bite of my husband's hot dog. Sully's is famous for a reason. I am really not as hot-dog obsessed as this diary might suggest. I don't know why hot dogs became the words of the day.
Probably less than a third of the ride was on bike path, but the leader chose a route that kept us out of the worst heavy traffic along the route. We had a couple of hairy intersections to navigate, but the group kept together as much as possible.
As I said above, the group that started out at about 30 members had dwindled to less than 20 by the end. Good communication between leader and sweep kept everyone in the loop as to what to expect.
The Neponset River Greenway is more of a string of park areas with sections of walking and bike paths. The paths start and stop, sometimes with substantial gaps between the sections. But it's a very pleasant way to traverse this section of the city.
This was the first outing of the riding season for me, and I was tired and sore by the end. But not so tired and sore that I'm not eager for the next ride. And, as with typical New England Spring, this week's commutes featured snow, cold, cold, and more snow. But it's Spring, darnit, and I'm on my bike! What's up next weekend? Tell us about your experiences with group rides!
Fourth in a series of Introduction to Cycling.
Other topics include:
* How to get started if you haven't ridden since you got your driver's license
* BWOW (Biking While OverWeight)
* Rail Trails
* Group rides - today's topic!
* Safety and sharing the road
* Finding the right commuter bike
* Recumbent cycling
* Panniers, trailers and baskets
* Equipment and repair
* Community rides
* Community issues
* Bike porn