The fact that corporations are writing America's laws through the American Legislative Exchange Council (ALEC) is starting to alarm many, including ALEC members who are passing the ALEC content-driven legislation in state house across the country.
At a Town Hall meeting on March 28, 2011 with a couple dozen concerned constitutions in attendance, Republican State Representative Tom McMillin denied membership in the American Legislative Exchange Council (ALEC) and was according to eyewitnesses at the event 'evasive" and "nervous" in his responses to multiple questions about his membership in ALEC and sponsorship of several ALEC-based bills introduced recently in the Michigan Legislature in Lansing.
"Every man alone is sincere. At the entrance of a second person, hypocrisy begins." - Emerson
Video Courtesy of the Rochester Citizen and other private Citizens who brought this to our attention, thank you.
After repeated questioning by informed citizens Tom McMillin's only response concerning his ties with the 'secretive' ALEC boiled down to "It doesn't matter…."
McMillin: "Yeah saw some liberal blogs talking about that..."
UPDATE: ALEC Issues Press Release "Setting the Record Straight - Much ado about nothing" - FULL Line by Line ANALYSIS
Translation: "Leave us, the most 'powerful' 'secret' corporate 'lobby' alone or we'll cry..."
Oh Yeah we have been talking, and here's another one. Let's see more on McMuffin and ALEC updates below…
RELATED: Gov Rick Snyder Sellout? Prefabricated Corporate Michigan (Government) Courtesy of Koch & ALEC Excl.
ORIGINAL STORY on the Rochester Citizen with Video and related posting to Blogging for Michigan.
ALEC: the 'Most Powerful Lobbyist' in the Country
Ghostwriting the Law State-by-State
The American Legislative Exchange Council or ALEC has been the subject of numerous investigations and reports due to it's role in 'ghostwriting' legislation through hundreds of 'models' supported by corporate funding as a 'charitable' organization posing as an 'association' for chiefly Republican State Legislators across the county. ALEC and its ties the conservative agenda and 'industry' like the Heritage Foundation, and state level think tanks like Michigan's Midland-based Mackinac Center for Public Policy, Heritage's affiliate in Michigan are seen as a source for dozens, if not hundreds of bills being introduced in at least 19 or more states, including most states with Republican Governors like Wisconsin, Ohio, New Jersey and Rick Snyder in Michigan.
Note: The Mackinac Center has added itself to the harassment of academia crowd by requesting emails from whole department at 3 Major Michigan Universities.
More Michigan ALEC Developments
Protecting Corporate Interests from a citizens' right to know who writes the law
Just recently, Republican Governor Rick Snyder appointed former Michigan ALEC State Chair and former state representative Mary Ann Middaugh to the Michigan Board of Ethics, which oversees ethical conduct of state employees and public officers in Michigan's executive branch.
Wonder what fun things will she be sweeping under the rug?
Maybe the fact that Michigan taxpayers have been paying travel and expenses for Republican ALEC members like McMillin to hang out with corporate CEOs at glamorous resorts to go jet skiing and baseball games at ALEC events?
Tom McMillin: Transparency for Everybody Else, Just not Me
"The true hypocrite is the one who ceases to perceive his deception, the one who lies with sincerity" - Andre Gide
One of ALEC's latest pushes has been the concept of "Performance-based (or 'Results-based') Government" and 'Transparency". They are seeking to put as much information about local government and school district operations on-line as possible. Why? So they can sort out who get what in terms of new privatization contracts and public assets. Once the privatization, which is at the core of many of the ALEC-based bills recently, of course the transparency dissap0ears just as quickly, creating a situation where citizens will have no visibility whatsoever into the private corporate contracts running everything from schools and major infrastructure like roads and ports,, but also facilities like libraries, pools and any other public asset from which profits can be harvested.
This is from a McMillin Press Release "McMILLIN APPLAUDS GREATER TRANSPARENCY IN HOUSE OF REPRESENTATIVES" on March 14, 2011
State Rep. Tom McMillin today applauded the new and improved Michigan House of Representatives website that provides an unprecedented level of government transparency. "People deserve the ability to see how their tax dollars are being spent," said McMillin, R-Rochester Hills. "This new website is a good step towards greater accountability and transparency in government."

(break)

McMillin has been joined by many other House Republicans in support of measures that aim to bring a similar level of transparency to the entire state government. "Government works for the people and every dime we spend belongs to them. I look forward to the day when transparency becomes the standard, not the exception," McMillin said.
This from a man that can't answer a bacis question about a fact everybody knows already.
It has not yet been determined if this particular 'transparency bill' is based on a specific ALEC model, or just part of Rick Snyder's data-driven approach to things, but the daylight between Snyder and the radical right and ALEC legislation is disappearing fast, if there ever was any.
Previously, in an extensive investigation of ALEC activities and relationships in Michigan, Tom McMillin has couple up several times.


SMOKING GUN in MICHIGAN #1 revealed in this article "McMillin Wants to Give Michigan Citizens the Right to Opt out of ObamaCare" in the Rochester Media on February 9, 2011: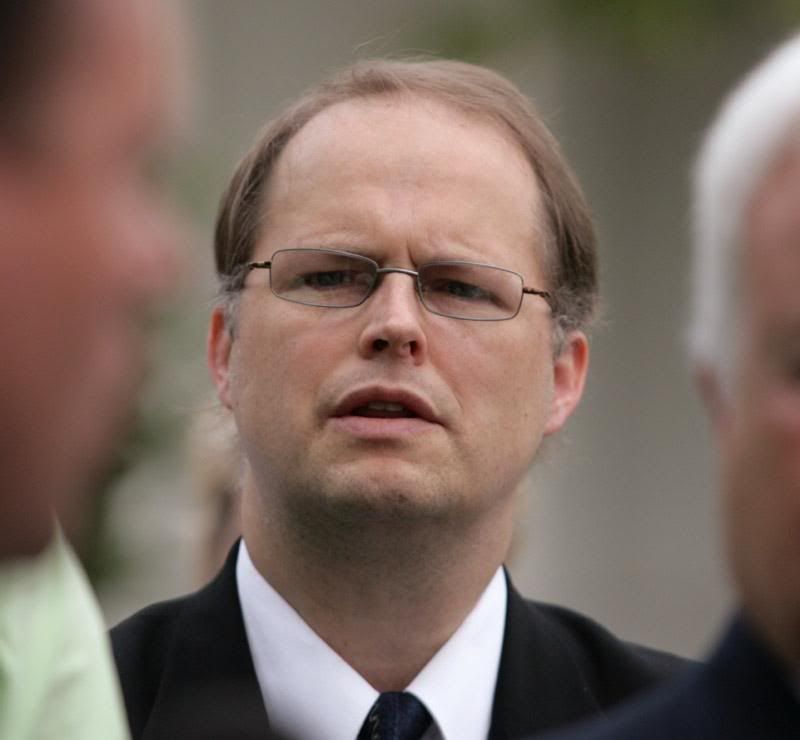 State Rep. Tom McMillin last week introduced legislation allowing Michigan residents to opt out of the new federal health care mandate, known as "Obamacare". "Last year's passage of the takeover of America's healthcare system was a direct assault on Americans' right to make their own informed decisions about their health," said McMillin, R-Rochester Hills. "This legislation will ensure that Michigan residents will maintain control of their health care, that the Federal government can't get between us and our doctors and that our businesses can't be told what kind of benefits they can and can't offer their employees."
Read House Bill 4050 (February 2011)
Oh, but there's the catch… also in the story, which is basically a McMillin press release, we find:

States that have enacted statutes similar to McMillin's included here, along with the efforts in 37 other states: THIS LINK
Which goes straight to…. You guessed it, right back to ALEC, a couple clips:
In December 2008, ALEC's Freedom of Choice in Health Care Act became model legislation. The model language mirrors Arizona Proposition 101, which was narrowly defeated in 2008.
(break)
The Freedom of Choice in Health Care Act, which was the subject of a front-page New York Times article, has already been filed or prefiled in 38 states - Alabama, Alaska, Arizona, Arkansas, Delaware, Florida, Georgia, Idaho, Illinois, Indiana, Iowa, Kansas, Kentucky, Louisiana, Maryland, Michigan, Minnesota, Mississippi, Missouri, Nebraska, New Hampshire, New Jersey, New Mexico, New York, North Carolina, North Dakota, Ohio, Oklahoma, Pennsylvania, Rhode Island, South Carolina, South Dakota, Tennessee, Virginia, Washington, West Virginia, Wisconsin, and Wyoming. Lawmakers in an additional three states- Montana, Texas, and Utah - have publicly announced their intentions to file the legislation.
And of course you have the MICHIGAN conservative media pushing at the same ALEC generated messages at the same time, one example from the Detroit / Mackinac News "Michigan should consider dismantling ObamaCare" January 18, 2011:

The American Legislative Exchange Council (ALEC) has just released The State Legislators Guide to Repealing ObamaCare which offers legislators plenty of options for defunding ObamaCare, drawing attention to its harmful effects, and otherwise working to undo the increasing rate of "governmentizing" health care.
This piece was written by John R. LaPlante, an adjunct scholar for the Mackinac Center for Public Policy and an education policy fellow with the Flint Hills Center for Public Policy in Wichita, Kansas. The Mackinac Center and Center for Public Policy by the way are the Heritage Foundation (ALEC's mother ship) de facto subsidiaries in Michigan and Kansas.
#######


SMOKING GUN in MICHIGAN #3 – while searching through some other investigations, we stumbled across this one goes back to Michigan HR 277 introduced back on May 5, 2010 by State Representative Tom McMillin.
This time it's an official ALEC press release lauding McMillin in his efforts on the very same day as the HR 277 was introduced: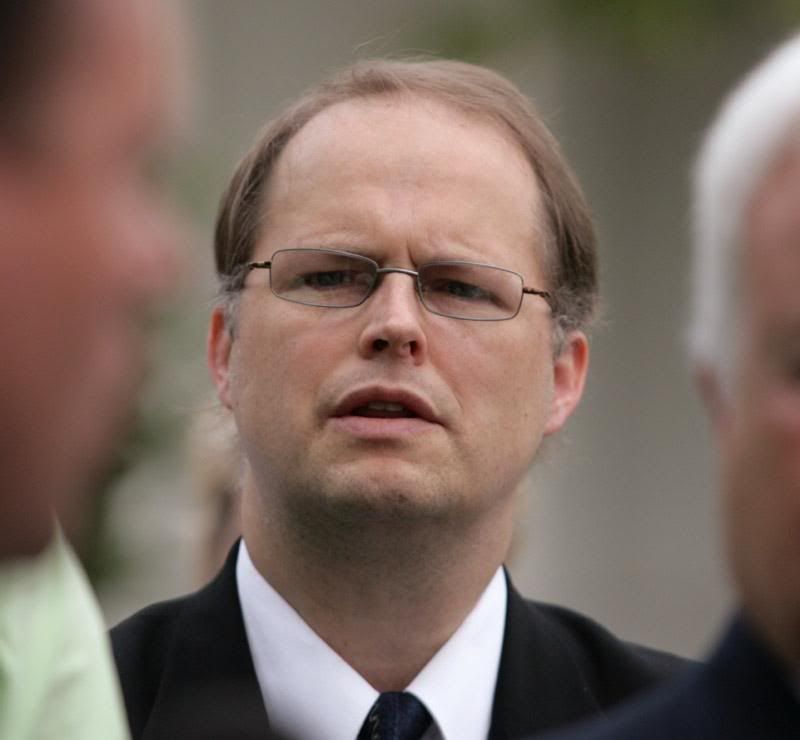 Washington, D.C.—Today, State Rep. Tom McMillin of Michigan introduced a resolution (H.R. 277) urging his state's governor to withdraw Michigan from continued participation in the Midwestern Greenhouse Gas Reduction Accord (MGGRA), an agreement among the region's governors to reduce greenhouse gases through a regional cap-and-trade program.

The Accord (MGGRA) has also been signed by governors in Wisconsin, Minnesota, Illinois, Iowa and Kansas and is designed to send a message to Washington lawmakers to move forward on a nationwide cap and trade program. The Accord would restrict energy use - the lifeblood of economic activity in these states - without any tangible benefit to the environment. Michigan's proposed resolution has drawn the applause of state legislators in nearby participating states who intend to introduce similar measures in their own legislatures.
The press release points to the ALEC "Regional Climate Initiative" part of their web site, this not a model legislation page, but you get the picture. A little bit further down the trail we find this:

Michigan – Rep Tom McMillin (R – Oakland Township, Mich.) is finalizing resolution language with the Goldwater Institute for introduction of the bill.
The Goldwater Institute is another one of these conservative think tanks associated with the Heritage Foundation and ALEC (the AZ version of the Mackinac Center here in Michigan). Hey, if they sat together and wrote "the language" that would be lobbying? Is that legal? My, my isn't this Karl Rove look-a-like busy? He must be gunning for an ALEC Pioneer Award or something.
######
ALEC Investigations continue to spring up across the Blogosphere
Oh, but it does matter Mr McMillin…
The controversial American Legislative Exchange Council has become a political lighting rod across America ever since it was discovered the infamous billionaires the Koch Brothers were funding ALEC, subjects of a new documentary series by Glenn Greenwald, purported to be the source of many of the anti-collective bargaining and budget legislative including special language supporting the no-bid seizure of public assets in Republican Governor Scott Walker's Wisconsin, center of multiple weeks of citizen protests.
ALEC gained national new coverage, when award winning history professor, Dr. William (Bill) Cronon posted a blog on ALEC, entitled "Who's Really Behind Recent Republican Legislation in Wisconsin and Elsewhere? (Hint: It Didn't Start Here)", his first blog entry ever that has now gotten millions of hits. Cronon's blog was an outline and background on ALEC and its relationship to Wisconsin legislators in the Republican Party and new legislation targeting unions and a host of other issues, including the privatization of Wisconsin public assets.
Immediately following the posting of the informational blog about ALEC, the Wisconsin GOP requested all of Dr. Cronon's email from his university account, apparently in an attempt to silence him and other ALEC/GOP critics. Paul Krugman is one of the latest national figures to come out in defense of Cronon in his piece "American Thought Police" in the NYT, and calling for more investigation of the 'shadowy' ALEC and their "pushing hard-line conservative legislation at the state level".
As stated before, Michigan's Heritage Foundation subsidary in Michigan in Midland, the Mackinac Center for Public Policy is using the same tactics at 3 Michigan Universities looking for emails of WHOLE departments.
Other Michigan Legislators and ALEC members that have been identified so far for introducing ALEC-based and/or inspired include State Senators Wayne Kuipers and Tom Casperson with a number of others just waiting to be compiled. The fact is, ALEC content and activity is so pervasive in Michigan there is practically no Michigan ALEC member (See LIST) or issue that doesn't have ALEC roots somewhere in the mix.
Another set of smoke outs is already complete, to the story continues… Who's next?
NEXT TIME…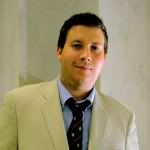 Many more SMOKING GUNS in MICHIGAN related to the current Michigan Budget battle. In the NEXT INSTALLMENT of this Nerd-Centric Politics of Rick Snyder Series Exclusive we will explore the activities and connections between ALEC and an array of Michigan based think tanks, conservative organizations, media outlets, and politicians involved the legislation surrounding the current battle over Rick Snyder's Budget.
Following the story of Michigan's own native son, a graduate of Northwood University and now Director of Tax and Fiscal Policy, American Legislative Exchange Council, Jonathan Williams, the involvement and activities of ALEC in past and currently will be outlined in detail.
A clue
.
See an EXTENSIVE investigation of ALEC and their activities in the State of Michigan HERE.